Calistenia Ajedrecista – Entrenando Cuerpo y Mente 🙌👍💪🏻 🔥♟️ / Calisthenics and Chess - Training Body and Mind 🙌👍💪🏻 🔥♟️

---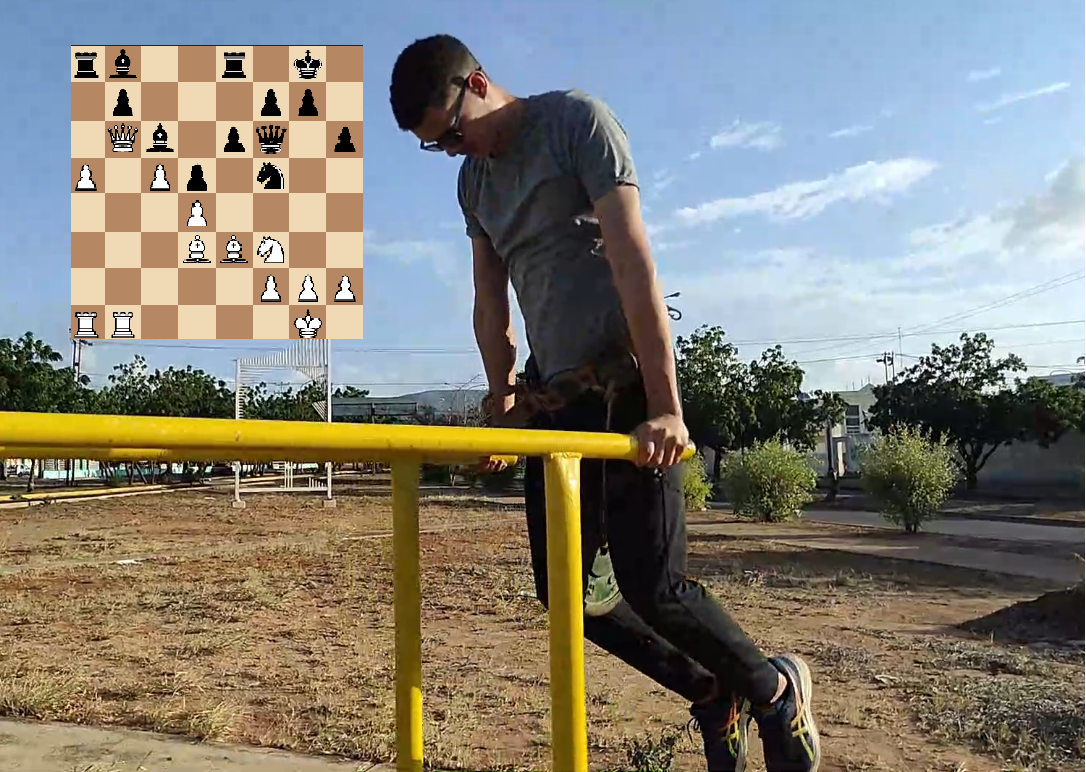 Imagen del autor
Como ya sabrán mi pasión es el ajedrez, es por excelencia el deporte de la mente, una disciplina milenaria que ha sido testigo histórico de la humanidad en todo el sentido de la palabra.
Otro de mis pasatiempos y rutinas diarias que por cierto, ya se ha convertido en agenda permanente, es la realización constante de ejercicio, así es, soy un ajedrecista que realiza ejercicio todos los días y es que ya son aproximadamente unos 3 años y medio que practico el bonito arte de la calistenia, una disciplina que comprende una filosofía súper interesante. Me atrevo a decir que tratar de definir este movimiento resulta un tanto complicado pues la calistenia aún se encuentra pivotando en lo que es un largo camino de cara a su evolución, en otras palabras, aún está en una etapa muy temprana para saber a ciencias ciertas el potencial que puede desempeñar, aunque no es menos cierto que esta disciplina se ha popularizado en los últimos años trayendo muchos aficionados a las barras. Una de las formas más "sencillas de definir" a la calistenia es algo así como: "entrenamiento físico basado en el peso corporal". Como les digo, no es fácil dar con un concepto estándar pues son muchas las vertientes que el movimiento en si mismo ha traído, pasando desde las figuras dinámicas más comúnmente llamadas:"free-style", por otro lado los ejercicios estáticos que involucran alto nivel técnico para poder manejar cargas isométricas como las planchas, pinos, etc, y hasta los más clásicos que a mi me gusta llamar "ejercicios de toda la vida", me refiero a los ejercicios que siempre han estado allí y forman parte del programa de entrenamiento de cualquier deportista: push-ups, pull-ups, sentadillas, entre otros. Este ultimo grupo de ejercicios han sido traídos a la palestra muy recientemente y desde una perspectiva de "alta intensidad" o de repeticiones implacablemente elevadas, de hecho, las competencias más populares en los últimos días han sido eventos en el que se busca conseguir a aquel atleta que logre hacer la mayor cantidad de "reps" (repeticiones), uno de los mayores ejemplares en esta modalidad es el famoso Javi Alés "aka The Conqueror" un extraordinario exponente de los sets que involucran rutinas alucinantes.
Ademas de los grupos de ejercicios que he mencionado previamente existe una nueva variante que está tomando terreno: "el streetlifting" y consiste básicamente en agregar una cargar externa (pesas) a los ejercicios clásicos; nuevamente reitero, esto es todo un reto el definir con exactitud todas las aristas pues hasta hace poco esto de agregar unos kilos al entrenamiento corporal era considerado "Calistenia Lastrada" pero las tendencias se van acentuando cada vez más y cada situación se puntualiza a medida que sus seguidores hablan. En mi opinión, pienso que todas son formas validas que buscan el mismo objetivo o al menos quiero pensar de esa forma, una dominada siempre será una dominada, lo importante es mantenerte en forma, pero la idea de este post no es profundizar en este campo, simplemente menciono todo esto a modo de introducción.
Retomando el hilo principal, se sabe que para el caso del ajedrez nuestra mente debe estar lo más enfocada posible, de esta forma las jugadas puedan fluir más armoniosamente. Para que esto ocurra nuestro cuerpo debe estar debidamente preparado, y somos nosotros quienes tienen que garantizar las condiciones ideales, es decir, los proceso químicos que se producen en nuestro cerebro deben ser respaldados por esa energía que nosotros mismos suministramos al organismo, el origen de esta energía radica básicamente en dos elementos: dieta y ejercicio. Un ajedrecista que cumpla con estos requisitos puede ser considerado una "maquina asesina", pues mantendrá un equilibrio perfecto entre mente y cuerpo. Este valioso argumento es lo que el proyecto Chess Brothers (@chessbrotherspro) persigue, es decir, facilitar las herramientas necesarias para que las personas puedan apropiarse de esos beneficios que repercuten infinitamente bien en la salud general.
Tiene toda la lógica del mundo, si aportas cosas positivas a tu cuerpo tu mente te lo agradecerá y viceversa. Entrenar físicamente y dedicarme al ajedrez es un estilo de vida que me ha dotado de muchas cosas. Diariamente trato de hacer ambas cosas: ir a las barras y entrenar mi cuerpo y mantener mi mente en forma con la practica constante de ajedrez.
Esto era lo que quería compartir el dia de hoy con ustedes estimada comunidad de #fulldeportes.
A continuación les dejo unos videos del proyecto que ilustran claramente el enfoque que abordamos. Son bienvenidos sus comentarios.
MUSICA - Rock Sport Energy by Infraction [No Copyright Music] / Play It Cool
GIMNASIA MENTAL: CLAVE PARA UNA VIDA SALUDABLE❤️💪
REPETICIONES INFINITAS | Reto 4vs4
ENGLISH VERSION
Calisthenics and Chess - Training Body and Mind 🙌👍💪🏻 🔥♟️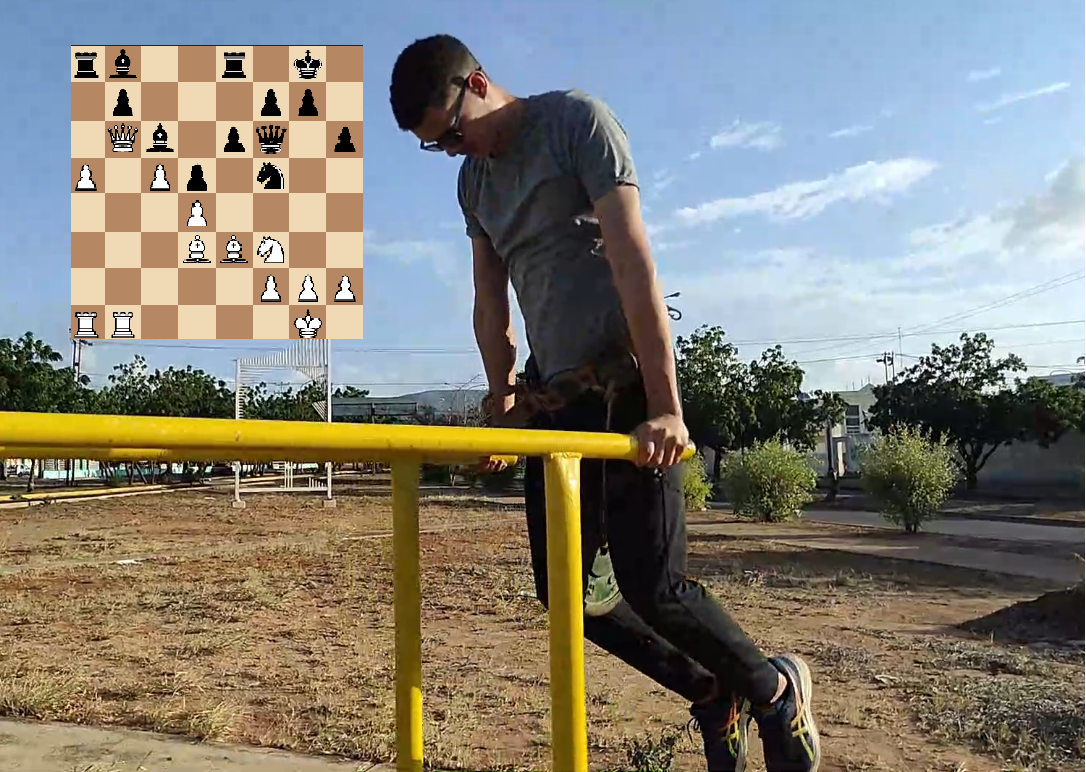 As you may already know my passion is chess, it is par excellence the sport of the mind, an ancient discipline that has been a historical witness of humanity in every sense of the word.
Another of my hobbies and daily routines that by the way, has already become a permanent agenda, is the constant performance of exercise, that's right, I am a chess player who exercises every day and it is about 3 and a half years that I practice the beautiful art of calisthenics, a discipline that includes a super interesting philosophy. I dare to say that trying to define this movement is somewhat complicated because calisthenics is still pivoting in what is a long way in the face of its evolution, in other words, it is still at a very early stage to know for sure the potential it can play, although it is no less true that this discipline has become popular in recent years bringing many fans to the bars. One of the "simplest" ways to define calisthenics is something like: "physical training based on body weight". As I say, it is not easy to give a standard concept because there are many aspects that the movement itself has brought, ranging from the dynamic figures more commonly called: "free-style", on the other hand the static exercises that involve high technical level to handle isometric loads such as planks, pins, etc, and even the most classic exercises that I like to call "exercises of a lifetime", I mean the exercises that have always been there and are part of the training program of any athlete: push-ups, pull-ups, squats, among others. This last group of exercises have been brought to the forefront very recently and from a perspective of "high intensity" or relentlessly high repetitions, in fact, the most popular competitions in recent days have been events in which they seek to get that athlete who manages to make the most "reps" (repetitions), one of the greatest examples in this mode is the famous Javi Alés "aka The Conqueror" an extraordinary exponent of the sets involving mind-blowing routines.
In addition to the groups of exercises that I have previously mentioned there is a new variant that is taking ground: "streetlifting" and basically consists of adding an external load (weights) to the classic exercises; again I reiterate, this is a challenge to define exactly all the edges because until recently this adding a few kilos to the body training was considered "weighted calisthenics" but trends are becoming more and more accentuated and each situation is punctuated as their followers speak. In my opinion, I think they are all valid forms that seek the same goal or at least I want to think that way, a dominated will always be a dominated, the important thing is to keep you in shape, but the idea of this post is not to delve into this field, I just mention all this by way of introduction.
Returning to the main thread, it is known that in the case of chess our mind must be as focused as possible, so that the moves can flow more harmoniously. For this to happen our body must be properly prepared, and we are the ones who have to guarantee the ideal conditions, that is to say, the chemical processes that are produced in our brain must be supported by the energy that we ourselves supply to the organism, the origin of this energy lies basically in two elements: diet and exercise. A chess player who meets these requirements can be considered a "killer machine", because he will maintain a perfect balance between mind and body. This valuable argument is what the Chess Brothers project (@chessbrotherspro) pursues, that is, to provide the necessary tools so that people can appropriate these benefits that have an infinitely good impact on overall health.
It has all the logic in the world, if you bring positive things to your body your mind will thank you and vice versa. Training physically and dedicating myself to chess is a lifestyle that has endowed me with many things. On a daily basis I try to do both: go to the bars and train my body and keep my mind in shape with the constant practice of chess.
This is what I wanted to share today with you dear community of #fulldeportes.
Here are some videos of the project that clearly illustrate the approach we are taking. We welcome your comments.
MUSIC - Rock Sport Energy by Infraction [No Copyright Music] / Play It Cool
MENTAL GYMNASTICS: KEY TO A HEALTHY LIFE❤️💪

INFINITE REPETITIONS | 4vs4 Challenge
---
▶️ 3Speak
---
---