Realicemos 7 tipos de sentadillas para trabajar las piernas, los glúteos y las caderas./ Let's perform 7 types of squats to work the legs, glutes and hips.
Hola amigos de #HIVE
---
Un saludo muy cordial y lleno de amor a la comunidad de @fulldeportes, el día de hoy me dedique a realizar unos ejercicios para trabajar mis piernas, glúteos y caderas, después que di mi caminata habitual; así que hoy vamos activarnos de esta hermosa y linda comunidad 🏋️🏋️🏋️.
A very cordial and full of love greeting to the @fulldeportes community, today I dedicated myself to perform some exercises to work my legs, glutes and hips, after I took my usual walk; so today let's get active from this beautiful and nice community 🏋️🏋️🏋️🏋️.
---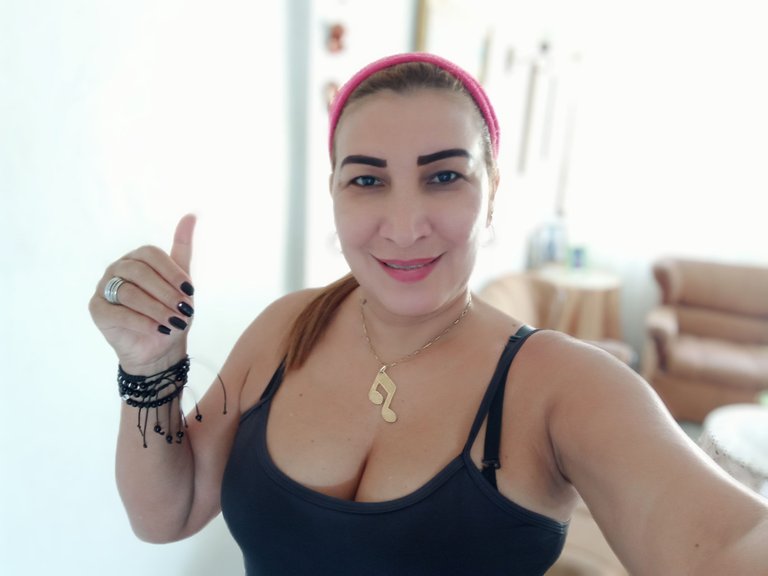 Es fundamental que, a la hora de hacer las sentadillas, mantengamos la espalda recta y los abdominales contraídos para lograr una mayor eficacia del ejercicio y sobre todo hacer ejercicios de calentamientos para evitar lesiones musculares. Antes de hacer estos ejercicios di una caminata de 30 minutos.
It is essential that, when doing squats, keep your back straight and abdominals contracted to achieve greater effectiveness of the exercise and especially do warm-up exercises to avoid muscle injuries. Before doing these exercises take a 30 minute walk.
---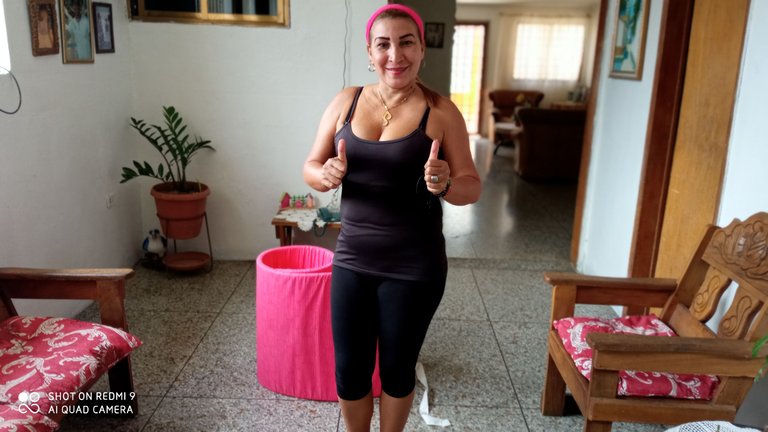 ---
Estos ejercicios 🏋🏾‍♀️🏋🏾‍♀️🏋🏾‍♀️ en realidad lo podemos realizar en un lapso de 20 minutos 🕑🕑 desde la comodidad de nuestro hogar🏠🏠🏠
Sentadillas para trabajar las piernas, los glúteos y las caderas.:| squats to work the legs, buttocks and hips.:
1- Sentadilla clásica: me mantuve de pie con la espalda recta, con los pies separados a la anchura de los hombros, la espalda recta, las rodillas un poco flexionadas, los brazos hacia al frente, se baja a cadera hacia abajo, como imitando el acto de sentarte en una silla. Realicé 3 series de 10 repeticiones.
Classic squat: I stood with my back straight, feet shoulder-width apart, back straight, knees slightly bent, arms forward, hips lowered down, as if mimicking the act of sitting in a chair. I performed 3 sets of 10 repetitions.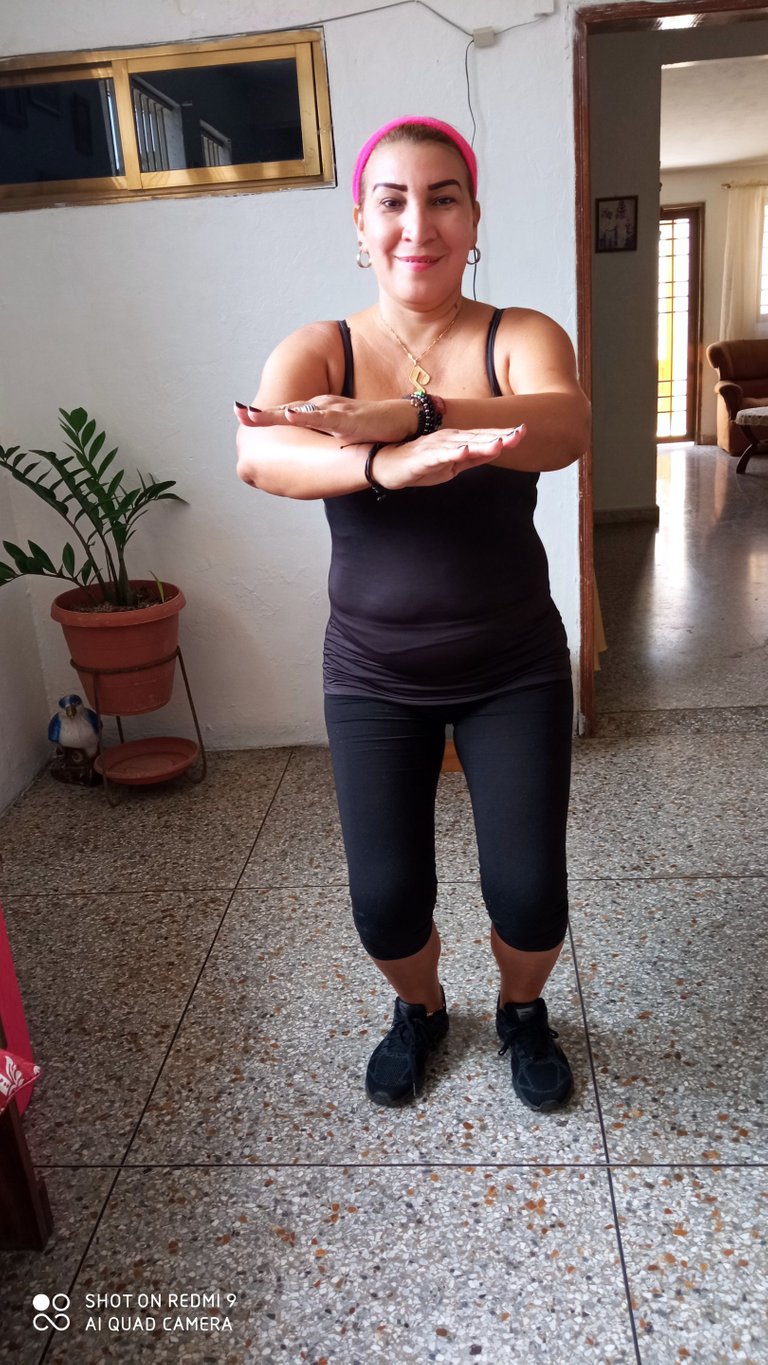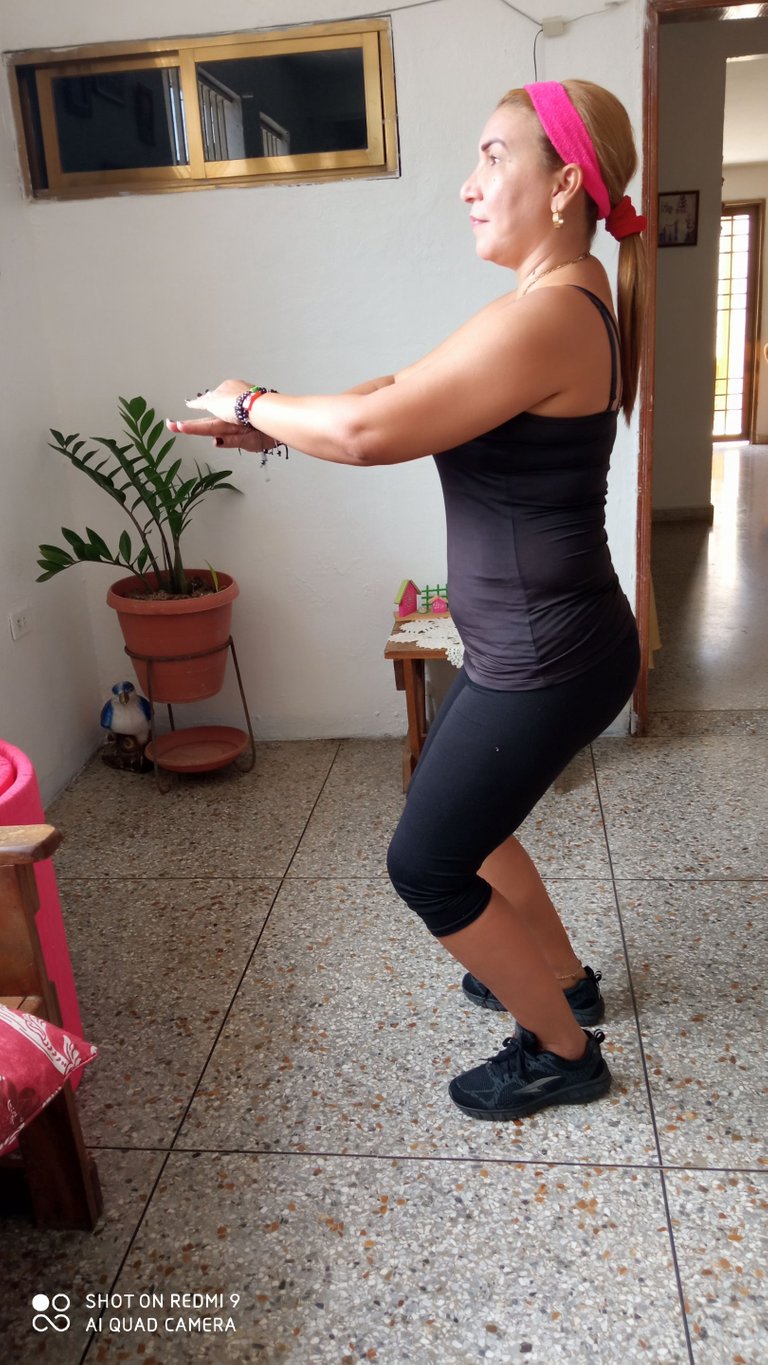 ---
2- Sentadilla isométrica: Me apoye de espalda contra la pared, con las manos de frente o como te sientas cómoda, flexiona las rodillas y sostén la sentadilla durante 3 o 5 segundos.
Isometric Squat: Lean back against the wall, with your hands in front of you or however you feel comfortable, bend your knees and hold the squat for 3 to 5 seconds.
---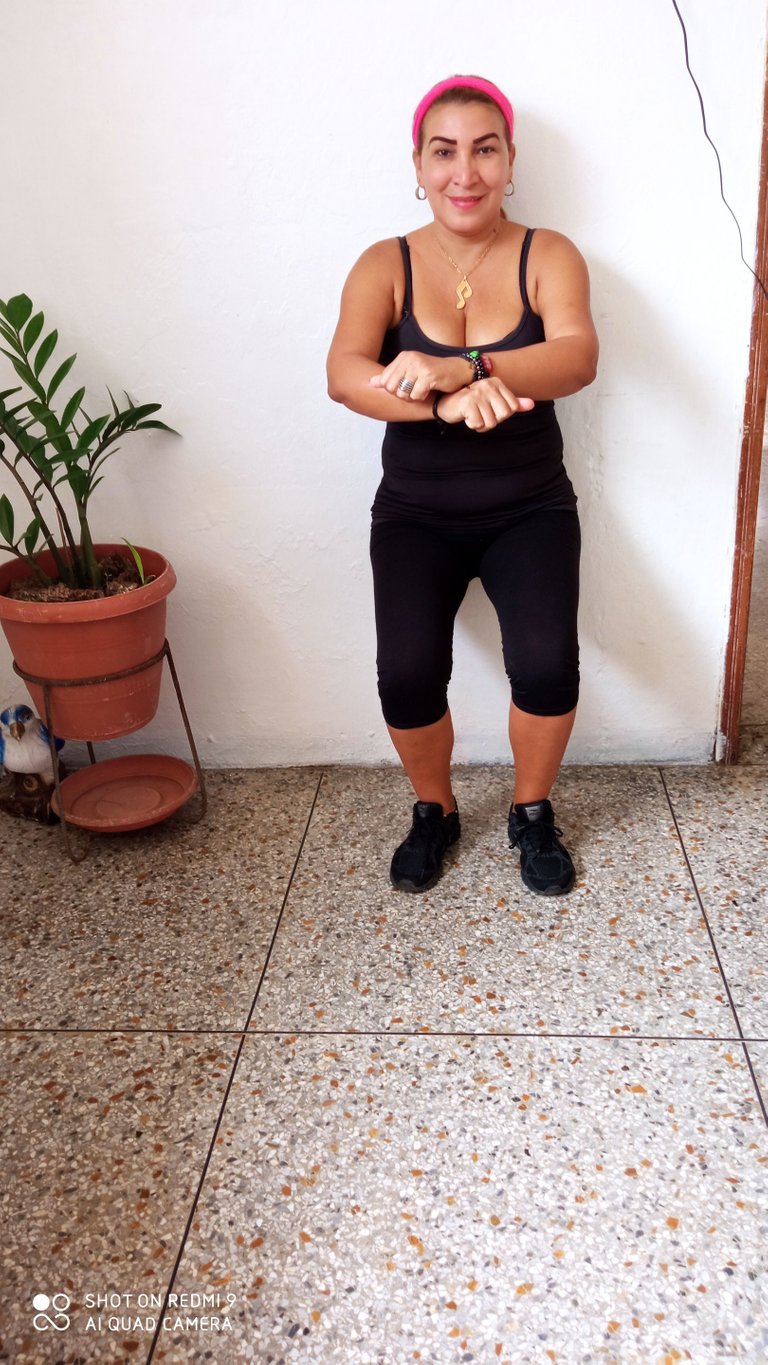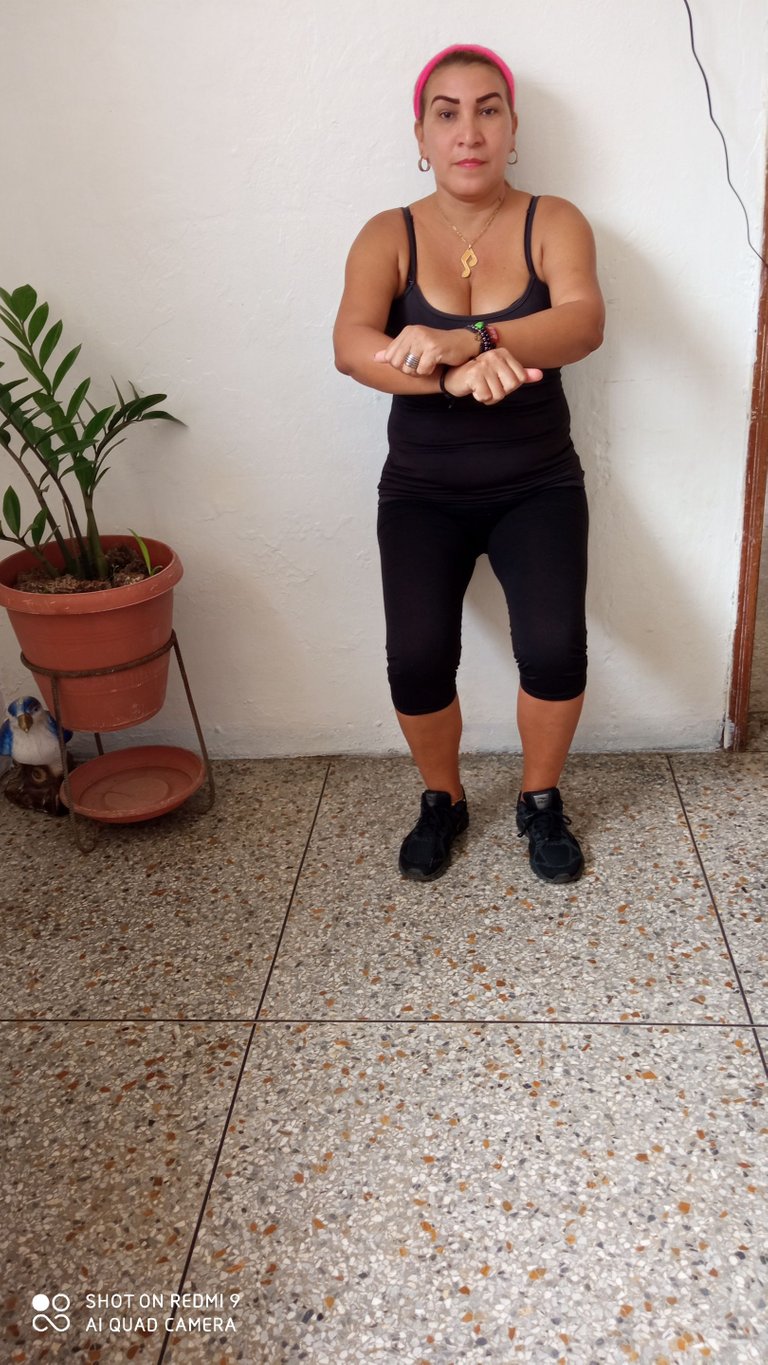 ---
3- El puente: Me acosté boca arriba con los brazos pegados al cuerpo, y las rodillas dobladas, luego llevé las rodillas hacia los glúteos, empuje con la planta de tus pies para subir tus caderas hacia arriba al mismo tiempo que contraes los glúteos.
The bridge: I lay on my back with my arms close to my body, and my knees bent, then bring my knees towards my glutes, push with the soles of your feet to raise your hips upwards as you contract your glutes.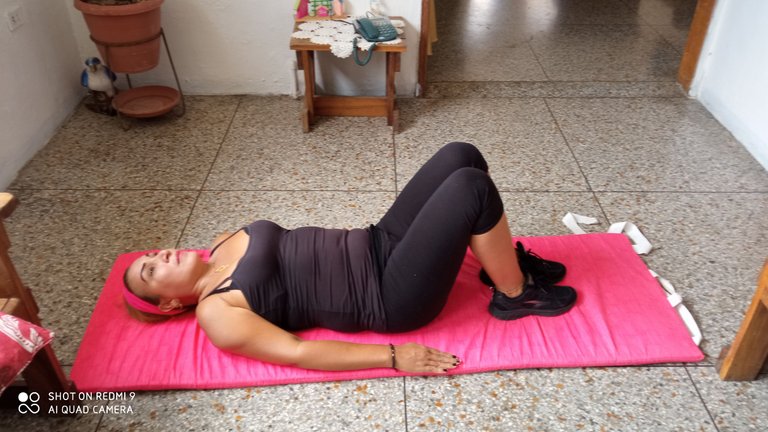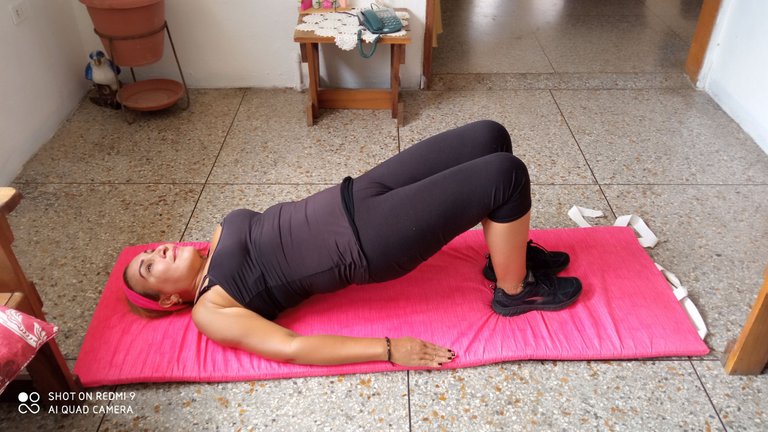 ---
---
4- Ejercicio patada de burro: Me coloque en el suelo boca abajo o con los antebrazos apoyados en el suelo, comencé alzando la pierna derecha y luego con la izquierda, pero mantenla doblada 90 grados. Realice 3 series 15 veces.
Donkey kick exercise: I lay on the floor face down or with my forearms resting on the floor, I started by raising my right leg and then my left leg, but keep it bent 90 degrees. Perform 3 sets 15 times.
---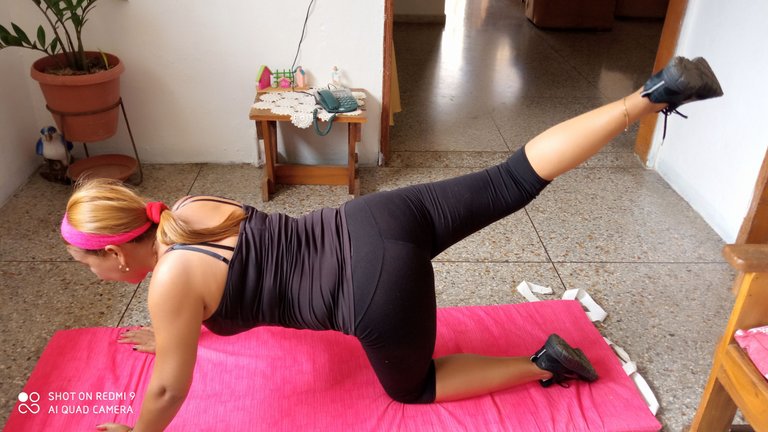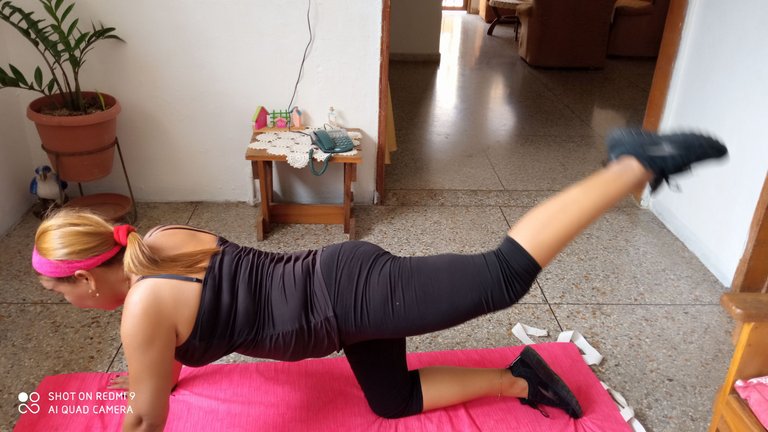 ---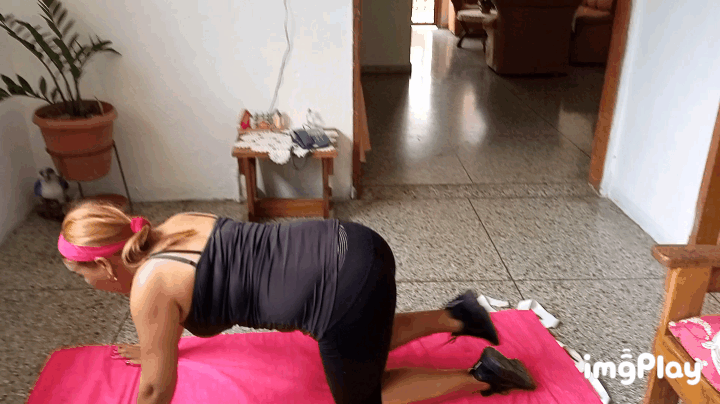 ---
5.-Sentadillas ballet: Me coloque de pie con la espalda recta, separé más las piernas con la punta de los pies mira ligeramente hacia los lados, no al frente, empecé a flexionar las rodillas 90 grados y la atención en los glúteos, pues son los músculos que deben llevar a cabo el esfuerzo. Realice 3 series 12 veces.
Ballet squats: I stood with my back straight, spread my legs further apart with the tip of my toes facing slightly to the sides, not in front, I started to bend my knees 90 degrees and focus on my glutes, as they are the muscles that should carry out the effort. Perform 3 sets 12 times.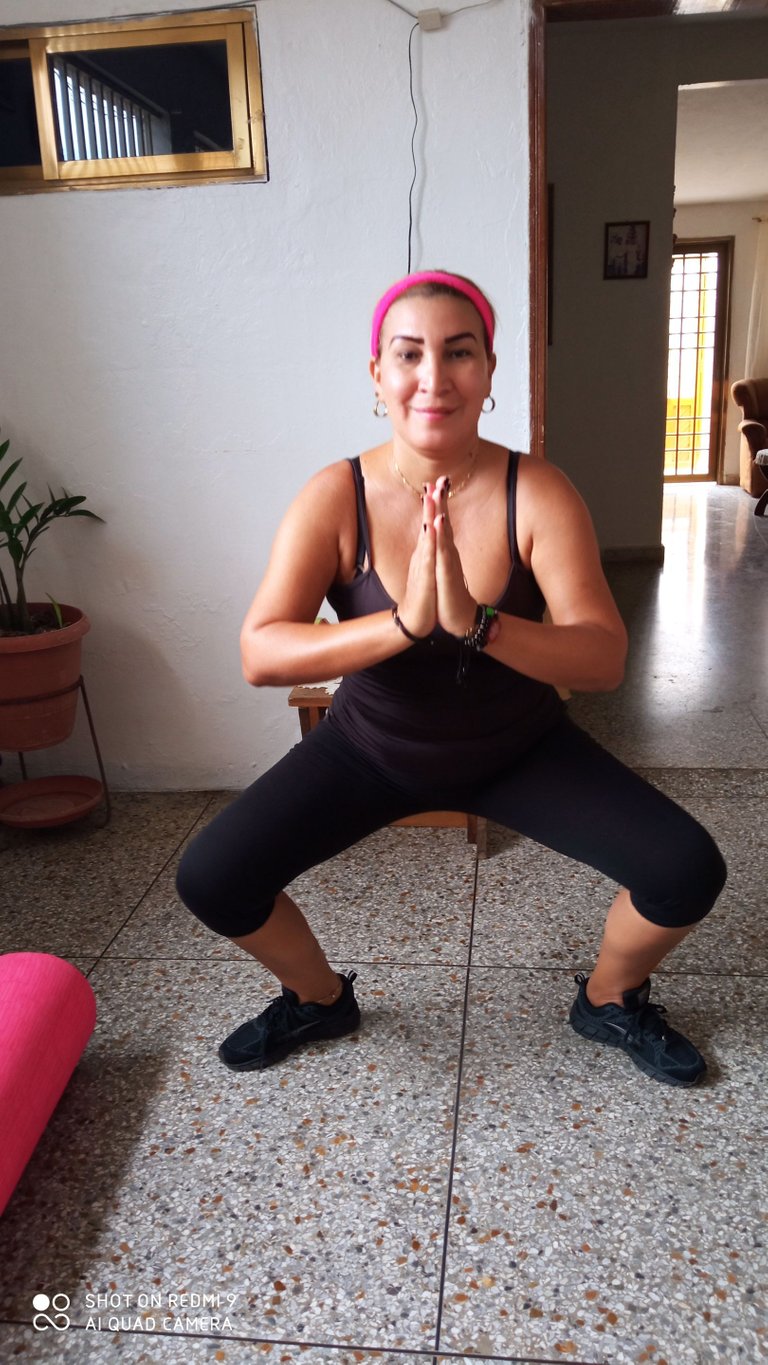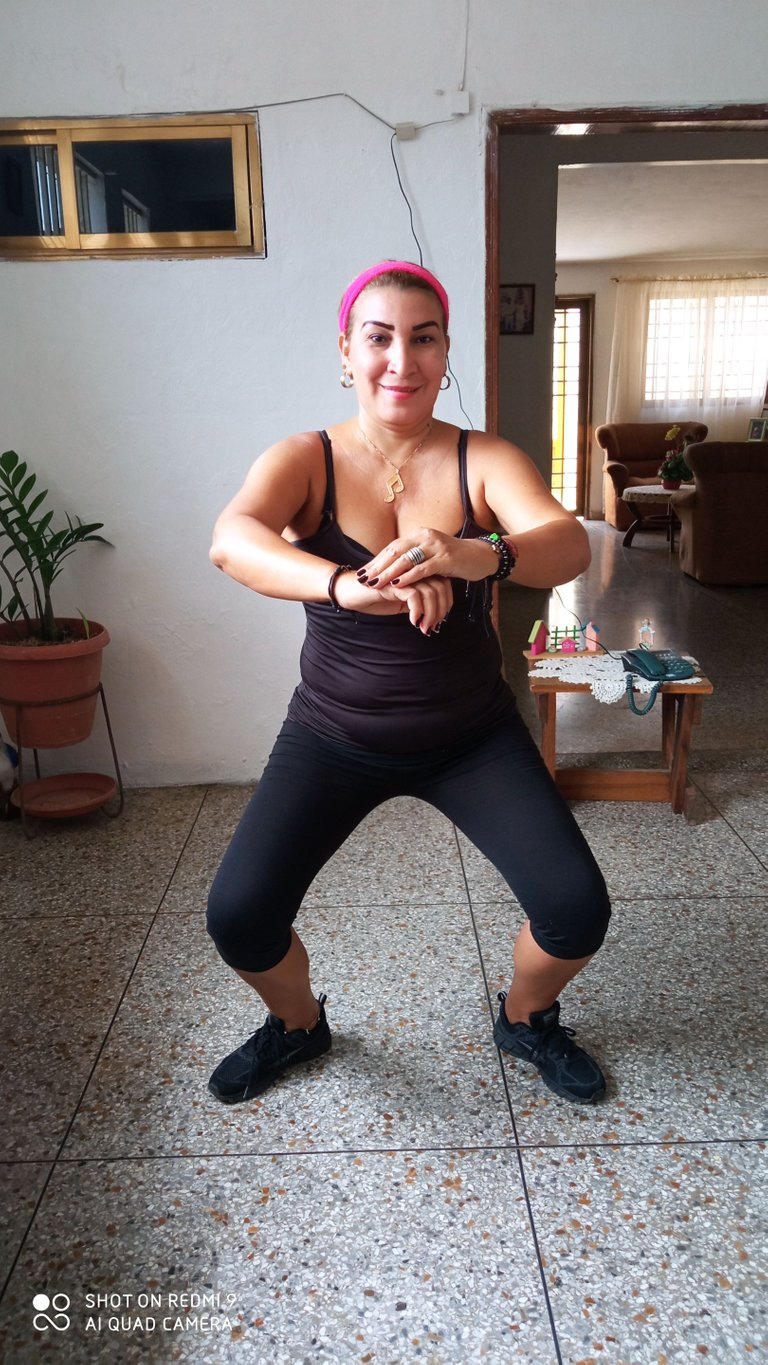 ---
6- Elevaciones traseras: me coloque de pie y con la espalda recta y ejecuté una patada hacia atrás con la pierna izquierda lo mas que pueda, luego con la derecha, mantén la cabeza levantada.
Rear Raises: stand up straight and perform a back kick with the left leg as far as you can, then with the right leg, keeping your head up.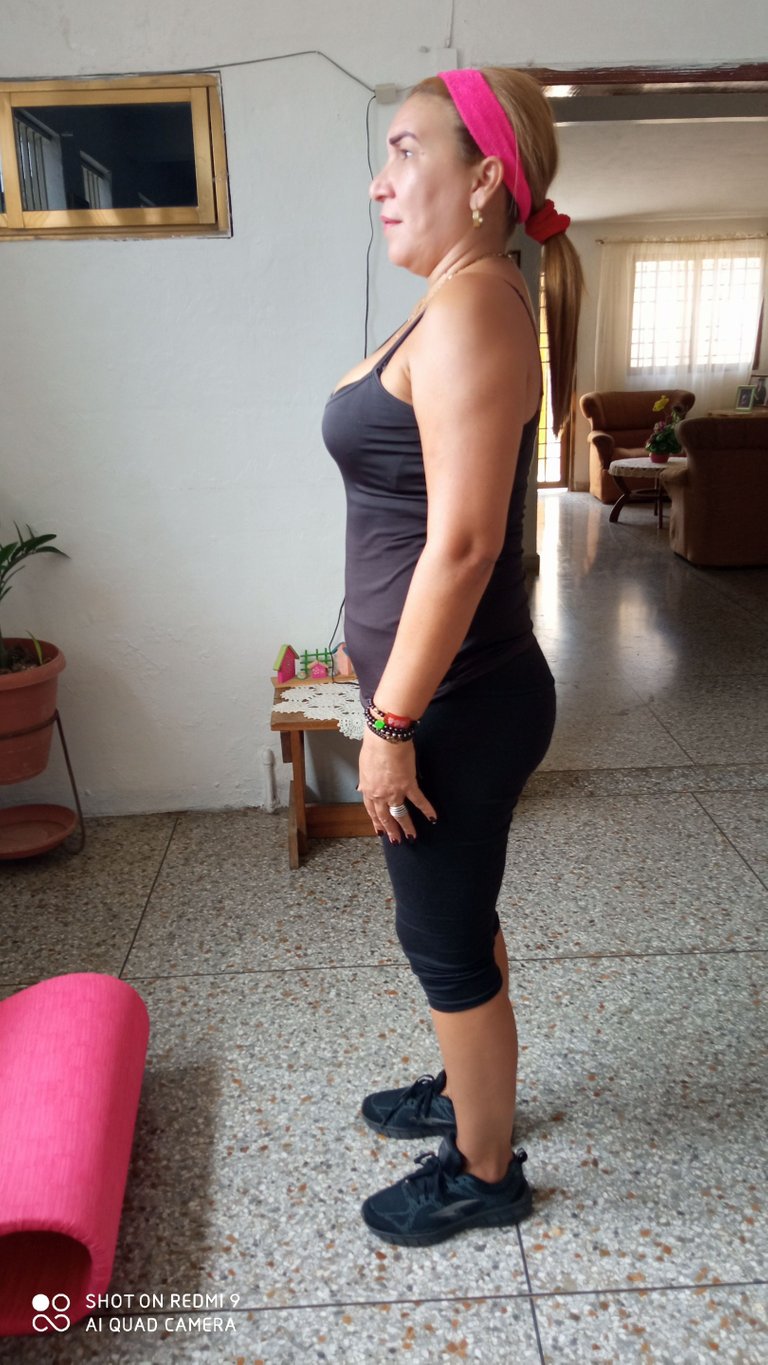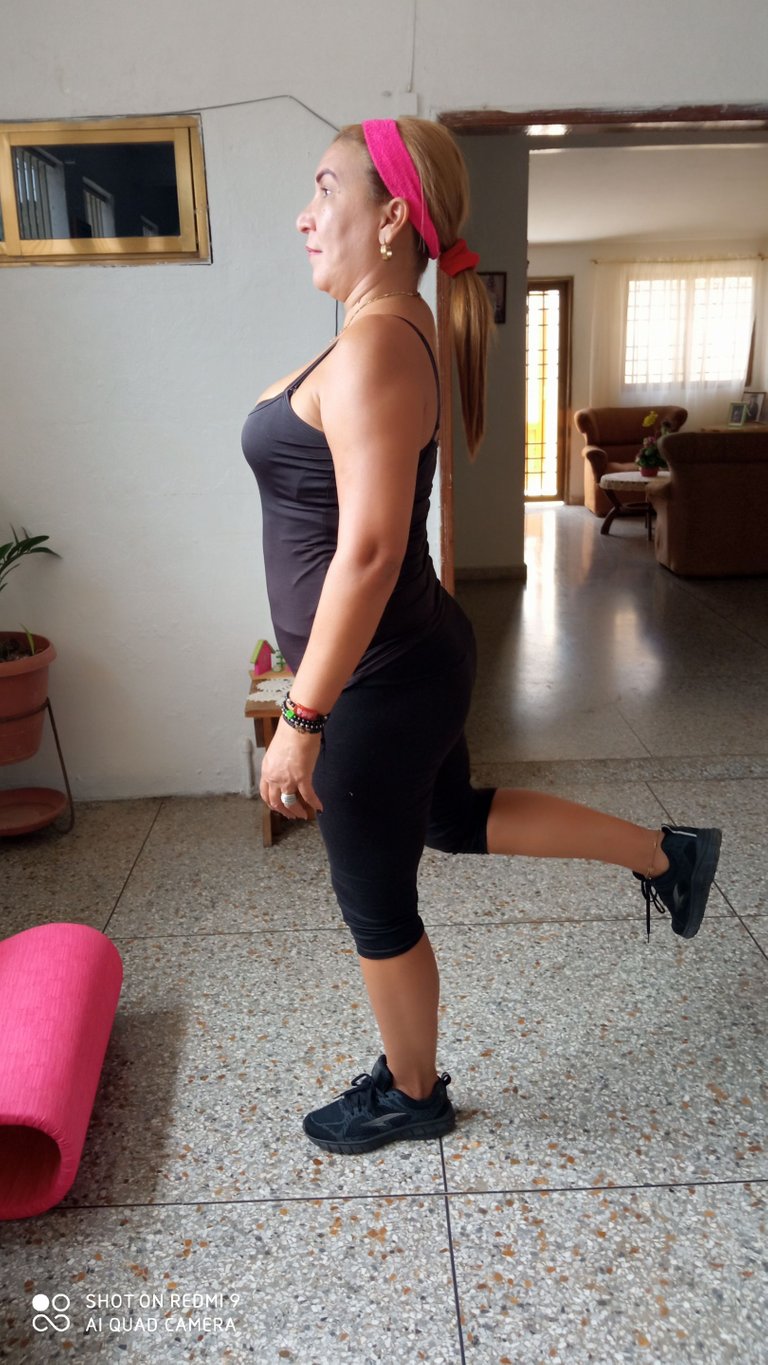 ---
7- Sentadillas con desplazamiento: Me coloque de pie, di un paso hacia adelante y flexionando las rodillas, de modo que la rodilla de la pierna que quede atrás casi toque el suelo ( con cuidado, pues podrías lastimarte la rodilla si esta llega a golpear el suelo con fuerza). Realice 3 series 12 veces cada lado.
.
Squats with displacement: I stood up, took a step forward and bent my knees, so that the knee of the leg behind me almost touches the floor (be careful, because you could hurt your knee if it hits the floor hard). Perform 3 sets 12 times each side.
---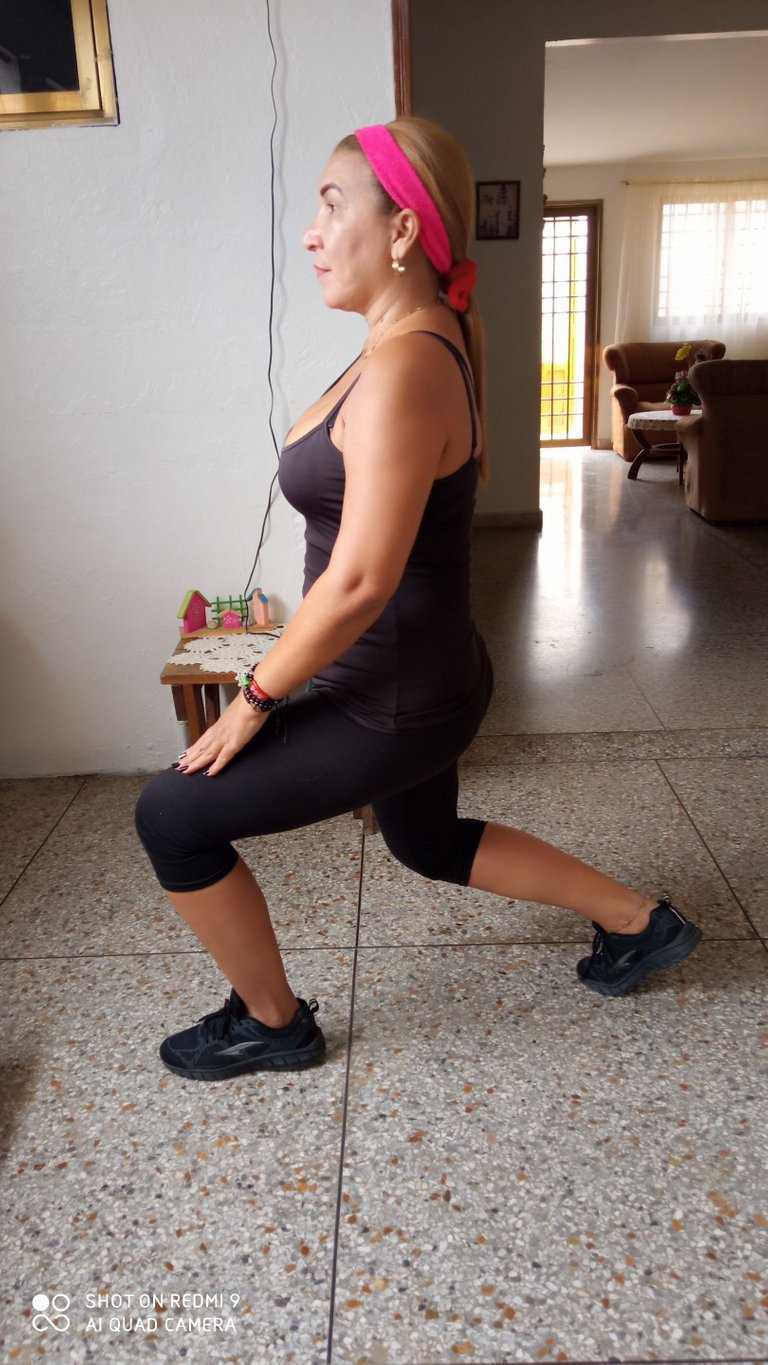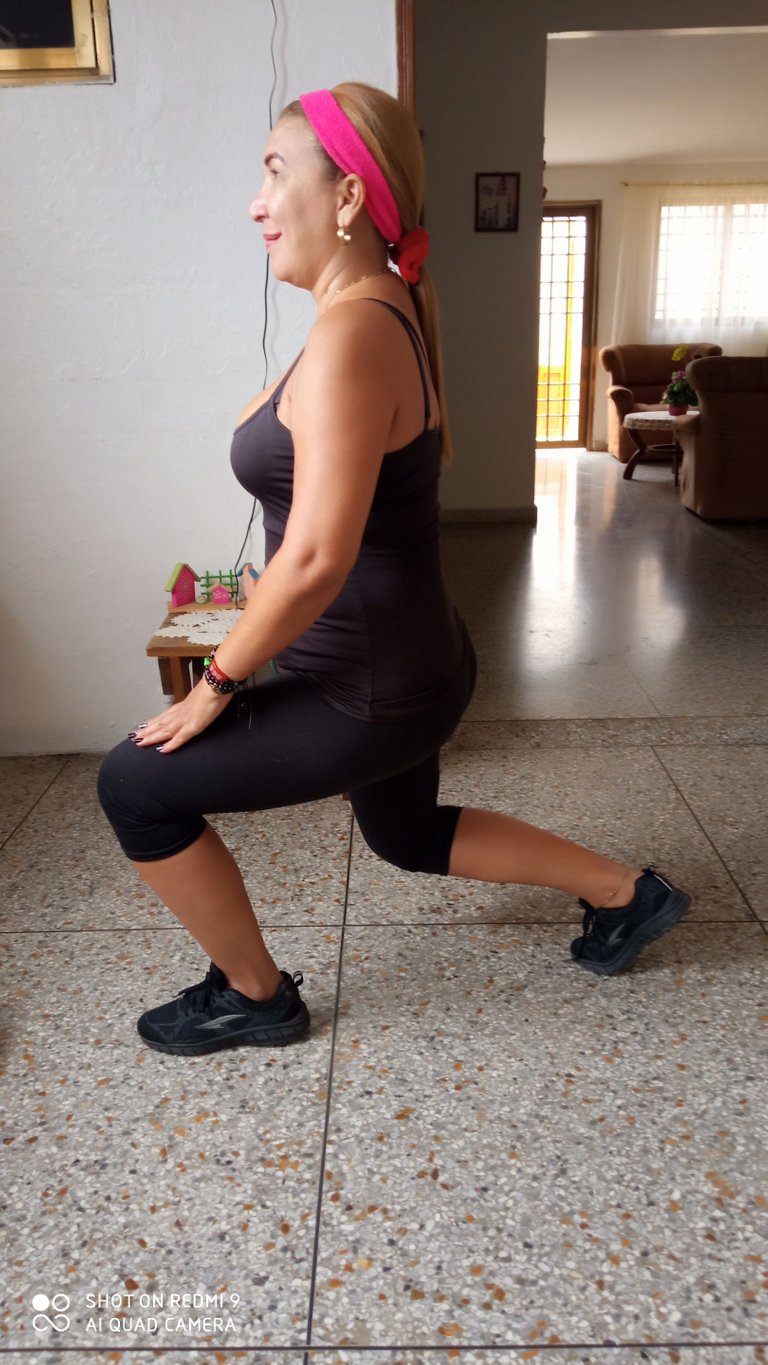 ---
---
Será hasta una nueva oportunidad donde traiga mis rutinas de ejercicios, las cuales me hacen sentir saludables, apenas llevo 22 días haciéndolos, ya que estaba muy sedentaria en esta pandemia y distanciamiento, además que me realice unos exámenes de rutinas y tengo los valores altos, así que me dedico de 30 a 45 diarios haciendo actividad física, más una alimentación balanceada y me he sentido mejor.
It will be until a new opportunity where I bring my exercise routines, which make me feel healthy, I have only been doing them for 22 days, since I was very sedentary in this pandemic and distancing, plus I did some routine tests and I have high values, so I dedicate 30 to 45 days a day doing physical activity, plus a balanced diet and I have felt better.

Todas las fotos son de mi propiedad y fueron tomadas con mi teléfono celular Xiaomi redmi9.
---

---
---