¡Ahora Si! Regresa el Goat - Now the Goat is back! [ESP-ENG]
Luego de 3 años de ausencia, volveremos a tener a Jon Jones, esta vez, en los pesos completos. Estará luchando por el título de la división, frente a Ciryl Gane, siendo la batalla estelar del evento UFC285. ¡Por fin! La espera ha terminado, los fanáticos estaban ansiosos, querían ver a Jon Jones nuevamente arriba del octágono y lo tendrán el 4 de marzo en las Vegas.
After 3 years of absence, we will have Jon Jones again, this time, in the heavyweight division. He will be fighting for the title of the division, against Ciryl Gane, being the main event of UFC285. The wait is over, the fans were anxious, they wanted to see Jon Jones back in the octagon and they will have him on March 4 in Las Vegas.
Jon Jones debutará en las 265 libras, cuando toda su carrera estuvo peleando en las 205 libras, no es un cambio menor, estamos hablando de una gran diferencia de peso, Jones domino durante toda una década, nadie pudo vencerlo en las 205 libras, manteniendo el reinado hasta su último combate y ahora desea iniciar este nuevo reto en los pesados. La primera prueba será contra el número 1 de la categoría, Ciryl Gane, hombre muy peligroso, quien no será sencillo de derrotar.
Jon Jones will debut at 265 pounds, when all his career was fighting at 205 pounds, it is not a minor change, we are talking about a big weight difference, Jones dominated for a whole decade, no one could beat him at 205 pounds, keeping the reign until his last fight and now he wants to start this new challenge at heavyweight. The first test will be against the number 1 of the category, Ciryl Gane, a very dangerous man, who will not be easy to defeat.
---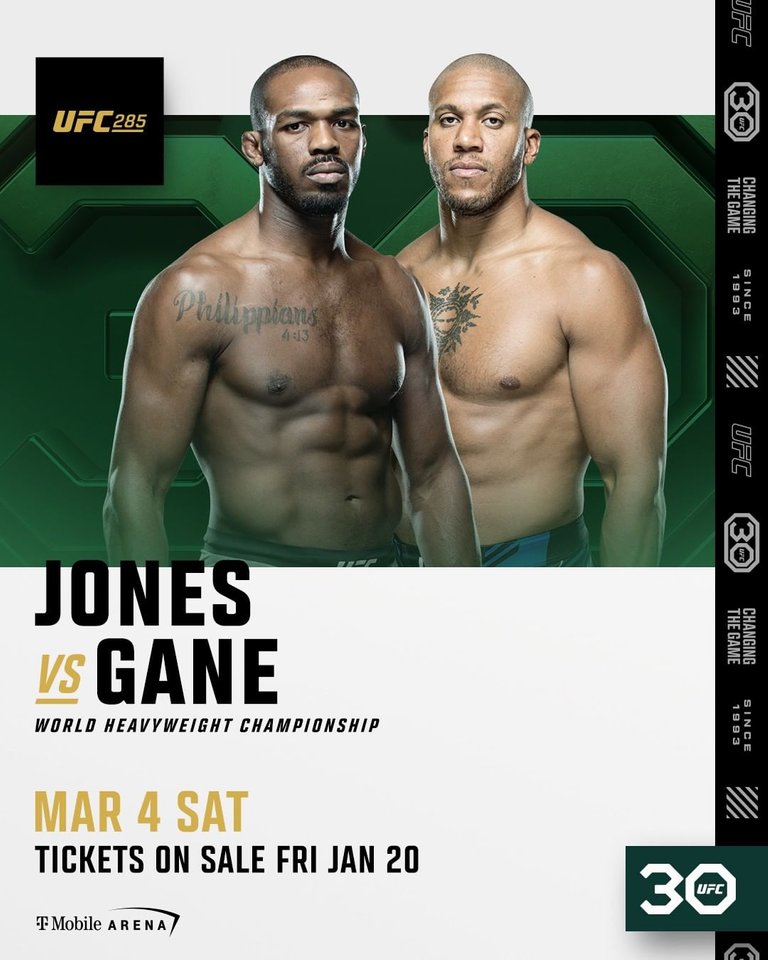 ---
ESPAÑOL
El 8 de febrero es la fecha del último combate de Jones, ha pasado mucho tiempo, teníamos al mejor peleador ausente, si o sí, tenía que regresar este año, no había forma de seguir postergando su aparición, ya son 35 años para Jon Jones, aun esta joven, pero, pronto empieza la etapa del descenso, perder más tiempo sería catastrófico. La inactividad no debe ser buena, hay muchas dudas sobre el regreso, algunos piensan que no tendrá la superioridad que se espera.
Jon Jones ahora mismo no es favorito, lo marcan las apuestas, nunca había sucedido eso en 10 años, siempre en cada combate, llegaba con el aura de victoria, hombre que aplastaría. Los tiempos cambian, los luchadores evolucionan, los pesados son distintos, Ciryl Gane es un claro ejemplo, carga mucho peso encima, pero se mueve como una mariposa, junto a un gran striking, Jones se encontrara ante un escenario completamente diferente.
Georges St-Pierre estuvo 4 años fuera, luego regreso al octágono y gano el cinturón de peso medio contra Michael Bisping. Lo menciono, por qué St-Pierre es considerado el goat por muchos y sería la misma situación que atraviesa Jon Jones. Podemos pensar que la inactividad es un factor crucial, pero estos luchadores son leyenda, están diseñados de otra manera, cuentan con una mentalidad de otro planeta, llegan y destruyen. No digo que será fácil, no hemos visto nada de Jon Jones en pesados, pero no me sorprendería una victoria cómodamente.
ENGLISH
February 8 is the date of Jones' last fight, it has been a long time, we had the best fighter absent, yes or yes, he had to return this year, there was no way to keep postponing his appearance, it is already 35 years for Jon Jones, he is still young, but, soon begins the stage of decline, losing more time would be catastrophic. The inactivity should not be good, there are many doubts about the return, some think that he will not have the superiority that is expected.
Jon Jones right now is not a favorite, the bets mark it, that had never happened in 10 years, always in every fight, he arrived with the aura of victory, man who would crush. Times change, fighters evolve, heavyweights are different, Ciryl Gane is a clear example, he carries a lot of weight, but moves like a butterfly, along with a great striking, Jones will face a completely different scenario.
Georges St-Pierre was out for 4 years, then returned to the octagon and won the middleweight belt against Michael Bisping. I mention this because St-Pierre is considered the goat by many and it would be the same situation that Jon Jones is going through. We may think that inactivity is a crucial factor, but these fighters are legends, they are designed differently, they have a mentality from another planet, they come in and destroy. I'm not saying it will be easy, we haven't seen anything from Jon Jones at heavyweight, but I wouldn't be surprised by a comfortable win.
---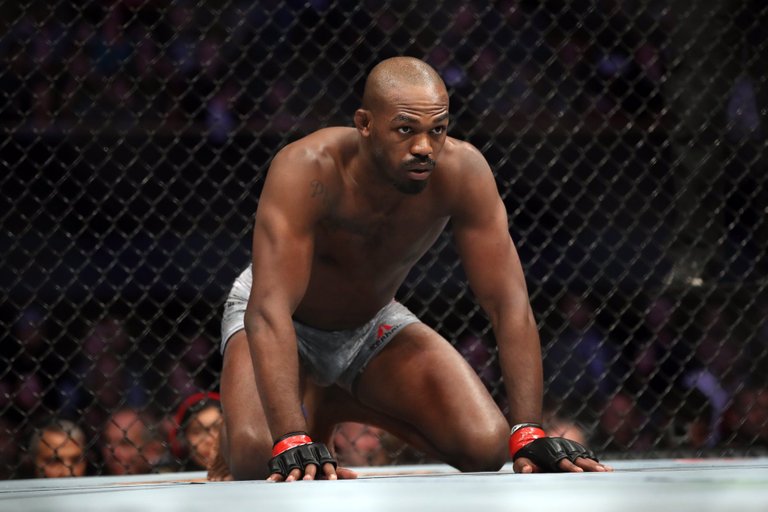 ---
ESPAÑOL
Dana White, menciono que Jon Jones firmo un contrato de 8 peleas, nunca se ha visto una firma de tantos combates, normalmente suelen ser 4 o 5 batallas. La cifra tuvo que haber sido grande, Jones se estuvo quejando del dinero, por eso no peleo durante mucho tiempo. Dejando a un lado lo que ganara, es importante analizar el número de combates, ¿Por qué tanto? Imagino que, en su mente, desea luchar varios años en los pesos completos.
Para mí es sorpresa, pensé que Jon Jones lucharía por el campeonato, y si ganaba se retiraría del MMA. No tiene nada que demostrar, incluso perdiendo, seguirá siendo el mejor de la historia para muchos, por lo menos seria mi caso, aunque ganando, confirmaría su estatus ante todo mundo, Jones como campeón de peso completo, sellaría su nombre como el mejor de la historia sin debate alguno. Este contrato de 8 combates, nos asegura a Jon Jones para rato.
La empresa tiene un plan, enfocaron su visión en Jones, lo cual no está mal, se trata del mejor artista marcial que tienen, pero, debieron hacerlo años atrás, no en este momento, la edad siempre gana, no puedes competir contra ello, realmente me cuesta creer que Jones peleara 8 veces más. Seguro no finaliza el contrato, se retira antes, pero si veremos unos 4 combates del goat y con eso debemos estar felices.
ENGLISH
Dana White mentioned that Jon Jones signed a contract of 8 fights, never seen a signature of so many fights, usually usually 4 or 5 battles. The figure had to have been big, Jones was complaining about the money, that's why he didn't fight for a long time. Leaving aside what he earned, it is important to analyze the number of fights, why so many? I imagine that, in his mind, he wants to fight for several years at heavyweight.
For me it's a surprise, I thought Jon Jones would fight for the championship, and if he won he would retire from MMA. He has nothing to prove, even losing, he will still be the best in history for many, at least it would be my case, although winning, would confirm his status before everyone, Jones as heavyweight champion, would seal his name as the best in history without any debate. This contract of 8 fights, assures us Jon Jones for a while.
The company has a plan, they focused their vision on Jones, which is not bad, this is the best martial artist they have, but, they should have done it years ago, not right now, age always wins, you can't compete against it, I really find it hard to believe that Jones will fight 8 more times. Surely he doesn't finish the contract, he retires before, but if we will see about 4 fights of the goat and with that we should be happy.
---
https://twitter.com/espnmma/status/1614488593556283392
---
ESPAÑOL
Ciryl Gane, por su parte, tiene que estar contento, tendrá la oportunidad más grande de toda su carrera, vencer a Jon Jones, sería histórico, elevaría por completo el nombre del francés, lo convertiría en el mejor pesado de la actualidad y seguramente quedaría en la memoria por siempre de todos. ¿Puede pasar? Sí, hay una gran opción que suceda, la actividad está de su lado, está luchando en su peso natural, sabemos que posee grandes habilidades, por supuesto que tiene con que ganar.
Independientemente, pase lo que pase, UFC285 será místico, una gran noche, no hay nada más importante que el regreso de Jon Jones, se esperó durante tanto tiempo, los aficionados lo disfrutaran. Por un momento se pensó que no volvería, pasaban los meses, años y nada que peleaba. Cuando el UFC coloco el poster oficial, sinceramente se sintió una gran satisfacción, al fin, estábamos cansados de anunciar el regreso y que no ocurriera nada.
Los pesados se mantuvieron apagados, la situación de Francis Ngannou ha sido triste, pero esto revivirá la categoría, gane quien gane, se moverán las fichas, habrá más competencia, nuevamente veremos a la división más excitante en acción, lo cual, resultaba necesario. Si nunca has visto la UFC, te recomiendo la fecha del 4 de marzo, podrás observar al Lebron James del UFC, el Lionel Messi de la empresa, no te lo puedes perder, son momentos únicos que suceden en el deporte. Ciryl Gane o Jon Jones, ¿Quién gana? Pronto un análisis en profundidad del combate.
ENGLISH
Ciryl Gane, for his part, has to be happy, he will have the biggest opportunity of his entire career, beating Jon Jones, it would be historic, it would completely elevate the name of the Frenchman, it would make him the best heavyweight of today and it would surely remain in everyone's memory forever. Can it happen? Yes, there is a great option for it to happen, the activity is on his side, he is fighting at his natural weight, we know he has great skills, of course he has to win.
Regardless, whatever happens, UFC285 will be mystical, a great night, there is nothing more important than the return of Jon Jones, it was expected for so long, the fans will enjoy it. For a moment it was thought that he would not return, months and years passed and nothing he fought. When the UFC placed the official poster, sincerely felt a great satisfaction, finally, we were tired of announcing the return and nothing happened.
The heavyweights remained off, the Francis Ngannou situation has been sad, but this will revive the division, whoever wins, the chips will be stacked, there will be more competition, we will once again see the most exciting division in action, which was necessary. If you have never seen the UFC, I recommend the date of March 4, you will see the Lebron James of the UFC, the Lionel Messi of the company, you can not miss it, they are unique moments that happen in the sport. Ciryl Gane or Jon Jones, who wins? An in-depth analysis of the fight coming soon.
---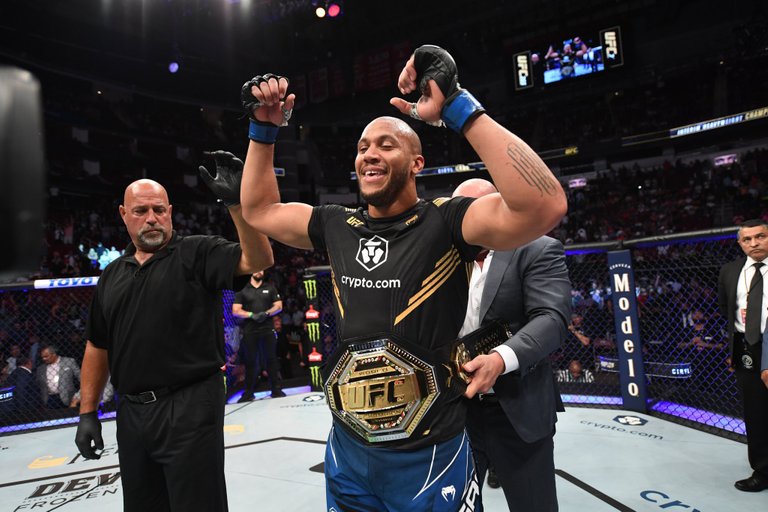 ---

---
---