Merab Dvalishvili es una MÁQUINA [ESP-ENG]
---
ESPAÑOL
Batalla importante en la división de peso gallo, Petr Yan frente a Merab Dvalishvili, ambos peleadores dentro del top 5 de la categoría, hombres que pueden perfectamente luchar por el cinturón de la división. Justamente Petr Yan, ha sido campeón en el pasado, mientras que Merab Dvalishvili, aún no consigue pelear por el título, porque el campeón es su compañero de equipo y no desea enfrentarlo jamás dentro del octágono.
Para este combate, Petr Yan, ranqueado número 2, llegaba con una racha de 2 derrotas consecutivas y tan solo 1 victoria en las últimas 4 peleas. Merab Dvalishvili, venía con una racha impresionante de 8 victorias consecutivas. Ambos peleadores viviendo momentos totalmente diferentes, pero de igual forma, Petr Yan lucia como favorito, cuando la narrativa quizás dictaba lo contrario y el hombre de Georgia termino sorprendiendo a todo mundo, venciendo a Petr Yan de una manera muy dominante y demostrando una gran performance.
ENGLISH
Important battle in the bantamweight division, Petr Yan against Merab Dvalishvili, both fighters within the top 5 of the category, men who can perfectly fight for the belt of the division. Just Petr Yan, has been champion in the past, while Merab Dvalishvili, still does not get to fight for the title, because the champion is his teammate and does not want to ever face him in the octagon.
For this fight, Petr Yan, ranked number 2, was coming in with a streak of 2 consecutive losses and only 1 win in his last 4 fights. Merab Dvalishvili, was coming in with an impressive streak of 8 consecutive wins. Both fighters living totally different moments, but in the same way, Petr Yan looked like a favorite, when the narrative perhaps dictated the opposite and the man from Georgia ended up surprising everyone, beating Petr Yan in a very dominant way and showing a great performance.
---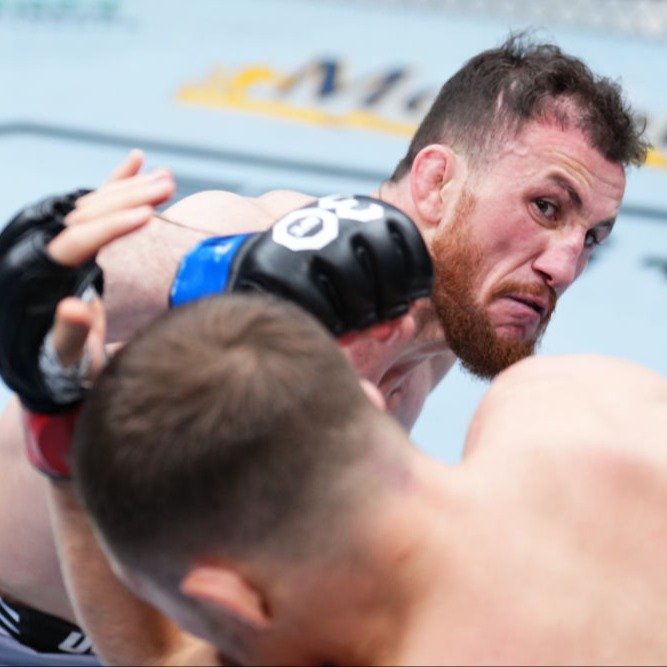 ---
ESPAÑOL
Petr Yan es un luchador que arranca muy tarde en los combates, suele tener comienzos muy lentos, lo cual, puede ser perjudicial, porque perder los 2 primeros asaltos, condiciona mucho el resto de la pelea, aunque la mayoría de veces, termina imponiendo el ritmo y destrozando a sus rivales en los últimos 3 asaltos. Merab Dvalishvili, sabía perfectamente esto, por lo que vino con todo, ejerció presión desde un primer momento, mostrando un ritmo excesivamente alto de combate y del cual muy pocos esperaban que pudiera sostener.
Al parecer, Merab cuenta con 10 pulmones, sinceramente lucio espectacular, nos dejó ver una capacidad de cardio increíble, para mi nunca antes vista, porque no dejo de meter presión jamás, paso por arriba de Petr Yan, combinando golpes arriba, conectando buenas patadas abajo y buscando derribos constantemente. Incluso, consiguió un récord en la UFC, Merab Dvalishvili intento 48 derribos en todo el combate, nadie había podido hacer esto, lo cual nos habla de la intensidad tan alta con la que peleo este hombre y es una de las razones por la cual destruyo a Petr Yan.
Lo apodan "The Machine", ya entiendo el porqué, claramente es una máquina, jamás imaginé esta actuación, pensé que sería una batalla muy reñida, donde ambos estuvieran igualándose en todo momento, pero no hubo nada de eso, todo el combate fue de un solo lado y las tarjetas demuestran el dominio que obtuvo Merab Dvalishvili contra Petr Yan. Termina ganando 50-45, dominando todos los asaltos, sin dejar ninguna duda, Merab acabo con Petr Yan, quien considero que debe tomarse un descanso, porque lleva 3 derrotas consecutivas y eso no le suma absolutamente nada a su carrera. ¿Sobre Merab? Pues considero que tiene todo para ser campeón, ojalá lo veamos pronto luchando por el título.
ENGLISH
Petr Yan is a fighter who starts very late in the fights, he usually has very slow starts, which can be detrimental, because losing the first 2 rounds, conditions the rest of the fight, although most of the time, he ends up imposing the rhythm and destroying his opponents in the last 3 rounds. Merab Dvalishvili, knew this perfectly, so he came with everything, exerted pressure from the first moment, showing an excessively high pace of combat and of which very few expected that he could sustain.
Apparently, Merab has 10 lungs, sincerely looked spectacular, he let us see an incredible cardio capacity, for me never seen before, because he never stopped putting pressure, he went over Petr Yan, combining punches up, connecting good kicks down and looking for takedowns constantly. He even set a UFC record, Merab Dvalishvili attempted 48 takedowns in the entire fight, no one had ever been able to do that, which speaks to the high intensity with which this man fought and is one of the reasons why he destroyed Petr Yan.
He is nicknamed "The Machine", I understand why, he is clearly a machine, I never imagined this performance, I thought it would be a very close fight, where both were equal at all times, but there was nothing like that, the whole fight was one sided and the scorecards show the dominance that Merab Dvalishvili got against Petr Yan. He ended up winning 50-45, dominating all the rounds, without leaving any doubt, Merab finished Petr Yan, who I think should take a break, because he has 3 consecutive defeats and that does not add absolutely nothing to his career. About Merab? Well, I think he has everything to be champion, hopefully we will see him fighting for the title soon.
---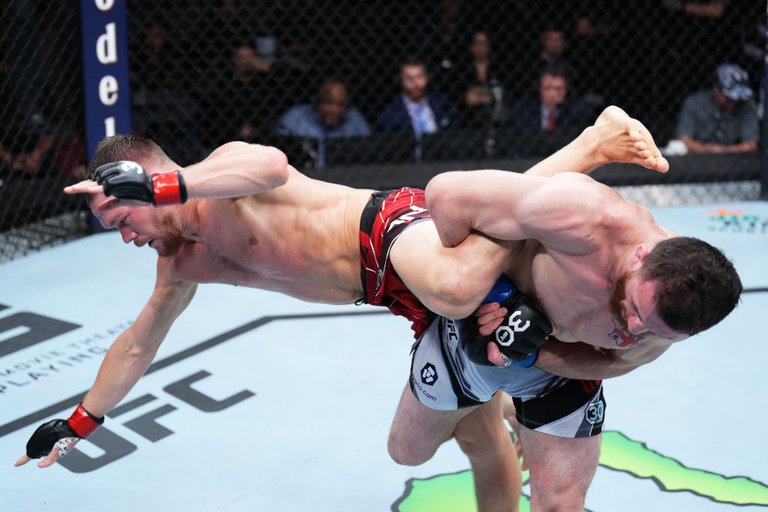 ---
---
---