¿Hasta Cuándo? Lebron James - [ESP-ENG]
El jugador estrella de la liga, Lebron James, perteneciente de los Ángeles Lakers, acaba de completar su campaña número 20 en la NBA. Sus números en temporada regular fueron los siguientes: 28.9 puntos, 8.3 rebotes, 6.8 asistencias y un porcentaje de 50% desde la canasta de 2 puntos. Impresionante, nunca en el baloncesto más importante del mundo, se había visto a un jugador de 38 años de edad, conseguir el rendimiento que ha podido demostrar Lebron James en la temporada 2022-2023.
The league's star player, Lebron James, of the Los Angeles Lakers, has just completed his 20th NBA season. His regular season numbers were as follows: 28.9 points, 8.3 rebounds, 6.8 assists and a 50% percentage from the 2-point basket. Impressive, never in the most important basketball in the world, had a 38-year-old player been seen to achieve the performance that Lebron James has been able to demonstrate in the 2022-2023 season.
Por si fuera poco, Lebron James, promedio los siguientes números en la postemporada: 24.5 puntos, 9.9 rebotes, 6.5 asistencias y termino su último partido con 40 puntos en la eliminación frente a Denver Nuggets. Todas estas asombrosas estadísticas, nos hacen pensar, ¿Cuánto más va a jugar Lebron James? ¿Está cerca el retiro? Personalmente, me cuesta mucho predecir el final de la carrera del mejor atleta que han visto mis ojos, parece que puede llegar a los 40 años con un buen ritmo de baloncesto.
As if that were not enough, Lebron James averaged the following numbers in the postseason: 24.5 points, 9.9 rebounds, 6.5 assists and finished his last game with 40 points in the elimination against Denver Nuggets. All these amazing stats, make us think, how much more is Lebron James going to play? Is he close to retirement? Personally, I have a hard time predicting the end of the career of the best athlete my eyes have ever seen, it seems that he can reach 40 years old with a good basketball rhythm.
---
---
ESPAÑOL
En una rueda de prensa, cuando termino la serie frente a los Denver Nuggets, le preguntaron a Lebron James, acerca del retiro y comento que aún es mejor que el 95% de los jugadores de la liga. Y estoy de acuerdo, Lebron James, todavía sigue siendo un top 5 de los mejores jugadores que posee la NBA, actualmente. La manera de como llevar el tiempo de un partido, la capacidad física, la inteligencia que despliega en la cancha, lo siguen manteniendo como un jugador élite y mientras la condición del cuerpo responda, seguiremos viendo a Lebron James.
Se estima que Lebron James, invierte alrededor de 2 millones de dólares en su cuerpo, lo cual, no me parece descabellado, porque no es habitual que veamos a un jugador a su edad teniendo semejante rendimiento. Por supuesto, ya no es el mismo de años anteriores, se ve reflejado en los porcentajes de 3 puntos, han bajado notablemente, eso se lo podemos atribuir a cansancio, las piernas no le responden igual y se entiende que un jugador veterano no posea la misma resistencia. Pero, su juego sigue siendo de alto nivel.
El mayor sueño que tiene la estrella de los Ángeles Lakers, es poder jugar con su hijo Bronny James, quien será ingresado en la universidad de Southern California, sumamente cerca a su padre, porque cuentan con sede en los Ángeles. Por reglas de la liga, los jugadores ya no pueden saltar directamente hacia la NBA y deben completar un año en la NCAA. El camino parece claro, Bronny James, pudiera ser escogido en el draft del 2024 y su padre lo está esperando para jugar junto a él.
Regresando al juego número 4 de la serie de los Ángeles Lakers vs. Denver Nuggets, Lebron James, disputo el partido completo, estamos hablando de 48 minutos en la duela, cargando a su equipo en la primera mitad, llevando más de 20 puntos y consiguiendo una diferencia de 10 puntos sobre el rival. Lamentablemente, su co-estrella no participo mucho, Lebron James, estaría muy fatigado al final del compromiso, pero, ha sido una actuación legendaria. Al cabo de terminar el juego, mi pensamiento ha sido: Puede jugar 3 años más. Si así lo desea.
ENGLISH
At a press conference after the series against the Denver Nuggets, Lebron James was asked about retirement and he commented that he is still better than 95% of the players in the league. And I agree, Lebron James is still a top 5 player in the NBA today. The way he manages the tempo of a game, the physical ability, the intelligence he displays on the court, still keeps him as an elite player and as long as the condition of his body responds, we will continue to see Lebron James.
It is estimated that Lebron James invests around 2 million dollars in his body, which is not unreasonable, because it is not usual that we see a player at his age having such performance. Of course, he is no longer the same of previous years, it is reflected in the percentages of 3-pointers, have dropped significantly, that we can attribute to fatigue, the legs do not respond the same and it is understood that a veteran player does not have the same resistance. But his game is still at a high level.
The biggest dream that the star of the Los Angeles Lakers has is to be able to play with his son Bronny James, who will be admitted to the University of Southern California, very close to his father, because they are based in Los Angeles. By league rules, players can no longer jump directly to the NBA and must complete a year in the NCAA. The path seems clear, Bronny James, could be picked in the 2024 draft and his father is waiting for him to play alongside him.
Going back to game number 4 of the Los Angeles Lakers vs. Denver Nuggets series, Lebron James, played the whole game, we are talking about 48 minutes on the court, carrying his team in the first half, scoring more than 20 points and getting a difference of 10 points over the opponent. Unfortunately, his co-star did not participate much, Lebron James, would be very fatigued at the end of the commitment, but, it has been a legendary performance. At the end of the game, my thought was: He can play 3 more years. If he wants to.
---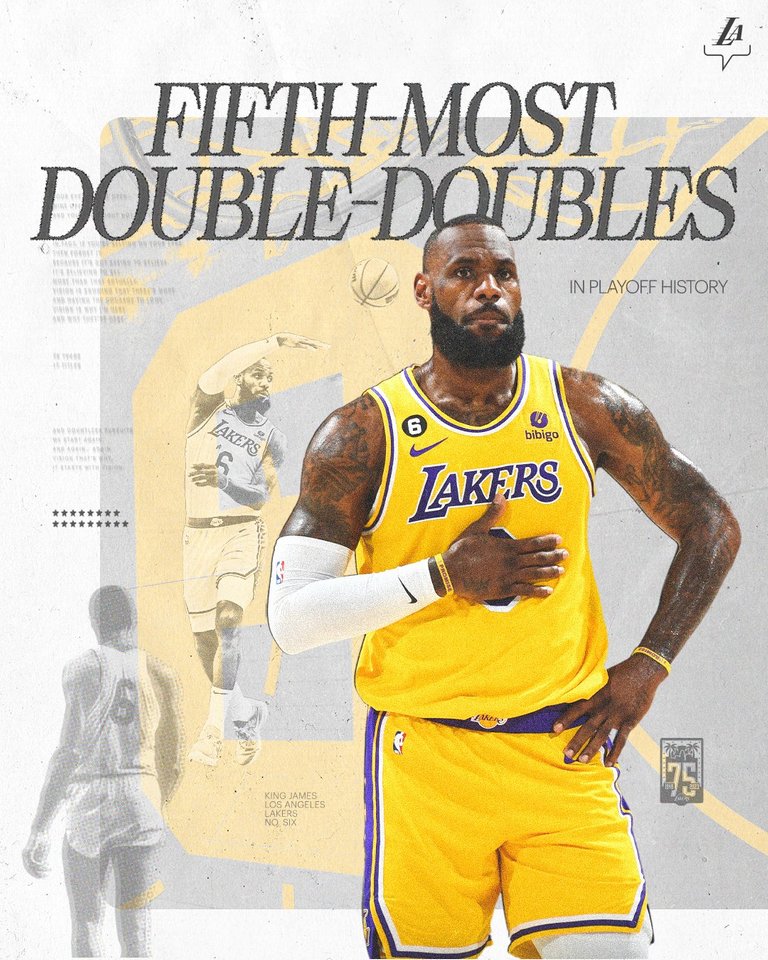 ---
ESPAÑOL
También, se ha mencionado que Lebron James, estuvo jugando con una lesión de tendón en un pie, desde mediados de enero, y sostuvo dicha lesión durante todo ese pasaje de tiempo. Al parecer, tendrá que optar por una cirugía y el mismo jugador comenta que, saludable, podrá realizar un mejor desempeño. ¿Es en serio? Todo lo que hemos visto estos últimos meses, ha sido a un Lebron James lesionado, sinceramente, ¡Wao! Lo que puede hacer este hombre en una cancha de baloncesto, es digno de admirar y me alegro de ser partícipe de poder disfrutarlo.
Para su temporada número 21, va a tener que recibir mucho apoyo, quizás, perderse algunos juegos de temporada regular, no forzar tanto la marcha, disminuir la cantidad de minutos, para no llegar tan exigido hacia los playoffs, donde su equipo lo necesita al 100% de sus capacidades. Me atrevo a decir, que veremos una gran temporada de Lebron James, ¿Por qué? Bueno, los Ángeles Lakers, han reforzado muy bien su plantilla, lo demostrado en la segunda mitad de campaña, no ha sido coincidencia y podrán ganar muchos juegos en la temporada regular sin la dependencia de su máxima estrella.
De esta manera, Lebron James, puede tener mayo tanque al final de temporada, porque no veo a los Ángeles Lakers, sufriendo nuevamente, no van a tener otro comienzo tan desastroso como tuvieron esta temporada 2022-2023. A sus 39 años de edad, va a continuar clavando canastas, haciendo penetraciones fuertes, defendiendo a rivales de gran ponencia física, observamos como pudo defender y "contener" a Nikola Jokic, por ciertos momentos, Lebron James, dosificado de minutos y con un buen balance de juego, seguirá rindiendo a niveles de superestrella.
El factor tiempo sigue invicto, eso nadie lo puede negar, pero, si hay un atleta que ha estado luchando fuertemente contra ello, sin duda alguna, tiene que ser Lebron James. Años tras año, veremos una pequeña caída en su juego, aunque, no será tan drástica como ha sucedido con otras estrellas y leyendas de la NBA. Sin miedo a equivocarme, Lebron James, se va a retirar a los 40 años de edad y con un rendimiento sumamente honrado. De igual forma, la respuesta también podría ser: Hasta que Lebron James quiera.
ENGLISH
Also, it has been mentioned that Lebron James has been playing with a tendon injury in his foot since mid-January and sustained the injury throughout that time. Apparently, he will have to opt for surgery and the player himself says that, healthy, he will be able to perform better. Is he serious? All we've seen these past few months has been an injured Lebron James, honestly, wao! What this man can do on a basketball court, is to be admired and I'm glad to be a part of being able to enjoy it.
For his 21st season, he is going to have to receive a lot of support, maybe miss some regular season games, not force the pace so much, reduce the amount of minutes, so he doesn't get so demanded towards the playoffs, where his team needs him at 100% of his capabilities. I dare to say that we will see a great season from Lebron James, why? Well, the Los Angeles Lakers have reinforced their roster very well, what they have shown in the second half of the season has not been a coincidence and they will be able to win many games in the regular season without the dependence of their top star.
In this way, Lebron James can have a May tank at the end of the season, because I do not see the Los Angeles Lakers suffering again, they will not have another start as disastrous as they had this season 2022-2023. At 39 years of age, he is going to continue nailing baskets, making strong penetrations, defending opponents of great physical ponencia, we observed how he was able to defend and "contain" Nikola Jokic, for certain moments, Lebron James, dosed of minutes and with a good balance of game, will continue to perform at superstar levels.
The time factor is still undefeated, no one can deny that, but, if there is one athlete who has been fighting hard against it, without a doubt, it has to be Lebron James. Year after year, we will see a small drop in his game, although, it won't be as drastic as it has happened with other NBA stars and legends. Without fear of being wrong, Lebron James, is going to retire at 40 years of age and with an extremely honest performance. Likewise, the answer could also be: Until Lebron James wants to.
---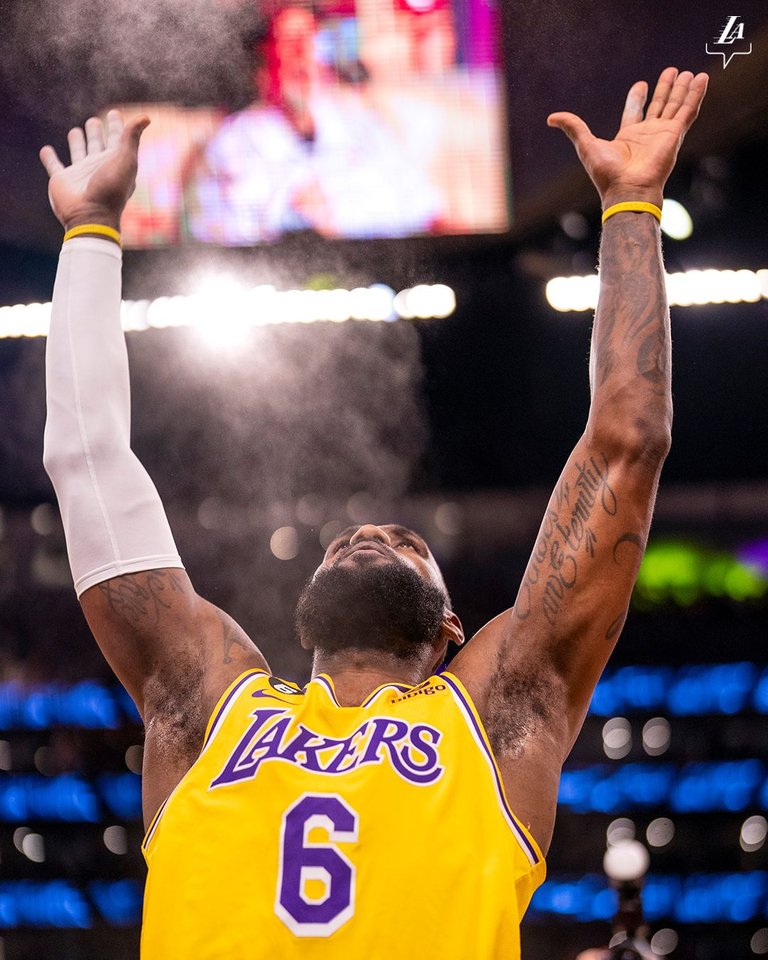 ---

Les dejo Mi Twitter ---> Wensports
---
---