Holly Holm vs Ketlen Viera // Was there a robbery? - Holly Holm vs Ketlen Viera // Hubo robo? [ENG-ESP]
I just saw again this fight, one that was full of controversy for the final decision, because Ketlen Viera was winning by decision on the cards, which many thought it was a robbery, they think the winner should have been Holly Holm. When I saw this fight on Saturday, I thought the same thing, but today that I have seen it again, now I am more inclined to Ketlen Viera and I think the decision was more than fair. Clearly a very close fight, I don't see why there is so much alarm, so I will be commenting an analysis of what I was watching.
Acabo de ver nuevamente este combate, uno que estuvo lleno de polémica por la decisión final, pues estuvo ganando Ketlen Viera por decisión en las tarjetas, lo que a muchos le pareció robo, piensan que la ganadora debió ser Holly Holm. Cuando me vi esta pelea el sábado, pensé lo mismo, pero hoy que la he vuelto a ver, ahora me inclino mas hacia Ketlen Viera y creo que la decisión fue mas que justa. Claramente una pelea muy cerrada, no veo porque se debe tanta alarma, así que estaré comentando un análisis de lo que yo estuve observando.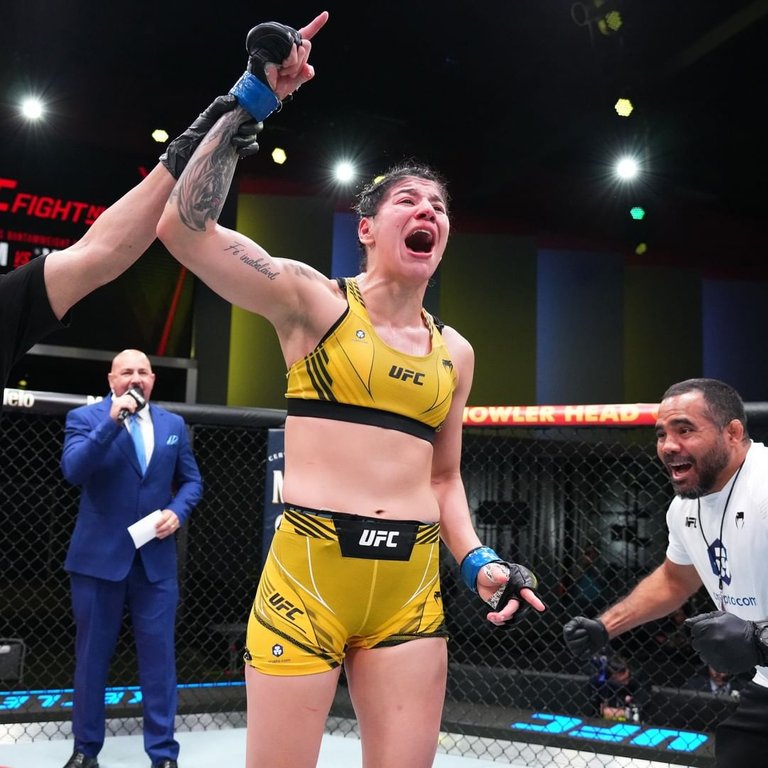 ---
Control time - Tiempo de control
---
Holly Holm is a fighter whose specialty is boxing, many may remember her because she was the one who defeated Ronda Rousey, perhaps one of the most surprising victories in the history of the UFC, she had 2 years without fighting and this time she was in a dispute against Ketlen Viera. In this fight she completely changed her style of fighting, Holly Holm did not go out to box, but she was looking for the fight through the fight and managed to impose that during the first 2 rounds. There were moments where Holly Holm sent Ketlen Viera against the fence, putting pressure with her wrestling and maintaining "dominance" and time control in the octagon.
Holly Holm es una peleadora que tiene como especialidad el boxeo, muchos la deben recordar porque fue quien venció a Ronda Rousey, quizás una de las victorias mas sorpresivas en la historia de la UFC, tenia 2 años sin pelear y esta vez estaba en una disputa contra Ketlen Viera. En este combate cambio por completo su estilo de pelea, Holly Holm no salio a boxear, si no que estuvo buscando el combate por medio de la lucha y logro imponer eso durante los 2 primeros asaltos. Hubieron momentos donde Holly Holm mandaba contra la reja a Ketlen Viera, haciendo presión con su lucha y manteniendo "dominio" y control de tiempo en el octágono.
In the UFC they take into account the control over the opponent, but I think the control that Holly Holm had, really wasn't profitable, because she wasn't hurting her opponent, she just had her against the fence and didn't connect punches offering a better fight. For me this can not be considered in the cards, I think you should take into account the damage you generate to the opponent, which Holly Holm was not doing, although she had for a long time her opponent in a position of "dominance". That's why many give the two rounds to Holly Holm, then if we add the 4th round where I think if she won very well, she should take the fight 3-2 at least, but I wouldn't give her those 2 rounds at all.
En la UFC se toma mucho en cuenta lo que es el control sobre el oponente, pero creo que el control que tuvo Holly Holm, realmente no fue nada provechoso, pues no estaba haciendo daño a su rival, solo la tenia pegada contra la reja y no conectaba golpes ofreciendo una mejor lucha. Para mi esto no puede ser considerado en las tarjetas, pienso que se debe tomar en cuenta el daño que generas al adversario, cosa que no estaba haciendo Holly Holm, aunque haya tenido durante un buen rato a su rival en una posición de "dominio". Por eso muchos le dan los dos asaltos a Holly Holm, luego si le sumamos el 4to round donde creo que si gano muy bien, se debería llevar la pelea 3-2 como mínimo, pero yo no le daría esos 2 asaltos en absoluto.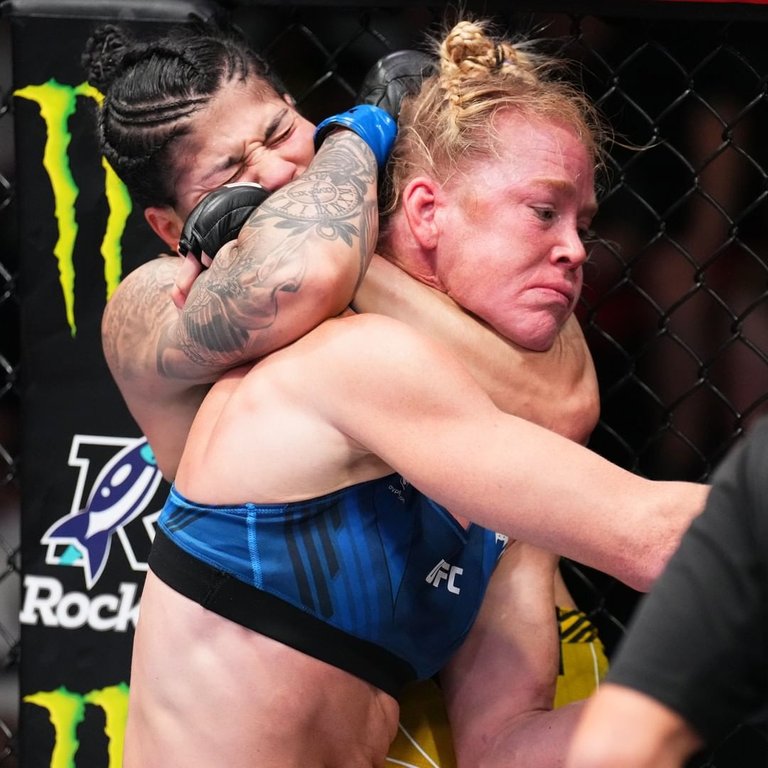 Sources
---
Significant impacts - Golpes significativos
---
Now I come to comment on a statistic that has a lot of weight, it is about the significant blows, a table was coming out where they were placing more for Holly Holm, but in reality I did not see anything like that, my eyes observed a Ketlen Viera connecting very well to the veteran and with great effectiveness. I think this is what the judges saw, who was connecting more damage and without a doubt it was Ketlen Viera, this great fighter with kicks on the feet was winning points and then with some right punches as well.
Ahora vengo a comentar sobre una estadística que tiene mucho peso, se trata de los golpes significativos, estuvo saliendo una tabla donde colocaban mas para Holly Holm, pero en realidad yo no vi nada de eso, mis ojos observaron a una Ketlen Viera conectando muy bien a la veterana y con gran efectividad. Pienso que esto fue lo que vieron los jueces, quien estuvo conectando mas golpes de daño y sin duda alguna fue Ketlen Viera, esta gran peleadora con patadas en los pies estaba ganando puntos y luego con algunos golpes de derecha igualmente.
I give the 2nd, 3rd and 5th round to Ketlen Viera, although Holly Holm in certain passages if I got to have her a little in control, every time she managed to get loose or when the fight was proposed in the center of the octagon, Ketlen Viera was the one who could hit more and that for me has more value. Because we are talking about damage to the opponent, that's what fighting in the UFC is all about, because you can not win someone who is practically doing nothing, just keeping his body on top of another, that makes no sense and Ketlen Viera if he was hitting in many moments with great power. Thanks to his significant strikes he took this fight, at least that's for sure what the judges scored and I can see the same thing when I watch the fight again.
Yo le doy el 2do, 3ro y 5to round a Ketlen Viera, aunque Holly Holm en ciertos pasajes si la llego a tener un poco en control, cada vez que lograba soltarse o cuando la pelea se proponía en el centro del octágono, Ketlen Viera fue quien pudo golpear mas y eso para mi tiene mas valor. Porque estamos hablando de daño al adversario, de eso se trata la lucha en la UFC, pues no puede ganar alguien que prácticamente no esta haciendo nada, solo esta manteniendo su cuerpo arriba de otro, eso no tiene sentido y Ketlen Viera si estuvo golpeando en muchos momentos con gran poder. Gracias a sus golpes significativos se llevo este combate, por lo menos eso seguro fue lo que puntearon los jueces y yo al ver de nuevo el combate, puedo ver lo mismo.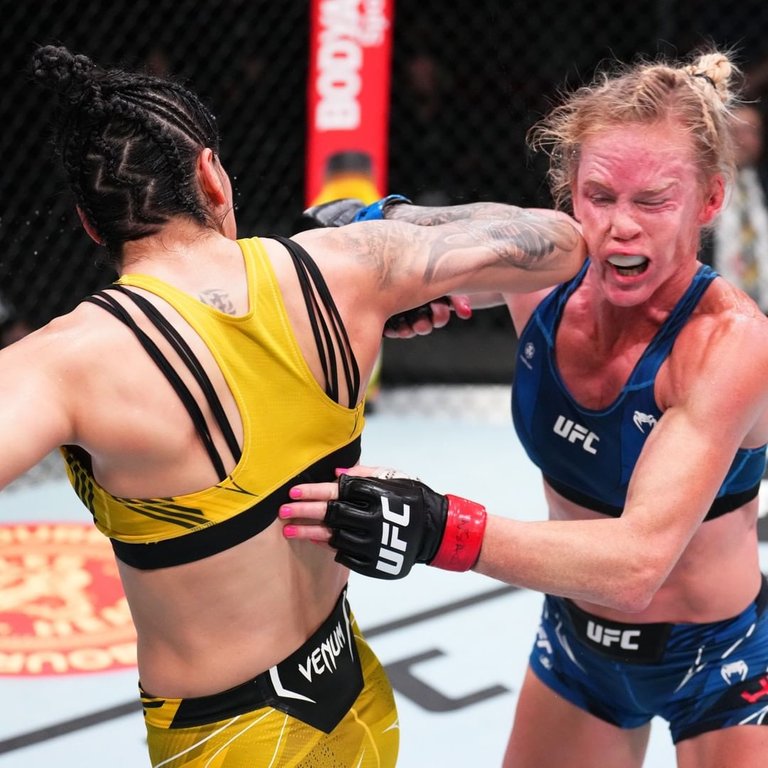 Sources
---
Final opinion of the combat - Opinión final del combate
---
I don't think it was a very entertaining fight, but it was a very close one, I was surprised that Holly Holm didn't look for the fight with striking, the best of her career has been her boxing and that she wanted to win with wrestling was a little surprising. Although when she wanted to trade punches on the feet, she didn't do very well and took a lot of punishment from Ketlen Viera, it was some kicks to the face and right jabs that kept Holly Holm's edge. I think the decision of the judges is very accurate, you can not win fights without proposing anything and although she tried to hit by dominance, there was also a passage where Ketlen Viera turns that position and almost makes her tap in a guillotine attempt to Holm who could get out of it.
No creo que haya sido un combate muy entretenido, pero si que fue uno muy cerrado, me sorprendió que Holly Holm no buscara la pelea con striking, lo mejor de su carrera ha sido su boxeo y que quisiera ganar con lucha fue algo un poco sorpresivo. Aunque cuando quiso intercambiar golpes de pie, no le fue muy bien y recibió mucho castigo por parte de Ketlen Viera, fueron algunas patadas al rostro y golpes de derecha los que mantenían el margen de Holly Holm. Pienso que la decisión de los jueces esta muy acertada, no se pueden ganar combates sin proponer nada y aunque ella intento golpear por medio del dominio, también hubo un pasaje donde Ketlen Viera le voltea esa posición y casi la hace tapear en un intento de guillotina hacia Holm que pudo salirse de eso.
Ketlen Viera won just barely - Ketlen Viera gano con lo justo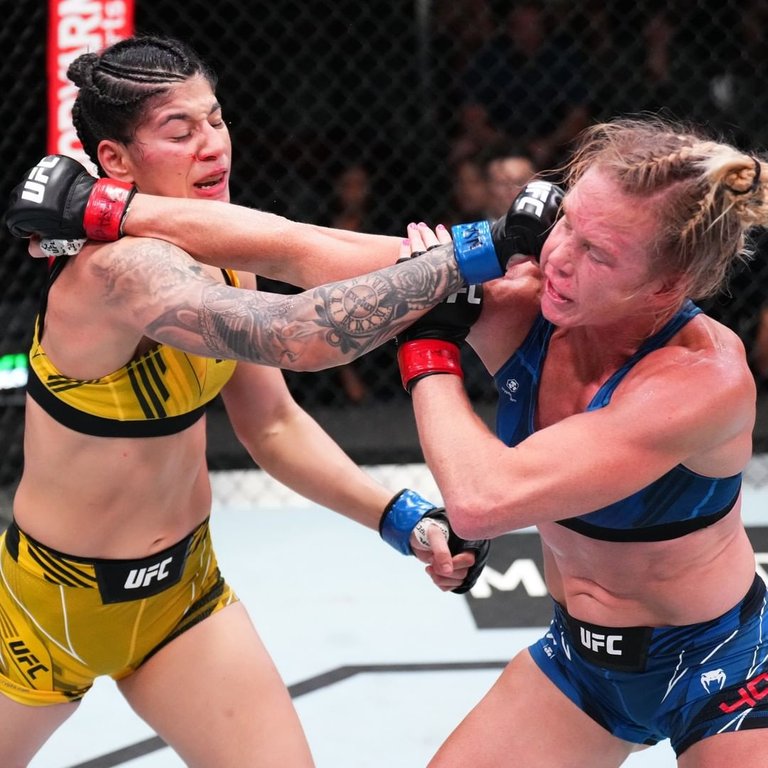 I leave my Twitter ---> Wensports
Translator Used: Deepl
Banner created in Canva
---
---