Jiri Procházka vs Glover Teixeira // Pelea del año // Nuevo campeón - Jiri Procházka vs Glover Teixeira // Fight of the year // New champion [ESP-ENG]
El evento estelar del UFC275 estuvo a la altura de las expectativas, se vivió lo que puede ser la pelea del año hasta el momento en la UFC, tuvimos a dos guerreros que dieron lo mejor de sus habilidades en el octágono, teniendo un desenlace final del película, digno de comparar con el Real Madrid, porque Jiri Procházka estaba totalmente vencido y en un momento inesperado logra ganar por la vía de la sumisión. Si había algo totalmente impensado para esta batalla, seria que Procházka le ganara en el suelo a Glover Teixeira, hombre que podemos considerar que ostenta el mejor piso de la categoría de semipesados y a pesar de eso fue sometido a tan solo 35 segundos de concluir el combate.
The UFC275 main event lived up to expectations, we lived what may be the fight of the year so far in the UFC, we had two warriors who gave the best of their skills in the octagon, having a final outcome of the film, worthy of comparison with Real Madrid, because Jiri Procházka was totally defeated and in an unexpected moment manages to win by way of submission. If there was something totally unthinkable for this fight, it would be that Procházka would beat Glover Teixeira on the ground, a man who we can consider to have the best floor in the light heavyweight category and despite that he was submitted just 35 seconds before the end of the fight.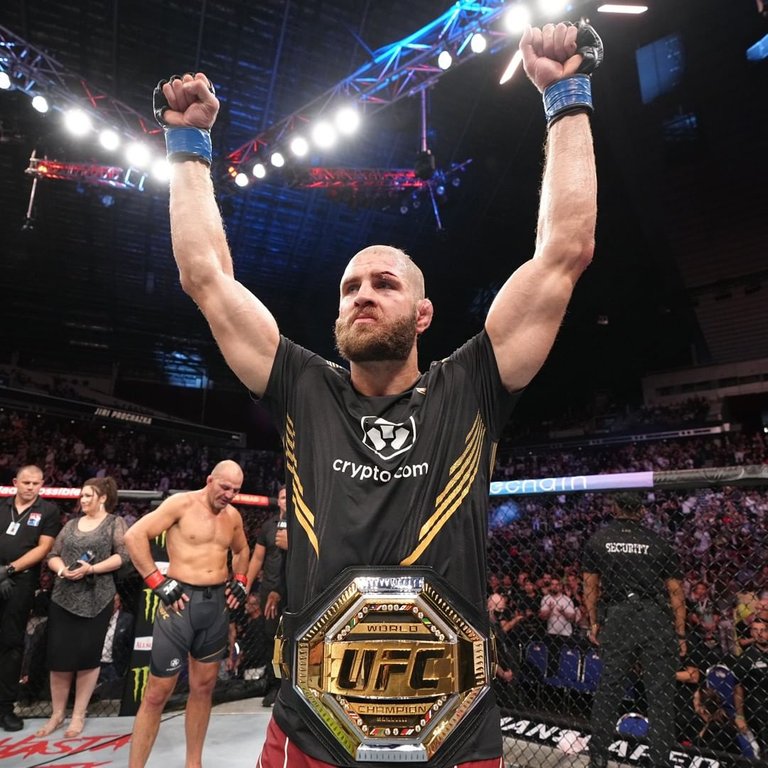 ---
Jiri debe mejorar en el suelo - Jiri must improve on the ground
---
Puede sonar un poco confuso cuando digo que Jiri Procházka debe mejorar en el suelo, porque termino ganando el combate desde ese lugar, pero en toda la pelea fue sumamente dominado a nivel de piso, Glover Teixeira lo derribo las veces que quiso y lo castigo duramente con muchos codos montado arriba de su guardia. Glover solo tenia una opción para ganar este combate, seria con su grappling en el suelo, lo cual estaba consiguiendo, porque para mi el veterano iba ganar la pelea en las tarjetas, habiendo ganado el 1er round, 4to round y el 5to asalto lo estaba ganando hasta que se descuido, dejando que Jiri lo sometiera de una manera impresionante y con tan pocos segundos para que finalizaran las acciones.
It may sound a little confusing when I say that Jiri Procházka must improve on the ground, because he ended up winning the fight from that place, but throughout the fight he was extremely dominated on the ground, Glover Teixeira took him down as many times as he wanted and punished him hard with many elbows mounted on top of his guard. Glover only had one option to win this fight, it would be with his grappling on the ground, which he was getting, because for me the veteran was going to win the fight on the cards, having won the 1st round, 4th round and the 5th round he was winning until he got careless, letting Jiri submit him in an impressive way and with so few seconds to finish the actions.
Procházka a nivel de striking esta excelente, con la pelea de pie estaba propinando mucho daño a Glover Teixeria, incluso en el 3er round pareció que le iba dar un KO, pero el veterano también demostró gran fortaleza y pudo aguantar toda esa embestida. Pero Jiri tiene que mejorar si o si su nivel de habilidad en el piso, la UFC actualmente esta muy fuerte en esa zona, los peleadores que no son completos o no tienen un buen desempeño en el piso, terminan sufriendo mucho contra los especialistas del grappling, justamente lo que vimos en esta pelea donde Glover estaba haciendo lo que quería con Jiri en el suelo, a partir de ahora tiene que comenzar a entrenar mucho desde abajo, porque se vio muy vulnerable y como buen peleador que luce Procházka tiene que añadir el suelo a su repertorio.
Procházka at striking level is excellent, with the standing fight he was giving a lot of damage to Glover Teixeria, even in the 3rd round it seemed that he was going to give him a KO, but the veteran also showed great strength and was able to withstand all that onslaught. But Jiri has to improve if or if his skill level on the ground, the UFC is currently very strong in that area, the fighters who are not complete or do not have a good performance on the ground, end up suffering a lot against grappling specialists, just what we saw in this fight where Glover was doing what he wanted with Jiri on the ground, from now on he has to start training a lot from below, because he looked very vulnerable and as a good fighter who looks Procházka has to add the ground to his repertoire.
Jiri logra hacerse fuerte en el suelo y va dominar la división durante unos buenos años, lo puedo ver como un campeón dominante, sencillamente eso es lo único que le falta para ser un peleador indetenible, porque demostró que tiene una gran mandíbula, aguanto golpes muy fuertes de Glover Teixeira, los codazos que este hombre le dio en el piso no los aguantan muchos peleadores, luego en el 5to round estuvo a nada de ser noqueado, estaba totalmente mareado, pero lo salvo ese último movimiento en el piso, lo que también me dice que este hombre es especial, tiene una mentalidad de ganador que es característica de los mas grandes, jamás se dio por vencido y siempre lucho creyendo en que podía ganar, a pesar que estaba ya todo perdido y se saco un truco de magia de la galera para acabar el con la victoria.
Jiri manages to become strong on the ground and will dominate the division for a few good years, I can see him as a dominant champion, simply that is the only thing he lacks to be an unstoppable fighter, because he showed that he has a great jaw, he withstood very strong blows from Glover Teixeira, the elbows that this man gave him on the ground not many fighters can withstand, then in the 5th round he was nothing to be knocked out, he was totally dizzy, but that last move on the floor saved him, which also tells me that this man is special, he has a winning mentality that is characteristic of the greatest, he never gave up and always fought believing that he could win, even though everything was already lost and he took a magic trick out of the galley to finish with the victory.
Eres impresionante Jiri - You are amazing Jiri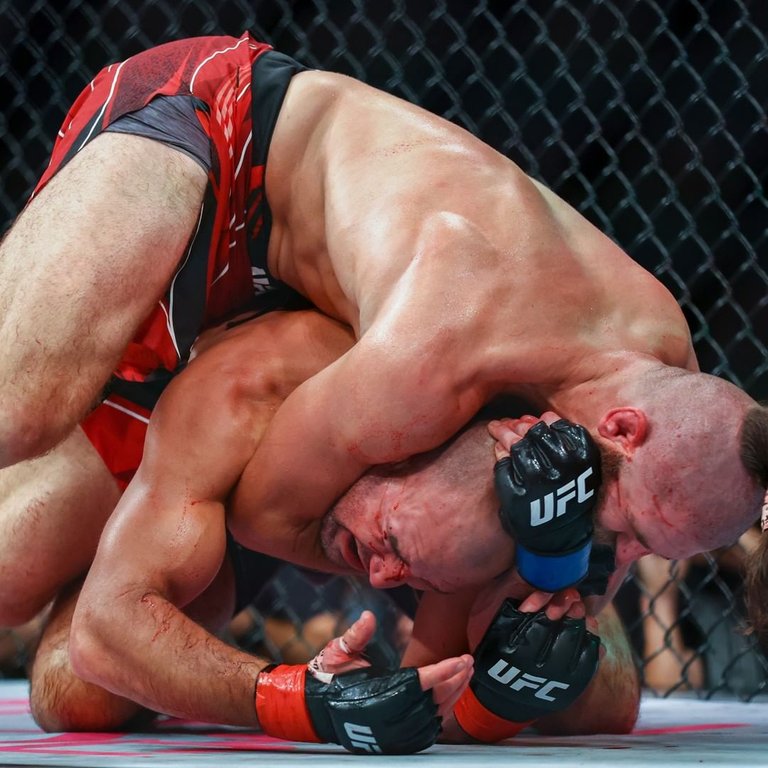 ---
Glover Teixeira no te retires - Glover Teixeira don't retire
---
No soy muy fan de ver a peleadores tan veteranos recibiendo golpes, pienso que hay que retirarse temprano de una disciplina que es muy dura, este deporte te puede acarrear problemas de salud en el futuro, además que tener cierta edad te convierte en un rival mas débil para los grandes peleadores del top, pero este no es el caso de Glover Teixeira, debo admitir que me sorprendió muchísimo el performance que dio anoche, se vio un hombre que físicamente estaba impecable, un gran profesional de su parte y que hizo todo casi perfecto para defender su titulo. Teixeira es muy inteligente, claramente su experiencia fue vital para este combate, sabia que en striking no tenia muchas opciones, fue castigado fuertemente, por lo cual su plan de pelea era llevarlo al piso y lo cumplió muy bien derribando a Jiri muchísimas veces.
I'm not a big fan of seeing such veteran fighters taking punches, I think you have to retire early from a discipline that is very hard, this sport can bring health problems in the future, plus having a certain age makes you a weaker opponent for the great fighters of the top, but this is not the case of Glover Teixeira, I must admit that I was very surprised by the performance he gave last night, it was a man who physically was impeccable, a great professional on his part and did everything almost perfect to defend his title. Teixeira is very smart, clearly his experience was vital for this fight, he knew that in striking he didn't have many options, he was punished heavily, so his fight plan was to take him to the ground and he did it very well, knocking Jiri down many times.
Tener al frente al mejor prospecto que tiene la UFC en estos momentos, no debe ser nada fácil, pero de todas formas Glover Teixeira le hizo frente, dejando a todos con la boca abierta, porque tenían a Procházka super favorito para este combate, pero nunca vimos a Glover Teixeira dominado totalmente, la pelea estuvo sumamente cerrada y en el 5to round donde se iba definir el campeonato, Glover Teixeira salió con todo, todavía le quedaba oxigeno en su tanque, mientras que Procházka siendo 13 años mas joven, no podía ya con su cuerpo y Teixeira lo tuvo a nada de noquear. Tuvo un solo error que fue no terminar de pie el combate, cuando Jiri estaba totalmente mareado, Glover decidió hacer una guillotina desde arriba para abajo, lo que hizo que Jiri terminara por arriba de el en suelo, para posteriormente perder con una sumisión que no se la esperaba nadie, pero Teixeira iba ganar y con este rendimiento tan bueno no se puede pensar en un retiro.
Having to face the best prospect that the UFC has right now, should not be easy, but anyway Glover Teixeira faced him, leaving everyone with their mouths open, because they had Procházka super favorite for this fight, but we never saw Glover Teixeira totally dominated, The fight was extremely close and in the 5th round where the championship was going to be defined, Glover Teixeira came out with everything, he still had oxygen left in his tank, while Procházka being 13 years younger, could no longer with his body and Teixeira had nothing to knock him out. He had only one mistake which was not to finish the fight standing, when Jiri was totally dizzy, Glover decided to do a guillotine from the top down, which made Jiri end up on top of him on the ground, to later lose with a submission that no one expected, but Teixeira was going to win and with this good performance you can not think of a retirement.
Este hombre tiene un suelo que aterroriza a cualquier rival, esta muy duro en el grappling, consiguió una formula perfecta donde trata de no ser golpeado y busca el derribo para dominar abajo sin sufrir mucho. Esto le permite tener el control de lo que suceda en el octágono, claramente no puede colocarse en un intercambio de golpes, acaba perdiendo, pero con este estilo de pelea que tiene Glover Teixeira puede ganarle en estos momentos a cualquiera de la división, quizás 3 peleas mas puede tener antes de finalizar con su carrera, incluso se habla mucho de una revancha contra Jiri porque la batalla estuvo super cerrada, fue impresionante y pienso que se podría considerar esa opción. También se debe comentar que cuenta con una gran pegada, aunque no la utilice mucho porque su plan esta en el suelo, cuando logra impactar contra su rival, facilmente puede terminar ganando con un KO, tiene gran potencia Glover Teixeira en sus manos y lo convierte en un luchador impresionante.
This man has a ground that terrifies any opponent, he is very tough in grappling, he got a perfect formula where he tries not to get hit and looks for the takedown to dominate on the bottom without suffering too much. This allows him to be in control of what happens in the octagon, clearly he can't place himself in a striking exchange, he ends up losing, but with this style of fighting that Glover Teixeira has he can beat anyone in the division right now, maybe 3 more fights he can have before ending his career, there is even a lot of talk about a rematch against Jiri because the battle was super close, it was impressive and I think that option could be considered. It should also be noted that he has a great punch, although he does not use it much because his plan is on the ground, when he manages to impact against his opponent, he can easily end up winning with a KO, Glover Teixeira has great power in his hands and makes him an impressive fighter.
Enorme respeto hacia Glover Teixeira - Enormous respect for Glover Teixeira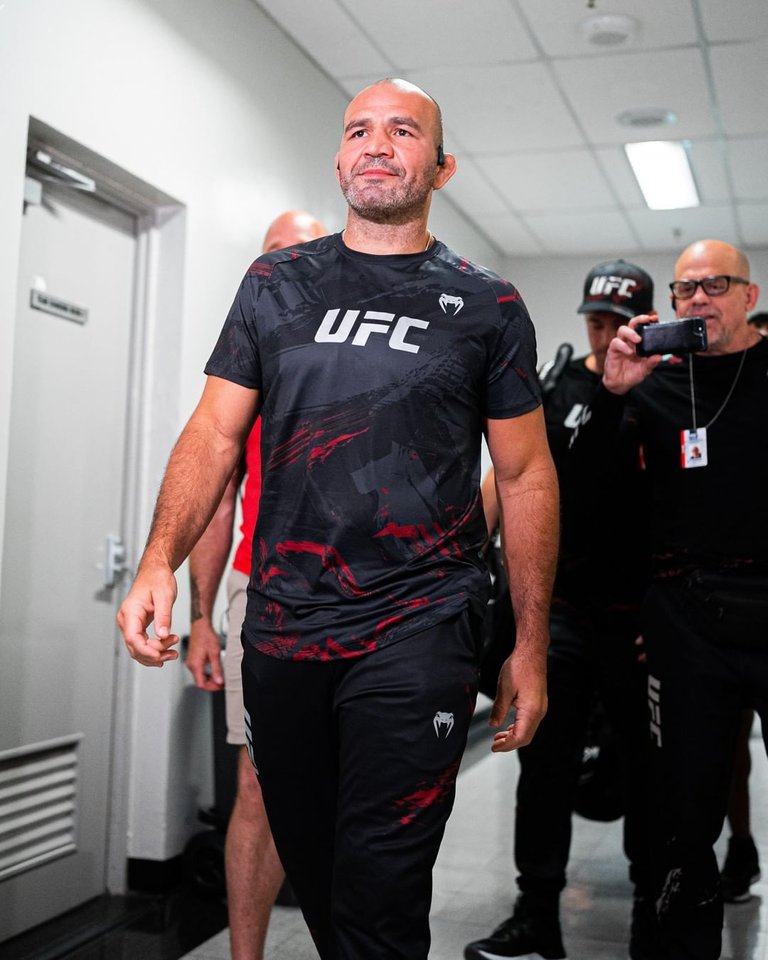 ---
Pelea del año & un campeón histórico - Fight of the year & a historic champion
---
Ha sido un combate de 5 round que otorgo muchísimas emociones, momentos donde pensamos que Jiri Procházka iba ganar con un KO a Teixeira con striking, luego tuvimos a Glover que se veía como ganador en el suelo con los codazos, siempre fue todo muy cerrado donde se repartieron desenlaces importantes para cada luchador; luego para el último round la batalla estaba 2-2 y como termino a falta de nada para concluir fue increíble. Dos estilos de pelea que lucieron a maximo nivel, Procházka con su striking impecable y demoledor con mucho volumen de golpes, mientras que Teixeira hacia lucir su enorme lucha en el suelo con perfecto dominio de la situación. Lo mejor de todo fue que el combate era por el titulo, una batalla crucial que iba definir al campeón y con un desarrollo final impredecible que habla de lo que es la UFC, todo puede pasar y nada esta garantizado dentro del octágono.
It was a 5 round fight that gave a lot of emotions, moments where we thought that Jiri Procházka was going to win with a KO to Teixeira with striking, then we had Glover who looked like a winner on the ground with elbows, it was always very close where important outcomes were distributed for each fighter; then for the last round the battle was 2-2 and how it ended with nothing left to conclude was incredible. Two fighting styles that looked at the highest level, Procházka with his impeccable and demolishing striking with a lot of volume of punches, while Teixeira showed off his great ground fighting with perfect control of the situation. The best of all was that the fight was for the title, a crucial battle that would define the champion and with an unpredictable final development that speaks of what is the UFC, anything can happen and nothing is guaranteed inside the octagon.
Fueron dos guerreros que dejaron en alto el nivel de los semipesados, sencillamente el top 5 de esta división esta muy fuerte, lo cual emociona mucho porque había estado estancada durante muchos años, ya que Jon Jones fue campeón de los semipesados durante casi 10 años, para quien no lo conozca, estoy mencionando al mejor peleador de la historia en la UFC y ahora que no esta vemos mucho movimiento que hacia falta en este peso. Considero a Procházka como el elegido al trono, llego a la UFC y en tan solo 3 peleas ya se convirtió en campeón. Le gano al número 7 del top, luego le gano al número 3 y anoche al campeón, deben enmarcar esto como algo histórico para su estatus como luchador y ahora lo que le viene seguirán siendo peleadores elites de la parte alta de la clasificación.
They were two warriors who left high the level of the light heavyweight, simply the top 5 of this division is very strong, which excites a lot because it had been stagnant for many years, since Jon Jones was champion of the light heavyweight for almost 10 years, for those who do not know him, I am mentioning the best fighter in the history of the UFC and now that he is not here we see much movement that was missing in this weight. I consider Procházka as the chosen one to the throne, he came to the UFC and in only 3 fights he already became champion. He beat the number 7 of the top, then he beat the number 3 and last night he beat the champion, this is something historic for his status as a fighter and now what will follow will be elite fighters from the top of the rankings.
Para concluir debo mencionar que me gusto el gran respeto que se llevo en todo momento, jamás se faltaron el respeto en el cara a cara antes del combate, incluso se vieron muchos videos de estos dos hombres hablando en los pasillos de las instalaciones de la UFC, también al terminar el combate Jiri Procházka le otorga un gran reconocimiento a Glover Teixeira, lo cual habla de su gran profesionalismo y personalmente me encanta esta personalidad del campeón. No hay que llamar la atención del público de mala manera, simplemente con hacer un gran espectáculo en el octágono, todos los fanáticos quedaran contento y eso es lo que viene haciendo Jiri en todas sus batallas, hasta el momento todo ha sido entretenido y lo de anoche ha sido fabuloso. Vamos a ver como el nombre de Procházka comienza a crecer mucho en la UFC, esto le conviene a la compañía y a todos los amantes de este deporte, que para mi es la disciplina con mayor crecimiento de los últimos años y con actuaciones como la que tuvimos en este evento UFC275 seguirá en gran auge.
To conclude I must mention that I liked the great respect that was carried at all times, they never disrespected each other in the face to face before the fight, even many videos were seen of these two men talking in the hallways of the UFC facilities, also at the end of the fight Jiri Procházka gives a great recognition to Glover Teixeira, which speaks of his great professionalism and personally I love this personality of the champion. There is no need to attract the attention of the public in a bad way, just by doing a great show in the octagon, all the fans will be happy and that's what Jiri has been doing in all his fights, so far everything has been entertaining and last night was fabulous. Let's see how Procházka's name begins to grow a lot in the UFC, this is good for the company and for all lovers of this sport, which for me is the discipline with the highest growth in recent years and with performances like the one we had in this event UFC275 will continue to boom.
Batalla espectacular & con mucho respeto - Spectacular battle & with much respect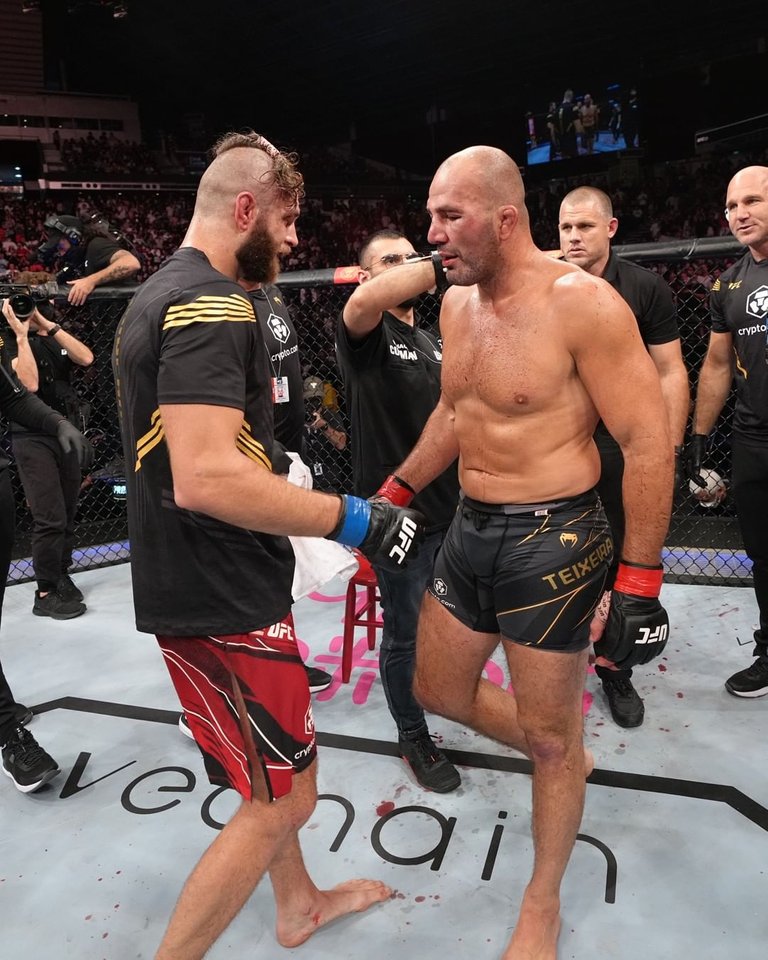 Les dejo Mi Twitter ---> Wensports
Traductor Utilizado: Deepl
Banner creado en Canva
---
---