Jorge Masvidal vs Gilbert Burns [ESP-ENG]
El UFC287 tendrá como batalla estelar, Burns contra Masvidal, 2 luchadores que tienen gran disparidad en las clasificaciones, pues si observamos el ranking, nos damos cuenta de que Gilbert Burns, está ubicado en el puesto número 5 y Jorge Masvidal es número 11. No tiene mucho sentido, pero, Masvidal es una figura importante, logra llenar estadios y por esa razón es ofrecido a este combate tan relevante.
UFC287 will have as stellar battle, Burns vs Masvidal, 2 fighters who have great disparity in the rankings, because if we look at the ranking, we realize that Gilbert Burns, is ranked number 5 and Jorge Masvidal is number 11. It does not make much sense, but, Masvidal is an important figure, manages to fill stadiums and for that reason is offered to this fight so relevant.
La última pelea de Jorge Masvidal, fue en marzo del año pasado(2022), cuando vuelva a subirse al octágono, habrá pasado más de 12 meses, mucho tiempo de inactividad, lo cual, puede perjudicar al peleador. Gilbert acaba de luchar, 23 de enero fue su último combate, pelea donde fue una aplanadora, domino por completo a su rival y lo venció sin recibir un rasguño. El momento, sin duda alguna, está por parte de Gilbert Burns, podemos decir que está en su mejor nivel y Jorge Masvidal está en todo lo contrario.
The last fight of Jorge Masvidal, was in March last year (2022), when he returns to the octagon, it will have been more than 12 months, a long time of inactivity, which may harm the fighter. Gilbert has just fought, January 23 was his last fight, a fight where he was a steamroller, completely dominated his opponent and defeated him without receiving a scratch. The moment, without a doubt, is on the part of Gilbert Burns, we can say that he is at his best level and Jorge Masvidal is in the opposite.
---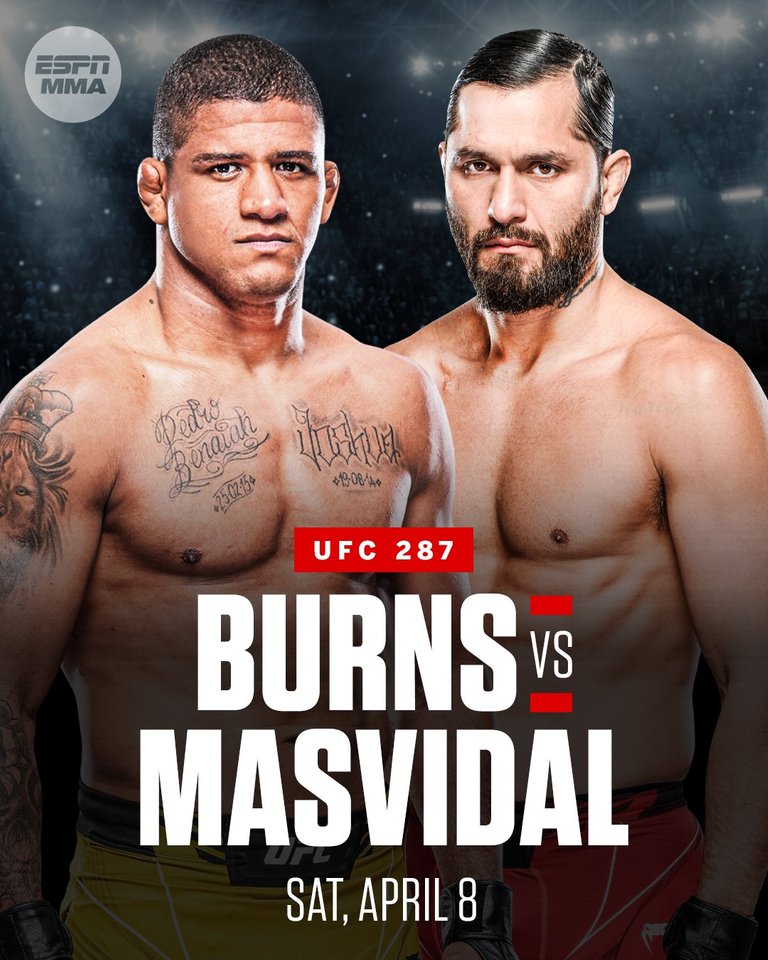 ---
ESPAÑOL
Las apuestas, los fanáticos, analistas, todos o la gran mayoría, piensa que Gilbert Burns, ganara este combate de manera fácil, no dejan opción de victoria hacia Jorge Masvidal, lo cual, tengo que aceptar, porque también opino lo mismo, Gilbert se encuentra en un nivel muy alto, ha mejorado demasiado en su boxeo y abajo en el suelo es de los mejores del mundo.
La única oportunidad que tendría Masvidal, sería en striking, desarrollar un combate de pie, no dejar que lo derriben y esperar un error de Gilbert para conectarlo. ¿Puede suceder? Sí, aunque no creo que se exponga de esa forma, Gilbert sabe que no puede perder, está obligado a ganar, es el gran favorito y tiene que validar su puesto. Estoy seguro de que tendrán intercambios, pero, si Gilbert observa que le están pegando, buscara el suelo y aquí terminara todo.
Gilbert Burns contra Neil Magny, combate reciente del evento UFC283, se acabó en menos de 4 minutos, siendo una sumisión en el primer round, por parte de Burns. Gilbert mencionó luego: "Mi esposa me dijo que quería una sumisión rápida, no quería que me golpearan y eso fue lo que hice". A ese nivel está Burns, hombre que te finaliza rápido si así lo desea, Jorge Masvidal no está en la categoría de Burns, así que podemos pensar en un similar desenlace.
ENGLISH
The betting, fans, analysts, all or the vast majority, think that Gilbert Burns, will win this fight easily, leaving no option of victory to Jorge Masvidal, which, I have to accept, because I also think the same, Gilbert is at a very high level, has improved too much in his boxing and down on the ground is the best in the world.
The only chance Masvidal would have, would be in striking, develop a stand up fight, don't let him get knocked down and wait for a mistake from Gilbert to connect. Can it happen? Yes, although I don't think he would expose himself that way, Gilbert knows he can't lose, he's obligated to win, he's the big favorite and has to validate his position. I'm sure they will have exchanges, but, if Gilbert observes that he is getting hit, he will look for the ground and this is where it will all end.
Gilbert Burns vs. Neil Magny, recent fight from UFC283 event, was over in less than 4 minutes, being a first round submission, by Burns. Gilbert later mentioned: "My wife told me she wanted a quick submission, she didn't want me to get hit and that's what I did ". At that level is Burns, a man who will finish you fast if he wants to, Jorge Masvidal is not in Burns' category, so we can think of a similar outcome.
---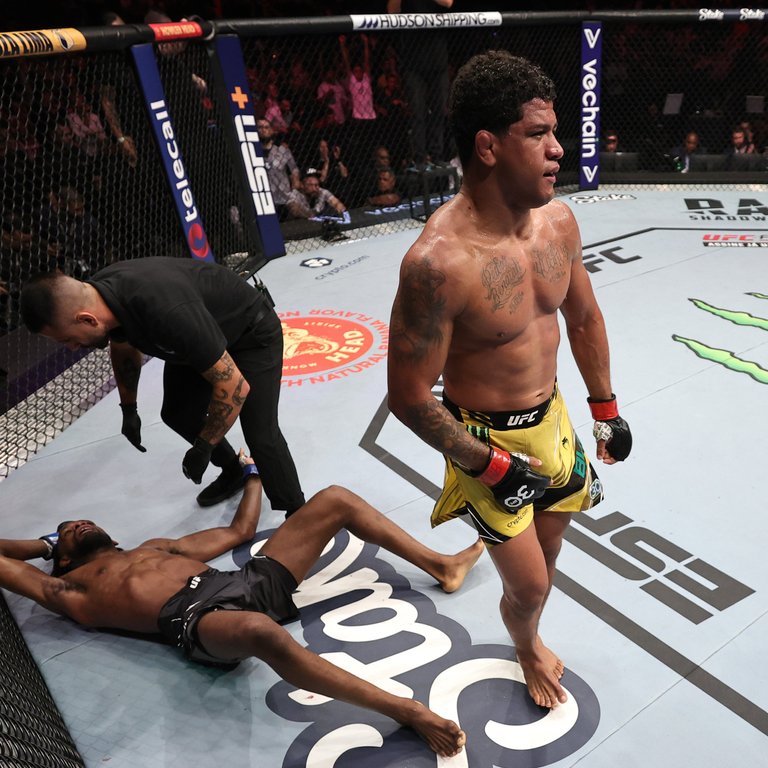 ---
ESPAÑOL
De manera curiosa, este combate beneficia mucho más a Jorge Masvidal, pues ganando y dando la sorpresa, estaría con enormes posibilidades de tener una pelea titular, volviendo a luchar por el cinturón de las 170 libras. Masvidal, pelea de manera consecutiva, dos veces por el cinturón de peso welter, perdiendo ambos combates contra Kamaru Usman, campeón de aquel momento. Hoy, tenemos a Leon Edwards como rey de la división, luchador que posee gran rivalidad con Masvidal.
Gilbert Burns, siendo un peleador de mayores habilidades, quien las personas consideran de la elite, solo ha tenido una chance de ganar el título, perdiendo igualmente contra Kamaru Usman, hombre que estaba dominando fuertemente la división en aquellos tiempos. El Gilbert Burns que lucho en 2021 por el campeonato, es otro al que vemos en la actualidad, la evolución ha sido extraordinaria y pienso que ahora mismo tendría más oportunidades de ganar ante cualquier luchador.
Pero, Gilbert Burns ganando contra Masvidal, no está sumando nada a su carrera, hablando en plano deportivo, porque en dinero, seguramente será el cheque más grande, Jorge Masvidal es un hombre que te coloca dinero y en eso si estará beneficiándose mucho Gilbert Burns. Aunque, no es lo ideal, me gustaría verlo en una lucha titular y venciendo al número 11 de la categoría, no estaría logrando absolutamente nada, aún debería vencer a un top 5 o top 3 de la división y aquí si ganaría la oportunidad de ir hacia el título de peso welter.
ENGLISH
Curiously, this fight benefits Jorge Masvidal much more, because winning and giving the surprise, he would have enormous possibilities of having a title fight, returning to fight for the 170 lbs. belt. Masvidal, fights consecutively, twice for the welterweight belt, losing both fights against Kamaru Usman, champion at that time. Today, we have Leon Edwards as the king of the division, a fighter who has a great rivalry with Masvidal.
Gilbert Burns, being a fighter of greater skills, who people consider elite, has only had one title shot, losing to Kamaru Usman, a man who was strongly dominating the division at the time. The Gilbert Burns who fought in 2021 for the championship, is different from the one we see today, the evolution has been extraordinary and I think right now he would have more chances to win against any fighter.
But, Gilbert Burns winning against Masvidal, is not adding anything to his career, speaking in sporting terms, because in money, it will surely be the biggest check, Jorge Masvidal is a man who puts you money and in that if Gilbert Burns will be benefiting a lot. Although, it is not ideal, I would like to see him in a title fight and beating the number 11 of the category, he would not be achieving absolutely nothing, he should still beat a top 5 or top 3 of the division and here if he would win the opportunity to go to the welterweight title.
---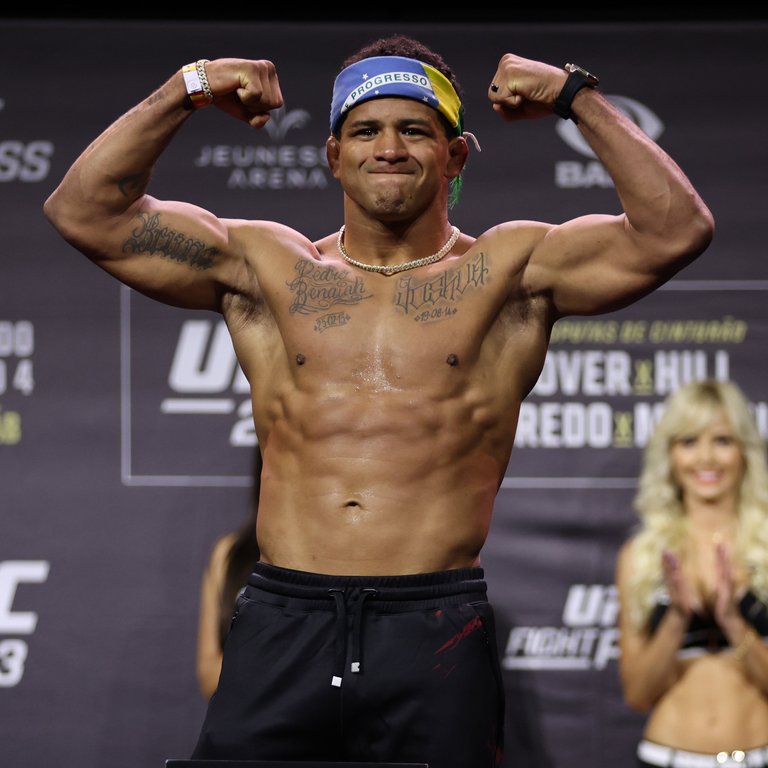 ---
ESPAÑOL
Los mejores tiempos de Jorge Masvidal, han pasado, llegará con 3 derrotas en hilo, para enfrentar a un grapplers de categoría mundial, Gilbert Burns, es un hombre que ha sido campeón mundial en jiu-jitsu, todos le temen en esa área del combate, posiblemente veamos una sumisión de Gilbert hacia Jorge Masvidal. Si buscamos la última victoria de Masvidal, tenemos que irnos hacia 2019, cuando enfrento a Nate Díaz, luchador que ya no está en la empresa.
Se menciona que Jorge Masvidal, es uno de los hombres más pagados en la UFC, obtiene un millón de dólares por combate, lo cual, no está nada mal, pues se hizo muy famoso, el nombre de Masvidal tiene peso, además fue un gran peleador, pero los tiempos han cambiado, ya no es el mismo, tampoco se le ve muy enfocado. Ojalá me equivoque, y tengamos una gran pelea, no haya el dominio que esperamos de Gilbert Burns y sea una completa guerra.
Lo cierto es que Burns está en un estado de forma espectacular, pienso que es uno de los mejores peleadores de la división, fácilmente top 3, porque es muy completo, puede pelear de pie y abajo sabemos que es un animal. Me gustaría verlo pelear contra un Colby Covington, quien esta número 2 de la categoría, esa pelea hubiera tenido más sentido, pero, toca disfrutar este combate, será un gran evento, cuando pelea Masvidal, los asientos nunca están vacíos y es sinónimo de espectáculo. Los dejo con la finalización que hizo popular a Jorge Masvidal, su momento divino, su finalización más amada y la que le otorgo muchos millones.
ENGLISH
The best times of Jorge Masvidal, are over, he will arrive with 3 defeats in a row, to face a world class grappler, Gilbert Burns, he is a man who has been world champion in jiu-jitsu, everyone fears him in that area of the fight, possibly we will see a submission of Gilbert to Jorge Masvidal. If we are looking for Masvidal's last victory, we have to go towards 2019, when he faced Nate Diaz, a fighter who is no longer with the company.
It is mentioned that Jorge Masvidal, is one of the highest paid men in the UFC, he gets a million dollars per fight, which is not bad, because he became very famous, Masvidal's name has weight, he was also a great fighter, but times have changed, he is no longer the same, he is not very focused. I hope I'm wrong, and we have a great fight, there is not the dominance we expect from Gilbert Burns and it will be a complete war.
The truth is that Burns is in spectacular shape, I think he is one of the best fighters in the division, easily top 3, because he is very complete, he can fight standing up and down we know he is an animal. I would like to see him fight a Colby Covington, who is number 2 in the category, that fight would have made more sense, but, enjoy this fight, it will be a great event, when Masvidal fights, the seats are never empty and it is synonymous of spectacle. I leave you with the finish that made Jorge Masvidal popular, his divine moment, his most beloved finish and the one that gave him many millions.
---
https://twitter.com/ufc/status/1619114689283198976
---

---
---