Petr Yan: Necesitado de Victoria - In need of Victory [ESP-ENG]
Confirmada la pelea entre Petr Yan, contra Merab Dvalishvili, la cual tendrá lugar en las Vegas, siendo el 11 de marzo. El combate será el estelar de la noche, no contara como un evento de PPV, aunque fácilmente podría serlo, tenemos 2 peleadores de la elite y, sin embargo, protagonizaran un UFC Fight Night. Merab Dvalishvili es el número 3 de la división y Petr Yan se encuentra número 2 de la categoría de peso gallo(135 libras).
Confirmed the fight between Petr Yan, against Merab Dvalishvili, which will take place in Las Vegas, on March 11. The fight will be the main event of the night, it will not count as a PPV event, although it could easily be, we have 2 elite fighters and yet they will star in a UFC Fight Night. Merab Dvalishvili is ranked #3 in the division and Petr Yan is ranked #2 in the bantamweight division (135 lbs.).
Petr Yan es considerado el mejor luchador de las 135 libras, fue un gran campeón, hasta que perdió el cinturón por descalificación ante Aljamain Sterling, hombre que actualmente sigue siendo el campeón indiscutido y que hace poco le volvió a ganar en una lucha más pareja. A pesar de la derrota, los fanáticos ven a Petr Yan como el peleador con más talento, pero, viene de 2 derrotas consecutivas, un poco polémicas, aunque siguen siendo perdidas y ya no puede darse el lujo de volver a perder.
Petr Yan is considered the best fighter at 135 pounds, he was a great champion, until he lost the belt by disqualification to Aljamain Sterling, a man who is still the undisputed champion and who recently beat him again in a more even fight. Despite the loss, the fans see Petr Yan as the more talented fighter, but, he comes from 2 consecutive defeats, a bit controversial, although they are still losses and he can no longer afford to lose again.
---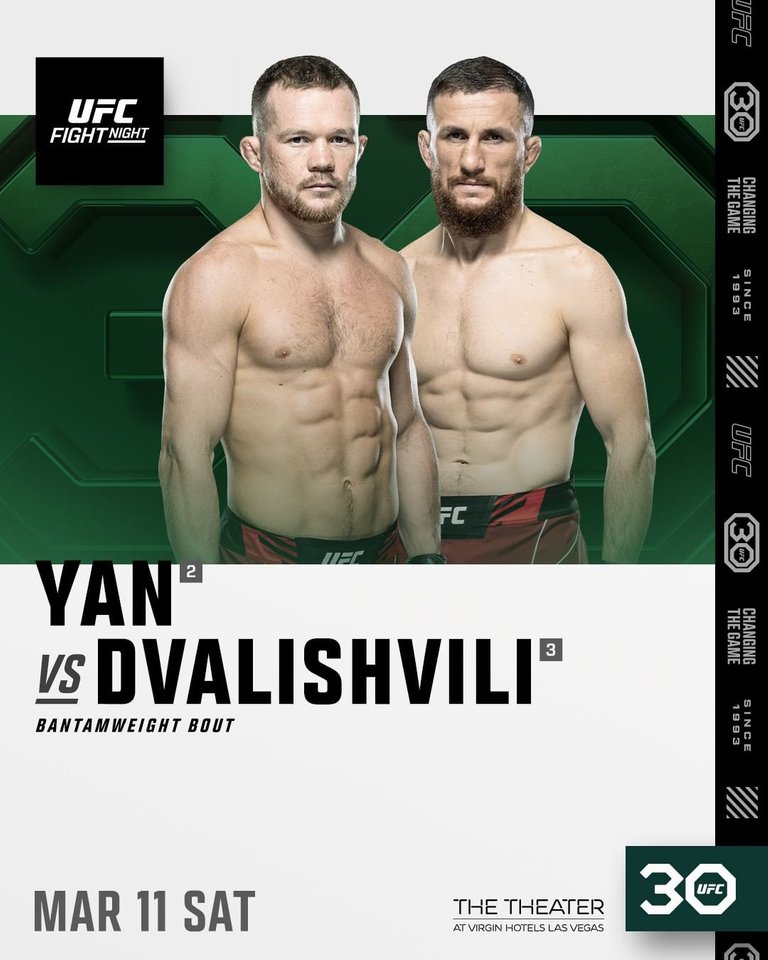 ---
ESPAÑOL
Merab Dvalishvili, posiblemente estuviera peleando por el título, cuenta con todos los méritos para obtener la oportunidad titular, simplemente él no desea hacerlo, la razón es simple, Aljamain Sterling es un gran amigo, entrenan en el mismo gimnasio y no quiere enfrentarse contra él. La decisión se respeta, se ha visto el mismo caso en otras categorías, aquí eso no es lo importante, sino, poder transmitir lo buen peleador que es Merab Dvalishvili, hombre con potencial de campeón, nada fácil para Petr Yan.
Mientras Petr Yan viene con racha perdedora, Merab Dvalishvili, ostenta 8 victorias de manera consecutiva, venciendo a los mejores de la división, ha sido el gran protector de Aljamain Sterling, cuando intentan llegar hacia el campeón, viene Merab Dvalishvili, y les cierra el camino. Sin duda, este combate es de eliminación directa, quien gane tiene grandes opciones de pelear por el título, sabemos que Merab no lo hará, entonces nos queda Petr Yan, quien si desea recuperar su cinturón.
Las 135 libras es una división muy compleja, hay demasiados talentos dentro de ella, muchos con grandes talentos, tenemos a "Chito" Vera en busca de una oportunidad, Sean O'Malley, Cory Sandhagen y Henry Cejudo que está a punto de regresar por el título. Son varios nombres importantes, si Petr Yan quiere seguir siendo relevante, no puede perder, 3 derrotas consecutivas frustrarían su futuro, lo colocarían en una posición nada favorable. Es ganar o ganar para el ruso.
ENGLISH
Merab Dvalishvili, possibly would be fighting for the title, he has all the merits to get the title opportunity, he just does not want to do it, the reason is simple, Aljamain Sterling is a great friend, they train in the same gym and he does not want to face him. The decision is respected, the same case has been seen in other categories, here that is not the important thing, but, to be able to transmit how good a fighter Merab Dvalishvili is, a man with champion potential, not easy for Petr Yan.
While Petr Yan comes with a losing streak, Merab Dvalishvili, has 8 wins in a row, beating the best in the division, has been the great protector of Aljamain Sterling, when they try to get to the champion, Merab Dvalishvili comes and closes the way. Undoubtedly, this fight is a direct elimination, whoever wins has great options to fight for the title, we know that Merab will not do it, then we are left with Petr Yan, who wants to regain his belt.
The 135 pounds is a very complex division, there are too many talents within it, many with great talents, we have "Chito" Vera looking for an opportunity, Sean O'Malley, Cory Sandhagen and Henry Cejudo who is about to return for the title. These are several big names, if Petr Yan wants to remain relevant, he can't lose, 3 consecutive defeats would frustrate his future, would put him in a not favorable position at all. It's win or win for the Russian.
---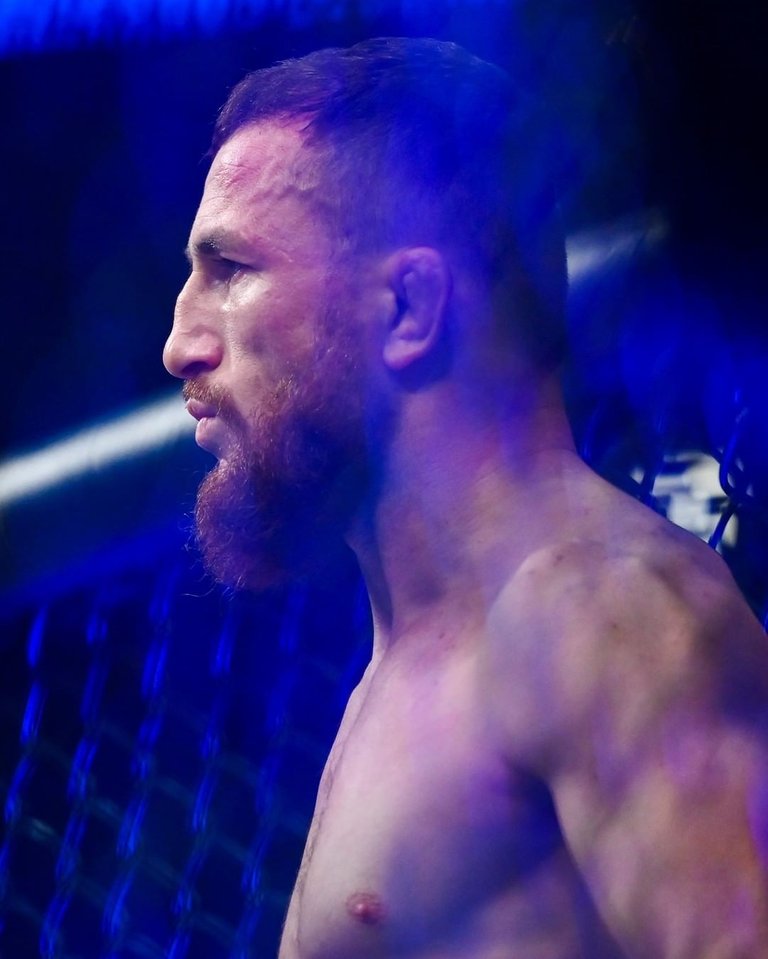 ---
ESPAÑOL
Aljamain Sterling, comento que subirá de división, es un hombre muy grande, su corte de peso es bastante agresivo, tiene que cortar muchas libras, por lo tanto, estará haciendo una defensa más de su título y luego se marchara hacia las 145 libras. Esto abre una gran ventana, pues Merab Dvalishvili, ahora si podría ir por el título, no estará su compañero en la cima.
¿Por qué es importante la subida de división de Sterling? Bueno, Merab sabe la importancia de vencer a Petr Ya, estaría venciendo al número 2 del ranking, un ex campeón, siguiendo con su gran racha de victoria, aumentando el dígito a 9, la UFC no debería negarle la oportunidad titular y para el próximo combate de Merab Dvalishvili, Aljamain Sterling no estará.
Más complicaciones para el ruso, otro luchador por arriba de sus pretensiones, Petr Yan, no puede permitirlo, está en un momento crucial, la victoria es de suma importancia, sea como sea, el 11 de marzo, Petr Yan tiene que vencer y mantener su estatus de contendor al título. La pelea tiene un gran condimento, por primera vez, Merab Dvalishvili se ve con opciones de un título, llegará con una mentalidad distinta, será un peleador más difícil y Petr Yan está necesitado de victoria.
ENGLISH
Aljamain Sterling, commented that he will be moving up a division, he is a very big man, his weight cut is quite aggressive, he has to cut a lot of pounds, therefore, he will be making one more defense of his title and then he will be going to 145 pounds. This opens up a big window, because Merab Dvalishvili, now if he could go for the title, there won't be his partner at the top.
Why is Sterling's move up a division important? Well, Merab knows the importance of beating Petr Ya, he would be beating the number 2 ranked fighter, a former champion, continuing his great winning streak, increasing the digit to 9, the UFC should not deny him the title shot and for Merab Dvalishvili's next fight, Aljamain Sterling will not be there.
More complications for the Russian, another fighter above his claims, Petr Yan, he can't allow it, he is in a crucial moment, the victory is of utmost importance, be that as it may, on March 11, Petr Yan has to win and keep his title contender status. The fight has a great spice, for the first time, Merab Dvalishvili sees himself with a title shot, he will arrive with a different mentality, he will be a tougher fighter and Petr Yan is in need of victory.
---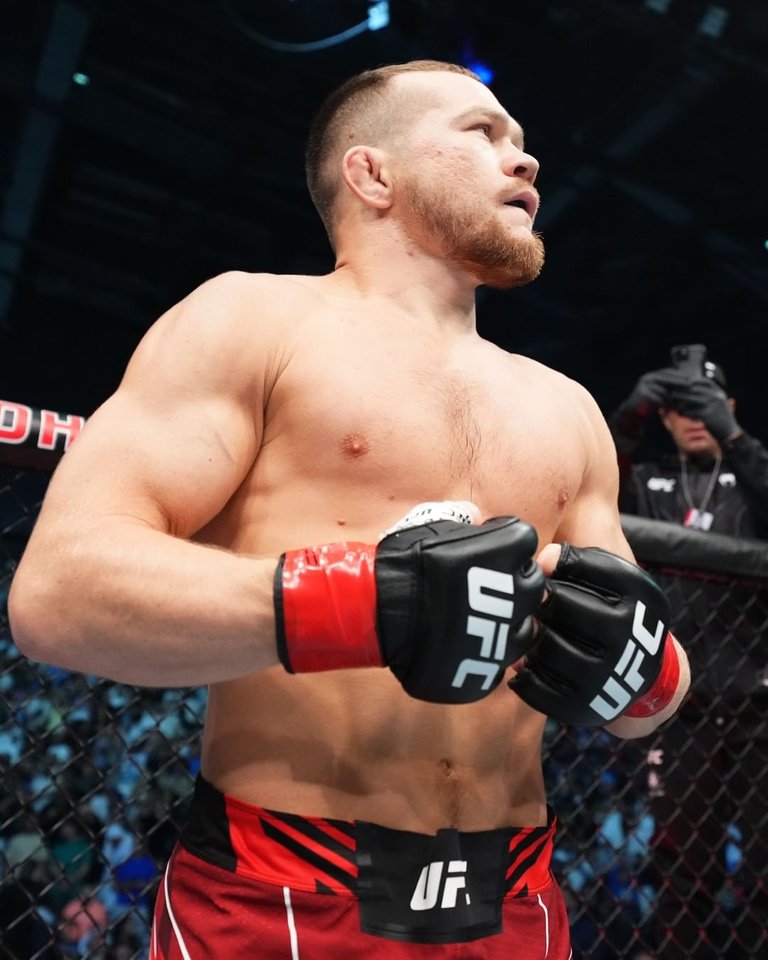 ---
ESPAÑOL
Tengo como favorito a Petr Yan, aunque Merab Dvalishvili, llega con mejor momento, seguro veamos números parejos en las apuestas, espero un combate sumamente cerrado, terminando en las tarjetas, donde cualquiera puede ser el vencedor. No le conviene a Petr Yan concluir en la decisión de los jueces, muchos lo vieron ganar contra Aljamain Sterling, igualmente sucedió contra Sean O'Malley, en ambos casos se habló de "robo", gran multitud vio ganar a Petr Yan.
Tomando en cuenta lo que paso, Petr Yan, puede que venga a finalizar, no dejar dudas, acabar con el compromiso directamente por sus propias manos, quitándole la responsabilidad a los jueces, porque no creo que quiera otra decisión, incluso hubo un rumor que se iba de la compañía, luego de haber perdido contra Sean O'Malley, Petr Yan, también se sintió ganador y creyó que los jueces no le dieron justicia.
El ruso comienza lento sus combates, aquí puede que cambie la estrategia, pienso que será totalmente agresivo desde el arranque, está obligado a ganar, nunca había estado en una situación similar, Petr Yan sabe que no puede fallar, aun esta joven, pero, el tiempo pasa rápido, además está en una división muy difícil, perder sería dejar que sus opciones de ser nuevamente campeón, se evaporen.
La necesidad de ganar, hará que Petr Yan demuestre porque ha sido considerado el mejor de las 135 libras, veremos una versión de dominio, tendremos a un hombre que sorprenderá a los fanáticos y obtendrá una victoria contundente, ante un luchador difícil, como lo es Merab Dvalishvili y eso lo sabremos el 11 de marzo.
ENGLISH
I have Petr Yan as favorite, although Merab Dvalishvili, arrives with better momentum, we will surely see even numbers in the betting, I expect a very close fight, ending on the cards, where anyone can be the winner. It does not suit Petr Yan to conclude in the judges' decision, many saw him win against Aljamain Sterling, the same happened against Sean O'Malley, in both cases there was talk of "robbery", a big crowd saw Petr Yan win.
Taking into account what happened, Petr Yan, may come to finish, leave no doubt, end the commitment directly by his own hands, taking the responsibility to the judges, because I do not think he wants another decision, there was even a rumor that he was leaving the company, after losing to Sean O'Malley, Petr Yan, also felt he won and believed that the judges did not give him justice.
The Russian begins his fights slow, here he may change the strategy, I think he will be totally aggressive from the start, he is obliged to win, he had never been in a similar situation, Petr Yan knows he can not fail, he is still young, but time passes quickly, he is also in a very difficult division, losing would be to let his chances of being champion again, evaporate.
The need to win, will make Petr Yan show why he has been considered the best of 135 pounds, we will see a version of dominance, we will have a man who will surprise the fans and get a resounding victory, against a difficult fighter, as it is Merab Dvalishvili and that we will know on March 11.
---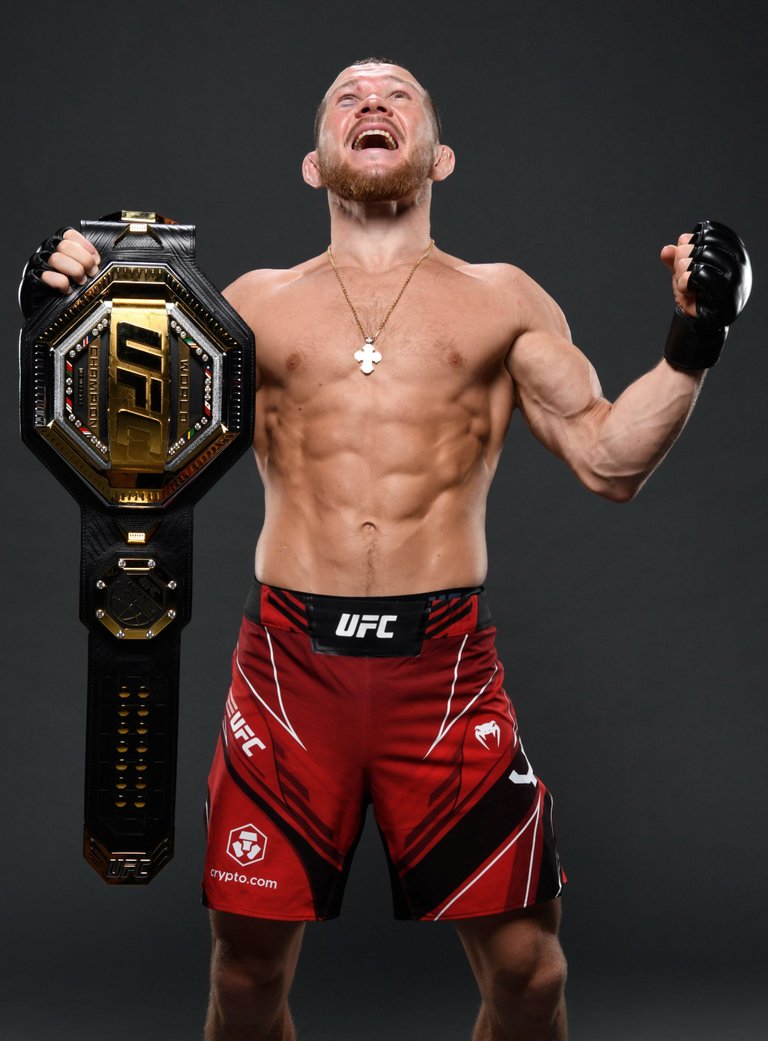 ---

---
---