La Vendetta de Kamaru Usman [ESP-ENG]
---
ESPAÑOL
El maint event de la noche en UFC286, lo estarán protagonizando, Kamaru Usman y Leon Edwards. Este combate establece una trilogía, sí, será la tercera vez en la cual se ven las caras dentro del octágono, pero, para esta ocasión quien tiene el cinturón es Leon Edwards, situación totalmente al pasado evento de UFC278, cuando Kamaru Usman llegaba en búsqueda de obtener otra defensa por el título y terminaba perdiendo a través de una excelente patada por Leon Edwards que lo dejaba totalmente nocaut.
Han pasado 7 meses desde aquel momento paralizante, pues nadie se esperaba el desenlace final, Kamaru Usman estuvo dominando la gran parte del combate, teniendo la victoria asegurada en las tarjetas, hasta que llego el golpe final a falta de 2 minutos para acabar la pelea, y todo diera un giro repentino de manera extraordinaria. Usman alega que ha sido un "ave maría", simplemente un golpe de suerte y que está listo para recuperar el cinturón, mientras que Leon Edwards está confiado en que ha evolucionado mucho y que su nivel se encuentra por encima del retador Kamaru Usman.
ENGLISH
The main event of the night at UFC286 will feature Kamaru Usman and Leon Edwards. This fight establishes a trilogy, yes, it will be the third time in which they face each other inside the octagon, but, for this occasion who has the belt is Leon Edwards, a situation totally different from the last event of UFC278, when Kamaru Usman came in search of another title defense and ended up losing through an excellent kick by Leon Edwards that left him totally knockout.
It has been 7 months since that paralyzing moment, because no one expected the final outcome, Kamaru Usman was dominating most of the fight, having the victory assured on the cards, until the final blow came with 2 minutes left to finish the fight, and everything took a sudden turn in an extraordinary way. Usman claims that it was a "bird of a feather", just a lucky punch and that he is ready to regain the belt, while Leon Edwards is confident that he has evolved a lot and that his level is above the challenger Kamaru Usman.
---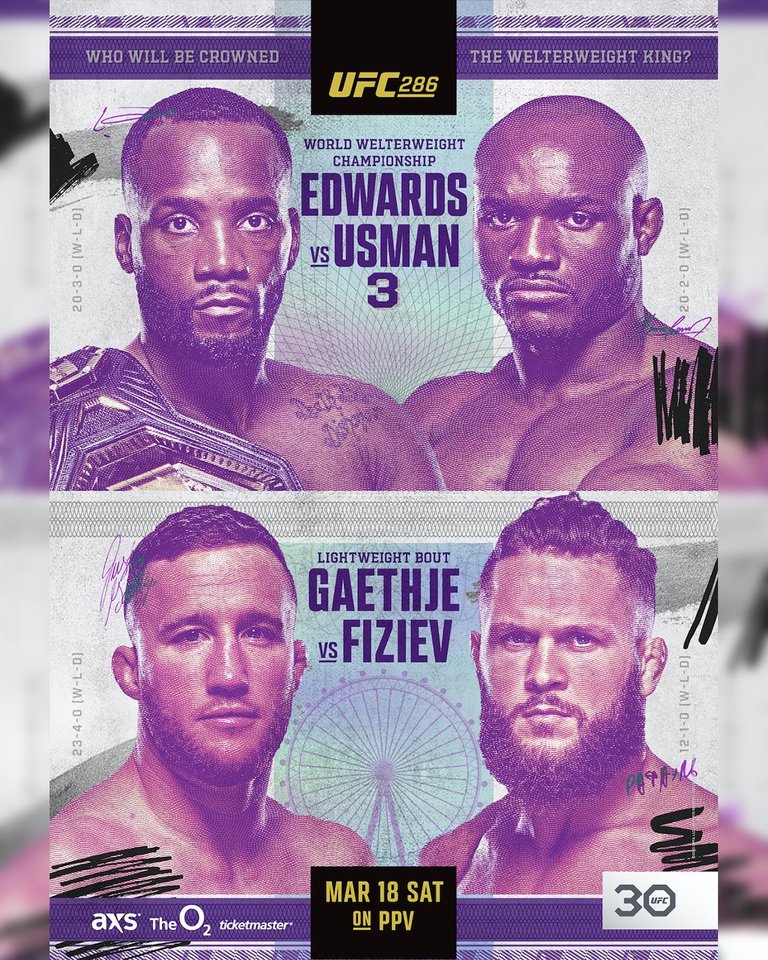 ---
ESPAÑOL
Son peleadores que se conocen muy bien, han pasado más de 40 minutos peleando arriba del octágono, entiende que ofrece cada uno, por lo que no espero un combate tan diferente al anterior, pienso que Kamaru Usman hizo un buen trabajo, solo debe corregir el despiste que tuvo en el último asalto, realizar mucha lucha, llevar al suelo constantemente a Leon Edwards y de esta forma conseguir la victoria. Sobre Edwards, lo mejor es mantener la distancia, aquí puede hacer daño, posee un bonito striking y así fue que consiguió aquel nocaut histórico en UFC278.
El campeón es Leon Edwards, pero en las apuestas, Kamaru Usman abre como favorito, lo cual veo correcto, me parece que Usman tiene mayores herramientas, sin duda alguna, un peleador más completo, ha sido un mérito enorme, lo que logro Leon Edwards, jamás se va a borrar esa patada en la historia del UFC, pero no creo que pueda repetirlo, para mí Kamaru Usman viene con una excelente mentalidad, está concentrado al 100% y está sumamente listo para cazar a su presa y volver hacer el campeón de las 170 libras.
ENGLISH
They are fighters who know each other very well, they have spent more than 40 minutes fighting in the octagon, he understands what each one offers, so I don't expect a fight so different from the previous one, I think Kamaru Usman did a good job, he just has to correct the mistake he had in the last round, make a lot of fight, take Leon Edwards to the ground constantly and in this way get the victory. About Edwards, the best thing is to keep the distance, here he can do damage, he has a nice striking and that's how he got that historic knockout at UFC278.
The champion is Leon Edwards, but in the betting, Kamaru Usman opens as favorite, which I see right, it seems to me that Usman has more tools, without a doubt, a more complete fighter, it has been a huge merit, what Leon Edwards achieved, that kick will never be erased in the history of the UFC, but I do not think he can repeat it, for me Kamaru Usman comes with an excellent mentality, he is 100% focused and is extremely ready to hunt his prey and make the 170 lbs champion again.
---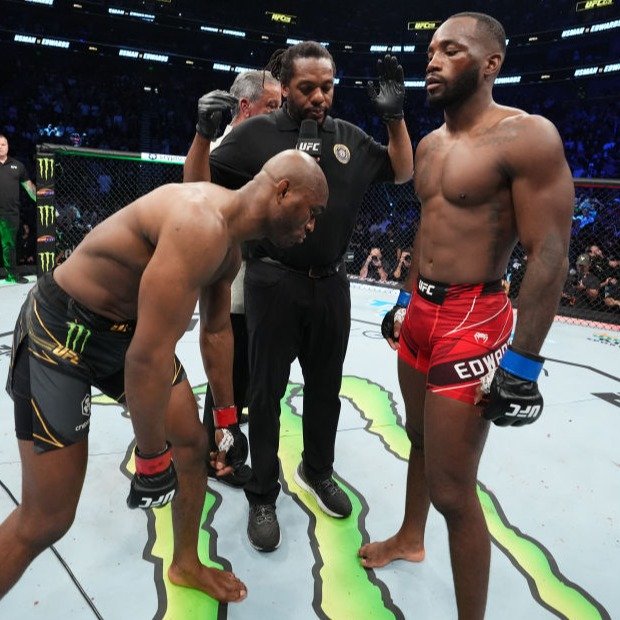 ---
---
---