UFC2022: Los Mejores Nocauts del Año - Best Nocauts of the Year [ESP-ENG]
No tendremos más acción de UFC hasta enero del próximo año 2023, por primera vez, desde hace muchos años, la compañía cierra el octágono a tempranas fechas de diciembre, lo cual es una muestra de lo avanzado que está el deporte y la gran organización que existe hoy en día. Los objetivos se cumplieron en UFC281 y hace poco estuvimos disfrutando el UFC284. Lo que ha logrado Dana White, sin dudas, es impresionante, las MMA están creciendo fuertemente y en gran parte es por este señor.
We will not have more UFC action until January 2023, for the first time in many years, the company closes the octagon in early December, which is a sign of how advanced the sport is and the great organization that exists today. The goals were met at UFC281 and we were recently enjoying UFC284. What Dana White has achieved, without a doubt, is impressive, MMA is growing strongly and it is largely because of this gentleman.
Quiero presentar mi top 3 de mejores nocauts del año, donde hemos visto de todo, pero tengo claro, cuáles fueron los más impactantes para mí y que tuvieran un valor de gran significado en la victoria. Reviviremos un poco de lo acontecido en UFC274, seguido de UFCSanDiego y por último el UFC278. Son 3 eventos que dejaron performances históricas, nocauts que jamás se van a olvidar y que se llevan el premio de ser los mejores del año, basado en mi opinión.
I want to present my top 3 best knockouts of the year, where we have seen everything, but I have clear, which were the most impressive for me and that had a value of great significance in victory. We will relive a little of what happened at UFC274, followed by UFCSanDiego and finally UFC278. They are 3 events that left historic performances, knockouts that will never be forgotten and that take the prize of being the best of the year, based on my opinion.
---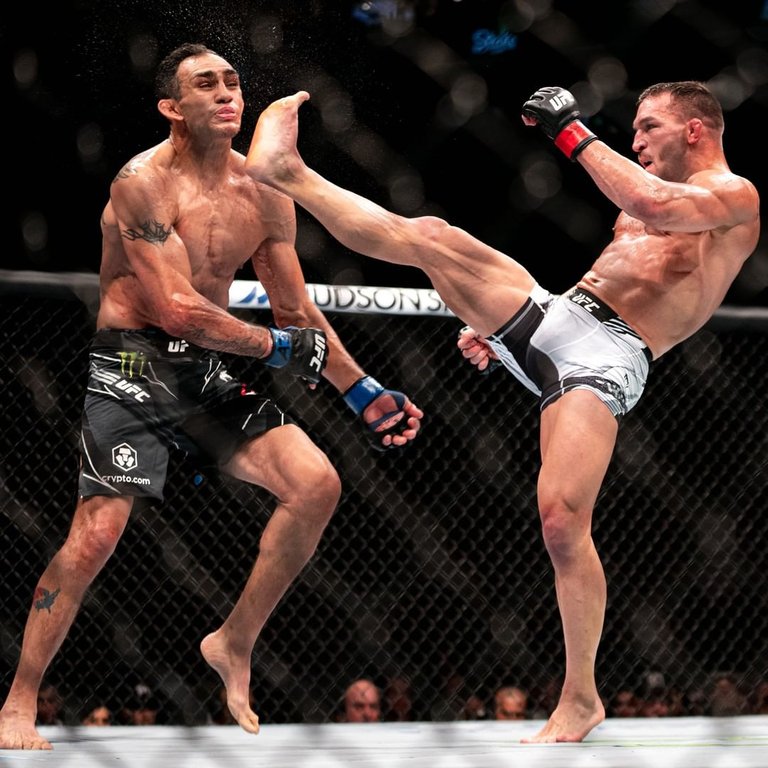 ---
ESPAÑOL
Michael Chandler
Tony Ferguson aceptaría un combate ante Michael Chandler, hombre que estaba necesitando una victoria, para seguir peleando el puesto a ser candidato al título, mientras que Tony venía en una racha muy grande de derrotas y se esperaba que volviera a perder contra un top 5 como lo es Chandler. El evento de UFC274 lo protagonizaría el campeón Charles Oliveira, siendo la batalla estelar contra el retador Justin Gaethje, pelea por el título de peso ligero, pero quien se llevó los reflectores ese día, fue Michael Chandler.
Chandler recibió un pequeño castigo en el primer round, estuvo en malas condiciones, luego utilizo su lucha y en el suelo pudo librarse de aquella presión de Tony Ferguson. Los fanáticos estaban eufóricos, estaban ilusionados con una victoria del veterano, hombre leyenda de la empresa, pero en el segundo round, todas las esperanzas se disolvieron, cuando Michael Chandler salió decidido atacar y con una patada frontal termino el combate. Tony Ferguson cae totalmente perdido en el suelo, jamás habíamos visto a Tony recibiendo un KO.
Tiempo después, Ferguson comento que no se acuerda de nada, cuando retomo conciencia, se encontraba fuera del octágono y en camino hacia el clínico. ¡Increíble! Michael Chandler es un peleador bajo en estatura, Tony Ferguson es muy alto, conseguir esa patada no fue fácil, había que subir mucho el pie. Pocas veces he quedado frío viendo un nocaut, pero aquello front kick de Michael Chandler, fue destructiva y totalmente asesina. Para mí el mejor KO del año.
ENGLISH
Michael Chandler
Tony Ferguson would accept a fight against Michael Chandler, a man who needed a win to stay in contention for a title shot, while Tony was on a losing streak and was expected to lose again to a top 5 contender like Chandler. The UFC274 event would feature champion Charles Oliveira in the headlining fight against challenger Justin Gaethje for the lightweight title, but the one who stole the spotlight that day was Michael Chandler.
Chandler took a little punishment in the first round, he was in bad condition, then he used his wrestling and on the ground he was able to get rid of that pressure from Tony Ferguson. The fans were euphoric, they were looking forward to a victory of the veteran, a legend of the company, but in the second round, all hopes were dissolved, when Michael Chandler came out determined to attack and with a front kick ended the fight. Tony Ferguson falls totally lost on the ground, we had never seen Tony receiving a KO.
Some time later, Ferguson commented that he did not remember anything, when he regained consciousness, he was out of the octagon and on his way to the clinic. Unbelievable! Michael Chandler is a short fighter in stature, Tony Ferguson is very tall, getting that kick was not easy, you had to put your foot up a lot. Few times I have been cold watching a knockout, but that front kick from Michael Chandler, was destructive and totally killer. For me the best KO of the year.
---
https://twitter.com/UFCEspanol/status/1600958397385527296
---
ESPAÑOL
Leon Edwards
Quizás recordemos esta victoria, como una de las más sorprendentes de la historia de la UFC, Leon Edwards enfrentaba a Kamaru Usman, batalla estelar donde el cinturón de peso welter estaba en juego y el UFC278 seria testigo de una noche mágica. Las apuestas tenían como gran favorito a Usman, hombre que venía con una racha de 15 victorias consecutivas y estaba número 1 del ranking global de toda la compañía. El mundo de las MMA, no veía con posibilidades a Leon Edwards, pero nada es imposible en un deporte de contacto.
La pelea no fue muy vistosa, para fanáticos que buscan entretenimiento, podría decir que fue aburrida, Kamaru Usman dominaba con su lucha, llevaba al suelo a Edwards cuando quería y la pelea no tenía mucha competitividad. Estábamos presenciando un dominio total, esperábamos el final del combate y una nueva victoria para el campeón Kamaru Usman. Llega el 5to round, quedan menos de 2 minutos para acabar el combate y se produce la enorme sorpresa. Leon Edwards conecta patada lateral, impactando fuertemente en el rostro de Usman y dejándolo completamente fuera de órbita.
Salt Lake City quedaría en silencio, nadie podía creer lo que había sucedido, Kamaru Usman estaba en el suelo, Leon Edwards lo ha noqueado y es el nuevo campeón de las 170 libras. ¡WOOH! Un come back impresionante, digno de enmarcar en la historia del UFC, pelea que estaba decidida en las tarjetas, fácilmente Kamaru Usman había ganado 3 asaltos y parte del 5to round. Tan solo 1 golpe y todo cambia, así son las MMA. Para mí el segundo mejor KO del año, aunque la UFC lo acaba de colocar como el primero, por lo que significo esa victoria y lo sorpresiva que fue.
ENGLISH
Leon Edwards
Perhaps we remember this victory as one of the most surprising in the history of the UFC, Leon Edwards faced Kamaru Usman, stellar battle where the welterweight belt was at stake and UFC278 would witness a magical night. The oddsmakers had Usman, who was riding a 15-fight win streak and was ranked No. 1 overall in the entire company, as the heavy favorite. The MMA world did not see a chance for Leon Edwards, but nothing is impossible in a contact sport.
The fight was not very showy, for fans looking for entertainment, I could say it was boring, Kamaru Usman dominated with his wrestling, he took Edwards to the ground when he wanted and the fight did not have much competitiveness. We were witnessing a total domination, we were waiting for the end of the fight and a new victory for the champion Kamaru Usman. Round 5 arrives, there are less than 2 minutes left to finish the fight and the huge surprise happens. Leon Edwards connects a side kick, hitting hard on Usman's face and leaving him completely out of orbit.
Salt Lake City would be silent, no one could believe what had happened, Kamaru Usman was on the ground, Leon Edwards had knocked him out and was the new 170 lbs. champion. WOOH! An impressive come back, worthy of framing in the history of the UFC, fight that was decided on the cards, easily Kamaru Usman had won 3 rounds and part of the 5th round. Just 1 punch and everything changes, that's MMA. For me the second best KO of the year, although the UFC has just placed it as the first, because of what that victory meant and how surprising it was.
---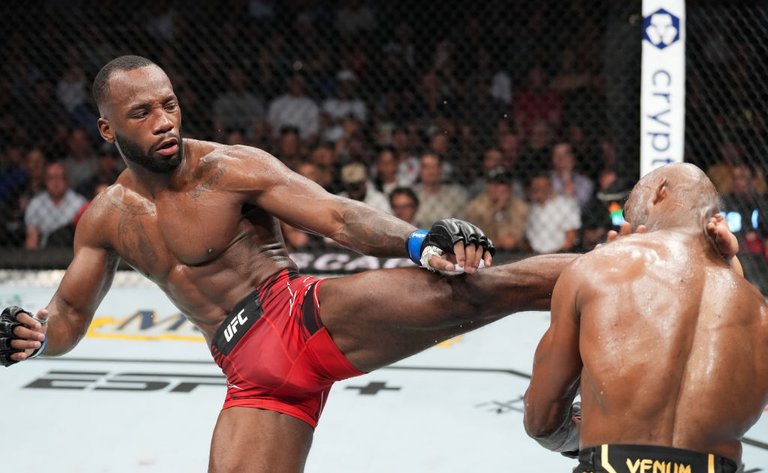 https://twitter.com/UFCEspanol/status/1600309122980888579
---
ESPAÑOL
Marlon "Chito" Vera
El gran ecuatoriano "Chito" Vera, se enfrentaba ante un reto muy complicado, Dominick Cruz sería su rival, luchador que fue campeón en el pasado y que sigue siendo una amenaza para cualquier oponente. Vera necesitaba conseguir la victoria, logrando la hazaña, se colocaría en el top 5 del peso gallo y quedaría muy cerca de una lucha titular. Se habló mucho del poder que tiene Chito, puede noquear con un solo golpe, no necesita mucho más y Dominick fue evidencia de esto.
La pelea estaba por parte de Dominick Cruz, desarrollaba una gran movilidad dentro del octágono, conectaba con velocidad y salía del campo visual de Chito. Estrategia perfecta, no había manera de tocarlo, pero el cardio no estuvo de su parte, poco a poco la gasolina iba disminuyendo y Chito Vera cada vez se hacía más peligroso. Logro derribarlo en 2 ocasiones, conectando buenos golpes, Chito sabía que podía ganarlo, estaba a punto de conectar el golpe final y lo consiguió en el 4to asalto.
Patada impactante que aterriza en el rostro de Dominick Cruz, haciéndolo volar dentro de la jaula y mandándolo a dormir. San Diego explotaría en ovación, Chito Vera había noqueado a una leyenda del peso gallo, conectando una patada que nadie vio venir y acabando con las acciones de manera espectacular. Con esto concluyo mi top 3, dejando a Marlon Vera con el tercer lugar, lo cual me alegra mucho, tenemos a un latino representando en gran forma y que pronto veremos pelear por el cinturón.
ENGLISH
Marlon "Chito" Vera
The great Ecuadorian "Chito" Vera, faced a very complicated challenge, Dominick Cruz would be his opponent, a fighter who was champion in the past and who continues to be a threat to any opponent. Vera needed to get the victory, achieving the feat, he would be placed in the top 5 of the bantamweight and would be very close to a title fight. There was a lot of talk about the power that Chito has, he can knock out with one punch, he doesn't need much more and Dominick was evidence of this.
The fight was on Dominick Cruz's side, he developed great mobility inside the octagon, he connected with speed and got out of Chito's line of sight. Perfect strategy, there was no way to touch him, but the cardio was not on his side, little by little the gasoline was decreasing and Chito Vera was becoming more and more dangerous. He managed to knock him down in 2 occasions, connecting good punches, Chito knew he could win it, he was about to connect the final blow and he got it in the 4th round.
A shocking kick landed on Dominick Cruz's face, sending him flying into the cage and sending him to sleep. San Diego would explode in ovation, Chito Vera had knocked out a bantamweight legend, connecting a kick that nobody saw coming and ending the actions in a spectacular way. With this I conclude my top 3, leaving Marlon Vera with the third place, which makes me very happy, we have a Latino representing in great shape and soon we will see him fighting for the belt.
---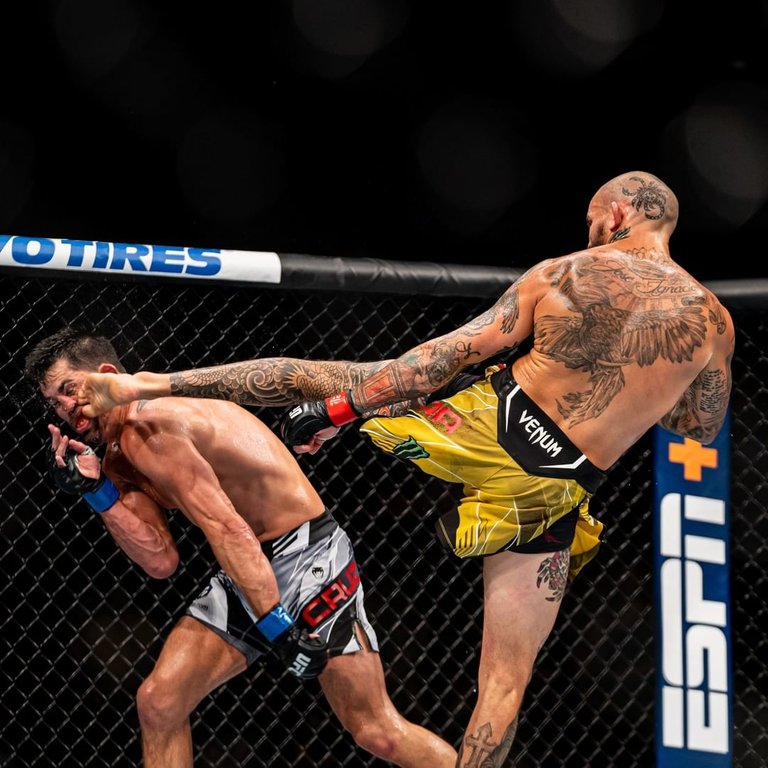 https://twitter.com/ufcespanol/status/1558636368779218952
---

---
---