UFC277 Previa: Brandon Moreno vs Kai Kara France 2 // Próximo retador al titulo - UFC277 Preview: Brandon Moreno vs Kai Kara France 2 // Next title challenger [ESP-ENG]
La pelea mas atractiva de la noche será la coestelar, donde tenemos al mexicano Brandon Moreno enfrentando a Kai Kara France, lucha que nos va definir el próximo retador al titulo, ya que aquí se va estar disputando el titulo interino de la división de peso mosca. Brandon Moreno sabe lo que es ser campeón, tiene la mentalidad ganadora integrada en su cuerpo y esta en busca de volver a tener el cinturón mas preciado en sus manos, pero antes debe superar una dura prueba ante Kai Kara France, hombre que viene con grandes resultados y va en busca de su primera oportunidad por el titulo.
The most attractive fight of the night will be the co-main event, where we have the Mexican Brandon Moreno facing Kai Kara France, a fight that will define the next challenger to the title, since the interim flyweight division title will be disputed here. Brandon Moreno knows what it means to be champion, he has the winning mentality integrated in his body and is looking to get back the most precious belt in his hands, but first he must overcome a tough test against Kai Kara France, a man who comes with great results and is looking for his first opportunity for the title.
Ya tenemos un precedente entre ellos dos, para el año 2019 Brandon Moreno le ganaría en una pelea muy cerrada, una guerra que estuvo muy entretenida para los espectadores y donde no se tuvieron compasión alguna. Siempre mantuvieron el intercambio, aunque el volumen del mexicano fue superior, a pesar que Kara France había ganado el 1er round, pero luego el 2do y 3ro Brandon salió con todo y castigo fuertemente para llevarse la victoria. Espero exactamente lo mismo en este nuevo compromiso, una vez suene la campana, ambos peleadores irán hacia el frente, con la única diferencia que esta contienda será a 5 asaltos y el cardio para los últimos round va ser fundamental.
We already have a precedent between the two of them, for the year 2019 Brandon Moreno would beat him in a very close fight, a war that was very entertaining for the spectators and where they had no mercy whatsoever. They always kept the exchange, although the volume of the Mexican was superior, although Kara France had won the 1st round, but then the 2nd and 3rd Brandon came out with everything and punished strongly to take the victory. I expect exactly the same in this new commitment, once the bell rings, both fighters will go to the front, with the only difference that this fight will be 5 rounds and cardio for the last round will be fundamental.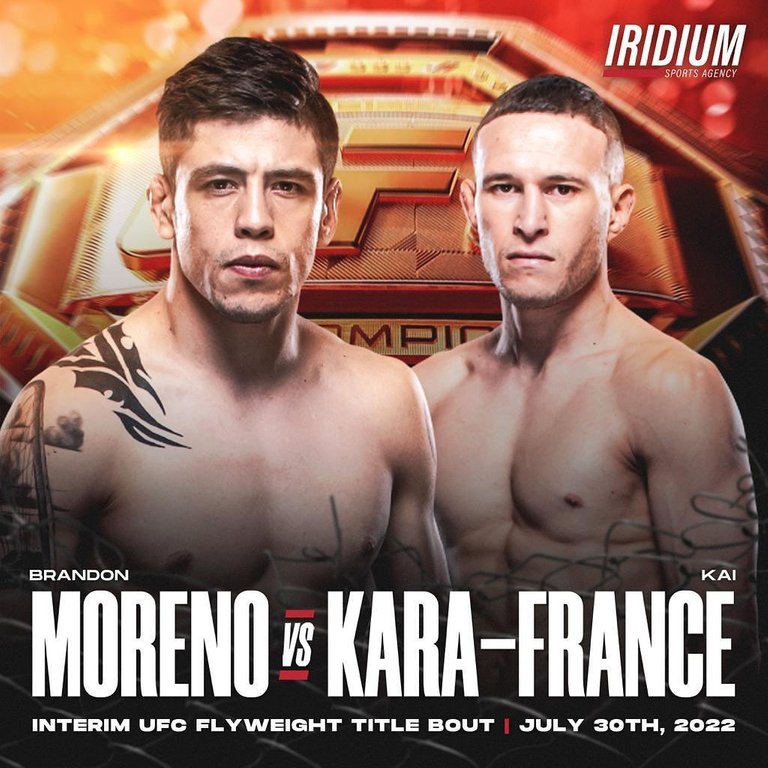 ---
¿Brandon vuelve a la cima? - Brandon back on top?
---
ESPAÑOL
Brandon Moreno viene de perder el titulo en su último combate, no pudo defenderlo ante su mayor rival Deiveson Figueiredo, ganar hoy le vuelve a dar la oportunidad de enfrentarlo directamente otra vez y tratar de obtener de vuelta el campeonato de la categoría. Psicológicamente no creo que este afectado, pienso que se ve ganador ante Kai Kara France, pues le gano sólidamente en el pasado y eso siempre genera confianza para una revancha. Claro su rival ha estado evolucionando mucho, no se va encontrar con la misma persona, pero Brandon Moreno también ha podido mejorar muchísimo y lo veo con mas habilidades.
En su primera batalla con Kai Kara France, fue importante el ajuste que hizo Brandon, rápidamente leyó la combinación de su rival, porque en ese 1er round fue atacado fuertemente, Brandon no encontraba la distancia y estuvo en serio aprieto. Me gusta porque es un hombre que se adapta a lo que ofrecen, no se queda estancado en un solo plan de lucha, si no que busca formas de resolver cuando se siente amenazado y eso lo hacen los peleadores elites. Para el segundo round Brandon Moreno salió con mas agresividad, ejerció totalmente la presión y con la distancia medida comenzó a llevar el ritmo del combate.
Si desea ganar nuevamente tiene que seguir siendo el hombre que presiona, estar totalmente yendo hacia adelante, pues eso le va dar mas chances de encontrar espacios y ganar confianza ante un rival que tiene pegada. No me preocupa que lo haga durante toda la pelea, su cardio es perfecto y viene de 3 combates seguidos a 5 asaltos. Mas que acostumbrado esta su cuerpo y para el pesaje se vio perfecto, las condiciones están en su máximo esplendor y espero que pueda ganar Brandon Moreno que nos representa a los latinos.
ENGLISH
Brandon Moreno comes from losing the title in his last fight, he could not defend it against his biggest rival Deiveson Figueiredo, winning today gives him the opportunity to face him directly again and try to get back the championship of the category. Psychologically I don't think he is affected, I think he looks like a winner against Kai Kara France, because he beat him solidly in the past and that always generates confidence for a rematch. Of course his opponent has been evolving a lot, he will not meet the same person, but Brandon Moreno has also been able to improve a lot and I see him with more skills.
In his first fight with Kai Kara France, it was important the adjustment that Brandon made, he quickly read the combination of his opponent, because in that 1st round he was attacked heavily, Brandon could not find the distance and was in serious trouble. I like him because he is a man who adapts to what they offer, he does not stay stuck in a single fight plan, but he looks for ways to solve when he feels threatened and that is what the elite fighters do. For the second round Brandon Moreno came out with more aggressiveness, fully exerted the pressure and with the measured distance began to carry the pace of the fight.
If he wants to win again he has to continue to be the man who presses, to be totally going forward, because that will give him more chances to find space and gain confidence against an opponent who has a punch. I'm not worried about him doing it for the whole fight, his cardio is perfect and he's coming off 3 straight 5 round fights. His body is more than used to it and for the weigh-in he looked perfect, the conditions are in their maximum splendor and I hope Brandon Moreno, who represents us Latinos, can win.
---
124.5 Libras para Moreno / 124.5 Pounds for Moreno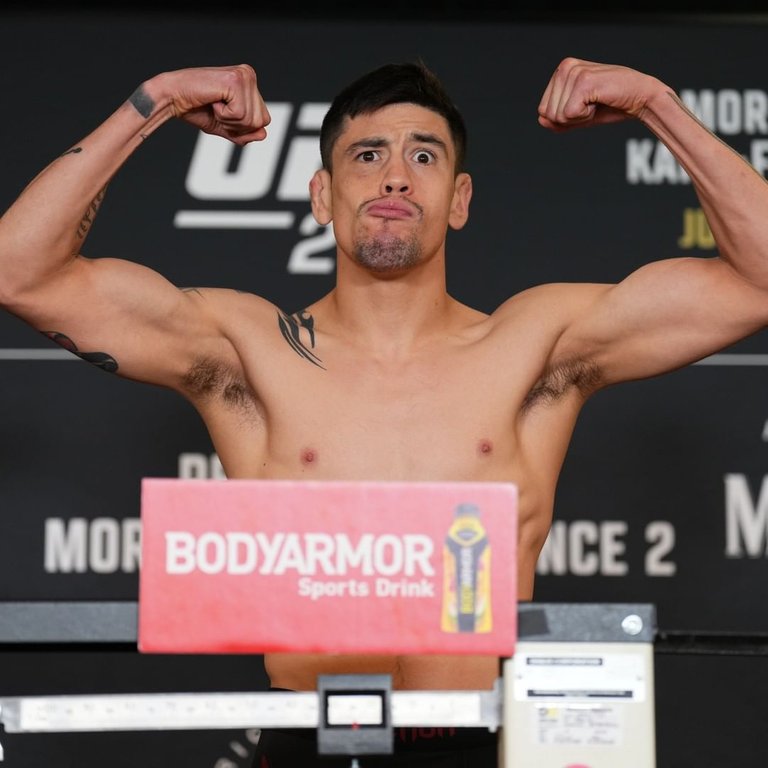 ---
¿Kara France nuevo retador al titulo? - Kara France new title challenger?
---
ESPAÑOL
Kai Kara France se encuentra en su mejor momento, viene de ganarle a Cody Garbrandt de una manera aplastante, victoria que le ayudo a elevar su nombre, pues venció a un ex campeón y en su último combate gano frente Askarov que venia escalando posiciones. Lo único que le falta es ganarle a Brandon Moreno y ya llegaría hacia su objetivo, que será enfrentar al campeón y poder convertirse en el mejor de la división. Este hombre ha sido infravalorado, pero realmente es muy bueno y tiene gran pegada para esta división donde se ven muy pocos nocaut. Su velocidad ha ido en aumento, lo cual será crucial para ganarle a Brandon Moreno, se vio superado en su primer encuentro y aquí no puede permitir que suceda lo mismo.
Me gusta lo directo que ha sido en sus combates previos, parece que tiene un aura totalmente distinta al Kara France de antes, entrenar junto a Israel Adesanya y Alexander Volkanovski deben ayudarlo mucho, tiene a su lado a dos campeones de la UFC y estoy seguro que son pieza vital para esta gran evolución que se ha visto en su lucha. A nivel de striking esta siendo mas preciso, con mucha mas inteligencia y con paciencia al momento de atacar. Necesita un poco de eso para esta noche, no tiene experiencia peleando a 5 asaltos y debe manejar muy bien su resistencia porque si no será peligroso.
Por el suelo no tiene nada que buscar, tendrá que ganarle a puro striking al mexicano, misión nada sencilla de lograr, pero puede hacerlo y mas si logra impactar su gran derecha que demuestra poder. Las low kick tienen que ser una arma principal, tratar de cocinar las piernas de su rival, golpear mucho durante los primeros asaltos y así evitar la movilidad para esos últimos que son de gran importancia. Cuando dejo de patear el su primer enfrentamiento, fue cuando vino lo mejor de Brandon Moreno, esperaría que no dejara de hacerlo hoy y se enfoque mucho en desgastarlo en la parte de abajo. Lograr un KO es complicado, Moreno tiene mucha asimilación en su mandíbula, por lo cual una estrategia de sumar puntos y no arriesgar tanto seria lo ideal para Kai Kara France.
ENGLISH
Kai Kara France is in his best moment, he comes from beating Cody Garbrandt in a crushing way, victory that helped him to raise his name, because he defeated a former champion and in his last fight he won against Askarov who was climbing positions. The only thing he needs is to beat Brandon Moreno and he would reach his goal, which will be to face the champion and become the best in the division. This man has been underrated, but he is really very good and has a great punch for this division where very few knockouts are seen. His speed has been on the rise which will be crucial to beat Brandon Moreno, he was outclassed in their first meeting and here he can't let the same thing happen.
I like how direct he has been in his previous fights, he seems to have a totally different aura to the Kara France of before, training with Israel Adesanya and Alexander Volkanovski must help him a lot, he has two UFC champions by his side and I'm sure they are vital to this great evolution that has been seen in his fight. At striking level he is being more precise, with much more intelligence and patience when attacking. He needs some of that for tonight, he has no experience fighting 5 rounds and he must manage his stamina very well because if not he will be dangerous.
On the ground he has nothing to look for, he will have to beat the Mexican with pure striking, not an easy mission to achieve, but he can do it and more if he can hit his big right hand that shows power. The low kick has to be a main weapon, try to cook the legs of his opponent, hit a lot during the first rounds and thus avoid mobility for those last ones that are of great importance. When he stopped kicking in his first fight, that's when Brandon Moreno's best came, I would expect him not to stop kicking today and focus a lot on wearing him down. Getting a KO is tricky, Moreno has a lot of assimilation in his jaw, so a strategy of scoring points and not risking so much would be ideal for Kai Kara France.
---
124.5 Libras para Kara France / 124.5 Pounds for Kara France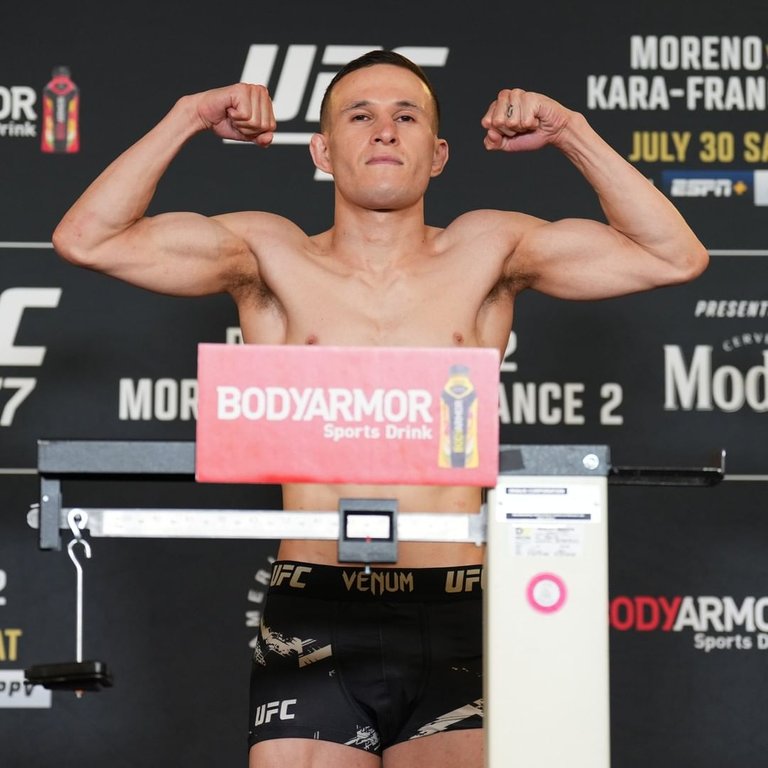 ---
Brandon Moreno obtendrá el titulo interino - Brandon Moreno to win interim title
---
ESPAÑOL
Mi apoyo hacia los latinos siempre va estar, aunque trato de ser objetivo ante cualquier pelea, pero en esta ocasión no tengo dudas, Brandon Moreno va ser el ganador del titulo interino y va vencer a Kai Kara France. Cuando vences a una persona, psicológicamente ingresas al octágono con ventaja, además sabes la formula que debes utilizar para volver a ganar, a menos que el rival ofrezca algo diferente, pero no veo que Kai Kara France tenga alguna otra alternativa, será un enfrentamiento de striking y aquí veo mucho mejor parado a Brandon Moreno.
Si la pelea en algún momento se va hacia el piso, Brandon Moreno es muy superior, ya demostró frente a Deiveson Figueiredo que tiene grappling, lo que añade un plus a sus oportunidades de victoria y nos habla que Brandon es mucho mas completo. Técnicamente me parece que tiene mejor boxeo, sus combinaciones suelen ser mas impredecibles y la experiencia de tantas luchas por campeonato deben pesar, si o si todas esas guerras que tuvo frente a Figueiredo, han servido para que Brandon Moreno sea un mejor peleador y se encuentre dos escalones por arriba de cualquier otro peleador de la categoría de peso mosca.
La primera pelea que tuvieron estos dos guerreros, repito que fue cerrada, aquí pienso que será totalmente diferente, veremos a un Brandon Moreno pasando por arriba a Kai Kara France, demostrando su gran superioridad y afirmando que es un hombre para campeonato. Me la juego diciendo que no llegara hacia las tarjetas, Brandon Moreno va finalizar a Kai Kara France mediante una guillotina, luego de castigarlo mucho y en un momento derribarlo para acabar con el combate. Mi porcentaje sera de un 70% hacia el mexicano Brandon Moreno y un 30% hacia Kai Kara France, veremos dentro de muy poco como termina todo, espero que disfruten el evento de UFC277 y no se pierdan este lindo combate.
ENGLISH
My support for Latinos will always be there, although I try to be objective in any fight, but this time I have no doubt, Brandon Moreno will be the winner of the interim title and will beat Kai Kara France. When you beat a person, psychologically you enter the octagon with an advantage, besides you know the formula you must use to win again, unless the opponent offers something different, but I do not see that Kai Kara France has any other alternative, it will be a striking confrontation and here I see much better standing for Brandon Moreno.
If the fight at some point goes to the ground, Brandon Moreno is far superior, he already showed against Deiveson Figueiredo that he has grappling, which adds a plus to his chances of victory and tells us that Brandon is much more complete. Technically I think he has better boxing, his combinations tend to be more unpredictable and the experience of so many championship fights must weigh, if or if all those wars he had against Figueiredo, have served to make Brandon Moreno a better fighter and is two steps above any other fighter in the flyweight category.
The first fight that these two warriors had, I repeat that it was close, here I think it will be totally different, we will see a Brandon Moreno passing over Kai Kara France, demonstrating his great superiority and affirming that he is a man for championship. I'm betting that it will not go to the cards, Brandon Moreno will finish Kai Kara France with a guillotine, after punishing him a lot and in a moment knock him down to end the fight. My percentage will be 70% towards the Mexican Brandon Moreno and 30% towards Kai Kara France, we will see in a very short time how it all ends, I hope you enjoy the UFC277 event and do not miss this nice fight.
---
Mi ganador Brandon Moreno / My winner Brandon Moreno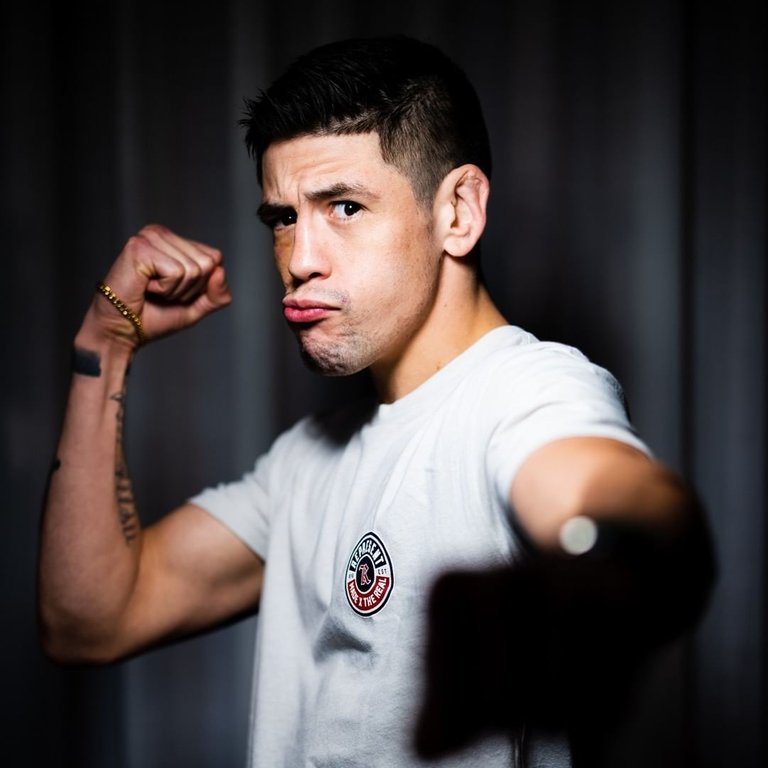 Primera Batalla - First Battle
Pelea completa / Complete fight

---
---