UFC277 Previa: Julianna Peña vs Amanda Nunes 2 // ¿Podrá retener el titulo la campeona? - UFC277 Preview: Julianna Peña vs Amanda Nunes 2 // Can the champion retain her title? [ESP-ENG]
Todavía recuerdo la sensación de escalofríos que paso por mi cuerpo, aquella noche del 21 de Diciembre del 2021, cuando la Venezolana Julianna Peña marco historia, logro vencer a la mejor peleadora que ha tenido la UFC, Amanda Nunes quien ha sido muy dominante y para ese momento tenia en posición 2 cinturones de campeonato. Absolutamente nadie daba como ganadora a Julianna Peña, mujer que estaba abajo en las apuestas por 1000 puntos, pero demostró que siempre se puede contra las adversidades y ahora tiene el titulo de peso gallo en sus manos, representando por todo lo alto, la bandera de Venezuela en la UFC.
I still remember the feeling of chills that went through my body, that night of December 21, 2021, when the Venezuelan Julianna Peña made history, she managed to beat the best fighter that the UFC has ever had, Amanda Nunes who has been very dominant and by that time had in position 2 championship belts. Absolutely nobody expected Julianna Peña to win, a woman who was down in the betting by 1000 points, but she proved that she can always do it against the odds and now she has the bantamweight title in her hands, representing the Venezuelan flag in the UFC.
Acabo de ver ese combate nuevamente, muchos hicieron criticas que Amanda Nunes se había dejado vencer, pero no hubo nada de eso, simplemente Julianna fue muy inteligente y aprovecho la desesperación de la Brasileña para poder ganar. Pueden colocar esa victoria en el top 3 de mayores sorpresas de la compañía y en mi opinión seria la número 1 de esa lista sin dudas. Lo cierto es que cada pelea es distinta, por lo cual veremos si Julianna puede defender su titulo, eso seria igual de brillante, porque las apuestas nuevamente se inclinan ante la Brasileña, quien comento que va muy decidida a ganar y que esta vez no se le escapara la victoria.
I just saw that fight again, many criticized that Amanda Nunes had been defeated, but there was nothing like that, just Julianna was very smart and took advantage of the Brazilian's desperation to win. You can put that victory in the top 3 of the biggest surprises of the company and in my opinion it would be number 1 on that list without a doubt. The truth is that every fight is different, so we will see if Julianna can defend her title, that would be just as brilliant, because the odds are again leaning towards the Brazilian, who commented that she is very determined to win and that this time the victory will not escape her.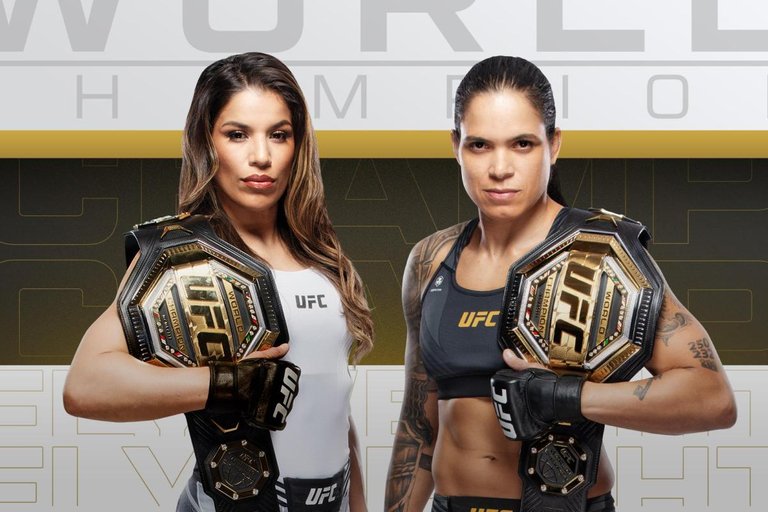 ---
¿Cómo puede ganar Julianna Peña? - How can Julianna Peña win?
---
ESPAÑOL
Es un poco fuerte lo que voy a decir, por la gran habilidad que tiene su rival en ese campo, pero Julianna Peña tiene que ganar por su striking, si bien obtuvo la victoria mediante una sumisión de guillotina, todo fue provocado por los muchos golpes que conecto, sencillamente hermoso el jab que demostró aquella noche y ese tiene que ser el plan para esta nueva pelea. En el 1er round fue llevada al suelo, la paso muy mal durante muchos minutos, no debería dejar que la derriben, pienso que sus máximas posibilidades se encuentran con la batalla de pie, aunque su técnica no es la mejor, tiene pegada y su striking esta bueno.
Tuve que buscar el alcance de ambas peleadoras, pues me pareció extraño que Amanda Nunes recibiera tantos jabs, por parte de Julianna peña, pero resulta que están parejas, no se sacan diferencia y la campeona es mucho mas pequeña. Esto me demuestra que es una gran peleadora, no deben subestimarla jamás, Julianna Peña pudo incluso ganar por KO, Amanda por muy poco se va al suelo, por eso exijo que su equipo la deje boxear, hay esta todo el juego para este combate, me olvidaría de las piernas, no prestaría atención al derribo, solo defenderlo y buscar ganar la pelea de pie.
Julianna Peña desespero totalmente a su rival con su jab, pues Amanda Nunes nunca supo como evitarlo, lo que la hizo ir hacia adelante como un toro sin protección, dejando a un la inteligencia de pelea y Julianna cómodamente sacando su brazo izquierdo. La actual campeona tiene gran mentalidad, defendió bien las patadas abajo en el 2do round, cuando en el 1ro se las comió todas, pero rápido leyó los ataques de su rival y después mantuvo su plan de pelea para ganarle en striking a la mejor de todos los tiempos. No debería cambiar mucho su estrategia, aunque debe cuidarse de la agresividad de su rival, porque la Brasileña va salir con todo y será importante que aguante ese 1er round de mucha ansiedad.
ENGLISH
It's a little strong what I'm going to say, because of the great ability that her opponent has in that field, but Julianna Peña has to win because of her striking, although she got the victory by a guillotine submission, everything was provoked by the many punches that she connected, simply beautiful the jab that she showed that night and that has to be the plan for this new fight. In the 1st round she was taken to the ground, she had a very bad time for many minutes, she should not let her get knocked down, I think her best chances are with the stand up battle, although her technique is not the best, she has punch and her striking is good.
I had to look for the range of both fighters, because it seemed strange to me that Amanda Nunes received so many jabs, by Julianna Pena, but it turns out that they are even, they don't make a difference and the champion is much smaller. This shows me that she is a great fighter, she should never be underestimated, Julianna Pena could even win by KO, Amanda almost went to the ground, so I demand that her team let her box, there is the whole game for this fight, I would forget about the legs, I would not pay attention to the knockdown, just defend it and seek to win the fight standing up.
Julianna Pena totally desperate her opponent with her jab, because Amanda Nunes never knew how to avoid it, which made her go forward like a bull without protection, leaving the fight intelligence and Julianna comfortably taking her left arm out. The current champion has great mentality, she defended well the kicks down in the 2nd round, when in the 1st round she ate them all, but quickly read the attacks of her rival and then kept her fight plan to beat the best of all time in striking. She should not change much her strategy, although she must be careful of her opponent's aggressiveness, because the Brazilian will come out with everything and it will be important that she can withstand that 1st round of high anxiety.
---
¿Se repetirá la historia? - Will history repeat itself?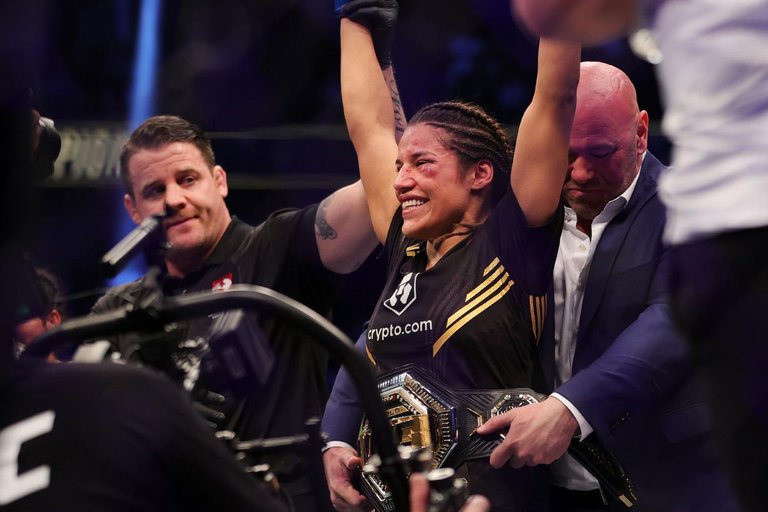 ---
¿Cómo puede ganar Amanda Nunes? - How can Amanda Nunes win?
---
ESPAÑOL
Amanda tiene muchos nocauts en su carrera, pues tiene demasiado poder en sus manos, siempre se ve mucho mas grande que sus oponentes en el octágono, venia de 12 victorias consecutivas y ahora es gran favorita para retomar el titulo que perdió. Retomando su primer combate, vemos que las patadas que conecto a Julianna Peña fueron efectivas para el 1er round, logro tumbarla 2 veces gracias a eso, así que debe insistir en golpear abajo, vio que su rival no las aguanta y puede quitarle la movilidad mediante low kick.
En striking Amanda solo necesita un buen golpe para ganar, tiene muchos victorias de ese modo, su pegada es fuerte, aunque esta división es la de peso gallo, tiene que cortar mas libras y eso disminuye mucho la pegada de cualquier atleta. Observo que Julianna le puede hacer frente peleando arriba, no seria un mal plan que busque derribos, aunque ella no se caracteriza por eso, siempre se debe tener un segundo plan, buscar algo diferente que la ayude a dominar, porque en su mente tiene la derrota, sea como sea marca a los deportistas y psicológicamente la puede afectar en esta pelea.
Sus combinaciones de golpes deben mejorar, para aquella pelea Amanda solo lanzaba la izquierda y luego la derecha, fue muy predecible su movimiento de ataque, Julianna rápidamente capto esa combinación básica y fue cuando empezó a castigarla. Si busca patadas abajo, luego un jab con un gancho, después mostrar su derecha potente, no ser tan frontal, se le pueden abrir los caminos y pasar esa guardia que tiene la campeona.
Todos esperan que gane esta pelea, sus habilidades son impresionante, puede buscar la victoria en el piso por su fuerza o arriba mediante un golpe de poder, aunque yo le recomendaría paciencia y que no se vaya al frente a intercambiar, porque podría pasarle lo mismo, realmente la mentalidad jugara un papel fundamental esta lucha y una Amanda paciente seria lo mejor.
ENGLISH
Amanda has many knockouts in her career, because she has too much power in her hands, she always looks much bigger than her opponents in the octagon, she came from 12 consecutive victories and now she is a great favorite to retake the title she lost. Returning to her first fight, we see that the kicks that she connected to Julianna Pena were effective for the 1st round, she managed to knock her down 2 times thanks to that, so she must insist on hitting down, she saw that her opponent does not hold them and can take away her mobility by low kick.
In striking Amanda only needs a good punch to win, she has many victories that way, her punch is strong, although this division is the bantamweight, she has to cut more pounds and that decreases a lot the punch of any athlete. I observe that Julianna can face her fighting on top, it would not be a bad plan to look for takedowns, although she is not characterized by that, you should always have a second plan, look for something different to help her to dominate, because in her mind she has the defeat, however it marks the athletes and psychologically it can affect her in this fight.
Her punching combinations need to improve, for that fight Amanda was only throwing lefts and then rights, it was very predictable her attacking move, Julianna quickly picked up on that basic combination and that's when she started punishing her. If she looks for low kicks, then a jab with a hook, then show her powerful right, not be so frontal, she can open the ways and pass that guard that the champion has.
Everyone expects her to win this fight, her skills are impressive, she can look for the victory on the ground by her strength or on top by a power punch, although I would recommend patience and not to go to the front to exchange, because the same could happen to her, really the mentality will play a fundamental role in this fight and a patient Amanda would be the best.
---
¿Doble campeona otra vez? - Double champion again?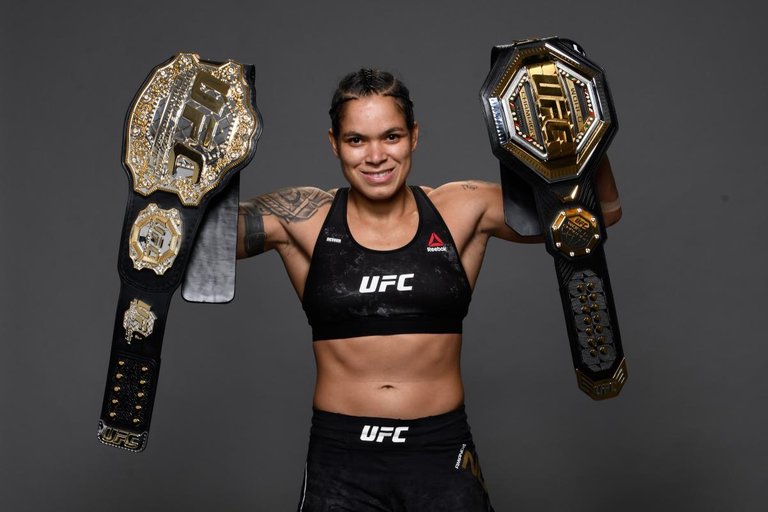 ---
¿Quién será la ganadora? - Who will be the winner?
---
ESPAÑOL
"Amanda y yo somos las dos mejores peleadoras del mundo y chocaremos el sábado. Me voy a plantar ahí con la mejor del mundo y vamos a ver quien tiene los ovarios mas grandes. Estoy dispuesta a apostar que esa soy yo". Estas fueron las palabras de la actual campeona(Julianna Peña), pues comprende que su pelea del sábado no estará nada fácil, pero se tiene la suficiente confianza para volver a ganar y defender su titulo de peso gallo. ¿Podrá hacerlo? Bueno todo es posible en el deporte, realmente pienso que si tiene muchas posibilidades y mi corazón esta completamente con ella, siempre voy a querer que un representante de Venezuela gane y siga dando gloria al pais.
Mi corazón esta claro hacia donde va, pero siendo totalmente objetivo, Amanda Nunes es la mejor peleadora de la historia, su legado en la UFC es increíble, todavía esta joven y sus condiciones igualmente intactas. Midiendo las habilidades de cada una, la Brasileña es mucho mas completa, sin dudas mejor luchadora, la veo retomando de vuelta su titulo y teniendo nuevamente en sus manos el cinturón de peso gallo y peso pluma que ya obtiene. Pero no será un tramite, no creo que las apuestas vuelvan a tener tanta diferencia, ya los espectadores saben que Julianna es una peleadora fuerte y que perfectamente podría ganar nuevamente.
No veo que esta pelea llegue a las tarjetas, esta decisión va ser por medio de una finalización, puede que sea un KO impresionante o una sumisión por cualquiera de las dos, que llegue a los 5 asaltos me parece difícil, mas que todo porque Amanda Nunes va salir muy agresiva, lo cual no recomendaría, pero no se si cambie su estilo de lucha y veremos una total guerra en ese octágono. Mi porcentaje seria de un 60% que Amanda va ganar y un 40% para la venezolana Julianna Peña. El entretenimiento estará garantizado, la primera batalla fue divertida, muy dramática y termino siendo de historia, para este segundo combate espero un poco de lo mismo y porque no otra victoria histórica de la campeona.
ENGLISH
Amanda and I are the two best fighters in the world and we will collide on Saturday. I'm going to stand there with the best in the world and we're going to see who has the biggest ovaries. I'm willing to bet that's me. These were the words of the current champion (Julianna Peña), because she understands that her fight on Saturday will not be easy, but she is confident enough to win again and defend her bantamweight title. Will she be able to do it? Well, everything is possible in sport, I really think she has a good chance and my heart is completely with her, I will always want a representative of Venezuela to win and continue giving glory to the country.
My heart is clear where she is going, but being totally objective, Amanda Nunes is the best fighter in history, her legacy in the UFC is incredible, she is still young and her conditions are still intact. Measuring the skills of each one, the Brazilian is much more complete, undoubtedly a better fighter, I see her taking back her title and having again in her hands the bantamweight and featherweight belt she already has. But it won't be a gimmick, I don't think the betting odds will be that big again, the spectators already know that Julianna is a strong fighter and that she could perfectly win again.
I don't see this fight going to the scorecards, this decision will be by way of a finish, it could be an impressive KO or a submission for either of the two, that it goes to 5 rounds seems difficult to me, mostly because Amanda Nunes will come out very aggressive, which I would not recommend, but I don't know if she will change her fighting style and we will see a total war in the octagon. My percentage would be 60% that Amanda will win and 40% for the Venezuelan Julianna Peña. Entertainment will be guaranteed, the first fight was fun, very dramatic and ended up being history, for this second fight I expect a little of the same and why not another historic victory for the champion.
---
Mi ganadora seria Amanda / My winner would be Amanda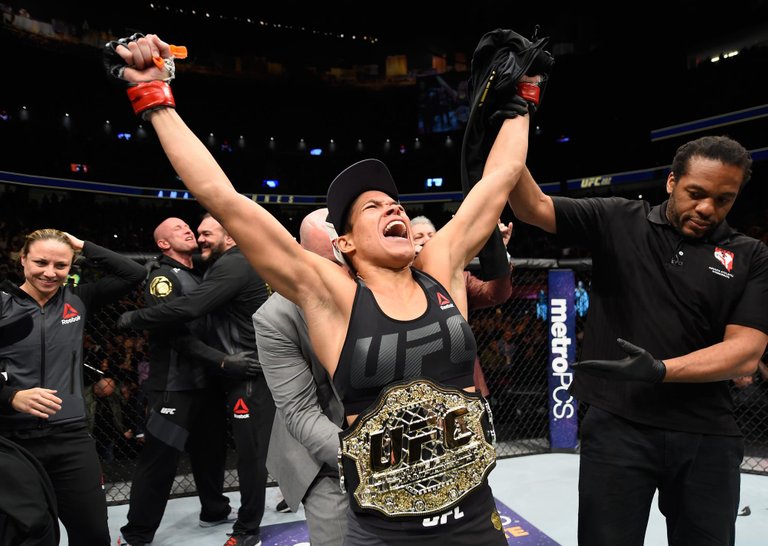 Primera Batalla - First Battle
Reacciones de la victoria histórica / Reactions to the historic victory
https://twitter.com/espnmma/status/1552397837178228736
Batalla completa totalmente gratis / Complete battle totally free of charge
Comentar que para ver la cartelera estelar en un evento enumerado, se debe pagar, en mi caso dispongo de Star+ para poder ver estos eventos y aquí el canal oficial de la UFC deja gratis esta enorme lucha.
Comment that to see the stellar lineup in a listed event, you must pay, in my case I have Star+ to watch these events and here the official UFC channel leaves this huge fight for free.
Disfruten de esa joya / Enjoy this jewel

---
---