Valentina Shevchenko vs Taila Santos // No puedes dejarle la pelea a los jueces - Valentina Shevchenko vs Taila Santos // You can't leave the fight to the judges [ESP-ENG]
Gran polémica hubo en el evento 275 de la UFC, por la decisión que tomaron los jueces en el combate por el titulo de peso mosca, entre Valentina contra Taila Santos, porque termino defendiendo el titulo por la vía de las tarjetas la campeona Shevchenko, pero realmente pocos la vieron ganar en el octágono y resulto mas sorprendente cuando un juez coloco 49-46 el resultado del combate. Pienso que fue una pelea sumamente cerrada, por lo cual no se le puede llamar robo, cualquiera de las dos podría ganar, aunque jamás hubo una gran diferencia como la vieron los jueces y el análisis basado en mi apreciación, recae totalmente en el segundo round donde tengo muchas dudas para quien dárselo y aquí debe estar la decisión del combate.
There was great controversy in the UFC 275 event, because of the decision made by the judges in the flyweight title fight between Valentina and Taila Santos, because the champion Shevchenko ended up defending the title by the cards, but really few saw her win in the octagon and it was more surprising when a judge placed 49-46 the result of the fight. I think it was a very close fight, so it can not be called a robbery, any of the two could win, although there was never a big difference as the judges saw it and the analysis based on my assessment, lies entirely in the second round where I have many doubts for whom to give it and here should be the decision of the fight.
Cuando te enfrentas a un favorito por el titulo de la división, jamás puedes dejarle la pelea a los jueces, porque generalmente si el combate esta cerrado, van a terminar favoreciendo al campeón y no favorito siempre va perder. En el caso de Taila Santos debió propinar un KO a Shevchenko o tener mucho mas dominio del que tuvo, para así no dejar nada de dudas y poder llevarse la victoria directamente sin preocupaciones. Muchos hablan de injusticia, realmente no la veo porque fue todo muy cerrado, la diferencia la encuentro en el segundo asalto, luego todo el desarrollo de la lucha la tengo clara, primero y tercer round para Santos, mientras que Valentina gano el cuarto y quinto asalto que a parte son los de campeonato.
When you face a favorite for the title of the division, you can never leave the fight to the judges, because generally if the fight is close, they will end up favoring the champion and the underdog will always lose. In the case of Taila Santos should have given a KO to Shevchenko or have much more dominance than she had, so she could not leave any doubt and be able to take the victory directly without worries. Many speak of injustice, I really do not see it because it was all very close, the difference I find in the second round, then the whole development of the fight I have it clear, first and third round for Santos, while Valentina won the fourth and fifth round which are also the championship.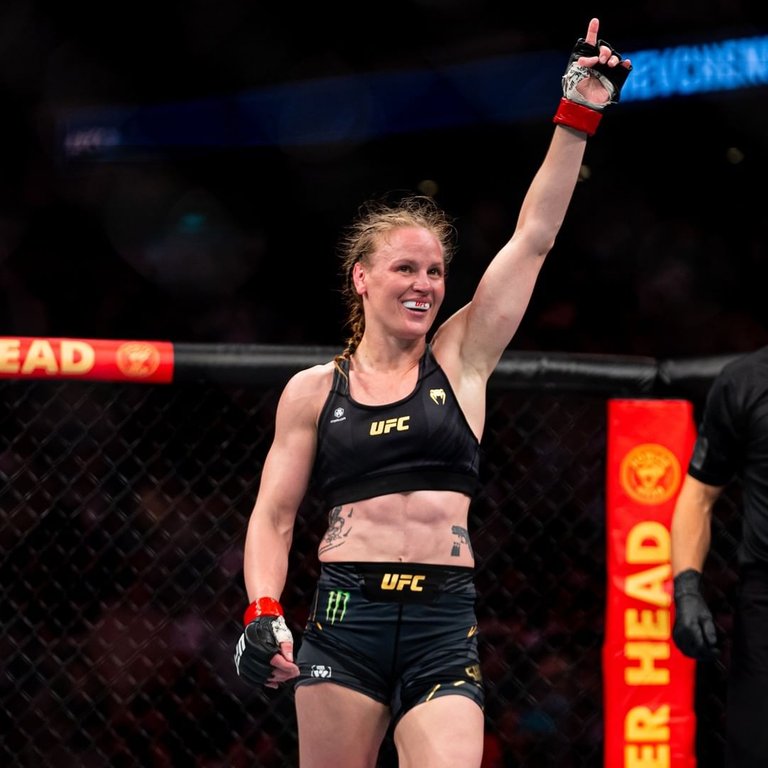 ---
Santos cambio su estrategia - Santos changed his strategy
---
Taila Santos me sorprendió en el primer round cuando consiguió derribar a Valentina, porque lo pudo hacer con mucha facilidad y la domino en el suelo durante todo el asalto. Claramente gano en puntos ese round sin muchas complicaciones, luego en el tercero se volvió a repetir la misma formula, teniendo muy incomoda a su rival que no encontraba manera de frenarla, Valentina no podía evitar los derribos y en el suelo estaba perdiendo la pelea. Santos estaba realizando el combate perfecto para quitarle el titulo a la mejor luchadora de la división y una de las mejores de la historia en la UFC.
Taila Santos surprised me in the first round when she managed to knock Valentina down, because she could do it very easily and dominated her on the ground throughout the round. She clearly won on points that round without many complications, then in the third round she repeated the same formula, making her opponent very uncomfortable and she couldn't find a way to stop her, Valentina couldn't avoid the knockdowns and on the ground she was losing the fight. Santos was making the perfect fight to take the title from the best fighter in the division and one of the best in UFC history.
No entendí porque en el cuarto round no busco nuevamente el derribo, Taila Santos quiso pelear de pie ante la campeona, lo que resulto un completo error, porque aquí comenzamos a ver lo mejor de Shevchenko que la castigo fuertemente, a parte vuelvo a repetir que estos últimos round son importantes, porque se define el campeonato y quien termina mejor luce mas grande para los jueces. Taila Santos recibió un golpe que le cerro el ojo, quizás por esto no intento mas el derribo, pero no tiene ninguna lógica, porque con la batalla en striking le resulta mas difícil y su dominio se desvaneció en el cuarto y quinto asalto del combate.
I didn't understand why in the fourth round she didn't look for the takedown again, Taila Santos wanted to fight standing before the champion, which was a complete mistake, because here we started to see the best of Shevchenko who punished her strongly, besides I repeat again that these last rounds are important, because the championship is defined and who finishes better looks bigger for the judges. Taila Santos received a blow that closed her eye, maybe that's why she didn't try more the takedown, but it has no logic, because with the striking battle it is more difficult for her and her dominance faded in the fourth and fifth round of the fight.
Muy mal de parte de su esquina que no le comentaron nada, tenían que decirle que buscara nuevamente el derribo, aquí Valentina no estaba poniendo la resistencia suficiente, estoy seguro que con un round mas dominando en el suelo, fuera sido la ganadora de este combate, pero puede pasar que se sintió campeona, pensaría que los 3 primeros asaltos le darían el puntaje suficiente para ganar, pero nuevamente digo, no puedes dejarle la pelea a los jueces y mucho menos cambiar tu plan de estrategia, cuando todo te esta saliendo de maravilla y estas a un paso de hacer historia.
Very bad of her corner that did not comment anything, they had to tell her to look for the knockdown again, here Valentina was not putting enough resistance, I am sure that with one more round dominating on the ground, she would have been the winner of this fight, but it may happen that she felt champion, she would think that the first 3 rounds would give her enough points to win, but again I say, you can not leave the fight to the judges and much less change your strategy plan, when everything is going great and you are one step away from making history.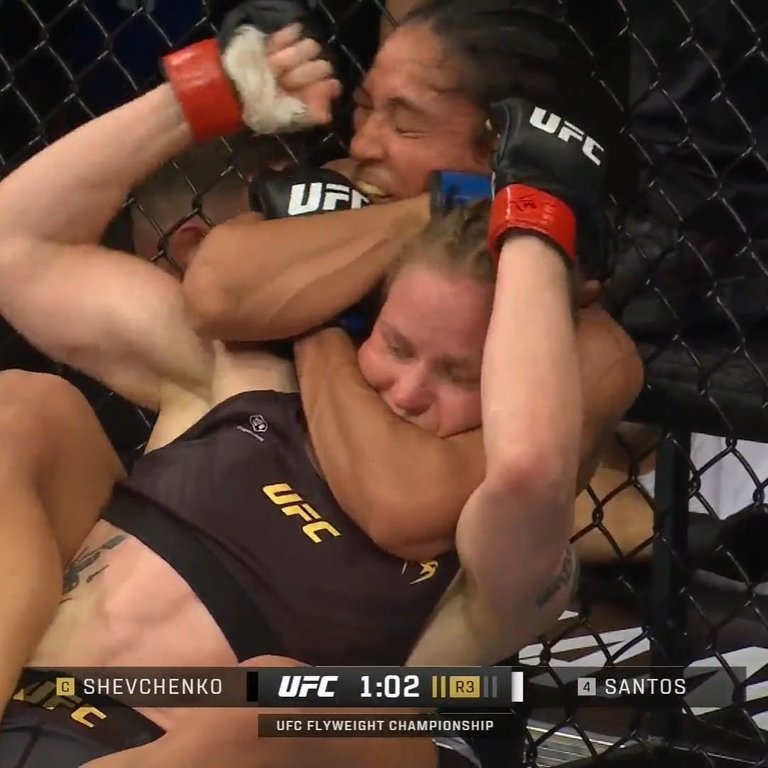 ---
Valentina Shevchenko estaba lesionada - Valentina Shevchenko was injured
---
Luego del combate Valentina comento que estaba lesionada del pie durante la pelea, no podemos saber si es totalmente cierto o si lo esta haciendo para tapar su bajo rendimiento, Shevchenko en el peso mosca esta invicta y a dominado por completo a todas sus adversarias. Pero en esta pelea no la vimos nada bien, me resulto un poco extraño que la derribaran tan fácilmente, no podía detener este ataque estratégico de Taila Santos y en lo último cuando todo se apretó fue que observamos lo mejor de Valentina. El mejor striking de la UFC en las femeninas, sin duda alguna lo tiene Shevchenko, pero lo habían anulado muy bien y en el suelo se vio muy débil.
After the fight Valentina commented that she was injured her foot during the fight, we can not know if it is totally true or if she is doing it to cover her low performance, Shevchenko in the flyweight is undefeated and has completely dominated all her opponents. But in this fight we did not see her well at all, I found it a little strange that she was taken down so easily, she could not stop this strategic attack of Taila Santos and in the last when everything was tightened was that we saw the best of Valentina. The best striking of the UFC in the women, Shevchenko undoubtedly has it, but it had been very well nullified and on the ground she looked very weak.
Su rival estaba mas fuerte que ella, por eso no podía detener los derribos, tampoco pudo levantarse estando en el suelo, fue una situación en la que no podía salir, tiempo de control fue lo que mas tuvo Taila Santos y quizás haya sido causado por la lesión que ella alega de su pie. Yo visualizando los 5 round la vi intacta, no se vio que estaba mal, incluso cuando ella comenzó atacar, utilizo mucho sus piernas lanzando patadas hacia la cabeza fuertemente y no creo que lesionada tuviera esa potencia para ir contra su rival.
Her opponent was stronger than her, that's why she couldn't stop the takedowns, she couldn't get up being on the ground, it was a situation in which she couldn't get out, control time was what Taila Santos had the most and maybe it was caused by the injury she claims to her foot. I visualizing the 5 rounds I saw her intact, it did not look bad, even when she started attacking, she used her legs a lot throwing kicks to the head strongly and I do not think that injured she had that power to go against her rival.
Su dominio en los asaltos de campeonato era lo que todo mundo esperaba desde el comienzo, no había tenido tantas complicaciones en una pelea desde hace muchos años, puede que haya salido confiada pensando que tendría una rival débil, pero acabo sorprendida contra el plan de pelea que le propuso Taila Santos y ella no tuvo respuesta para esto. Debe preparase mejor contra la defensa sobre derribos, porque si Taila hubiera continuado con ello, fácilmente fuera perdido esta pelea y sin dejar ninguna duda.
Her dominance in the championship rounds was what everyone expected from the beginning, she had not had so many complications in a fight for many years, she may have come out confident thinking she would have a weak opponent, but she ended up surprised against the fight plan proposed by Taila Santos and she had no answer for this. She must prepare better against the takedown defense, because if Taila would have continued with it, she would have easily lost this fight and without leaving any doubt.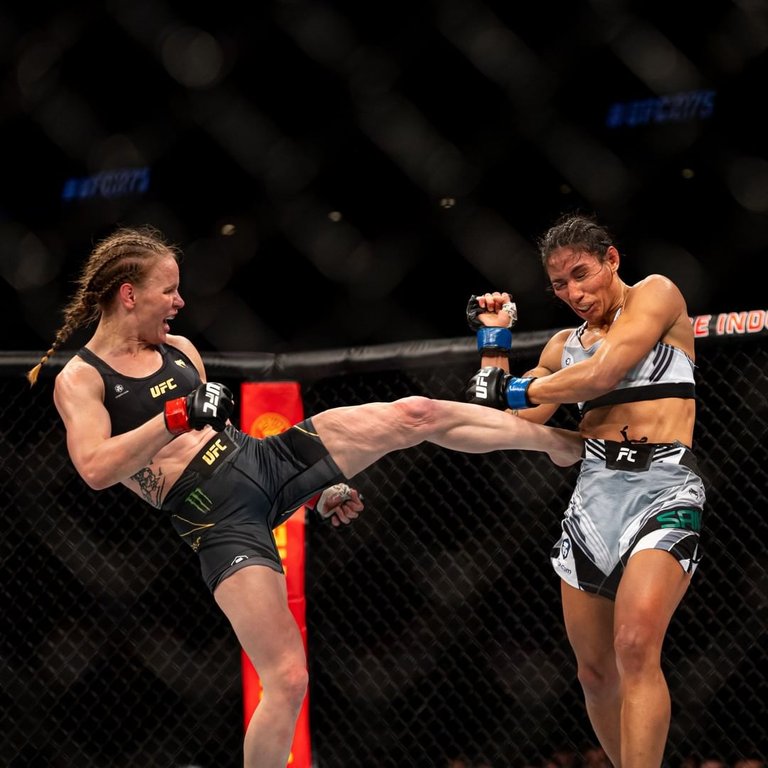 ---
Análisis del 2do round - 2nd round analysis
---
Valentina Shevchenko comienza con un buen golpe de izquierda y conectando algunas patadas, luego Taila Santos consigue un derribo, aquí logra tener unos 3 minutos de dominio de posición en el suelo, pero no esta dominando con ground and pound que es diferente, para posteriormente Valentina conseguir un derribo cuando se ponen de frente y al final termina Taila Santos por arriba en el suelo, pero nuevamente sin hacer ningún castigo a parte de tener la posición. Este round para mi define la pelea, quienes se lo dan a Taila Santos están muy bien, yo considero que tener la posición sin castigar no merece tener muchos puntos y este round quien mas conecto fue Valentina a pesar que perdió la posición en dos ocasiones.
Valentina Shevchenko starts with a good left jab and connecting some kicks, then Taila Santos gets a takedown, here she manages to have about 3 minutes of dominating position on the ground, but she is not dominating with ground and pound which is different, then Valentina gets a takedown when they face each other and at the end Taila Santos ends up on the ground, but again without doing any punishment apart from having the position. This round for me defines the fight, those who give it to Taila Santos are very well, I consider that having the position without punishment does not deserve to have many points and this round who more connected was Valentina even though she lost the position twice.
Taila Santos no puede solo derribarla y dejar su cuerpo arriba de su rival sin hacer nada, tiene que por lo menos castigar con golpes, tratar de sumar puntos con castigo y no simplemente estar arriba incomodando. Viendo detalladamente daría este round como empate, lo que me lleva a pensar que el combate debió concluir en un empate igualmente y no ser una victoria para Valentina Shevchenko. La campeona incluso estando en el suelo con la posición perdida, estuvo castigando con golpes a su rival que estaba arriba, causando daño que para mi es lo que vale en la batalla, por lo que no podría darle este round a Taila Santos y quizás por su tiempo de control colocaría un empate.
Taila Santos can't just take her down and leave her body on top of her opponent without doing anything, she has to at least punish with punches, try to score points with punishment and not just be on top bothering. Looking in detail I would give this round as a draw, which leads me to think that the fight should have ended in a draw anyway and not be a victory for Valentina Shevchenko. The champion even being on the ground with the lost position, was punishing with punches to her opponent who was up, causing damage that for me is what is worth in the battle, so I could not give this round to Taila Santos and perhaps for her control time I would place a draw.
De todos modos la campeona seguiría reteniendo el titulo, aunque viendo el desempeño de Taila Santos tendrían que ofrecerle la revancha, pudo colocar en grandes problemas a una de las mejores de la historia y se merece otra oportunidad por el titulo de peso mosca. No ha sido un combate muy entretenido, pero si interesante de ver porque estuvo cerrado, por momentos pensé que Valentina iba perder, pero esos dos últimos asaltos que son de grandísimo valor, demostró su jerarquía y salió a castigar duramente a su rival, luego para Taila Santos decir que lo hizo muy bien, estuvo a punto de coronarse y siento que su error fue no seguir con los derribos.
Anyway the champion would still retain the title, although seeing the performance of Taila Santos would have to offer her a rematch, she was able to put in big trouble one of the best in history and deserves another chance for the flyweight title. It was not a very entertaining fight, but interesting to watch because it was close, at times I thought Valentina was going to lose, but those last two rounds are of great value, she showed her hierarchy and came out to punish her opponent hard, then for Taila Santos say that she did very well, she was about to be crowned and I feel that her mistake was not to continue with the knockdowns.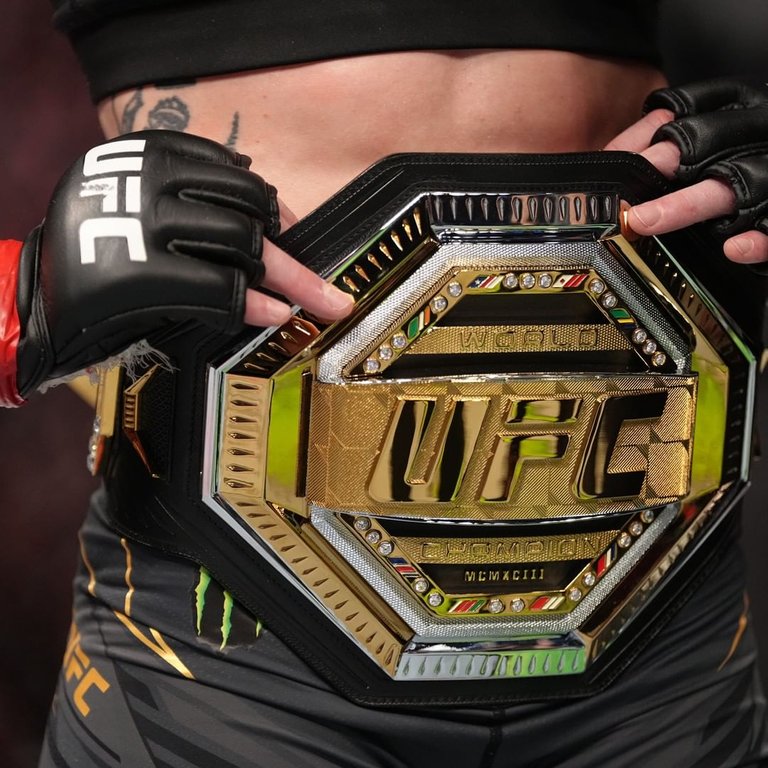 Les dejo Mi Twitter ---> Wensports
Traductor Utilizado: Deepl
Banner creado en Canva
---
---