Igualdad entre Carabobo FC vs Portuguesa FC [ENG/ESP]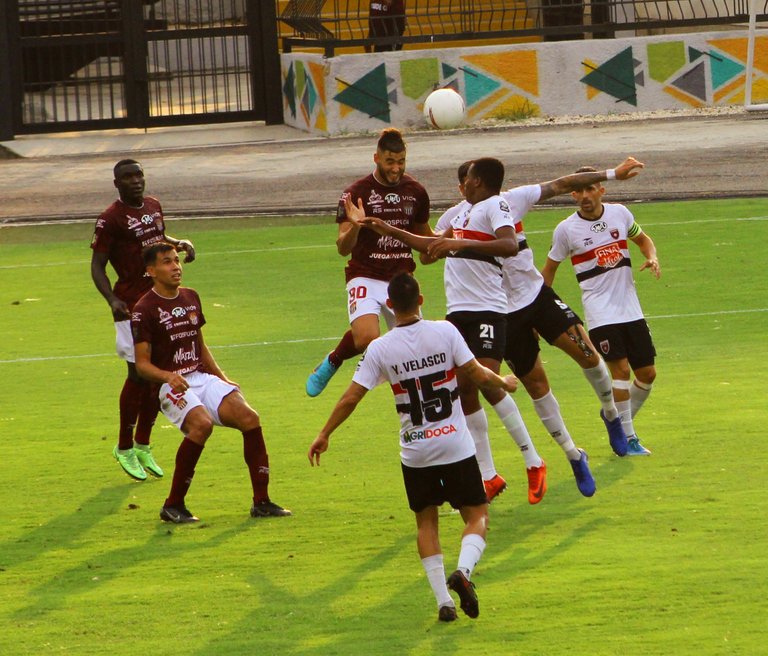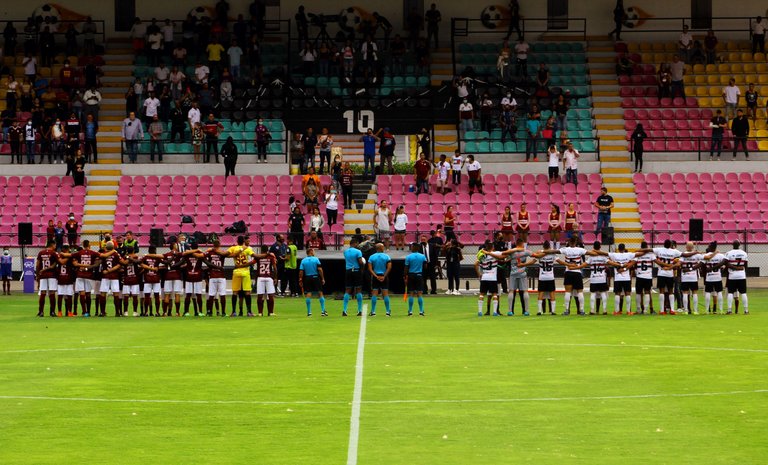 Para el día jueves 21 de de abril de 2022, se iniciaría la jornada 9 de la Ligafutve de Venezuela, con un primer partido, la cual tuve la oportunidad de asistir, por motivos laborales, y también por la cual saque algunas fotografías durante el juego, aunque por el trabajo que tenía que hacer, no podía utilizar la cámara con frecuencia.
On Thursday, April 21, 2022, day 9 of the Venezuelan Ligafutve would begin with the first game, which I had the opportunity to attend, for work reasons, and also for which I took some pictures during the game, although because of the work I had to do, I could not use the camera often.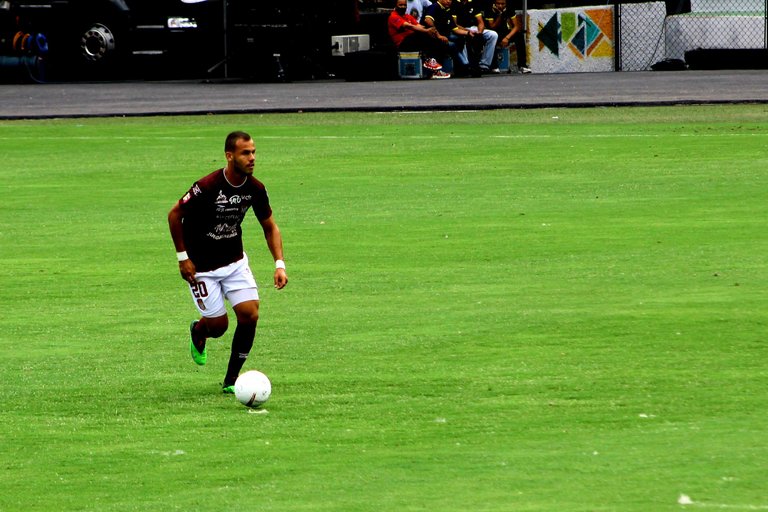 Dicho partido de fútbol, la cual se se programó para el 21 de abril a las 5:15 pm horario de Venezuela, se encontrarían en una primera vuelta del torneo, los equipos Carabobo FC vs Portuguesa, con un Carabobo FC que viene de empatar ante el Aragua FC 1-1, igualdad que se destinó para el clásico de estos equipos, mientras que Portuguesa FC, obtendría una victoria como local 2-1 ante Estudiantes de Mérida FC.
This soccer match, which was scheduled for April 21 at 5:15 pm Venezuelan time, would meet in the first round of the tournament, the teams Carabobo FC vs Portuguesa, with Carabobo FC coming from a 1-1 draw against Aragua FC, a tie that was destined for the classic of these teams, while Portuguesa FC, would get a 2-1 home win against Estudiantes de Mérida FC.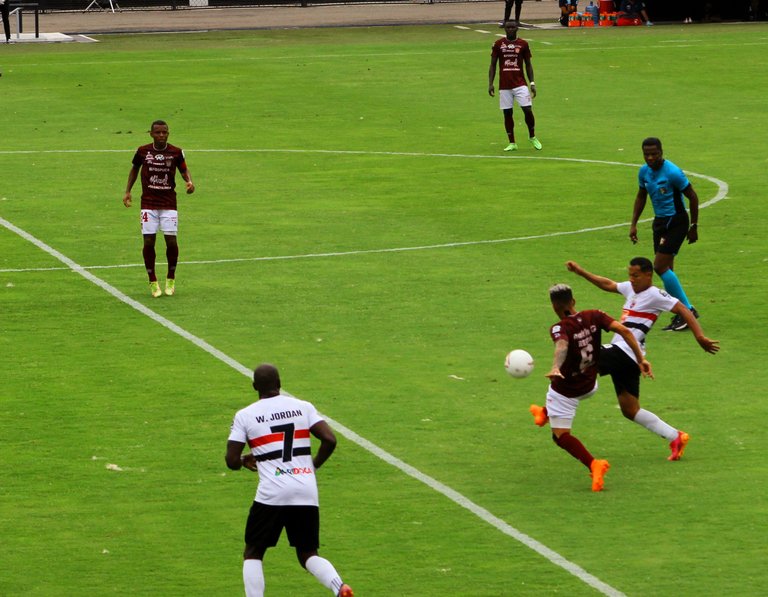 Para este partido, se pudo presenciar dos equipos que mantenían una formación muy cerrada, con pocas oportunidades de hacer gol. Un primer tiempo entre idas y vueltas de los equipos, y con una posición de balón igualada para los equipos, que aunque en ciertas ocasiones lograban romper las defensas, no definían el balón hacia la arquería.
For this match, two teams kept a very tight formation, with few opportunities to score goals. The first half was back and forth between the teams, and with an even ball position for the teams, which although on certain occasions managed to break the defenses, they did not define the ball towards the goal.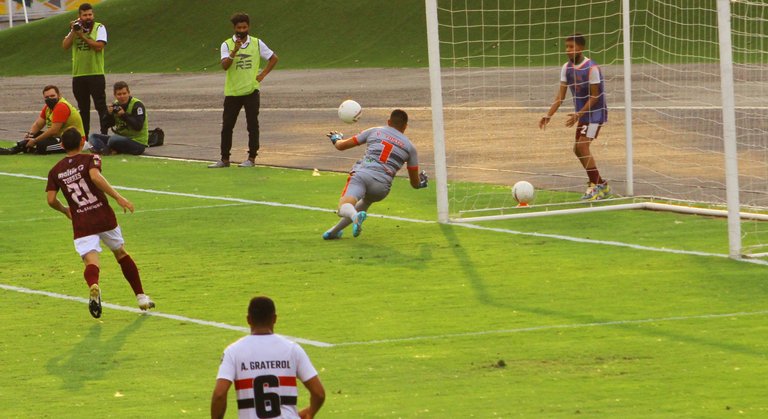 Luego un segundo tiempo, se mantendría el mismo desarrollo entre los equipos, al igual que en el primer tiempo, sin encontrar una definición clara para anotar, aunque ya casi finalizando el juego, el Carabobo FC, tuvo dos oportunidades claras. En primer lugar un error de la defensa de Portuguesa FC, permitió que dos jugadores del Carabobo FC, se quedaran solos para enfrentar al portero, pero un mal pase haría que el delantero número 7 del Carabobo FC, Kevin Viveros, máximo goleador de la liga, no pudiera pegarle bien al balón y definir una anotación, y por segunda ocasión, el mismo Kevin Viveros lograría generar una jugada de peligro, con una falta muy cerca de la área penal, la cual pudo haber sido una oportunidad de gol, pero aunque el disparo fue directo, el arquero de Portuguesa FC lo pudo despejar, y así en pocos segundos, el árbitro ejecutaba el silbido final.
The second half continued with the same development between the teams, as in the first half, without finding a clear definition to score, although almost at the end of the game, Carabobo FC had two clear opportunities. First, a mistake by Portuguesa FC's defense allowed two Carabobo FC players to be left alone to face the goalkeeper, but a bad pass would make Carabobo FC's striker number 7, Kevin Viveros, top scorer of the league, not be able to hit the ball well and score a goal, And for the second time, the same Kevin Viveros managed to generate a dangerous play, with a foul very close to the penalty area, which could have been a goal opportunity, but although the shot was direct, the goalkeeper of Portuguesa FC was able to clear it, and so in a few seconds, the referee blew the final whistle.
Esta igualdad sin goles, hace que el Carabobo FC se posicione en el puesto 7 de la tabla acumulativa con 12 puntos, logrando así tener 7 partidos sin conocer la derrota, mientras que Portuguesa FC por debajo del Carabobo FC en el puesto 8 con 11 puntos, encontrándose los dos equipos parcialmente, en posiciones de clasificación a los torneos internacionales.
This goalless draw places Carabobo FC in 7th place in the cumulative table with 12 points, thus achieving 7 matches without defeat, while Portuguesa FC is below Carabobo FC in 8th place with 11 points, with both teams partially in the qualification positions.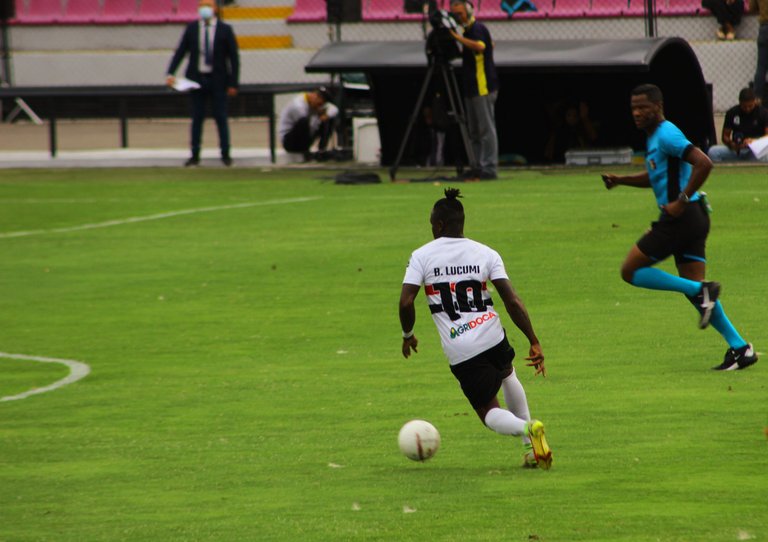 Para la jornada número 10 de la liga, el Carabobo FC deberá visitar a un Hermanos Colmenárez, equipo muy fuerto como local, y por otro lado, el Portuguesa FC tratara de buscar una victoria en condición como local ante un Metropolitanos FC.
Todas las fotografías son de mi autoría y fueron tomadas con una cámara fotográfica Canon T3i.
For the 10th round of the league, Carabobo FC will have to visit Hermanos Colmenárez, a very strong team at home, and on the other hand, Portuguesa FC will try to find a victory at home against Metropolitanos FC.
All photographs are my own and were taken with a Canon T3i camera.

---
---