José Bernando Pérez Stadium in Valencia [ENG/ESP]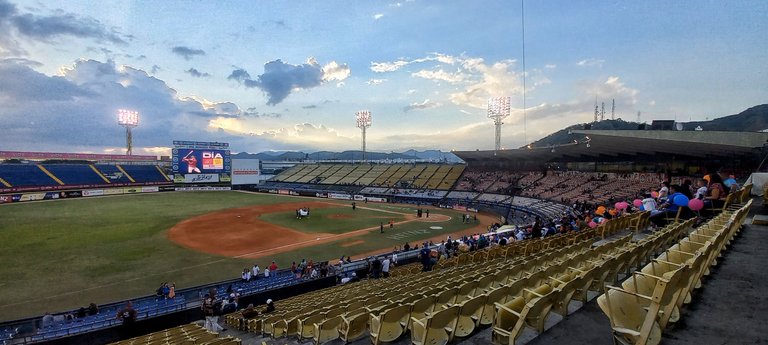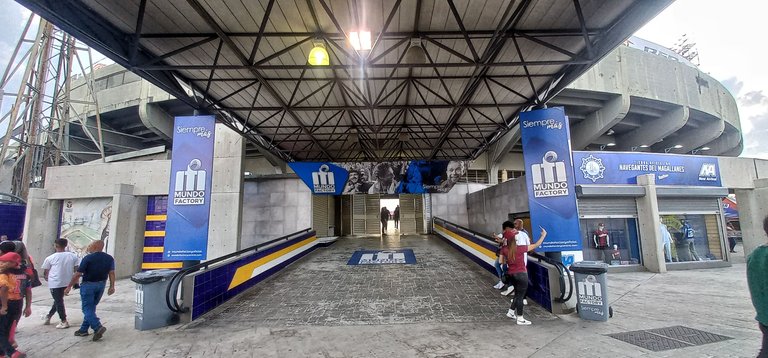 Talking about Venezuela, you can not fail to mention about baseball, which is a sport that has been part of the culture and tradition of that country, therefore it is also necessary to mention about the temples or infrastructure where fans congregate to watch baseball games. In this case I present the José Bernando Pérez baseball stadium, located in the city of Valencia, Carabobo state - Venezuela. Home of the professional baseball team the Navegantes del Magallanes, which is one of the most popular teams in the country.
Just as I have previously talked about other sports architectural works in the state of Carabobo, such as the Forum of Valencia, the Misael Delgado stadium or even La Bombonerita of Puerto Cabello, I could not miss talking about this beautiful stadium, which currently has its use for the current season, and because yesterday I went to see a baseball game, I could take some pictures for today's review.
Hablar de Venezuela, no puede faltar mencionar sobre el béisbol, que es un deporte que ha formado parte de la cultura y tradición de dicho país, por lo tanto es necesario también mencionar sobre los templos o infraestructuras donde se congregan los aficionados para ver los juegos de béisbol. En este caso les presento el estadio de béisbol José Bernando Pérez, ubicado en la ciudad de Valencia, estado Carabobo - Venezuela. Hogar del equipo de béisbol profesional los Navegantes del Magallanes, que es unos de los equipos más populares del país.
Así como anteriormente he hablado de otras obras arquitectónicas deportivas del estado Carabobo, tales como el Fórum de Valencia, el estadio Misael Delgado o incluso La Bombonerita de Puerto Cabello, no podía faltar hablar sobre este hermoso estadio, que actualmente tiene su uso por la presente temporada, y debido a que ayer fui a ver un partido de béisbol, pude sacar algunas fotografías para la debida reseña de hoy.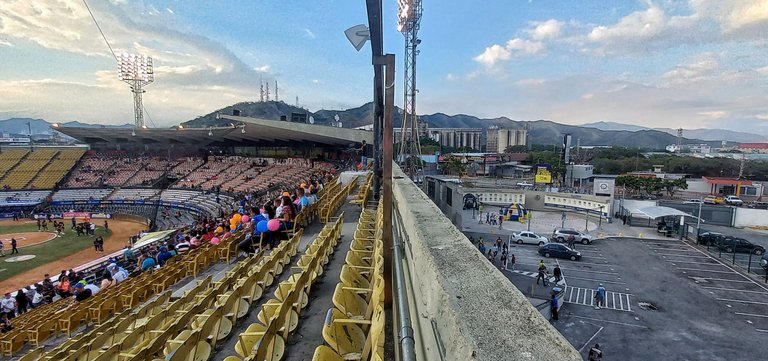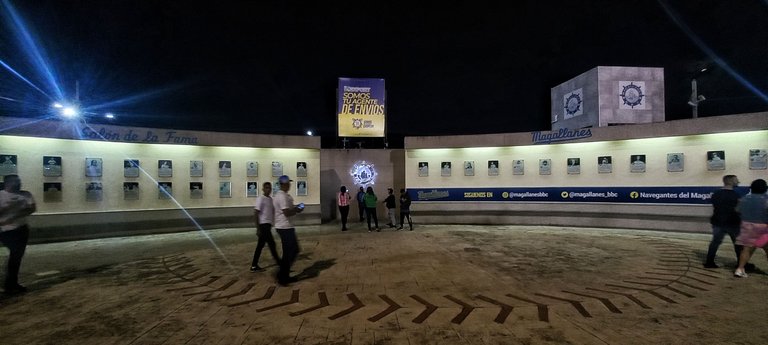 The José Bernando Pérez stadium opened its doors on March 25, 1955, and at the time it was the home of the extinct Industriales de Valencia team, and later became the definitive home of the Navegantes del Magallanes team, although it has also been the home for certain Venezuelan youth baseball tournaments, which has allowed the development of the sport.
Its ample facilities have capacity for a capacity of more than 15,000 people, where they are sectored by stands according to their location, such as the side stands, the central stands and the bleachers. Its facilities also include press and television boxes, administrative offices, commercial premises, physiotherapy rooms for players and others. In addition, it has two electronic boards, where the score of the game and the line up of the players that are playing can be visualized.
El estadio José Bernando Pérez abrió sus puertas el 25 de marzo de 1955, y en su momento era sede del extinto equipo Industriales de Valencia, para luego pasar en definitivo y hasta como lo relacionamos actualmente con el equipo los Navegantes del Magallanes, aunque también ha sido sede para ciertos torneos del béisbol juvenil de Venezuela, que ha permitido el desarrollo del deporte.
Sus amplias instalaciones tienen capacidad para un aforo de hasta más de 15000 personas, donde se sectorizan por tribunas según su locación, como las tribunas laterales, la tribunas central y las gradas. Así como también sus instalaciones se conforman por palcos de prensa y televisión, oficinas administrativas, locales comerciales, salas de fisioterapia para los jugadores y demás. Además de mencionar que cuenta con dos pizarras electrónicas, donde se pueden visualizar el marcador del juego y el line up de los jugadores que están jugando.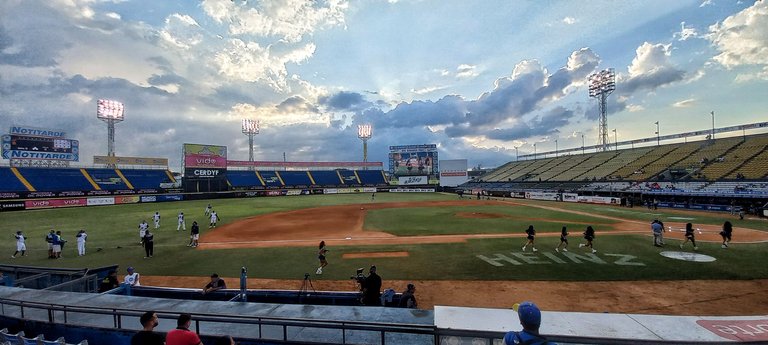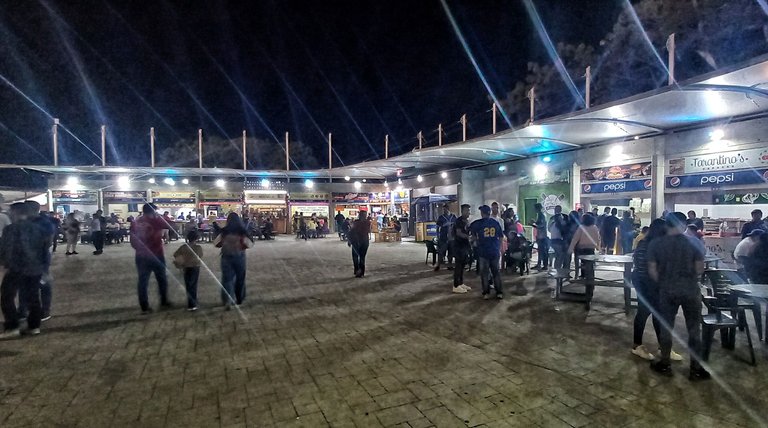 On the other hand, the surface of the field is composed of natural grass and sand in certain sectors, due to the characteristics necessary for the game. Although I do not know if these facilities have drainage, at the moment I have not witnessed any game where it rains during the rainy season.
With respect to its structure, it is composed mostly of concrete, except for certain ornaments or facilities such as doors, chairs and others, which vary in materials such as aluminum, steel or glass, as well as it is also important to mention that this stadium has 8 lighting towers, necessary to play games at night. It also has a roof that covers the central grandstand and the boxes for television, radio and press activities.
Por otro lado la superficie del terreno está compuesto por pasto natural y en ciertos sectores por arena, debido a las características necesarias para el juego. Aunque por una parte desconozco sobre si estas instalaciones poseen drenaje, por lo momentos no he presenciado algún juego donde se manifieste tiempos de lluvias.
Con respecto a su estructura, esta compuesto mayormente por concreto, salvo a ciertos adornos o instalaciones como puertas, sillas y entro otros, que varían en materiales como aluminio, acero o vidrio, así como también es de suma importancia mencionar que este estadio posee 8 torres de iluminación, necesarios para efectuar juegos durante de noche. Además de poseer un techo que cubre la tribuna central y los palcos para las actividades televisivas, radiofónicas y de prensa.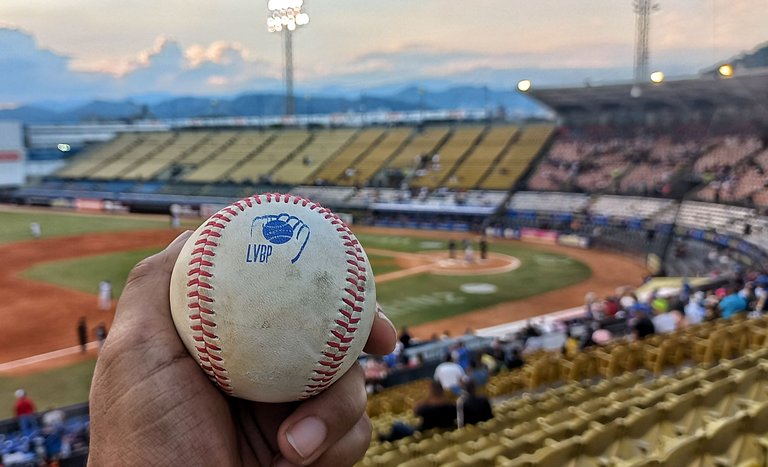 Undoubtedly, for baseball and other sports fans, these stadiums are part of the country's heritage, from a cultural, sports and architectural point of view. The José Bernando Pérez stadium, as well as other baseball stadiums in other states, have become temples for the fans and are therefore architectural works of historical importance for everyone.
Finally, I must mention that this sports facility was designed and supervised by the engineer Rafael Arocha, who worked together with the construction company Casertano S.A.
All photographs are my own and were taken with a Samsung A32 cell phone.
Sin duda alguna, para los aficionados del béisbol y así como en otros deportes, estos estadios forman parte del patrimonio del país, desde el punto de vista cultural, deportivo y arquitectónico. El estadios José Bernando Pérez, al igual que otros estadios de béisbol que se encuentran en otros estados, se han convertido en templos para la afición y por lo tanto son obras arquitectónicas, que tienen un carácter de importancia histórica para todos.
Por último, debo mencionar que este recinto deportivo fue diseñado y estuvo supervisado por el ingeniero Rafael Arocha, quien trabajó conjuntamente con la constructora Casertano S.A.
Todas las fotografías son de mí autoría y fueron tomadas con un celular Samsung A32.
Sources consulted/Fuentes consultadas
---
---