Una semana full de deportes [ESP/ENG]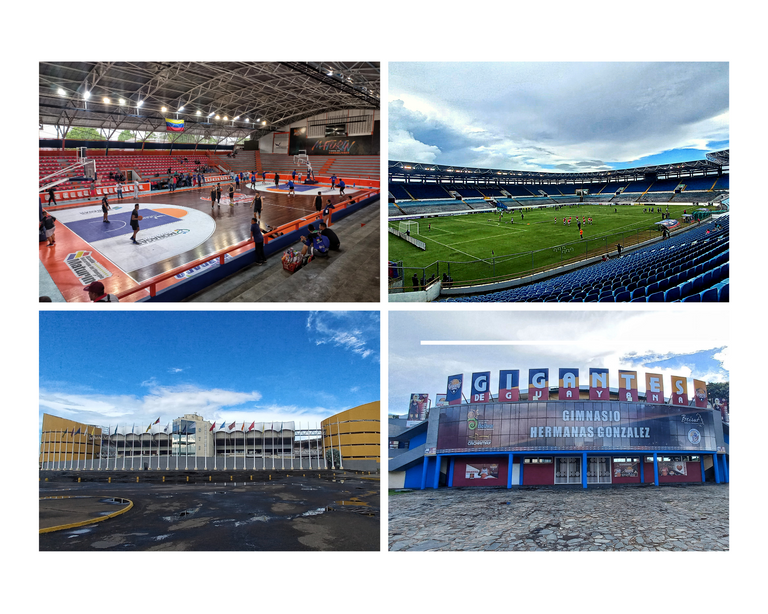 Hoy domingo terminé mi semana laboral, en la cual tuve que asistir a 5 juegos entre baloncesto y fútbol, donde tenía que darle cobertura con respecto al trabajo que realizo a dicho eventos. Principalmente tuve que viajar al oriente de Venezuela, específicamente a las ciudades de Maturín, estado Monagas y Puerto Ordaz, estado Bolívar - Venezuela, ciudades vecinas, donde hubo varios días de fútbol y baloncesto profesional, con sus respectivas ligas, y que además de ser parte de mi trabajo, también pude apreciar mucho de estos juegos, por el hecho de ser aficionado de algunos equipos que participaron.
Por lo tanto, estaré relatando mi travesía, así como algunos datos, resultados y experiencias que viví en estos diferentes partidos en sus respectivos deportes, por cual haré una cronología por orden de fechas de los juegos que asistí.
Today Sunday I finished my work week, in which I had to attend 5 games between basketball and soccer, where I had to give coverage regarding the work I do to such events. Mainly I had to travel to the east of Venezuela, specifically to the cities of Maturin, Monagas state and Puerto Ordaz, Bolivar state - Venezuela, neighboring cities, where there were several days of professional soccer and basketball, with their respective leagues, and that besides being part of my work, I could also appreciate much of these games, by the fact of being a fan of some teams that participated.
Therefore, I will be reporting my journey, as well as some data, results and experiences that I lived in these different games in their respective sports, for which I will make a chronology in order of dates of the games I attended.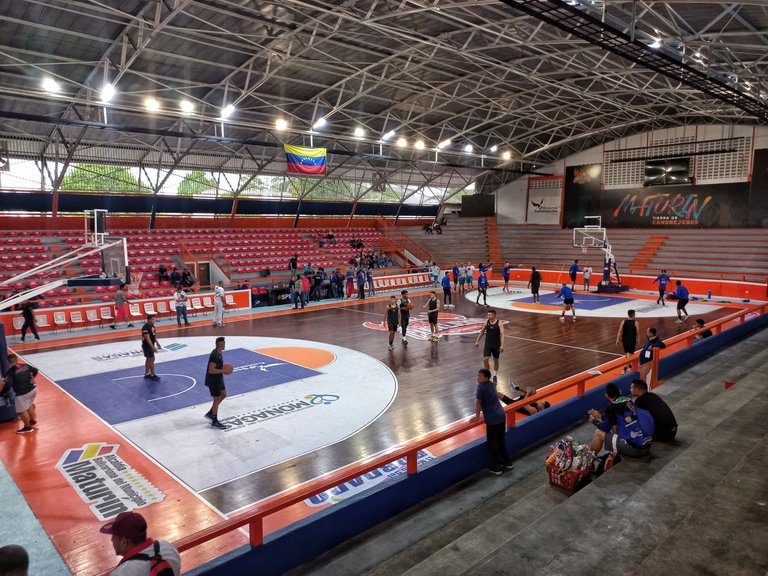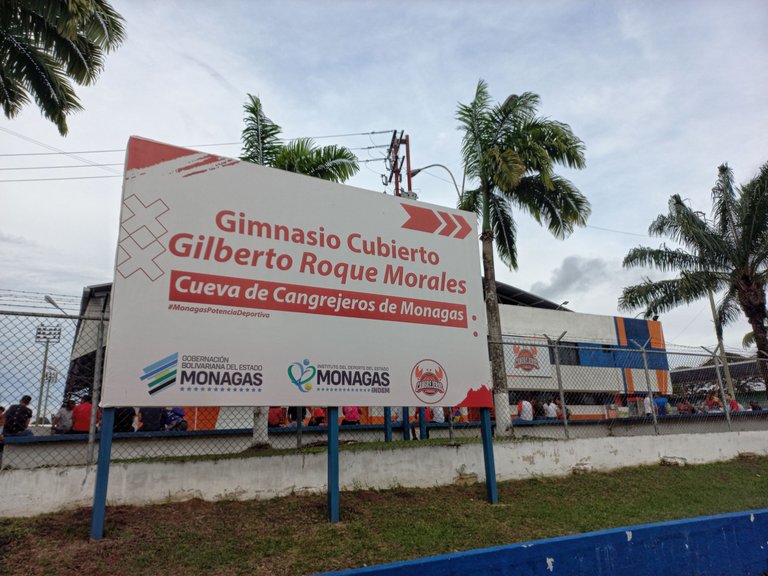 Gimnasio cubierto Gilberto Roque Morales de Maturín/Gilberto Roque Morales indoor gymnasium of Maturín
Todo comenzó el pasado 2 de agosto, cuando tomé un bus desde Valencia, estado Carabobo, ciudad donde vivo actualmente, para digirime hacia la ciudad de Maturín, donde se efectuó el pasado 03 de agosto el juego de baloncesto profesional venezolano entre los equipos Cangrejeros de Monagas vs Taurinos de Aragua. Por lo que tuve que viajar durante casi unas 12 horas hasta llegar la ciudad de Maturín, ciudad que anteriormente tuve la oportunidad de ir en varias ocasiones, pero nunca había ido al gimnasio cubierto Gilberto Roque Morales, donde jugaron los mencionados equipos dichos anteriormente.
El partido de baloncesto inició a las 7 pm horario de Venezuela del miércoles 03 de agosto, y en esta ocasión la victoria se lo llevaría el equipo visitante Taurinos de Aragua, equipo que desde el principio se demostró imponente sobre el equipo local, y aunque llegaron a tener una diferencia de puntos por encima de los 20 puntos, el equipo local tuvo un cuarto tiempo casi pisando los talones de Taurinos y con oportunidad de ganar el juego que terminó 92-102.
It all started last August 2, when I took a bus from Valencia, Carabobo state, the city where I currently live, to go to the city of Maturin, where the Venezuelan professional basketball game between the teams Cangrejeros de Monagas vs Taurinos de Aragua took place last August 3. So I had to travel for almost 12 hours to get to the city of Maturin, a city that I had previously had the opportunity to go on several occasions, but I had never been to the Gilberto Roque Morales indoor gym, where the aforementioned teams played.
The basketball game started at 7 pm Venezuelan time on Wednesday August 3rd, and this time the victory would go to the visiting team Taurinos de Aragua, a team that from the beginning was impressive over the local team, and although they had a point difference of over 20 points, the local team had a fourth half almost on the heels of Taurinos and with a chance to win the game that ended 92-102.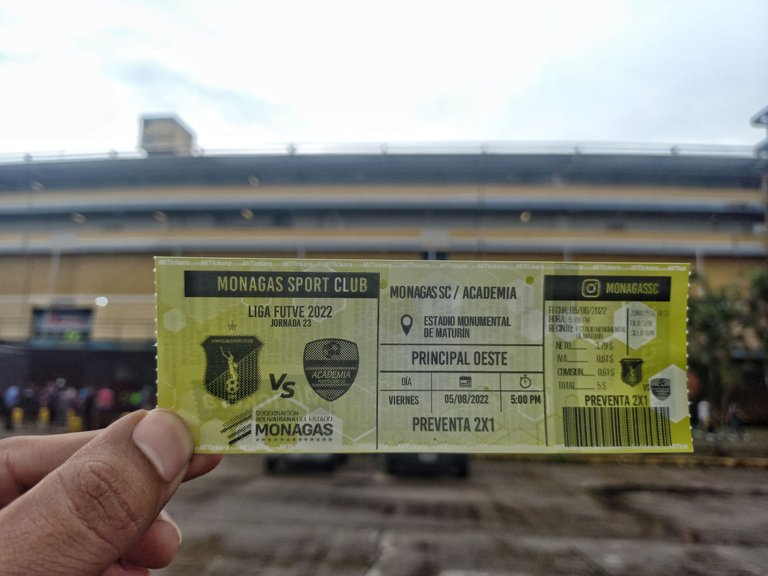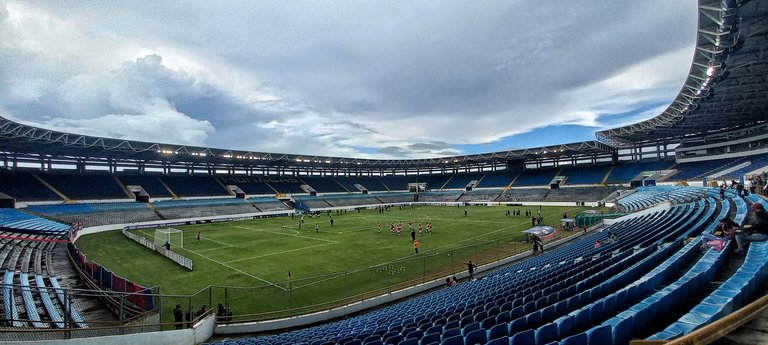 Estadio monumental de Maturín/Monumental Stadium of Maturín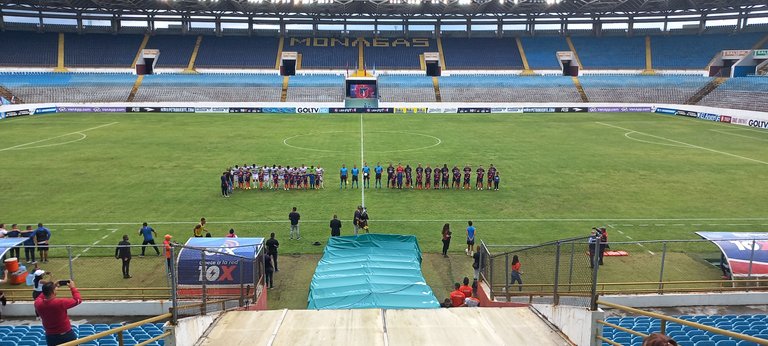 Luego tuve que esperar el día viernes 05 de agosto, para asistir al encuentro de fútbol de primera división entre los equipos Monagas SC vs Academia Puerto Cabello. Juego que se efectuó en el grandioso estadio monumental de Maturín, recinto que en varias oportunidades he asistido a varios juegos.
Para este juego tenía muchas expectativas de que el Monagas SC, por ser el local y estar entre los 3 primeros puestos de la liga, se pudiera llevar fácilmente esta victoria, pero se encontró con un equipo visitante como Academia Puerto Cabello, quienes vienen de tener una buena racha de victorias, y justamente seguirían con esa racha, en ganar el juego 0-1, gracias a un gol desde el punto penal. Dicho juego se inició a las 5 pm horario de Venezuela, y se definió con una importante victoria para la Academia Puerto Cabello, quienes buscan tener un mejor puesto de clasificación.
Then I had to wait for Friday, August 5th, to attend the first division soccer match between the teams Monagas SC vs Academia Puerto Cabello. The game took place at the great Monumental Stadium in Maturin, a stadium that I have attended several games on several occasions.
For this game I had high expectations that Monagas SC, being the local team and being among the top 3 in the league, could easily take this victory, but they met a visiting team like Academia Puerto Cabello, who come from having a good winning streak, and they would continue with that streak, winning the game 0-1, thanks to a goal from the penalty spot. This game started at 5 pm Venezuelan time, and was defined with an important victory for Academia Puerto Cabello, who are looking for a better classification position.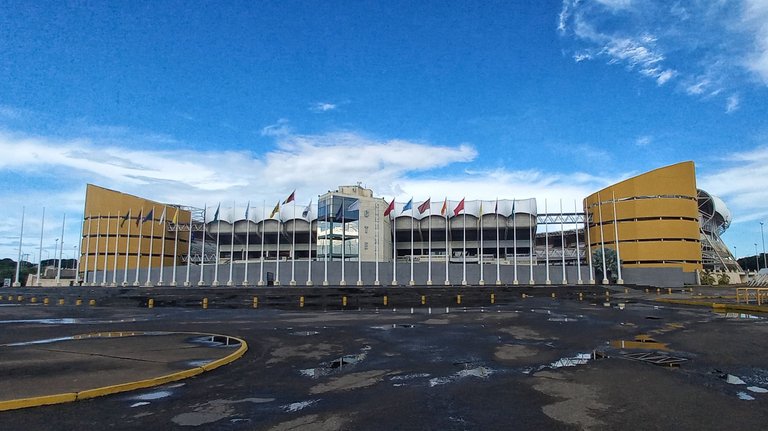 Estadio Cachamay de Puerto Ordaz/Cachamay Stadium of Puerto Ordaz
Una vez terminado el juego de Monagas SC vs Academia Puerto Cabello, me disponía a descansar, para seguir mi viaje hacia la ciudad de Puerto Ordaz el sábado 06 de agosto, para así ver el equipo que desde siempre he apoyado Mineros de Guayana, quienes se enfrentarían al imponente Metropolitabos FC, siendo el líder actualmente del torneo, mientras que Mineros de Guayana, buscaba ganar el juego para alejarse de las posiciones de descenso.
El juego comenzó a las 5 pm horario de Venezuela, desde el estadio Cachamay, y comenzando el primer tiempo un equipo visitante Metropolitanos con un juego rápido y de mucho ataques peligros, hasta lograr 2 goles consecutivos, pero Mineros de Guayana no se rendiría, hasta lograr empatar el encuentro, y luego tomar más posición del balón, aunque no pudieron lograr remontar el juego, se quedaron con 1 punto vital ante un Metropolitanos FC, quizás con la mejor plantilla de la liga.
Once the Monagas SC vs Academia Puerto Cabello game was over, I was getting ready to rest, to continue my trip to the city of Puerto Ordaz on Saturday August 6th, to see the team that I have always supported Mineros de Guayana, who would face the imposing Metropolitabos FC, being the current leader of the tournament, while Mineros de Guayana, was looking to win the game to get away from the relegation positions.
The game started at 5 pm Venezuela time, from the Cachamay stadium, and starting the first half a visiting team Metropolitanos with a fast game and a lot of dangerous attacks, until achieving 2 consecutive goals, but Mineros de Guayana would not give up, until managing to tie the game, and then take more position of the ball, although they could not manage to overcome the game, they were left with 1 vital point against a Metropolitanos FC, perhaps with the best squad in the league.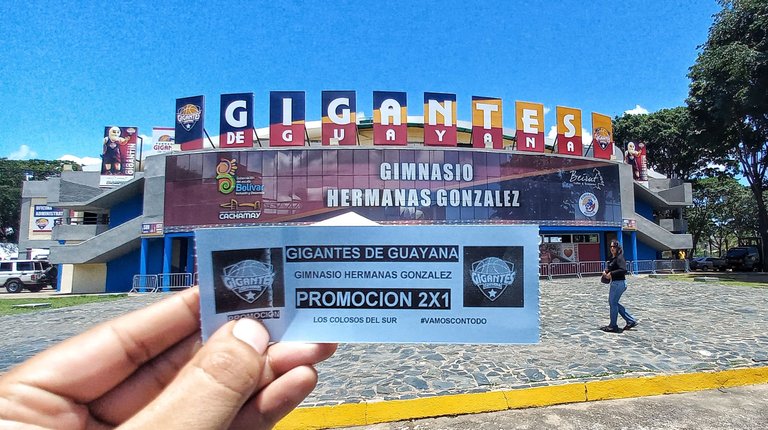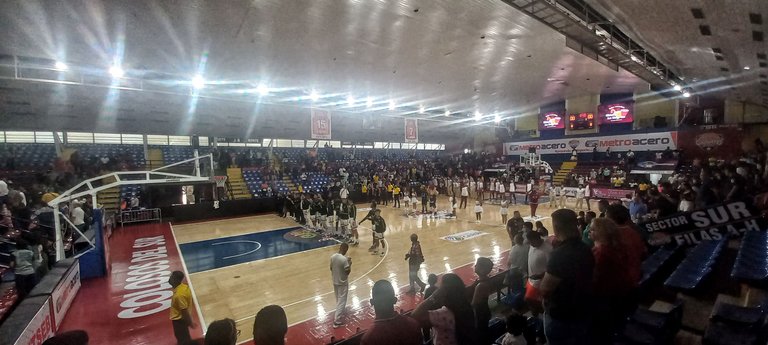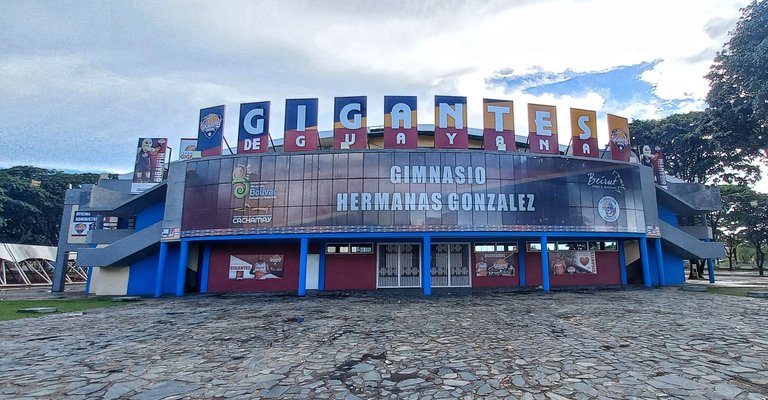 Gimnasio hermanas González de Puerto Ordaz/González Sisters Gymnasium of Puerto Ordaz
Ahora, para el día domingo 07 de agosto, tendría dos juegos que asistir, en primer lugar sería el encuentro de baloncesto Gigantes de Guayana, equipo que también apoyo contra Spartans Distrito Capital. Juego que comenzó a las 1 pm horario de Venezuela en el gimnasio Hermanas González.
Este encuentro fue muy emocionante, con dos equipos de mucha movilidad y con un marcador que siemore estuvo muy reñido, pero lamentablemente este encuentro lo ganaría Spartans Distrito Capital, con un resultado de 73-79.
Now, for the day Sunday August 07, would have two games to attend, first would be the basketball game Gigantes de Guayana, team that also support against Spartans Distrito Capital. Game that started at 1 pm Venezuelan time at the Hermanas Gonzalez gymnasium.
This game was very exciting, with two very mobile teams and with a score that was always very close, but unfortunately this game was won by Spartans Distrito Capital, with a score of 73-79.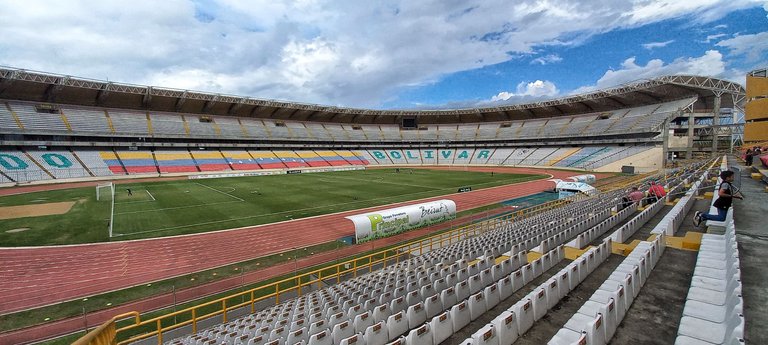 Estadio Cachamay de Puerto Ordaz/Cachamay Stadium of Puerto Ordaz
Y por último, una vez terminado el encuentro de baloncesto dicho anteriormente, a unos pocos metros me dirigí hacia el estadio Cachamay, para asistir al juego de Fundación AIFI vs Deportivo Petare de la segunda división del fútbol venezolano. Juego que sería clave para los dos equipos, quienes se lucharian la posible clasificación hacia el playoff.
Un encuentro dominado por el equipo visitante desde el principio, llegando abrir el marcador, aunque el equipo local Fundación AIFI, lograrían empatar las acciones, hasta que hubo una expulsión de unos de sus jugares, y Deportivo Petare, aprovechaban esa expulsión para lograr la victoria, aunque en todo momento Fundación AIFI a pesar de tener un jugador menos nunca dejaron de atacar, hasta que ya al término del juego, con una tiro libre peligroso a su favor, marcaron su segundo y definitivo gol que les otorgarán la victoria sobre el Deportivo Petare.
De esta forma así terminé mi semana de full de deportes, con juegos muy emocionantes y encuentro con mis equipos de fútbol y baloncesto, a quienes apoyo y he tenido la oportunidad de asistir a muchos juegos y ahora tengo que retornar a mi hogar en la ciudad de Valencia, pero con la añoranza de regresar a estas hermosas tierras del oriente, lugar donde los deportes en general, siempre ha sido un atractivo en las diferentes categorías y deportes.
Todas las fotografías son de mí autoría y fueron tomadas con un smartphone Samsung A32.
And finally, once the basketball game was over, a few meters away I went to the Cachamay stadium, to attend the game of Fundación AIFI vs Deportivo Petare of the second division of Venezuelan soccer. A game that would be key for both teams, who would fight for the possible qualification to the playoffs.
A game dominated by the visiting team from the beginning, opening the scoreboard, although the local team Fundación AIFI, managed to tie the actions, until there was an expulsion of one of their players, and Deportivo Petare, took advantage of that expulsion to achieve the victory, although at all times Fundación AIFI despite having one less player never stopped attacking, until the end of the game, with a dangerous free kick in their favor, they scored their second and final goal that would give them the victory over Deportivo Petare.
In this way I finished my full week of sports, with very exciting games and meeting with my soccer and basketball teams, whom I support and have had the opportunity to attend many games and now I have to return to my home in the city of Valencia, but with the longing to return to these beautiful lands of the east, a place where sports in general, has always been an attraction in the different categories and sports.
All photographs are my own and were taken with a Samsung A32 smartphone.

---
---