Valencia Forum [ENG/ESP]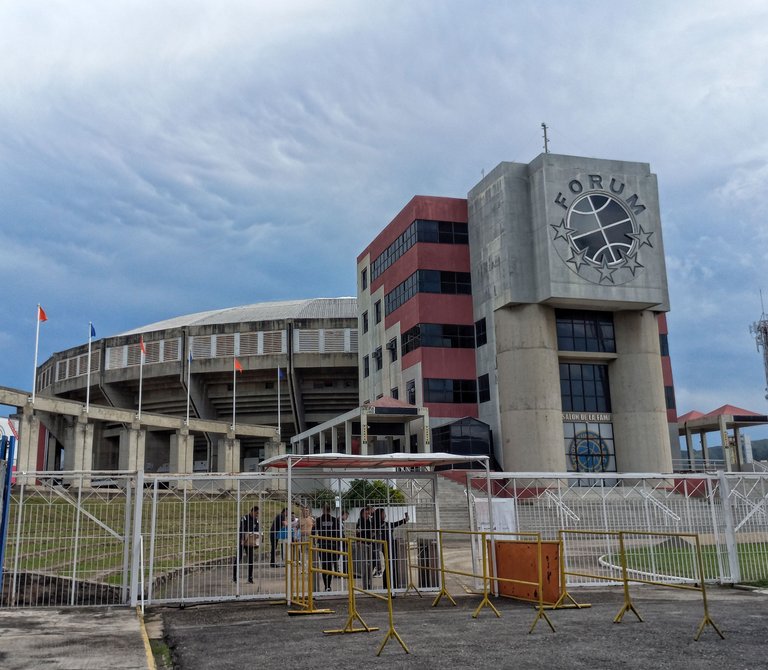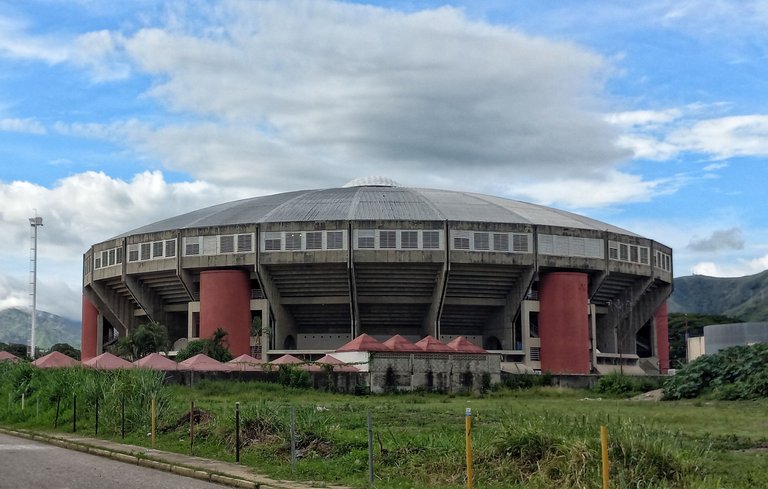 The state of Carabobo, a region located in the central western part of Venezuela, has always been characterized by the development of high performance athletes, even having a strong presence in international events. For this reason, many sports facilities have been built in the state. For example, the Misael Delgado soccer stadium, home of the first division Venezuelan soccer team Carabobo FC, the Olympic Village of Naguanagua, which I once did a review on this important structure, the baseball stadium José Bernando Pérez; The baseball stadium of one of the most important Venezuelan baseball teams, Navegantes del Magallanes, and to finish with the triad of sports with more fans in Venezuela, we can mention the Forum of Valencia, which would become a sports and events complex, home of the basketball team Trotamundos de Carabobo, last champion of the professional basketball league in Venezuela.
Now, historically speaking, this dome-shaped sports complex dates back to 1991, when its construction was completed, although the process lasted since 1988. Due to the fact that the team Trotamundos de Carabobo, was gaining more and more fans and no longer had facilities for a larger capacity. For this reason, the owner of the team decided to undertake a project for the construction of a high-level basketball stadium for the team.
El estado Carabobo, región que se ubica en la parte centro occidental de Venezuela, se ha caracterizado desde siempre en desarrollar atletas deportitas de alto rendimiento, incluso llegando a tener mucha presencia en eventos internacionales. Y debido a esa razón, en el estado se han construido muchas obras con fines deportivos. Como por mencionar el estadio de fútbol Misael Delgado; hogar del equipo de primera división del fútbol venezolano Carabobo FC, la villa olímpica de Naguanagua; que en una oportunidad hice una reseña sobre esta importante estructura, el estadio de béisbol José Bernando Pérez; recinto de unos de los equipos más importante del béisbol venezolano Navegantes del Magallanes y para terminar con la triada de los deportes con más aficionados en Venezuela, se puede mencionar el Fórum de Valencia; que vendría siendo un complejo deportivo y de eventos, hogar del equipo de baloncesto Trotamundos de Carabobo, último campeón de la liga de baloncesto profesional de Venezuela.
Ahora, hablando desde el aspecto histórico, este complejo deportivo con forma de domo, tiene como data histórico desde 1991, fecha que se culminó su construcción, aunque el proceso duró desde 1988. Debido a que el equipo Trotamundos de Carabobo, venía ganando cada vez aficionados y ya no contaban con instalaciones para un mayor aforo. Motivo por la cual el dueño del equipo, decide emprender un proyecto para la construcción de un estadio de baloncesto de alto nivel para el equipo.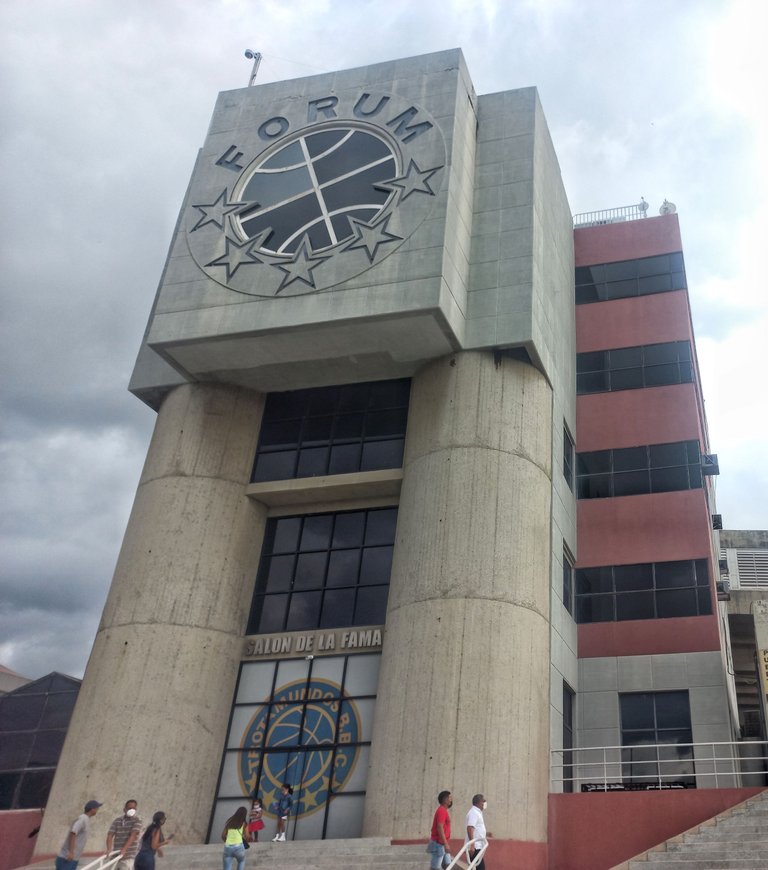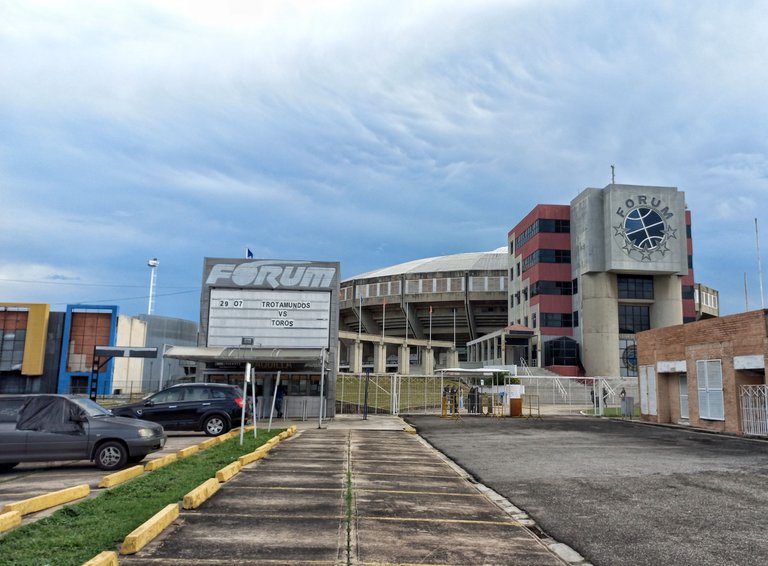 The architect chosen to take charge of the design was Venezuelan architect Manuel Núñez, who was very influenced by the designs of basketball domes of the NBA, known as the top professional basketball league in the United States, and whose impressive basketball domes are architecturally world-class.
This structure, as you can see, was built mostly with materials such as reinforced concrete and steel structural bases. While its appearance, it is a dome, even at the highest point you can see a dome and its facade rises with large pillars, so this style of architecture by design, is due to a modern style.
El arquitecto que escogieron, para encargarse del diseño, fue adjudicado para el arquitecto venezolano Manuel Núñez, quien tenía mucha influencia de los diseños de domos de baloncesto de la NBA; conocida como máxima liga de baloncesto profesional en Estados Unidos, y del cual sabemos de sus impresionantes domos de baloncesto de categoría arquitectónica a nivel mundial.
Dicha estructura, como se puede apreciar, fue construido mayormente con materiales como concreto armado y sus bases estructurales de acero. Mientras que su aspecto, se trata de un domo, incluso en el punto más alto se puede apreciar una cúpula y su fachada se levanta con unos grandes pilares, por lo que este estilo de arquitectura por su diseño, se debe a un estilo moderno.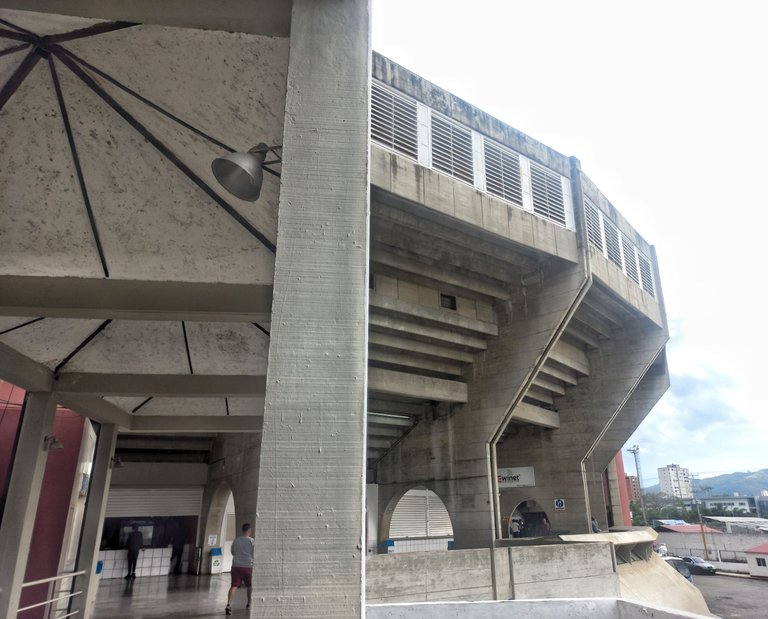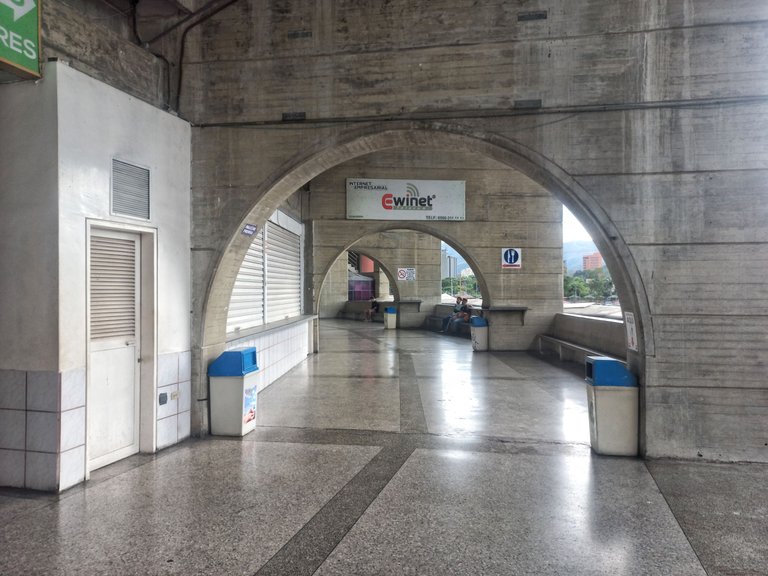 On the other hand, its interior has a seating capacity of more than 10,000 people, with divisions depending on the sector closest to the basketball court, thus creating a total circumference around the court. As well as this large dome, it has VIP boxes, press areas, dressing rooms for players and facilities between restaurants and sports stores.
From my perspective, this structure has always caught my attention, when I always passed by the avenue that connects to the dome, you could appreciate the imposing design, although despite many years of living in the state of Carabobo, until 1 year ago was the first time I could visit these facilities, and yet, with all the economic and social problems of the country, this facility has been maintained, in order to host sporting events and music category. Although I understand that there used to be a computer theme park, a structure that is located a few meters from the Forum, but is now abandoned.
Por otro lado, en su interior tiene una capacidad de aforo hasta más de 10.000 personas, con divisiones dependiendo del sector más cercano hacia la cancha de baloncesto, creando así una circunferencia total alrededor de la cancha. Así como también este gran domo, cuenta con palcos VIP, sectores para la prensa, camerinos para los jugadores e instalaciones entre restaurantes y tiendas deportivas.
Desde mi perpectiva, esta estructura siempre me ha llamado la atención, cuando siempre pasaba por la avenida que conecta con el domo, se podía apreciar lo imponente de su diseño, aunque a pesar de muchos años de vivir en el estado Carabobo, hasta hace 1 año fue la primera vez que pude visitar estas instalaciones, y sin embargo, con todos los problemas económicos y sociales del país, esta instalación se ha podido mantener, con fines de albergar eventos deportivos y de categoría musical. Aunque tengo entendido que antes funcionaba un parque temático de computación, estructura que se encuentra a poco metros del Fórum, pero que actualmente se encuentra abandonado.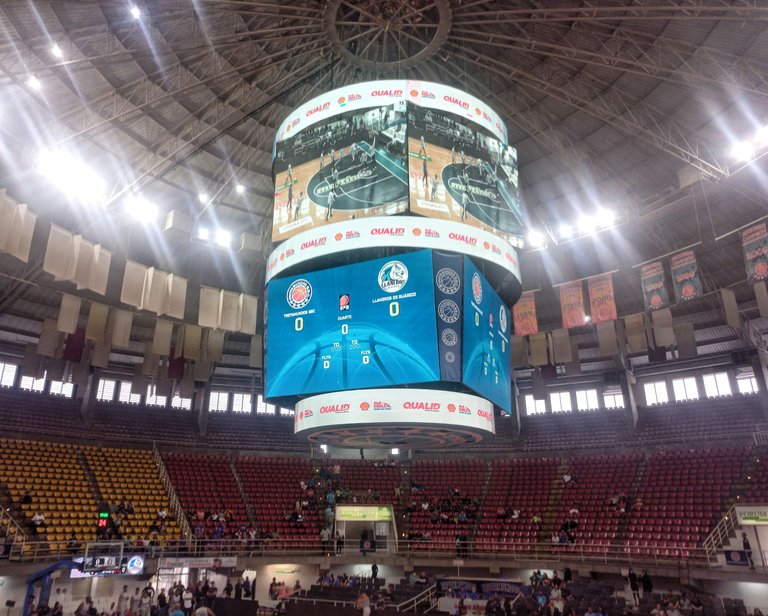 Undoubtedly, these structures are part of the architectural heritage of the state of Carabobo, highlighting an era when the region was betting on an exponential growth with respect to its economy, urban and social development, so these facilities are one of those examples of those golden times of the state of Carabobo, as a region that was growing as a power of Venezuela.
Another important point about this structure is that it has always been the site of great musical concerts, especially by international artists. There are records of live performances by artists such as guitarist Carlos Santana, UB40, Gloria Gaynor, Soda Stereo, Shakira, Deicide, Epica and a large number of musical artists, who at some time came to make an appearance in this great dome, which holds many memories and joys among sports and music fans.
Sin duda, estas estructuras forman parte del patrimonio arquitectónico del estado Carabobo, resaltando una época, cuando la región apostaba por un crecimiento exponencial con respecto a su economía, desarrolo urbano y social, por lo que estas instalaciones son unos de esos ejemplos de esos tiempos dorados del estado Carabobo, como región que venía creciendo como potencia de Venezuela.
Otro punto importante sobre esta estructura, es que desde siempre ha sido recinto de grandes conciertos musicales, sobre todo de artistas internacionales. Se tienen registro de haberse presentado en vivo, artista como el guitarrista Carlos Santana, UB40, Gloria Gaynor, Soda Stereo, Shakira, Deicide, Epica y una gran cantidad de artistas musicales, que en algún tiempo llegaron hacer acto de presencia en este gran domo, que guarda muchos recuerdos y alegrías entre aficionados de los deportes y de la música.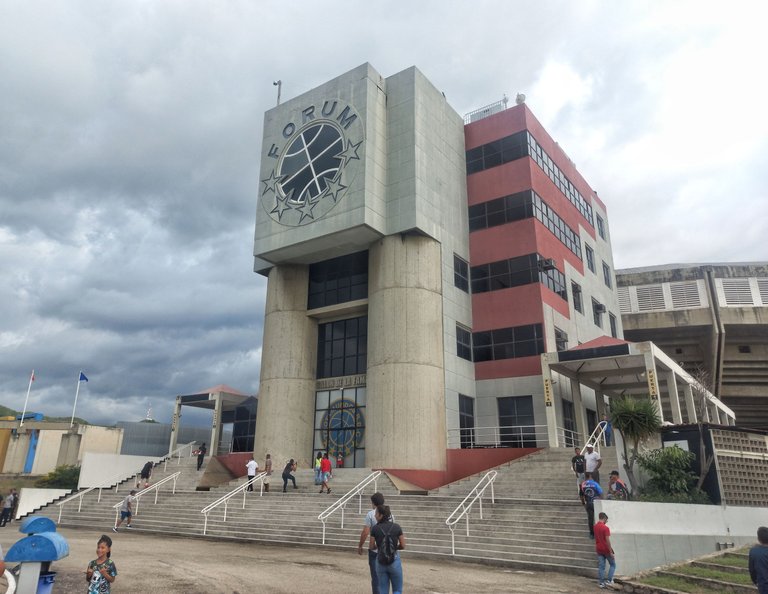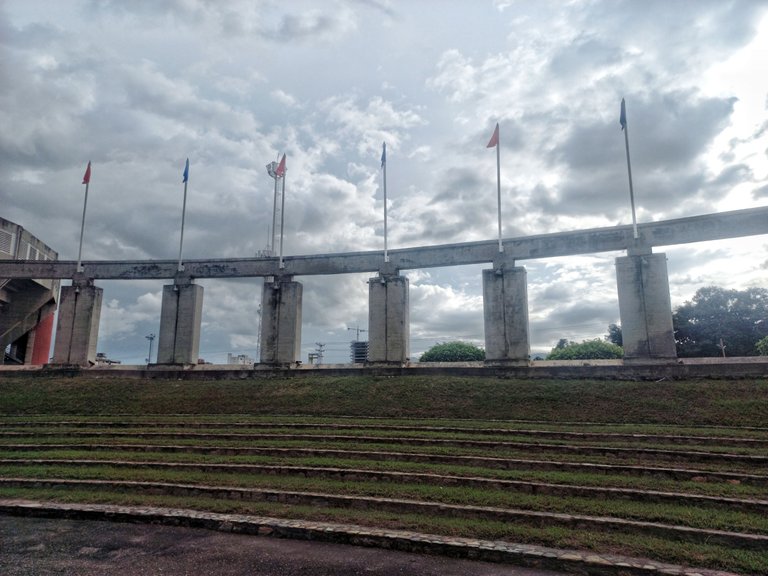 All photographs are my own and were taken with a Samsung A32 smartphone.
Todas las fotografías son de mi autoría y fueron tomadas con un smartphone Samsung A32.

---
---