Victoria clave para Academia Puerto Cabello [ESP/ENG]

El día ayer asistí al encuentro de Academia Puerto Cabello vs Mineros de Guayana de la jornada 24 de la Liga Futve, aunque no pude tomar ninguna fotografía propia, disfrute el juego de fútbol, que fue muy dinámico entre los dos equipos, pero que en esta ocasión la victoria se lo llevaría el equipo local Academia Puerto Cabello, siguiendo así con la racha de 8 partidos sin perder y posicionándose en el cuarto puesto, tentantivo para clasificar a la Copa Libertadores.
Desde la llegada del técnico Juan Domingo Tolisano, la Academia Puerto Cabello ha podido escalar desde los últimos puestos de la clasificación hasta llegar a los 4 primeros puestos de la liga, teniendo así un gran rendimiento en las últimas 8 jornadas y ya restando 4 jornadas para finalizar el torneo, buscarán más victorias para pelearse el campeonato y un puesto a la Copa Libertadores, de ser así sería la primera vez que la Academia Puerto Cabello participaría en dicho certamen internacional, aunque ya en ocasiones anteriores han hecho presencia en Sudamericanas.
Yesterday I attended the Academia Puerto Cabello vs Mineros de Guayana match of the 24th day of the Futve League, although I could not take any pictures of my own, I enjoyed the soccer game, which was very dynamic between the two teams, but on this occasion the victory would be taken by the local team Academia Puerto Cabello, thus continuing with the streak of 8 matches without losing and positioning itself in fourth place, tentative to qualify for the Copa Libertadores.
Since the arrival of coach Juan Domingo Tolisano, Academia Puerto Cabello has been able to climb from the last positions of the classification to reach the first 4 positions of the league, having a great performance in the last 8 matchdays and with 4 matchdays left to finish the tournament, they will look for more victories to fight for the championship and a place in the Copa Libertadores, if so it would be the first time that Academia Puerto Cabello would participate in this international competition, although in previous occasions they have been present in the South American Cup.
Desde el inicio del juego, presencié dos equipos con ansías de ganar, por lo que se mantuvo el balón dividido en una ida y vuelta entre los dos equipos, aunque en los primeros minutos, el equipo visitante Mineros de Guayana, exactamente por el minuto 5 marcaría el 0-1 parcial de parte del jugador Brayan Alcocer, con remate directo hacia la arqueria. Luego al minuto 11, marcaría la igualdad de parte de Academia Puerto Cabello Alfredo Stephens, por lo tanto se iniciaría nuevamente el marcador.
Ya casi al termino del primer tiempo, los porteños volverían a marcar la diferencia, llevándose la victoria del primero tiempo 2-1, con gol del jugador Maicol Balanta. Llegando a tener una mínima ventaja sobre la visita, aunque todavía faltaba un segundo tiempo, donde el marcador podía cambiar según las acciones sobre el terreno de juego.
From the beginning of the game, I witnessed two teams eager to win, so the ball was kept divided in a back and forth between the two teams, although in the first minutes, the visiting team Mineros de Guayana, exactly at minute 5 would score the partial 0-1 by the player Brayan Alcocer, with a direct shot towards the goal. Then at the 11th minute, Academia Puerto Cabello's Alfredo Stephens would score the equalizer, so the score would start again.
Almost at the end of the first half, the porteños would make the difference again, taking the victory of the first half 2-1, with a goal by Maicol Balanta. They had a minimal advantage over the visitors, although there was still a second half, where the score could change according to the actions on the field.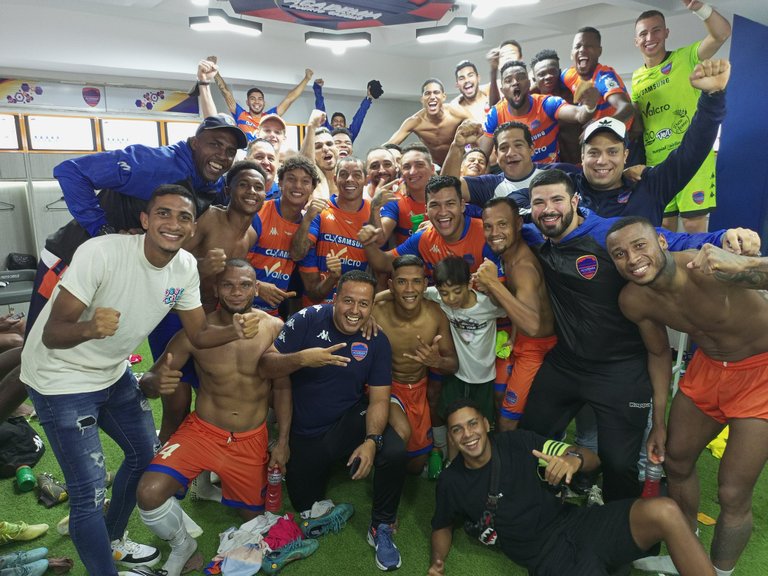 Para el segundo tiempo, tendríamos más incidencias y goles de parte de los dos equipos. Comenzando con un Mineros de Guayana generando muchas jugadas se peligro, con entradas rápidas por los laterales y haciendo varias remates sin concretar, hasta que en el minuto 57, el capitán negriazul anotaria el segundo gol de la visita, de esta forma se volvería a empatar las acciones del encuentro, pero aun faltando 33 minutos del juego.
Por lo que las sustituciones de parte de la Academia Puerto Cabello, fueron fundamentales para generar más movilidad entre la defensa de Mineros de Guayana, que cometieron dos errores, que les costaron 2 goles más para el equipo local, con anotaciones de Samuel Sosa, con doblete sobre los minutos 67 y 82. De tal manera con este resultado final de 4-2, a favor de Academia Puerto Cabello ante Mineros de Guayana, obtendría 3 puntos vitales para aspirar tan ansiada clasificación a Libertadores y posiblemente campeonato del actual torneo.
Mientras que Mineros de Guayana, se encuentra en la posición número 13, quizás con unas de la peores temporadas, teniendo poca expectativas a una posible clasificación, además de estar a unos pocos puesto del descenso, por lo que es meritorio buscar posibles victorias para mantenerse en la primera división del fútbol venezolano.
For the second half, we would have more incidents and goals from both teams. Starting with Mineros de Guayana generating many dangerous plays, with quick entries from the sides and making several shots without scoring, until in the 57th minute, the black and blue captain would score the second goal of the visit, in this way the actions of the match would be tied again, but still missing 33 minutes of the game.
The substitutions by Academia Puerto Cabello were fundamental to generate more mobility among the defense of Mineros de Guayana, who made two mistakes, which cost them 2 more goals for the local team, scored by Samuel Sosa, with a double in the 67th and 82nd minutes. Thus, with this final result of 4-2, in favor of Academia Puerto Cabello against Mineros de Guayana, they would obtain 3 vital points to aspire to the long-awaited classification to Libertadores and possibly the championship of the current tournament.
While Mineros de Guayana, is in position number 13, perhaps with one of the worst seasons, having little expectation of a possible classification, besides being a few positions away from relegation, so it is worth looking for possible victories to stay in the first division of Venezuelan soccer.

---
---