10 Best Kickers in NFL History: 2023 Edition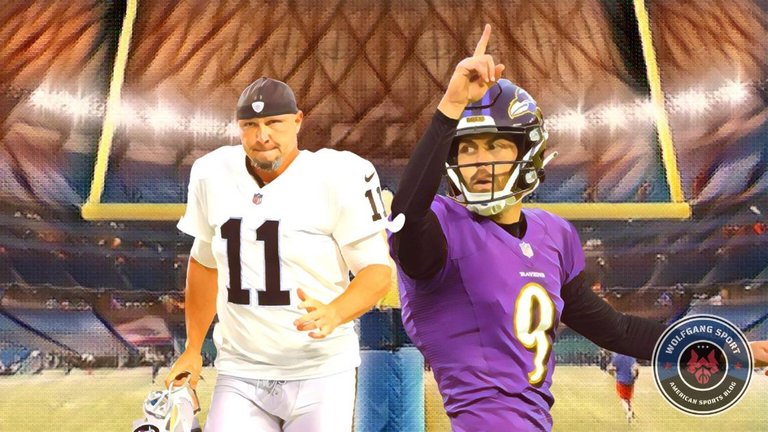 Website | Linktree | Youtube | Twitter | Facebook | LinkedIn | Instagram | Tiktok | Pinterest |
G'day tribe. I'm missing American Football so thought I'd write up something today. Who are the best kickers in NFL history? Kickers play a crucial role in the outcome of games and can be the difference between winning and losing.
A great kicker can help transform the fortunes of a franchise and have even decided Super Bowls in the past. Let's take a look at the 10 best kickers of all time.

10. Jan Stenerud
The first kicker to ever be inducted into the Hall of Fame in 1991, Jan Stenerud is one of the best kickers in NFL history. He helped change the role and importance of placekickers in the league.
Across a highly successful 19-year career Stenerud was reliable and he scored 373 field goals at a 66.8% conversion rate. He made four Pro Bowls, and kicked three field goals in Kansas City's Super Bowl IV victory.
Stenerud was one of the first kickers in the NFL to use a soccer-style kicking technique, using the skill he picked up playing soccer as a young boy in Norway.

9. Matt Stover
Stover played 20 seasons in the NFL making 471 field goals and converting 83.7% of his attempts. He's most remembered for his 13-season stretch with the Baltimore Ravens.
The Ravens struggled mightily on offense during his era but Stover's boot helped them to win games as well as helping guide them to victory in Super Bowl XXXV, the Ravens first championship.
One of the best NFL kickers of all time, Stover also won Super Bowl XXV with the Giants and was known for his longevity and consistency.

8. Sebastian Janikowski
Polish-born Sebastian Janikowski is the Raiders' all-time leading point scorer and one of the best NFL kickers in history. The Raiders stunned everybody in the 2000 NFL Draft when they selected him 17th overall.
Janikowski repaid the Raiders faith, playing 18 of his 19 seasons for the franchise and converting 80.4% of his career field goal attempts.
Arguably possessing the most powerful leg of all-time, Janikowski scored a successful 63-yard field goal against the Denver Broncos in 2011, tying the record for longest field goal in NFL history at the time which was set by Tom Dempsey in 1970.
Good morning #RaiderNation 63 days until season Kickoff…blessing your TL with a record tying 63 yard FG by Sebastian Janikowski…love Seabass….LFG @Raiders pic.twitter.com/W7RHjEY0F5

— Master Marco Polo 🇲🇽"El Buki Raider" (@srchilaquilles) July 10, 2022
7. Stephen Gostkowski
Three-time Super Bowl champion Stephen Gostkowski enjoyed a very successful 14-year run with the New England Patriots. The franchises all-time leading scorer, he was extremely accurate kicking 86.3% of field goals attempts during his career.
Aside from his final season at Tennessee, Gostkowski was a model of consistency throughout his career. He converted an NFL record 523 straight extra points between 2006 and 2016.
A costly miss against the Broncos in the AFC Championship Game in 2016 ended a nine-year extra point streak, never missing a conversion during that time. The miss ultimately cost the Patriots a spot in Super Bowl 50.
March 23, 2020

Patriots release K Stephen Gostkowski. Super Bowl champ - 3x All-Pro - 2x Pro Bowl - 4x HOF all-2010s decade team pic.twitter.com/cCQ6UPybIa — Boston Sports Info (@bostonsportsinf) March 23, 2021
6. Gary Anderson
Gary Anderson played for 23 seasons in the NFL, most of those with the Pittsburgh Steelers, and his best years spent with the Minnesota Vikings. He's one of the best NFL kickers in history making 538 field goals with an accuracy of 80.1%.
The first South African to play in the NFL, Anderson became the first kicker in history to ever accomplish a perfect season, completing all 35 field goal attempts and landing all 59 extra points in 1998.
In the playoffs in that same year he infamously missed a 38-yard field goal attempt in the NFC Championship game which would have earned the Vikings an appearance in Super Bowl XXXII.

5. George Blanda
George Blanda was something else. Known for his longevity across a 26-season career he was extremely versatile. In addition to being one of the best kickers of all time, Blanda also passed for an incredible 236 touchdowns in his career.
Blanda retired as the NFL's all-time leading scorer with 2,002 points. As he aged he focused almost exclusively as a placekicker and backup quarterback.
Remarkably the age-defying Blanda continued playing professionally until 48. He converted 98.3% extra-point attempts and had a career field goal percentage of 52.4%

4. Adam Vinatieri
Adam Vinatieri's 599 field goals made and 238 postseason points are both NFL records. He was able to achieve it with a career field goal percentage of 83.8% and finished with 2,673 points, another all-time record.
Vinatieri is most known for his clutch kicking under extreme pressure and he holds the record for most overtime field goals with 12. Some of the most crucial field goals in history have been kicked by Vinatieri, including successful field goals that were the difference in both Super Bowl XXXVI and XXXVIII.
21 Years Ago Today, Super Bowl XXXVI

Adam Vinatieri hits a 48-yard field goal as time expires to give the #Patriots their first Super Bowl title — the only #SuperBowl decided on the final play of regulation. The final play ever called by the iconic Pat Summerall-John Madden duo pic.twitter.com/pU2BKn9VKO — Kevin Gallagher (@KevG163) February 3, 2023
3. Lou Groza
Lou Groza not only played offensive tackle for the Cleveland Browns, he became one of the best NFL kickers in history. Across 21 seasons with the Browns he won eight championships and was selected to nine Pro Bowls.
In a career spanning between 1946 to 1967 and in an era where attempts from beyond 50-yards were a rarity, Groza revolutionized the game with his long range accuracy and clutch field goals.
The Browns often won games on the back of Groza's kicking and teams began to recognise this. Groza's dominance helped to influence the development of placekickers as a specialist position.

2. Morten Andersen
Morten Andersen is the second best kicker in NFL history. A seven-time Pro Bowler, he played 25 seasons in the NFL and scored 2,544 points, placing him in second place for all-time most points scored behind only Adam Vinatieri.
Danish born, Andersen was known for his powerful leg and accuracy. He made 565 career field goals from a record 382 games played. The best international NFL player of all time, Andersen's career-long field goal distance was a 60-yard field goal effort set in 1991.

1. Justin Tucker
Justin Tucker will play his 12th season with the Ravens in 2023 and he is the best kicker in NFL history. He went undrafted in the 2012 NFL Draft with four kickers picked ahead of him. Tucker has made more than 90% of his field goal attempts in his career, an NFL record for a kicker with a minimum of 100 attempts.
Not only is Tucker the most accurate kicker in NFL history, he's also a clutch kicker in high-pressure situations. He holds the record for the longest field goal with a successful 66-yard field goal attempt which beat the Detroit Lions as time expired in 2021.
Tucker helped guide the Ravens to victory in Super Bowl XLVII as a rookie, with a 38-yard field goal with 4:19 left on the clock ultimately the difference between the two sides.
1 year ago today, Justin Tucker hit an #NFL record 66-yard FG to beat the Lions 🔥

pic.twitter.com/TffygNnIHb — NFL Stats (@) September 26, 2022
---
MAKE AMERICAN SPORTS YOUR GAME TOO!
Website | Linktree | Youtube | Twitter | Facebook | LinkedIn | Instagram | Tiktok | Pinterest |
Wolfgang Sport is an American sports blog bringing you content on football, basketball, baseball, soccer and more. We continue to push the boundaries of blogging in the crypto world and embracing Web3 technologies.
---
---