10 Best Tennis Players of All Time: 2023 Edition
G'day tribe. It's my home tennis Open and what better way to chat tennis and get hyped up by going through who the ten best tennis players of all time are. These players have blessed us with their fast-paced action, incredible athleticism, and fierce competition.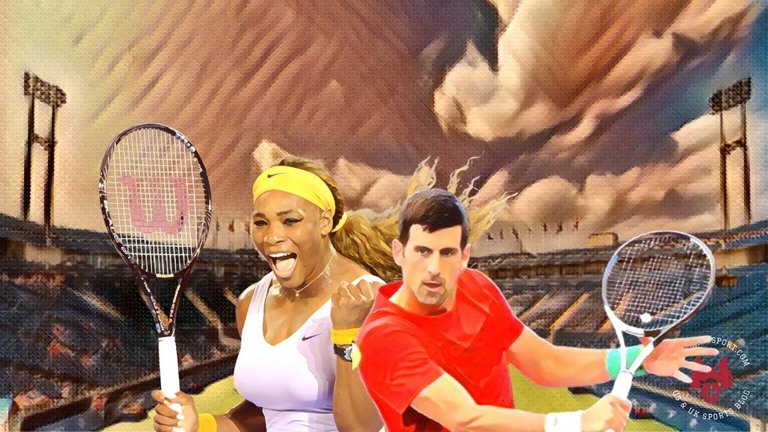 In a game that's evolved significantly over time, these superstars have not only won countless titles and accolades: they've redefined the game with their exceptional talent, unmatched sportsmanship, and unyielding determination.
Here are the ten best tennis players of all time.

10. Andre Agassi
Andre Agassi is one of the best tennis players of all time, capturing the hearts of fans with his flamboyance, fierce competitiveness, and pure. talent.
He won 8 Grand Slam titles, an Olympic gold medal, spent 101 weeks as the world number one, and received over $31 million in career prize money. Agassi had the ability to adapt to different surfaces and he had a very powerful groundstroke.
Agassi's never-say-die attitude made him one of the most feared opponents in tennis. Off the court his sportsmanship and philanthropy further cemented his status as one of the all time greats.
Andre Agassi's 50th birthday is a great opportunity to look back on his remarkable career.

Happy birthday, Andre! pic.twitter.com/sgrVxMExHC — USTA (@usta) April 29, 2020
9. Margaret Court
Australian tennis icon Margaret Court retired in 1977 and is considered by many to be the best female tennis player of all time.
She holds a record 24 singles Grand Slam titles - the most in history - as well as 19 women's doubles Grand Slam titles, and 21 mixed doubles Slams.
Court is one of only three tennis players to have achieved the Grand Slam boxed set, winning all versions of each of the four Grand Slams. She used her height and reach to her advantage, and her athletic and aggressive game brought a new dimension to tennis.
Margaret Court's 24 Grand Slam singles titles remain unmatched.

Ending one short, Serena Williams called time on her illustrious career this week. BBC Sport has a closer look at the record that Williams "shoulda, woulda, coulda" have broken 🔎#BBCTennis #Serena #GOAT — BBC Sport (@BBCSport) September 4, 2022
8. Bjorn Borg
Swede Bjorn Borg was known for his ice-cool demeanor, impeccable backhand, and relentless determination. His rivalry with John McEnroe was one of the most iconic in tennis history, and he also became a fashion icon.
Throughout his career Borg won 11 Grand Slam titles, including five consecutive Wimbledon titles, and six French Open titles making him one of the best tennis players of all time.
Borg was known for his aggressive baseline play and his exceptional consistency, which earned him the nickname "Iceborg." He was one of the first players to use the two-handed backhand, a technique that is now widely used alongside the single-handed version.
A 26-year old Borg made the shock decision to retire at the peak of his career in 1983, never reaching anywhere near those heights during a comeback in 1991.
#OnThisDay: Bjorn Borg became World No. 1 for the first time in 1977.

Borg claimed 64 singles titles across his career including 11 Grand Slams 🏆 pic.twitter.com/FYpJshoERN — ATP Tour (@atptour) August 23, 2019
7. Pete Sampras
American "Pistol" Pete Sampras, was a dominant force, cementing himself as one of the best tennis players of all time with 14 Grand Slam titles, including seven of those at Wimbledon.
Sampras surprisingly never completed a Grand Slam set due to his struggles on clay courts, as his serve-and-volley game wasn't suited to the slower surface which required patience and backcourt consistency.
Armed with one of the greatest serves ever however, Sampras was a master of the big points, dominating on hard and grass courts.
Game, set, match, championship, career.

Happy birthday to a legend who went out on top, Pete Sampras! 🇺🇸 🏆pic.twitter.com/BujQAXoFBi — US Open Tennis (@usopen) August 12, 2020
6. Rod Laver
Australian tennis legend Rod Laver was the king of tennis in the 1960s. Laver's career unfortunately crossed over from the amateur to professional era, with the "Open-Era" beginning in 1968.
Regardless, he's the only player in history to achieve the Calendar Grand Slam twice - doing so in both pre Open-Era and Open-Era. No male player has been able to achieve the feat since he last did it in 1969.
Laver excelled on any surface, with his blazing power, speed and strength which enabled him to hit the ball with ferocity. His groundstroke and serve-and-volley game was flawless and he'll be remembered as one of the greatest tennis players of all time.
Happy birthday to one of tennis' greats, Rod Laver 🎂

🔝 Former world No.1 🏆 x 11 Grand Slam singles titles 🏆 x 200 career singles titles 🏆 x 5 Davis Cup titles pic.twitter.com/W62zTqgRuL — ITF (@ITFTennis) August 9, 2020
5. Steffi Graf
Steffi Graf is undoubtedly one of the greatest players of all time with 22 Grand Slam titles to her name. She had a phenomenal 88.7% win rate in her singles career and won almost $22 million in prize money.
She simply dominated with her fierce forehand and impeccable footwork, delivering on a consistent basis, on any surface, on her way to winning 107 career titles.
Graf holds the record for the longest time spent at world number one at 377 weeks across seven periods. She won all four Grand Slams at least four times, and is the only player ever to win a Calendar Golden Slam.
On this day in 1999, Steffi Graf retired.

🏆 22 Grand Slam titles 👑 377 weeks at No. 1 🥇 First tennis player to achieve the Golden Slam pic.twitter.com/bjmQsM3SMW — US Open Tennis (@usopen) August 13, 2022
4. Roger Federer
Roger Federer is easily one of the best tennis players of all time. Throughout his illustrious career he won 20 Grand Slam titles, including eight Wimbledon, and six US Open titles.
He could have won even more titles had it not been for the multiple surgeries needed on his knee injuries. Federer's playing style was a blend of elegance, precision, and finesse.
Federer was also known for his signature one-handed backhand, and for popularizing the aggressive serve-and-volley style of play.
Arguably his greatest feat was spending 310 consecutive weeks as world number one, the most of any player in history and a record that seems unlikely to ever be beaten.
A legendary career for Roger Federer 👏

🙌 369 Major match wins 🏆 103 career ATP singles titles 🏆 20x Grand Slam champion 🏅 2x Olympic medalist pic.twitter.com/2m55LoV0SV — ESPN (@espn) September 23, 2022
3. Serena Williams
Serena Williams is the greatest female tennis player of all time. Throughout her career she won an astonishing 23 Grand Slam titles, just one behind all time leader Margaret Court.
What made Williams special was her aggressive and powerful serve. She also had incredible speed and athleticism which allowed her to cover the court with ease.
Her dominance on the court is undeniable and it didn't matter what surface she played on. Williams was unbelievably consistent and was world number one for a total of 319 weeks.
Off the court Williams is known for her philanthropy and activism, making her an inspiration to many young players and adding more to her amazing legacy.
🏆 186 consecutive weeks at No. 1 🏆 4x Olympic gold medalist 🏆 23-time major champion 🏆 367 major match wins 🏆 6 US Open titles 🏆 73 career titles

1 of 1 🐐 @serenawilliams pic.twitter.com/YdON5l7RzX — SportsCenter (@SportsCenter) September 3, 2022
2. Rafael Nadal
Rafael Nadal is no doubt one of the best tennis players of all time and is known for his relentless and aggressive playing style. He established an unparalleled legacy in the sport, amassing an all-time record of 22 Grand Slam men's singles titles.
Nadal's combination of speed, power, and precision makes him a formidable force on the court. With over $134 million in prize money earned, the Spaniard stands out as one of only two men to complete the Career Golden Slam in singles.
His forehand is a weapon, hit with heavy topspin and at challenging angles, making it difficult for opponents to hit winners past him. He is also known for being one of the best at breaking serve, making it hard for opponents to hold onto their service games.
Nadal can play on any surface but the Spanish powerhouse is a clay court specialist with a record 14 French Open titles. He spent 209 weeks at world number one, and is considered to be the greatest clay court player of all time.
Breaking his own records 💪@RafaelNadal - now the owner of 14 #RolandGarros titles and 22 Grand Slam titles 🏆 pic.twitter.com/jbliQ0Md7v

— Wimbledon (@Wimbledon) June 5, 2022
1. Novak Djokovic
Novak Djokovic is the best tennis player of all time. He's been virtually unbeatable in his prime and has amassed more than 87 titles in his career.
Known for his precision, stamina, and relentless determination, Djokovic's playing style is a combination of power and finesse, making him a formidable opponent on the court.
His 21 Grand Slam titles, including eight Australian Open, five Wimbledon, and three US Open titles, are a testament to his exceptional ability and the legacy he will leave on the sport.
Djokovic's longevity and consistency at the top level has been remarkable and he's earned over $164 million in prize money. He's the only player in the Open-Era to win two Career Grand Slams.
Martina Navratilova believes Novak Djokovic will have more Grand Slams than Rafael Nadal at the end of 2023 🔥

Do you agree? 🤔#NovakDjokovic #RafaelNadal #AustralianOpen #Tennis pic.twitter.com/2dfmcKd98x — Sportskeeda Tennis (@SK__Tennis) January 16, 2023
---
THANK YOU FOR YOUR SUPPORT!
Wolfgang Sport started in 2017 as a way to connect my passion for American and British sports. Today it's evolved into a blockchain sports blog pushing the boundaries into the crypto world and embracing Web3 technologies.
---
---