10 Biggest NBA Draft Busts of All Time: 2023 Edition
G'day fam! The NBA Draft is a chance for teams to secure top talent for their rosters but not every pick turns out to be a success. Despite the high expectations initially placed on these players they turned out to become the biggest NBA draft busts of all time. Lets take a look at the top 10.
This one's for you @daltono!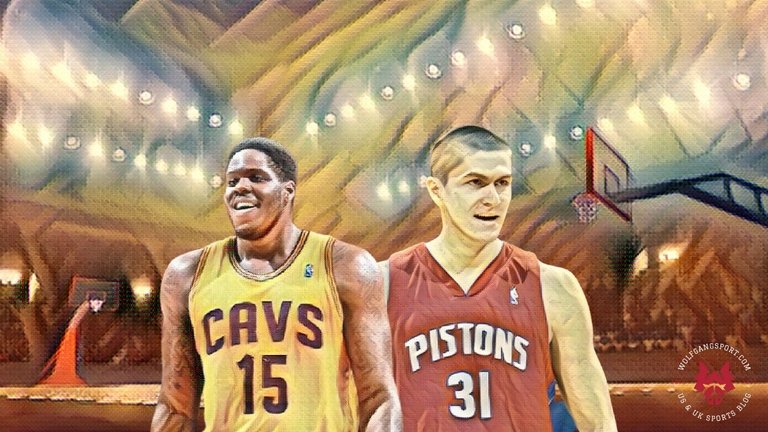 10. Dajuan Wagner
Dajuan Wagner was drafted with the 6th pick of the 2002 NBA Draft and was picked ahead of Amar'e Stoudemire, Nene and Caron Butler. He was supposed to be the Cleveland Cavaliers saviour with his impressive scoring ability and ball handling skills, but he turned out to be one of the biggest NBA draft busts of all time.
Wagner suffered from a significant bowel injury which limited him to only three seasons in Cleveland. After then sitting out an entire season he attempted a return with the Golden State Warriors but played only seven minutes of game time before eventually retiring.
The defensive struggles of Wagner were very apparent which limited his effectiveness on the court. He also faced legal troubles and constant injuries which ended up derailing his career entirely.
Reminisce with Dajuan Wagner highlights

pic.twitter.com/zVUhPcEEOg — Across The Cavs (43-27) (@AcrossCavs) February 28, 2023
9. Michael Olowokandi
Michael Olowokandi never played an organised game of basketball until after his 20th birthday. It wasn't enough of a red flag for the Clippers as they focused heavily on his 22.2 points, 11.2 rebounds, and 3.3 blocks per game in his junior year at Pacific.
The Clippers selected Olowokandi with the first pick of the 1998 NBA draft ahead of players like Vince Carter and Dirk Nowitzki, but his career never lived up to the promise it once showed. He failed to develop and adapt to the NBA, and in nine seasons he fell well short of expectations with 8.3 points and 6.8 rebounds per game.
Shaq celebrated his 28th birthday by doing this to former #1 pick Michael Olowokandi (2 PTS, 5 PF) & the Clippers:

61 Points 24/35 Shooting 23 Rebounds pic.twitter.com/TYzCPfFbcp — Ballislife.com (@Ballislife) March 6, 2023
8. Chris Washburn
Chris Washburn was known for his athleticism, size, and potential in college and he averaged 17.6 points, 6.7 rebounds, and 3.9 blocks. The Golden State Warriors overlooked him being sentenced to prison before the draft for stealing a radio, and picked him third in the 1986 NBA Draft.
In his rookie year Washburn developed a cocaine habit and a kidney infection on his way to becoming one of the biggest NBA draft busts of all time. Washburn was banned from the NBA for life in 1989 following three failed drug tests. His career lasted only 72 games, averaging nine minutes of game time with a return of 3.1 points and 2.4 rebounds.
Episode 152! A giant man. A giant bust. He threw away the biggest opportunities a person could have, with assault, theft & obviously cocaine. He's a crack smoking, test failing, arrest machine! It's Chris Washburn!!https://t.co/SOLbDnnL4B pic.twitter.com/dGufi4nl47

— Crime In Sports (@CrimeInSports) March 5, 2019
7. LaRue Martin
LaRue Martin showed signs of becoming a generational center, averaging 18.2 points, 15.9 rebounds for the Loyola Ramblers, who retired his jersey #20. Portland Trail Blazers drafted him with the first pick of the 1972 draft ahead of greats Bob McAdoo and Julius Erving.
His college performances never translated into the NBA and it became apparent that he was inefficient, inconsistent and was undersized at 6-foot-1, 208 pounds. In his four seasons he averaged 5.3 points, 4.6 rebounds and 14 minutes of game time.
NBA history:

In 1972, Loyola-Chi player LaRue Martin was taken #1 overall to the Trailblazers. He played only 4 years and averaged a meager 5 ppg in the NBA, and was drafted ahead of Bob McAdoo and Julius Erving. He's considered one of the biggest busts of all time. pic.twitter.com/sMDn94ce3h — The Blue Demon Degenerate (@BlueDemonDegen) August 2, 2022
6. Kwame Brown
The Washington Wizards picked Kwame Brown straight out of high school with the first pick of the 2001 draft. At Glynn Academy his size and athleticism made him a dominant force with 20.1 points, 13.3 rebounds, and 5.8 blocks per game in his senior year.
Despite all the hype, the 6-foot-11, 290-pound center fell well short of expectations. Making things worse for the Wizards is the fact they passed up on Tyson Chandler and Pau Gasol in the draft.
Brown was criticized for his poor work ethic, and he suffered from a lack of consistency and injuries on his way to averageing of 6.6 points, 5.5 rebounds, and 0.8 blocks.
13 years ago today, the Lakers traded Kwame Brown, Javaris Crittenton, Aaron McKie, draft rights to Marc Gasol & 2 future draft picks for Pau Gasol.

😂 Stephen A. Smith... pic.twitter.com/CaboeSDINC — Ballislife.com (@Ballislife) February 1, 2021
5. Greg Oden
Selected with the first pick of the 2007 NBA Draft, Greg Oden was the clear top prospect in a draft class that also included Kevin Durant. Oden possessed great size, strength and agility, and he led the Buckeyes to the 2007 national championship game on the back of 14.4 points, 9.2 rebounds, and 3.0 blocks per game.
Oden suffered from chronic knee injuries during his entire career and he missed his entire rookie season. In a seven-year career, he sat out four full seasons, played 105 games, started 66 of those, and averaged 19 minutes per game.
The injuries paid a toll as he failed to find the consistency that he showed during his time in college. The pressures that came with being the first pick also caught up to Oden and he had struggled with substance abuse during his NBA career.
Happy Birthday to the 🐐 pic.twitter.com/NepP4n52b8

— The Ohio State Hoops Insider (@OSUHoopsInsider) January 22, 2022
4. Hasheem Thabeet
Hasheem Thabeet was a standout 7-foot-3 center for the University of Connecticut, breaking out in his sophomore year where he averaged 10.5 points, 7.9 rebounds, and 4.5 blocks. His athleticism despite his size made him a dominant force and was hard to matchup against.
The Memphis Grizzlies drafted him with the second pick of the 2009 draft, ahead of the likes of James Harden, Stephen Curry and DeMar DeRozan. Drafting a positional need, rather than the best talent on the board, Thabeet turned out to be one of the biggest NBA draft busts of all time.
He struggled to adapt to the NBA, and his offensive game was extremely limited with a lack of post moves and scoring touch. His speed and physicality also failed to develop further from a college level and he started in only 20 of the 224 games he played in.
Always interesting to look back at the "What-if's" of NBA Drafts

Hasheem Thabeet goes 2nd overall to Memphis in 2009 Draft. During final year at UConn, Thabeet went on to average: • 13.6 PTS, 10.8 REB, and 4.2 BLK pic.twitter.com/i3a1BaBg4b — Backcourt Violation (@backcourtv) June 23, 2020
3. Sam Bowie
At the University of Kentucky, Sam Bowie was a dominant force on both ends of the court. He was highly productive with an average of 17.4 points, 9.1 rebounds, and 3.5 blocks, and was a difficult matchup as he stood at 7-foot-1, 230 pounds, and had a combination of speed and agility.
The Portland Trail Blazers' only missing piece from winning an NBA championship at the time was having a dominant center, and so they drafted Sam Bowie second overall in one of the best NBA draft classes ever in 1984.
He was selected behind one of the best defenders of all time, Hakeem Olajuwon, but ahead of the best player of all time Michael Jordan. With an average of 10.9 points and 7.5 rebounds, he's one of the biggest NBA draft busts ever mostly due to Jordan remaining on the draft board when picked.
November 24, 1984: Michael Jordan and Sam Bowie—two of the top three picks in the '84 NBA Draft—face one another for the first time during their rookie season.

Portland beat Chicago, 141-131. Jordan had 30 PTS & 8 AST. Bowie scored 11 PTS off the bench. pic.twitter.com/98O5ZJazZt — NBA Cobwebs (@NBACobwebs) November 24, 2022
2. Anthony Bennett
Anthony Bennett was a versatile player. Both strong and athletic, he could score from inside or from range. In his only season at UNLV he averaged 16.1 points and 8.1 rebounds per game which was enough for the Cleveland Cavaliers to draft him first overall in 2013.
In hindsight a closer look at his college career highlights that his numbers were inflated because of the weaker college conference he played in. He played for a different team across each of his four seasons where he averaged 4.4 points, 3.1 rebounds, and 0.5 assists per game.
Inconsistency, fitness concerns and injuries derailed his career. Further compounding Bennett as one of the biggest NBA draft busts of all time is the fact that Victor Oladipo, C.J. McCollum and Giannis Antetokounmpo were in his draft class.
Anthony Bennett UNLV highlights. pic.twitter.com/YdSP2V3XyK

— Backdoor Cuts (@stoolbackcuts) October 2, 2020
1. Darko Milicic
Darko Milicic is the biggest NBA draft bust of all time. The prodigious talent had excellent size, skill and athleticism for a 7-foot center and the Detroit Pistons selected him with the second pick of the 2003 NBA Draft behind one of the
greatest players of all time
, LeBron James.
Milicic had a career that lasted 10 seasons where he averaged 6.0 points, 4.2 rebounds, and 1.3 blocks per game. He failed mightily to adjust to the physicality of the NBA and he was criticized for his lack of aggression, intensity and work ethic.
Most of his career was played out from the bench. What makes Milicic the biggest draft bust and making it particularly hard to swallow for the Pistons was that he was drafted ahead of Carmelo Anthony, Dwyane Wade and Chris Bosh.
16 years ago today, the Pistons selected Darko Milicic instead of Carmelo Anthony or Chris Bosh with the 2nd pick in the 2003 NBA Draft.

He averaged 1.4 PTS, 1.3 REB during his rookie year and the Pistons still won the NBA Championship. pic.twitter.com/h3ezysKYBm — Ballislife.com (@Ballislife) June 26, 2019
---
THANK YOU FOR YOUR SUPPORT!
Wolfgang Sport started in 2017 as a way to connect my passion for American and British sports. Today it's evolved into a blockchain sports blog pushing the boundaries into the crypto world and embracing Web3 technologies.
---
---