10 Fastest Tennis Serves of All Time: 2023 Edition
G'day tribe. I've been enjoying the Aussie open and it made me wonder, what are the fastest tennis serves of all time? Powerful and well placed serves can be the difference between winning and losing in one of the most popular sports in the world.
Sam Groth hit what could be considered the fastest serve in tennis at 163.7 mph (263.4 km/h) in 2012. It's not recognized by the ATP as it was set at a Challenger tournament.
Let's take a look at the 10 Fastest tennis serves of all time that are recognized by the ATP.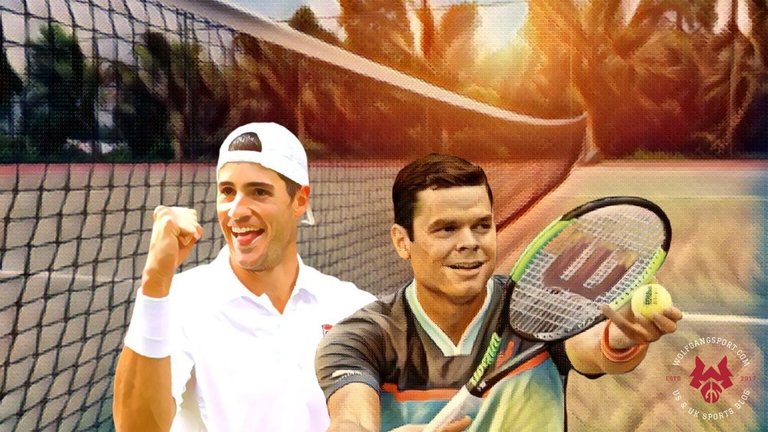 10. Taylor Dent – 149.8 mph (241 km/h)
Taylor Dent was considered one of the most powerful servers in his era along with fellow American Andy Roddick. He had a solid slice backhand and enjoyed charging at the net at every opportunity.
Though Dent didn't achieve success on the scale that Roddick did, he managed to reach the fourth round of Wimbledon and the US Open on one occasion each, and the third round of the Australian Open three times.
In the first round of the 2010 French Open, Dent hit an insane serve at 241 km/h (149.8 mph), the fastest in the tournament's history, on his way to beating Nicolás Lapentti of Ecuador 6-3, 6-4, 7-6 (3).
The fastest serve ever at #Wimbledon, by Taylor Dent in 2010

How to do the perfect servehttp://t.co/1uzlo2YfUI pic.twitter.com/vG72fLM1F1 — BBC Tennis (@bbctennis) July 6, 2015
9. Oscar Otte - 151 mph (243 km/h)
Andy Murray called it
that Oscar Otte was one for everyone to look out for. The Scot was right about him and his phenomenal power tennis game.
Otte shocked everyone on his 2021 US Open run, earning a fourth round tie against Matteo Berrettini. It was even more spectacular as he barely made it through the US Open qualifying tournament.
Unfortunately Otte went on to lose his match with Berrettini but not before smashing one of the fastest tennis serves of all time, hitting a 151 mph (244 km/h) serve in his first round upset of Lorenzo Sonego.
Oscar Otte serve action, efficient pic.twitter.com/HXFVoBwBrc

— Jari Järvinen (@JariVol80) November 17, 2021
8. Marius Copil – 151.6 mph (244 km/h)
Marius Copil has never progressed beyond the second round of a Grand Slam, but he's still been able to rank as high as 56 in the world on the back of his powerful and consistent serve.
In the quarterfinals of the 2016 European Open against top seed David Goffin, Copil hit a serve clocked at 151.6 mph (244 km/h).
Copil went on to lose the match 7-5, 1-6, 3-6, but his serve earns the spot on our list as the 8th fastest serve of all time.
When you're at the end receiver of Copil's serve 😂 #DavisCup pic.twitter.com/k3QhzQgs2s

— Ramona Toderaş (@RamonaToderas) September 18, 2021
7. Feliciano Lopez – 152.0 mph (244.6 km/h)
Spanish tennis player Feliciano Lopez peaked as high as 12 in the world in 2015. Lopez was strong on grass - unusual for a Spanish player who typically are stronger on clay courts.
In the Aegon Championships in 2014, played on grass courts in London, Lopez unleashed one of the fastest serves of all time, clocked at 152 mph (244.6 km/h) in his opening round match against Dusan Lajovic.
Lopez went on to lose to Grigor Dimitrov in the final, despite holding a championship point. He'd go on to redeem himself in the 2017 tournament final, beating Marin Cilic and saving a matchpoint this time around.
The end's coming soon for Feliciano Lopez.

Spain's serve and volley specialist has announced 2023 will be the last year of his great career. He won 7 ATP titles, last one at 2019 Queen's in singles and doubles. Enjoy this last one Feli! pic.twitter.com/Jnm75jYYXc — We Are Tennis (@WeAreTennis) January 1, 2023
6. Ryan Harrison – 152.0 mph (244.6 km/h)
Ryan Harrison has relied mostly on his explosive serve and counterpunching game from the baseline. He's finished as high as the third round in Grand Slam singles, but has excelled at doubles, winning a French Open doubles crown in 2017.
Harrison idolized Andy Roddick as a youngster, and he followed in his compatriots footsteps by delivering a serve at 152 mph (244.6 km/h) at the Western and Southern Open in 2013 against David Ferrer in the second round.
He went on to lose that match, but Harrison has one ATP singles title to his name after winning the Memphis Open in 2017. Most of his success has been in doubles, winning four career ATP titles.
Ryan Harrison's serve looks even better in slo-mo. 👌🏆 #BBTAO pic.twitter.com/qaOA1sfvFo

— Tennis TV (@TennisTV) July 27, 2017
5. Andy Roddick – 155.0 mph (249.4 km/h)
Andy Roddick was a dominant force during his career. He held the top spot in the world rankings in 2003, the same year he won the US Open, and he was a Wimbledon finalist three times.
Known for his powerful serves and towering height of 6'2", most of his career success was on the back of his booming serve which he developed exceptional power from with a deep knee bend.
In a Davis Cup semi-final match against Belarus in 2004, Roddick set a new world record at the time for the fastest serve in tennis. He delivered a serve at a whopping 249.4 km/h (155 mph), a record which would remain in place until 2011.
Andy Roddick 🇺🇸 , Andy Murray 🇬🇧 serve analysis. Dartfish Slow Motion.

📽 @ausassault pic.twitter.com/vrjcjgVf2k — BATennis (@BATennisCom) January 3, 2020
4. Milos Raonic – 155.3 mph (249.9 km/h)
Canadian star Milos Raonic is considered to have one of the best serves on the circuit. "The Missile" emphasises on keeping games short, ending points quickly by approaching the net, or playing a serve-and-volley, or chip-and-charge game.
Raonic has earned over $20 million in career earnings, has achieved a major final appearance at Wimbledon in 2016, the same year he earned a semi-final spot at the Australian Open, and peaked at number three in the world.
In 2012 Roanic hit one of the fastest serves of all time reaching a speed of 155.3 mph (249.9 km/h) at the SAP Open in a semi-final match against Ryan Harrison. He went on to win the match and successfully defended his title with a 7-6, 6-2 win over Denis Istomin.
Imagine being on the other end of a Milos Raonic serve?

This poor guy didn't stand a chance. 😂#Wimbledonpic.twitter.com/IQDsdbPuzV — Rudi Schuller (@RudiSchuller) July 4, 2018
3. Ivo Karlovic – 156.0 mph (251 km/h)
Ivo Karlovic is the all time leader in
percentage of career service games won
, has over an astonishing 13,700 aces in his career, and peaked as high as number 14 in the world.
Karlovic is able to dominate with his explosive serve thanks to his 6'11" tall frame, which ties him alongside Reilly Opelka - who owns the fastest ever second serve of all time at 233 km/h (144.8 mph) - as the tallest ATP-ranked tennis player of all time.
In 2011, Karlovic made history during a Davis Cup match for Croatia against Germany. He shattered the previous record for the fastest serve - held by Andy Roddick at the time - with a serve clocked at 156 mph (251 km/h).
Ivo Karlović, ladies and gentlemen.

*Turned pro: 2000 *ATP titles: 8 (11 more finals) *Best GS result: Wimbledon QF (2009) *Davis Cup champion with Croatia *Highest ranking: 14 *Top 10 wins: 21 Ćao, Doktore! @ivokarlovic #USOpen pic.twitter.com/B7hp4v32Md — Saša Ozmo (@ozmo_sasa) August 30, 2021
2. Alejandro Davidovich Fokina - 156.6 mph (252 km/h)
Spaniard Alejandro Davidovich Fokina is known for having one of the best drop shots in tennis. His aggressive, able to find sharp angles and also has a good serve behind him.
Davidovich Fokina enjoys clay court surfaces and he was a finalist at the French Open in 2021. He's beginning to make a name for himself and even defeated Novak Djokovic in the second round of the 2022 Monte Carlo Masters.
In a second round clash against Felix Auger-Aliassime at the Italian Open, Davidovich Fokina smashed a serve at 156.6 mph, one of the fastest serves of all time.
Hugo Dellien is the player with the lowest 1st serve average speed in 2022. Only 156kph (97mph). His first serve is slower than 37 other players' average second serve.

Fastest serve of the year belongs to Davidovich Fokina, 252kph (156,6mph), scored in Rome R2. 4th fastest ever. pic.twitter.com/Oks3c37lK1 — Relevant Tennis (@RelevantTennis) July 19, 2022
1. John Isner – 157.2 mph (253 km/h)
John Isner owns the fastest serve in tennis history. He earned a career high ranking of 16 in the world on the back of his big serve, but his game has been limited due to his poor movement, and he's had difficulty breaking serve during his career.
His inability to break serve has been countered by holding the record for the highest number of aces in history. Isner's impressive 6'10" frame sits just below Karlovic and Opelka height wise.
Throughout his career, Isner hit many serves above 150 mph, but his fastest was recorded during a 2016 Davis Cup tie against Australia. Isner unleashed a 157.2 mph (253 km/h) rocket, setting a new world record as the fastest tennis serve of all time.
On Tuesday in Melbourne, John Isner hit his 14,000th ace 👏 pic.twitter.com/dkP26kEB0k

— FirstSportz Tennis (@FS_Tennis1) January 17, 2023
---
THANK YOU FOR YOUR SUPPORT!
Wolfgang Sport started in 2017 as a way to connect my passion for American and British sports. Today it's evolved into a blockchain sports blog pushing the boundaries into the crypto world and embracing Web3 technologies.
---
---