10 Most Hated NBA Players in 2023
G'day tribe. Everyone has a list of their most hated NBA players. It's the player that gets on your nerves whether its because of their personality, a lack of sportsmanship, because of political views or just because. So who are the most hated NBA players?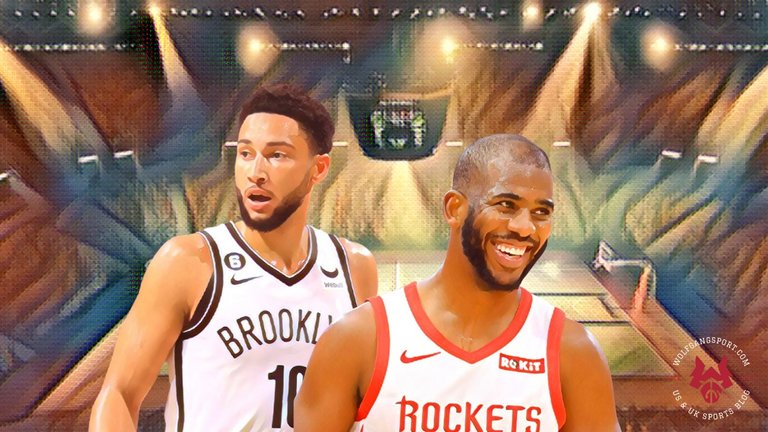 10. Chris Paul
Future Hall of Famer Chris Paul is one of the most hated NBA players because of his dirty plays, and his shady tricks and scheming to get calls from referees. He knows just how to frustrate opposition fans with his style of play, his on-court antics and all with a cockiness to it.
It probably helped Paul's cause that he was NBPA president for eight years before CJ McCollum was elected. He remains one of the best NBA players right now but is a point guard that many people love to hate.
Chris Paul really is hilarious man 😭 (via houseofdunk/TT) pic.twitter.com/Ic0ygNumuc

— Overtime (@overtime) November 24, 2022
9. Joel Embiid
For everyone who isn't a Philadelphia 76ers fan, you'll agree that everyone loves to hate Joel Embiid. There's no doubt the Sixers big man has exceptional ability, but he's also known to be a troll.
There's the history of trash talk between he and Karl-Anthony Towns, as well as his trolling of fellow big man Andre Drummond. He'll take any opportunity to rile up the opposition which is why he's one of the most hated NBA players.
Lmao I really don't understand how anyone enjoys watching Joel Embiid play basketball

— 🤺🇦🇷 (@philfanacc) November 20, 2022
8. Grayson Allen
Another of the most hated NBA players is Grayson Allen. His dirty antics on the court goes back to his college days at Duke. Allen has a particular history and a habit of tripping players, and he's been ejected from games because of flagrant fouls.
In early 2022 he pulled Chicago's Alex Caruso down whilst in mid-air which resulted in Caruso fracturing his wrist. Allen also plays the hated role very well with an ability to troll over Twitter too.
Damn that must've really really hurt. I'm sorry. I hope you're okay https://t.co/Uwyl7s2Q2v

— Grayson Allen (@GraysonJAllen) December 27, 2020
7. Russell Westbrook
The twilight of Russell Westbrook's career - particularly in LA - hasn't gone according to plan. He's been a shadow of his former self much to the frustration of fans. Many lifelong fans have turned on him and the legacy of the former "triple-double god" has somewhat been tarnished.
Known as "Westbrick" by the haters, he's still got a loyal legion of fans. His performances in his prime in Oklahoma shouldn't be forgotten, and he shouldn't be taken for granted.
Russ has been the most disrespected player of all time & it was simply cause majority of the world just follows the crowd. They're still trying to kill his career but he's making it hard on em by playing like this! When he retires, y'all will see you took @russwest44 for granted. pic.twitter.com/PtgI3EuOuK

— DH (@DahirHassann) November 21, 2022
6. James Harden
James Harden is one of the most hated NBA players largely because of his controversial trade from Houston to Brooklyn in early 2021. It's thought that he intentionally became so unfit and gained so much weight that the Rockets had no choice but to trade him.
His time in Brooklyn earned him even more haters, earning himself a trade to the 76ers after disappointing performances. Has he changed his ways? His time in Philadelphia may have changed him for the better.
Sources: James Harden is taking a $15 million paycut for next season that allowed Philadelphia to elevate roster — with sole focus on a championship run in 2023. Harden opted out of his $47M player option and now plans to sign a new two-year deal with a player option in Year 2.

— Shams Charania (@ShamsCharania) July 8, 2022
5. Kevin Durant
In 2016, Kevin Durant became one of the most hated NBA players when he left the Thunder to join the Golden State Warriors - already considered to be one of, if not, the best teams in the league at the time.
Durant didn't help to shake the "glory hunter" tag in 2019 when he joined the Brooklyn Nets to join a super team alongside Kyrie Irving. After failing to mount a serious title challenge with the Nets, he then demanded a trade away from Brooklyn in 2022.
Love him or hate him. Kevin Durant is going to win his first NBA title this year. This is the reason why he came to Golden State: Glory! pic.twitter.com/f2i4nbvFgJ

— Doctor NBA (@DoctorNBA) June 8, 2017
4. Kyrie Irving
The hate for Kyrie Irving first started after he demanded a trade away from LeBron and Cleveland. In 2017 he'd eventually move to Boston reportedly because he didn't like that LeBron was the focal point of the team. After an ugly postseason loss to the Bucks in 2019 he would move on to Brooklyn.
Irving solidified his spot as one of the most hated NBA players with his personal decision not to get vaccinated, and for posting a link to an antisemitic film and failing to apologise, which prompted the Nets to suspend him.
Kyrie Irving is expected to be cleared to play against Memphis this Sunday. At this point Kyrie has already missed the last 8 games since he was suspended for his Anti-Semitic controversy. pic.twitter.com/1qa3ad3KMs

— Daily Loud (@DailyLoud) November 18, 2022
3. Draymond Green
Draymond Green is known for his trash talk, an art he's attributed to growing up in Saginaw, Michigan. There's no doubting that he's one of the best at trash talking and he's made no secret of
crafting his art over time.
Not only is he a master of it on the court, he's also good at trolling on social media.
More recently, Green was caught on camera punching Warriors teammate Jordan Poole at practice, helping Green climb up the ranks of the most hated NBA players.
Here's video of Draymond Green punching Jordan Poole at practice. Other than pro sports I can't think of any job where this punch on the job wouldn't lead to immediate firing and arrest. pic.twitter.com/hN5UxyHu1T

— Clay Travis (@ClayTravis) October 7, 2022
2. Patrick Beverley
Patrick Beverley is the type of player you'd love to be teammates with. If you're an opposition player or a fan, he's one of the most hated NBA players. A defensive irritation is putting it lightly for Beverley, and his "in your face" approach gets on the wrong side of opposition players. The thing is, Beverley is a top defender and he'll make opposition players know of it with trash talk and taunts.
Beverley thrives on getting under peoples skin and it's a reason why his biggest beef is with two other players on this list - Chris Paul and Russell Westbrook. He also has a habit of sneak attacks which fans see as cowardly.
The fake toughness from Patrick Beverley continues. Did this to Chris Paul in the playoffs a few years back.

Always catching folks on the sneak attack but can never back it up when it counts. Weak —- just like his career. pic.twitter.com/a6JK8ieN7k — Cameron Cox (@CamCox12) November 23, 2022
1. Ben Simmons
Just the hate alone from Philadelphia fans is enough to earn Ben Simmons the title of the most hated player in the NBA. Simmons is actually a very well rounded player, but has battled through crippling criticism his entire career for lacking a jump shot.
Frustrations came to a head with Philadelphia's unceremonious exit during the 2021 playoffs. His free throw shooting was so woeful, he was scared to shoot at the risk of getting fouled and passed up on an opportunity at a crucial open shot which they ultimately lost.
You've got to see the reaction of Philadelphia fans whenever they see Ben Simmons just to see how deep the hate is.
Tnt showing a 12 year old kid calling Ben Simmons a f*gg*t is wild Lmao pic.twitter.com/ZWZ4OTmVMN

— John (@iam_johnw) November 23, 2022
---
THANK YOU FOR YOUR SUPPORT!
Wolfgang Sport started in 2017 as a way to connect my passion for American and British sports. Today it's evolved into a blockchain sports blog pushing the boundaries into the crypto world and embracing Web3 technologies.
---
---