10 Most Popular MLB Teams in 2023
The baseball season starts later in March. It's left me wondering, who are the most popular MLB teams? Baseball is one of America's favorite pastimes and has some of the most loyal and dedicated fans in the country.
There are 30 Major League Baseball teams, with 29 based in America plus a lone Canadian team. Let's take a look at which ones are the most popular MLB teams in 2023.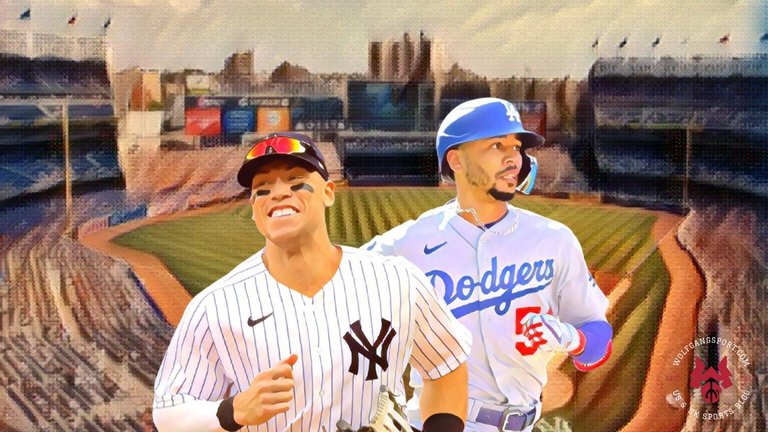 10. Milwaukee Brewers
The Milwaukee Brewers are one of the most popular MLB teams and they have an extremely passionate fan base behind them. Milwaukee is a city with a strong baseball culture, and the Brewers have a loyal following of fans despite the fact they're
yet to win a World Series.
Milwaukee also has a history of legendary players including one of the best shortstops of all time Robin Yount. Other stars include Paul Molitor, Christian Yelich and Josh Hader. The Brewers have built a strong brand, and fans have created a fun and lively atmosphere at American Family Field.
The Milwaukee Brewers mascot, Bernie Brewer, is based on a real fan named Milt Mason. In the early 1970s, Mason decided to sit on the top of the old County Stadium scoreboard until the team was able to attract a home crowd of 40,000.

40 days later, 44,387 fans were at the game. — UberFacts (@UberFacts) July 29, 2020
9. Minnesota Twins
Two World Series championships and numerous playoff successes have helped to build a passionate and loyal fan base for the Minnesota Twins. Locally the Twins Community Fund has helped to donate millions of dollars in support for local youth baseball and softball programs, as well as other charitable causes.
Former MVPs Joe Mauer and Justin Morneau, as well as current stars like Byron Buxton and José Berríos have only helped to strengthen support for the Twins and has helped to attract a passionate fan base.
Hard to believe with how it looks presently but Opening Day 2023 for the @Twins at Target Field is only 6 weeks away from today!! #MNTwins pic.twitter.com/SHnH3zVpGi

— Ian Almquist (@ianalmquist91) February 23, 2023
8. New York Mets
With two World Series championships since being founded in 1962 the Mets have had a short history compared to some of the other teams on this list, but they have a passionate fan base that extends well beyond Queens and Brooklyn.
A strong tradition of competitiveness and winning, as well as iconic moments like Tom Seaver's perfect game in 1969 and the "Miracle Mets" run to the World Series that same year has helped the Mets to becoming one of the most popular MLB teams.
The scoreboard at Citi Field is almost complete… 😉 #LGM pic.twitter.com/PhTpf3Wrjx

— GENY Mets Report (@genymets) February 27, 2023
7. San Francisco Giants
The San Francisco Giants are one of the most popular MLB teams thanks to their history of success, amazing stadium and iconic players. The Giants are consistently strong playoff contenders and they've won eight World Series championships.
Oracle Park has a stunning view of San Francisco Bay, and legendary players like Willie Mays, Barry Bonds and Madison Bumgarner has helped to create a fan base that has been passed down through the generations.
Why are San Francisco Giants fans booing Fernando Tatis Jr. during his first AB of the Spring?!?

Do they not forget who their most popular player of all time is? They should LOVE Tatis!!! pic.twitter.com/WvZuHGMnoc — Devine Sports Gospel (@DevineGospel) February 28, 2023
6. Los Angeles Dodgers
The Los Angeles Dodgers are one of the most iconic baseball teams in the world playing in the
best sports city in America
. Originally founded in Brooklyn, the Dodgers relocated to Los Angeles for the 1958 season and they now have a large fan base that extends well beyond Southern California.
The team has won seven World Series championships and has had many legendary players over the years, including Jackie Robinson, Sandy Koufax, and Clayton Kershaw. Dodger Stadium also has one of the most amazing scenic views with the surrounding Los Angeles hills offering a beautiful backdrop.
Good Morning ☕️ Here is a Beautiful shot of Chavez Ravine to Motivate your Monday@Dodgers pic.twitter.com/wi8domqsfC

— Phil The Shill 🥃 (@TxBaseBalllDad) February 27, 2023
5. Philadelphia Phillies
The Phillies have a passionate fan base that has been passed on through the generations thanks to successful periods throughout their history. They have won the World Series championships in 1980 and 2008.
Phildelphia has been home to many Hall of Fame players including Mike Schmidt, Steve Carlton, and Robin Roberts. The atmosphere and traditions at Citizens Bank Park are also unique, such as the pre-game traditions of a a replica Liberty Bell being rung, and a live bald eagle named Challenger flying around the stadium.
Phillies fans are in midseason form pic.twitter.com/BTGGdZZ9Fk

— Crossing Broad (@CrossingBroad) March 1, 2023
4. St. Louis Cardinals
With 11 World Series championships the St. Louis Cardinals have built a strong fan base beginning from back in the early 1900s. They've developed a philosophy known as the "Cardinal Way" - playing both smart and hard, and playing the game the right way.
Often regarded as "the best fans in baseball", the consistent success has helped foster a passionate and loyal following, and fans have been rewarded with watching superstars including Stan Musial, Ozzie Smith, and Albert Pujols.
The St. Louis Cardinals have won more World Series championships than any team in the National League. They should be considered one of the top baseball franchises. pic.twitter.com/LXGUGiLROQ

— Ray Dixon (@51boomer) February 20, 2023
3. Boston Red Sox
One of the oldest and most beloved teams in baseball is the Boston Red Sox. With nine World Series championships, the team has a history of passionate and loyal fans that dates back to the early 1900. In recent times the Red Sox have also experienced major success.
The biggest MLB rivalry of all time is between the Red Sox and New York Yankees and is one of the most watched games in baseball. Fenway Park remains one of the most iconic stadiums in the world and only adds to the aura of the Red Sox.
Just wanted to tweet this shot from today's game against the Rays for all the morons who were trying to connect the attendance for an exhibition game against a college team at 1pm on a work day to fan interest in the Boston Red Sox. pic.twitter.com/erwvDVijM0

— Jared Carrabis (@Jared_Carrabis) February 26, 2023
2. Chicago Cubs
The Chicago Cubs are one of the most iconic baseball teams in the world. With three World Series championships, the Cubs have strong traditions that dates back to the 1876. The Cub's fan base is very well known for passing down fandom from generation to generation.
Many legendary players have left Cubs fans in awe including Ernie Banks, Ryne Sandberg, and Sammy Sosa. Wrigley Field is also one of the best MLB stadiums and takes fans back to the earlier days of baseball with features such as brick outfield walls covered in ivy, and a hand operated scoreboard.
To the best fans in baseball,

You make Wrigley Field the Friendly Confines. pic.twitter.com/Gtdr3boTXH — Chicago Cubs (@Cubs) September 30, 2022
1. New York Yankees
The New York Yankees are the most popular MLB team, and one of the most popular sporting teams in the world. With an astonishing 27 World Series championships, the Yankees have built a history of success, and a culture of winning that dates back to 1903.
Fans from across the world have revelled in the success of the Yankees and their market has allowed for a high payroll to attract and keep superstar players. They've had many of best baseball players of all time, including Babe Ruth, Lou Gehrig, Joe DiMaggio, Mickey Mantle, Derek Jeter, and Mariano Rivera.
Yankees fans are the BEST fans in baseball. Change my mind.pic.twitter.com/iAxCirj453

— Chriss 🇩🇴 (@theerealchriss) February 23, 2023
---
YES, ANOTHER FOOTBALL BLOG...
Football Blog FC (FBFC) is a spin-off of Wolfgang Sport - an American and British sports blog I created in 2017 where sports talk is the game. Well, football is the game here at FBFC, a place where we don't use the word soccer, a place where we put aside politics and focus purely on football.
---
---