5 Favorites to Replace Jerry West NBA Logo
Do we need to replace the Jerry West NBA logo? Since its creation in 1969 the NBA logo has become one of the most recognisable images in sport.
The league hasn't ever formally acknowledged that the logo is indeed the silhouette of former Lakers legend Jerry West. Regardless, it's a very well known fact that it is the 14-time All Star.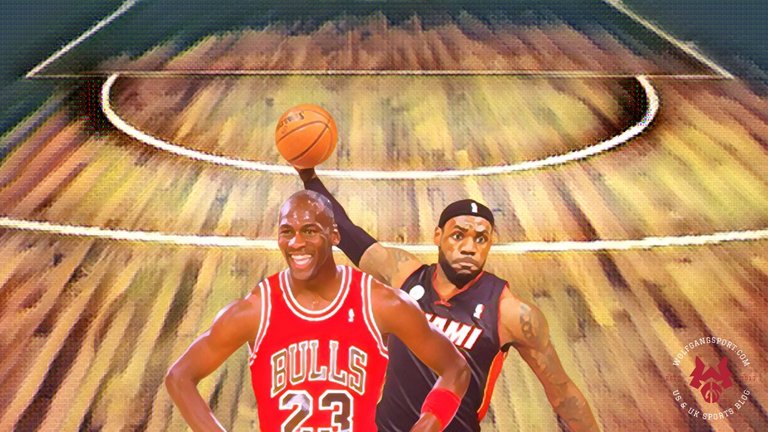 In search of a new NBA logo the league hired brand consultant Alan Siegel in 1969 to design one. Siegel was spoiled for choice in an era which included Walt Chamberlain, Bill Russell and Oscar Robertson.
Jerry West was ultimately chosen as the silhouette for the NBA logo. It wasn't because of West's heroics in the 1962 NBA Finals, with one of the best NBA Finals shots of all time. Siegel simply just liked the image of West.
Despite West's silhouette serving as the NBA logo, he prefers it if the league changed it. In fact, West wasn't even initially consulted about his silhouette being the NBA logo.
"The Logo" himself Jerry West in 2017 - "I wish that it had never gotten out that I'm the logo, I really do. I've said it more than once, and it's flattering if that's me — and I know it is me — But if I were the NBA, I would be embarrassed about it. I really would." https://t.co/MUB65egTkx

— Tyson Beck (@tysonbeckdesign) February 26, 2021
There isn't any interest from the league to replace the Jerry West NBA logo at the moment but perhaps it's time they have a think about modernizing the logo.
Let's take a look at five players who are the favourites to become the new NBA logo if it were to be changed.

5. Wilt Chamberlain
With his legendary 100-point game in 1962 against the Knicks - the most points in history in a single NBA game - Wilt Chamberlain demonstrated that he was one of the most complete players in NBA history.
Camberlain's size, speed and his skill on both the offensive and defensive end made him unplayable. Chamberlain had a unique finger roll in an era where it wasn't even a thing yet, so it could serve well what a new NBA logo would look like.
The NBA is one of the richest sports leagues in the world and Chamberlain replacing the Jerry West NBA logo would represent their global dominance in the same way Chamberlain dominated on the court.
On this date in 1962, Wilt Chamberlain scored 73 points against the Chicago Packers. 3rd highest ever. This isn't that. Couldn't find that. This is Wilt knocking down 73 against the Knicks. That same year!

pic.twitter.com/SDYj6ReWvC — Honest☘️Larry (@HonestLarry1) January 13, 2023
4. Kareem Abdul Jabbar
There'll never be another Kareem Abdul Jabbar in the league. Not only did he
wear goggles during his career
because his cornea was getting scratched. His skyhook was also one of the most devastating signature moves in history.
With the most points in NBA history, the most All-Star appearances, six league MVP titles and as a six-time NBA Champion, Kareem was simply unplayable because of his skyhook.
Replacing the Jerry West NBA logo with an Abdul Jabbar skyhook silhouette would be fitting for the 21-season legend who scored 38,387 points.
How is the sky hook not the NBA Logo?? https://t.co/8fCsItyeZV

— Beezy430 (@beezy430) August 7, 2022
3. LeBron James
There'll always be the eternal
LeBron vs Jordan
debate and who the real G.O.A.T is. The answer will depend on whoever you ask.
Regardless of what you think, LeBron James deserves his place as one of the greatest of all time and is a genuine contender to replace the Jerry West NBA logo.
LeBron practically won the 2016 NBA Finals by himself with the best blocked shot of all time, and he won four NBA championship rings, and is a three-time MVP. He can do anything.
But it's LeBron's explosive tomahawk dunk that would be an amazing silhouette for a new NBA logo.
@NBA New logo soon ? pic.twitter.com/hEnwaFsYFh

— Arun😯 (@Vorap_AT) March 7, 2018
2. Michael Jordan
Considered the
greatest NBA player of all time
, Michael Jordan would be a fitting image as the logo for the NBA.
Doc Rivers believes so too.
No single player has ever been able to make an impact on the NBA that he did.
It would be a bit complicated though as Jordan Brand's 'Jumpman' logo is already iconic for different reasons and is copyrighted. Using a different silhouette for Jordan to replace the Jerry West NBA logo wouldn't be an issue though.
Jordan appears in the best plays in NBA history multiple times. A silhouette of "The Shot" from the 1989 playoffs, or "The Last Shot" in his final game for Chicago in 1998, would be a great choice for a new NBA logo.
.@KingJames? @kobebryant? Who would you want to see grace a new @NBA logo? 🤔 🏀 pic.twitter.com/7yciJLFxKT

— theScore (@theScore) May 25, 2018
1. Kobe Bryant
Following Kobe Bryant's tragic death in 2020 there was momentum in a movement for Kobe Bryant's silhouette to replace the Jerry West NBA logo which many see as outdated.
It would be an impressive way to honor Kobe's legacy, having inspired many of the current generation of superstars with his 'Mamba Mentality'.
Kobe wasn't the best player in history, but he was damn close. He was one of the best shooting guards of all time and had an electrifying style of play, unmatched charisma and clutch play that is deserving for the new NBA logo.
If Kobe Bryant was the NBA logo pic.twitter.com/cseGkXXFOg

— Kobe Highlights & Motivation (@kobehighlight) October 24, 2022
---
THANK YOU FOR YOUR SUPPORT!
Wolfgang Sport started in 2017 as a way to connect my passion for American and British sports. Today it's evolved into a blockchain sports blog pushing the boundaries into the crypto world and embracing Web3 technologies.
---
---