5 Most Underrated Premier League Strikers of All-Time
Whether it's occasional wayward finishing, the odd heavy touch or because they didn't play for a big team, these ever reliable strikers are often overlooked by many and are the most underrated Premier League strikers of all-time.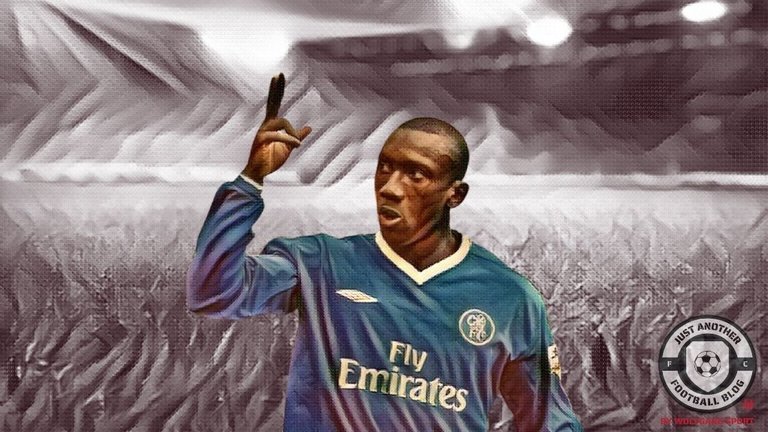 5. Jimmy Floyd Hasselbaink
Jimmy Floyd Hasselbaink doesn't believe in scoring ordinary goals and he's one of the most underrated Premier League strikers of all-time. In his younger years he was involved in gangs and even carried a shiv around for protection. After a rough upbringing he got his break with Dutch side SC Telstar.
Wouldn't mind seeing another goal like this against Man Utd over the weekend!

A classic Hasselbaink screamer 👏🔥 pic.twitter.com/aMz0ip91Un — Chelsea FC (@ChelseaFC) July 17, 2020
Source: Originally posted on Twitter by @ChelseaFC
Hasselbaink scored 127 goals in 288 Premier League games playing for Leeds, Chelsea and Middlesbrough. It was Hasselbaink's time at Stamford Bridge which was most memorable where he had a strike rate of one goal in every two games. He knew how to find the back of the net and had lightning quick pace, but it was his explosive shot which was his most devastating trait.
Hasselbaink became a two-time Golden Boot winner while at Leeds and Chelsea. Alongside Alan Shearer and Robin van Persie they are the only players to win the Golden Boot at two different clubs.
Jimmy Floyd Hasselbaink had a 🔨 right foot! 💥

He scored 127 #PL goals, this is surely one of the very best?!#GoalOfTheDay pic.twitter.com/LqwimO35Br — Premier League (@premierleague) June 25, 2021
Source: Originally posted on Twitter by @PremierLeague
4. Shola Ameobi
Shola Ameobi became a cult hero during his 14 years at Newcastle. Opinion remains divided on Tyneside as to just how good he was and that alone makes him one of the most underrated premier league strikers of all-time. Yes, Ameobi's talent was limited but he made up for that with his hard work as he rose through the ranks of the Newcastle academy.
Shola Ameobi played almost 400 games for us over 15 years, scoring 80 goals in the process.

That's one hell of an achievement for a local lad that isn't spoken about about enough.#NUFC pic.twitter.com/vKMW902mVp — 𝗠𝗼𝘂𝘁𝗵 𝗼𝗳 𝘁𝗵𝗲 𝗧𝘆𝗻𝗲 (@ToonMouthTyne) June 24, 2021
Originally posted on Twitter by @ToonMouthTyne
Ameobi made 298 Premier League appearances despite facing stiff competition for a starting spot. At one point he was behind Alan Shearer, Craig Bellamy and Patrick Kluivert in the pecking order.
He was then behind Michael Owen, Mark Viduka and Obefemi Martins. Ameobi scored 43 goals in the Premier League and at one stage held the record for most substitute appearances with 142, almost half of his games. It was his ability to show up for the biggest games which earned him the nickname 'Mackem Slayer', thanks to his 7 goals in 16 games against bitter rivals Sunderland.

3. Emile Heskey
During his time at Liverpool, Emile Heskey always looked unfavourable against the more glamorous Michael Owen and Robbie Fowler. He was more than just a heavy touch and a wayward effort.
His combination of pace, physical strength and intelligence makes Heskey one of the most underrated strikers in Premier League history. He relied mostly on brute power but he was unselfish too, allowing others around him to be able to shine.
Emile Heskey. HBD to one of the most under appreciated strikers of his time. Way before a generation grew up thinking this man was merely a meme, EH was doing serious business in real life. 170+ career goals. Double figures in five separate seasons. Put some respek on his name. pic.twitter.com/C8dv9t1Lv2

— VERSUS (@vsrsus) January 11, 2022
Originally posted on Twitter by @vsrsus
Heskey had an uninterrupted 16-year career in the Premier League but toward the end of his career he did lose the magic touch he once had. During the peak of his game however, Heskey was unplayable and was close to being a complete player.
...OK tribe I'll be back tomorrow with the final two most underrated strikers of all-time.
---
YES, ANOTHER FOOTBALL BLOG...
Football Blog FC is a spin-off of Wolfgang Sport, an American and British sports blog I created in 2017. The beautiful game isn't what I remember it to be as a kid and using satire is my way of coping with it. FBFC was created to write about football with a bit of fun reflecting the current state of football.
---
---