8 Best American Premier League Players of All Time (Part 2)
G'day tribe! Yesterday I posted the first part of the best American Premier League players of all time. Check it out on my posts here. Today we'll go through the top four best American players in Premier League history. Can you guess who they are?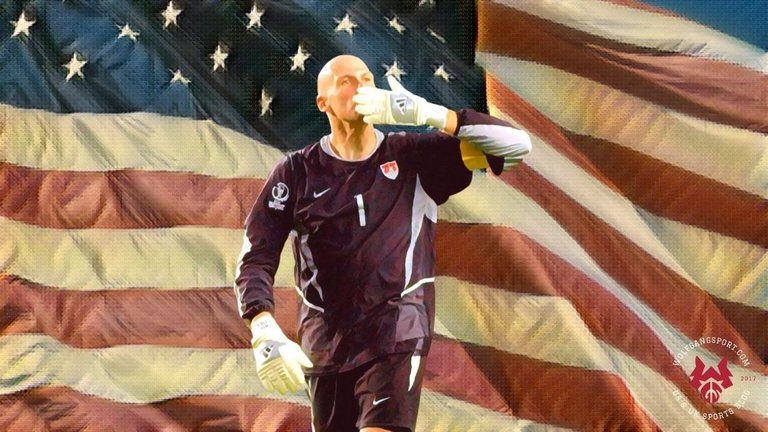 4. Brian McBride
Brian McBride spent the majority of his time in England at Fulham and he didn't let the club down. At his time at Craven Cottage he tallied 32 goals from 148 games and they always retained their status as a Premier League club whilst he was there.
In the 2006-07 season, McBride led Fulham in both goals and assists. He was a fan favourite and was given the captaincy the next season, becoming the first American to become captain in the league.
McBride certainly left his mark at Fulham with the level of commitment he showed for the club. He was awarded the Club's Player of the Year in 2007 and 2008. The McBride's Bar inside Craven Cottage has also been named in his honour.
3. Tim Howard
Tim Howard first joined the Premier League with Man United, where he had two decent seasons. He then left for Everton on loan initially, followed by a permanent deal where he'd call Goodison Park home for the next 10 years.
His first three years with the club were particularly outstanding with a save percentage of 80% or better. In his last seven seasons his save percentage dropped below 70%.
Howard finished up just one game shy of 400 games in the league and kept an impressive 132 clean sheets. He also scored a remarkable 100-yard goal against Bolton and ends up as the third best American Premier League player of all time on our list.
A moment Tim Howard will never forget 😱#GoalOfTheDay | @everton pic.twitter.com/8cVqJPDXYI

— Premier League (@premierleague) August 9, 2022
2. Clint Dempsey
Before Pulisic, there was Clint Dempsey. Dempsey showed the world that America could produce elite offensive talent for the Premier League.
Out of his eight seasons in the Premier League, seven were spent with Fulham (yes, Fulham loves Americans!) where he would become a club legend. Dempsey led the team in goals multiple times and even led Fulham in assists during a season.
He was awarded back-to-back Player of the Year Awards in the 2010-11 and 2011-12 seasons for the club. Dempsey finished his Premier League career with 57 goals and 19 assists from 218 appearances and is the second best ever American soccer player for the USMNT behind only Landon Donovan.
Fulham wins promotion back to the Premier League!

Eight #USMNT players have appeared in the PL for Fulham, most of any club. #Fulhamerica 🇺🇸 Clint Dempsey 🇺🇸 Brian McBride 🇺🇸 Carlos Bocanegra 🇺🇸 Tim Ream 🇺🇸 Antonee Robinson 🇺🇸 Eddie Johnson 🇺🇸 Kasey Keller 🇺🇸 Eddie Lewis — Paul Carr (@PaulCarr) April 19, 2022
1. Brad Friedel
Brad Friedel struck the perfect balance between superb play and longevity, and tops the list of best American Premier League players of all time. He spent more time in the Premier League than any other American spending 16 seasons with Liverpool, Blackburn, Aston Villa, and Tottenham.
Like Tim Howard, Friedel also had 3 seasons posting a save percentage of 80% or better. Friedel however never experienced the steep decline that Howard did.
Friedel used his 6ft 3in frame, immense wingspan and great athleticism to save well over 70% of shots until he hit the age 38. He played in an American record 450 Premier League games and kept 132 clean sheets and earns himself the title of best American Premier League player of all time.
Brad Friedel. Underrated. All-time Premier League great. pic.twitter.com/fq63MQt0FB

— The Spurs Web (@thespursweb) December 10, 2021
---
THANK YOU FOR YOUR SUPPORT!
Wolfgang Sport started in 2017 as a way to connect my passion for American and British sports. Today it's evolved into a blockchain sports blog pushing the boundaries into the crypto world and embracing Web3 technologies.
---
---