All 32 NFL Owners and Their Net Worth: 2023 Edition
Who are all 32 NFL owners and what is their net worth? We take a look at all owners and how they earned their fortunes. Ranked from 32 to 1, these are our NFL owners net worth rankings.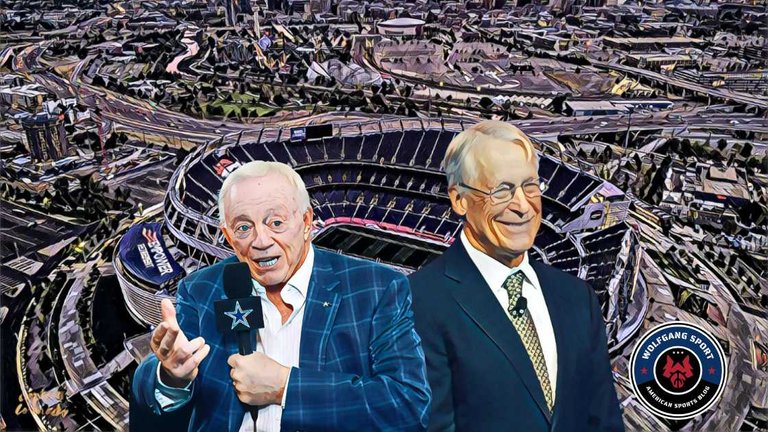 Website | Linktree | Youtube | Twitter | Facebook | LinkedIn | Instagram | Tiktok | Pinterest |
32. Green Bay Packers - Green Bay Packers, Inc ($0)
The Green Bay Packers are the only publicly owned major league team in American sports. It isn't owned by an individual, partnership or corporate identity, and the Packers have 537,460 stockholders. Shares have no financial value and gives holders voting rights, an invite to annual shareholders meeting and the ability to purchase special merchandise.

31. Cincinnati Bengals - Mike Brown ($925m)
Legendary football coach Paul Brown is the namesake of the Cleveland Browns franchise, and he headed the group that had founded the Cincinnati Bengals in 1968. Following his death in 1991, his son Mike Brown inherited a controlling stake in a franchise that is one of the lowest valued teams in the NFL.
30. Detroit Lions - Sheila Hamp ($1b)
Detroit Lions owner Sheila Hamp has a net worth of $1 billion. She's a descendant of the Ford and Firestone family fortunes and in 2020 became the team's principal owner.
29. Los Angeles Chargers - Dean Spanos ($1b)
With a net worth of $1 billion, Dean Spanos became owner of the Chargers in 2018. His father bought the franchise in 1984 when the team was located in San Diego.
28. Minnesota Vikings - Zygi, Leonard and Mark Wilf ($1.3b)
Zygi Wilf, his brother Mark and cousin Leonard became owners of the Minnesota Vikings in 2005, and
they've shown dedication that past owners haven't
. The Vikings have still
never won a Super Bowl
, but the Wilf's were able to get one of the
best NFL stadiums
built in Minnesota.
27. Las Vegas Raiders - Davis Family ($1.2b)
Al Davis had been owner of the Raiders for 39 years until his passing in 2011. His son Mark and wife Carol had inherited the franchise and they have a net worth of $1.2 billion.
26. Arizona Cardinals - Michael Bidwill ($1.4b)
Arizona Cardinals owner Michael Bidwill was a federal prosecutor before joining the Cardinals as a Vice President/General Counsel in 1996. After his father Bill's passing in 2019 he became owner of the franchise.
25. Tennessee Titans - Amy Adams Strunk ($1.6b)
Amy Adams Strunk and her family inherited the Titans from her father, the late Bud Adams. Strunk became controlling owner in 2015 and has a net worth of $1.6b. Her involvement with the Titans has been lauded, and she was a key piece in bringing the 2019 NFL Draft to Nashville.
24. New York Giants - John K. Mara and Steve Tisch - ($1.7b)
In a new listing of NFL ownership net worth from Celebrity Net Worth, the Giants owners are near the bottom of the list. Steve Tisch is reportedly worth $1.2 billion while John Mara is estimated to be worth less than half of that at $500 million. (2020)
23. Chicago Bears - Virginia Halas McCaskey ($2b)
Virginia Halas McCaskey is the owner of the Chicago Bears and daughter of the late George Halas, who had founded the Bears in 1920. She took over ownership of the franchise following George's death in 1983 and helped guide the Bears to success in Super Bowl XX in 1986.
22. Pittsburgh Steelers - Rooney Family ($3b)
The Pittsburgh Steelers were founded by Art Rooney in 1933, and his grandson Art Rooney II is now president of the franchise. The Rooney's have been much loved NFL owners and has brought plenty of success as the Steelers are tied for
most Super Bowl wins
.
21. Indianapolis Colts - Jim Irsay ($4.3b)
Indianapolis Colts owner Jim Irsay's father bought the Los Angeles Rams when Jim was 12 years old, and subsequently swapped the franchise for the Baltimore Colts. A month after relocating to Indianapolis in 1984, Jim was named Vice President and General Manager. In 1997 after the passing of his father, he became the youngest NFL owner at 37 years of age.
20 . Philadelphia Eagles - Jeffrey Lurie ($4.6b)
Philadelphia Eagles owner Jeffrey Lurie has a net worth of $4.6 billion and has made a career out of show business. He had originally bidded for the New England Patriots in 1993, but bought the Eagles a year later instead. The Eagles lost Super Bowl XXXIX to the Patriots, but Lurie got one back by winning Super Bowl LII.
19. Tampa Bay Buccaneers - Glazer Family ($4.7b)
Led by the Glazer family, who are majority owners of Manchester United, the Tampa Bay Buccaneers were bought by Malcolm Glazer in 1995. Following his death in 2004, his son's Bryan, Joel and Edward have continued to lead the Bucs to success, winning Super Bowl LV to add to their Super Bowl XXXVII championship.
18. Cleveland Browns - Jimmy and Dee Haslam ($4.8b)
Jimmy Haslam and his wife Dee are owners of the Cleveland Browns and have a net worth of $4.8 billion. Jimmy built most of his fortune in his family's business Pilot Flying J. In addition to being NFL owners, the Haslam's also own the Columbus Crew of the MLS, and have a stake in the Milwaukee Bucks.
17. San Francisco 49ers - York Family ($5.2b)
Edward Debartolo Sr had bought the San Francisco 49ers in 1977 and passed it onto his son Edward J. DeBartolo Jr. In 2000 he transferred ownership to his sister Marie Denise DeBartolo York, who once owned and managed the Pittsburgh Penguins. The York family is also owner of Leeds United, one of the world's most hated football clubs
.

16. New Orleans Saints - Gayle Benson ($5.3b)

Gayle Benson is the richest person in New Orleans and has been an NFL owner since 2018 following her husband Tom Benson's passing. At the same time she also acquired NBA the New Orleans Pelicans and she has a net worth of $5.3 billion.

15. Houston Texans - Janice McNair ($5.6b)

Founded by Bob McNair in 1999, the Houston Texans is owned by his wife Janice McNair following his death in 2018. Janice's son Cal McNair is the acting owner. He's involved in the day-to-day operations of the team and has copped his fair share of criticism for how the franchise is run.

14. New York Jets - Woody and Christopher Johnson ($5.7b)

The 14th richest NFL owners are Woody and Christopher Johnson, and they've owned the New York Jets since 2000. The Johnson Brothers are great-grandsons of the founder of the Johnson & Johnson company. The owners were a big part of overseeing the creation of MetLife Stadium, one of the biggest NFL stadiums.

13. Buffalo Bills - Terry and Kim Pegula ($6.7b)

The Buffalo Bills have been owned by Terry and Kim Pegula since 2014 and the couple have a net worth of $6.8 billion. The Pegula's were a big part of the plans for New Highmark Stadium which keeps the Bills in Buffalo. They have also owned the Buffalo Sabres NHL franchise since 2011.

12. Washington Commanders - Josh Harris ($7b)

Washington Commanders fans breathed a sigh of relief when Dan Snyder sold the franchise in 2023. In his 24-year ownership the franchise never made the NFC Championship Game. The Commanders are now majority owned by Josh Harris, who also is part owner with English football club Crystal Palace, the Philadelphia 76ers, the New Jersey Devils, and also owns FedExField.

11. Baltimore Ravens - Steve Bisciotti ($7.2b)

In 1983 Steve Bisciotti started an aerospace staffing company with $3,500. Aerotek is now one of the largest recruitment companies in the world. In 2000 Bisciotti purchased 49% of the Ravens. Four years later he purchased the remaining 51% from Art Modell.

10. Atlanta Falcons - Arthur Blank ($7.8b)

NFL owner Arthur Blank was a co-founder of Home Depot back in 1978. In 2002 Blank became owner of the Atlanta Falcons and in 2014, he introduced Major League Soccer into the city with the founding of Atlanta United.

9. Miami Dolphins - Stephen M. Ross ($10.1b)

The majority of Miami Dolphins owner Stephen M. Ross's fortune has been built through real estate firm The Related Companies and he has a net worth exceeding $10 billion. In 2008 he bought a 50% stake in the Miami Dolphins. A year later he purchased a further 45% and Hard Rock Stadium.

8. New England Patriots - Robert Kraft ($11.1b)

New England Patriots owner Robert Kraft bought the franchise in 1994 and since then, every single game at Gillette Stadium has been a sellout. Kraft also founded the New England Revolution of the MLS in 1996, and he has the eight highest net worth for an NFL owner, worth a staggering $11.1 billion.

7. Jacksonville Jaguars - Shahid Khan ($12.2b)

Jacksonville Jaguars owner Shahid Khan was born in Pakistan and has made the bulk of his fortune from auto parts. In 2012 he became owner of the Jaguars, and he also owns English football club Fulham FC, as well as All Elite Wrestling (AEW).

6. Dallas Cowboys - Jerry Jones ($14.4b)

Jerry Jones has been the owner of the Dallas Cowboys since 1989 and has a net worth of $14.4 billion. Since then he's turned around a franchise that was bleeding money, into the most valuable sports brand in the world.

5. Los Angeles Rams - Stan Kroenke ($14.6b)

Billionaire Stan Kroenke is the fifth richest NFL owner with a net worth of $14.6 billion. In 1995 Kroenke purchased a 30% share of the Rams and helped move them from Anaheim to St. Louis. In 2010 he became full owner but had to cede control of the Denver Nuggets and Colorado Avalanche to his son. Kroenke also owns the Colorado Rapids and Arsenal FC.

4. Seattle Seahawks - The Paul Allen Trust (20.3b)

The late Paul Allen was co-founder of Microsoft Corporation and he purchased the Seahawks in 1997. In addition to the Seahawks he also owned the Portland Trail Blazers and was part owner of the Seattle Sounders in the MLS. Following his passing in 2018, Allen's sister Jody Allen became executor and trustee of Paul Allen's estate.

3. Kansas City Chiefs - Hunt Family ($20.5b)

The Kansas City Chiefs has been owned by the Hunt family, with family patriarch the late Lamar Hunt originally owning the Dallas Texans in 1960, before relocating the team to Kansas City in 1963 and becoming known as the Chiefs. Lamar Hunt was also a major player in Major League Soccer expansion, founding Columbus Crew, Kansas City Wizards and the Dallas burn.

2. Carolina Panthers - David Tepper ($20.6b)

David Tepper purchased a 5% stake in the Pittsburgh Steelers in 2009. In 2018 he then bought the Carolina Panthers and had to sell his Steelers shares. A year later Tepper successfully bid on brining an expansion MLS team to the city with Charlotte FC joining the league.

1. Denver Broncos - Rob Walton ($67.6b)

In June 2022 the Denver Broncos was sold to an ownership group led by Walmart heir Rob Walton. The first new owner in 38 years for the Broncos, Walton is the richest NFL owner with a net worth of $67.6 billion, well ahead of second place. The $4.65 billion agreement for the purchase of the Broncos makes it the most expensive sale for any American sports team.
---
ABOUT WOLFGANG SPORT
Website | Linktree | Youtube | Twitter | Facebook | LinkedIn | Instagram | Tiktok | Pinterest |
Founded in 2020, I turned my lifelong passion for sport into WolfgangSport.com. As an Australian, I've always been fascinated with the cultural differences and global significance of sports in America so I started writing about topics on the NBA, NFL, MLB, NHL, MLS and more. Beyond these topics my vision with WolfgangSport.com is continuing to innovate by expanding exposure into developing technologies such as Web3 platforms as I explore elevating user experiences for readers.
---
---