Best Foreign Born NFL Players of All-Time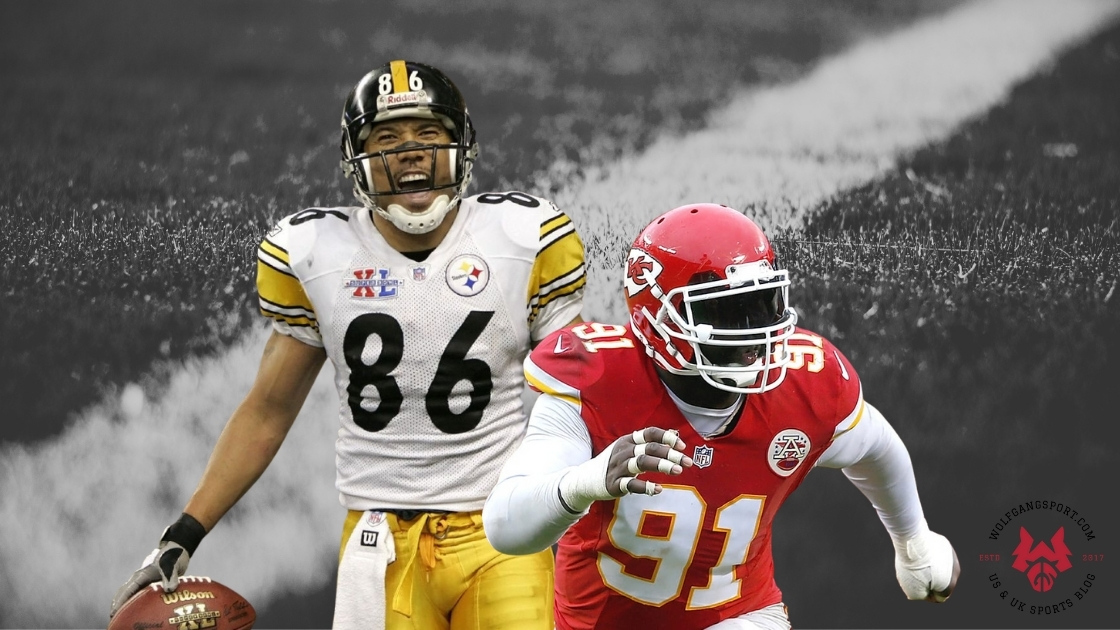 Only 7.3% of high school football players make it to NCAA level football. Only 1.6% of those NCAA players make it to the NFL. And it's an even harder journey for foreign born players hoping to make the 1,696 roster spots across 32 NFL teams. Before we take a look at the best foreign born players of all-time, let's take a look at how international players can make the NFL.
International Player Pathway Program (IPPP)
Only 3% of NFL rosters were made up of foreign players at the beginning of the 2017 season, the lowest among all US major sports.
The International Player Pathway Program was introduced in 2017 with the intention of increasing the number of international NFL players and helping to keep the league growing globally.
Before the IPPP the only realistic way for foreign players to make it into the NFL was to become eligible and then applying for the NFL draft following college.
Nowadays elite international athletes who meet eligibility requirements are able to apply for the pathway program which is already proving significant. Over 40 players have partaken in the program with some making an impact in the NFL.
Efe Obada became the first player from the International Player Pathway Program to make a 53-man roster. Obada earned a spot on the Carolina Panthers roster in 2018. The Nigerian born defensive end moved to the Netherlands at a young age before being trafficked into England were he was homeless before becoming a foster child.
In Week 2 of the 2020 season, Jakob Johnson from Germany scored the first ever touchdown by an IPPP player. Against the Seattle Seahawks during Sunday Night Football, Johnson scored a one-yard touchdown reception from Cam Newton.
But the best success story for a player coming through the International Player Pathway Program is that of Australian offensive tackle Jordan Mailata. Selected by the Philadelphia Eagles in round seven of the 2018 NFL draft with the 233rd pick, Mailata became only the second player in NFL history to be drafted into the league with no American high school or college experience.
A former rugby league player, Mailata signed a four-year $64 million contract with over $40 million guaranteed before the 2021 NFL season.
Best Foreign NFL Players of All Time
Morten Andersen
Tamba Hali
Sebastian Janikowski
Hines Ward
Christian Okoye
Gary Andersen
Sebastian Vollmer
Jesse Sapolu
#8. Jesse Sapolu
Four-time Super Bowl winner Jesse Sapolu was born in Apia, Samoa. Selected to the Pro Bowl two times, Sapolu played all of his 13 seasons in the NFL at the 49ers. Sapolu was a key piece of the 49ers' dynasty during the 80s and 90s, protecting Hall of Fame quarterbacks Steve Young and Joe Montana. His 23 postseason games ranks him third of all-time for an offensive lineman.
#7. Sebastian Vollmer
Germans love the NFL with 3.5 million die-hard fans following the league, or about 20 million if you include casual fans. And there's nothing more they love than being able to watch one of their own. Sebastian Vollmer was the first German-born player in history drafted into the NFL after the Patriots selected him in the second round of the 2009 NFL draft.
Remarkably, Vollmer only started playing football at the age of 14. Initially a tight end in college, he played a key role during the Patriots dynasty. Picking up two Super Bowl rings in a short but successful six year career, Vollmer retired in 2016 due to persistent injuries.
#6. Gary Anderson
Gary Andersen sits in third place for all-time point scorer in NFL history behind Adam Vinatieri and Morten Andersen. He's most notable for his time in Pittsburgh, making the Steelers' All-Time Team. Anderson is also known for his 1998 season with the Vikings where he became the first kicker to convert every point after touchdown and all field goals during a regular season.
#5. Christian Okoye
Born in Enugu, Nigeria, Christian Okoye only arrived in the U.S as a 21 year old and didn't play American football until he was 23. Initially Okoye was reluctant to play football as he found it boring and because he didn't like the physicality of the game. The 'Nigerian Nightmare' had a ferocious combination of size and speed leading to the Kansas City Chiefs selecting Okoye with the 35th overall pick of the 1987 NFL Draft.
An ongoing knee injury ultimately led to his early retirement after only six season but he earned two trips to the Pro Bowl and is in the Chiefs Hall of Fame. Nowadays he runs the Christian Okoye Foundation helping at-risk and underprivileged youth.
#4. Hines Ward
A two-time Super Bowl champion and selected to the Pro Bowl four times, Hines Ward was born in Seoul, South Korea and is of mixed Korean and African American nationality. Ward played 14 seasons in the NFL, all for the Pittsburgh Steelers. Ward finished with 1000 receptions, 12,083 receiving yards and 85 touchdowns, making him one of the best foreign born players of all-time. It's expected that Ward will become a Hall of Famer.
#3. Sebastian Janikowski
Born in Wałbrzych, Poland, Janikowski is one of only three placekickers to ever be drafted in the first round. Drafted by the Oakland Raiders where he spent 18 of 19 seasons, Janikowski finished his career as the Raiders' all-time leading points scorer (1,799) and record of most games played (268).
Janikowski tied the longest NFL field goal record after kicking a 63-yard field goal in 2011, the same year he received a Pro Bowl invitation. His record has been bettered by Matt Prater's 64-yard field goal in 2013, and Justin Tucker's 66-yard field goal in 2021 which resulted in the Ravens beating the Lions as time expired.
#2. Tamba Hali
In Tamba Hali's 12-season career with the Kansas City Chiefs, he registered 32 forced fumbles, 89.5 sacks and earned Pro Bowl selection six times. Hali was born in Gbarnga, Liberia and fled to the U.S. at age 10. Playing as a linebacker, he earned All-American honors from both high school and college football. Hali was drafted with in the first round of the 2006 NFL Draft with the 20th pick. In his spare time Hali writes rap music, releasing his single 'The One For Me' in 2017.
#1. Morten Andersen
The best foreign born NFL player of all-time is Danish born Morten Andersen. Born in Copenhagen, Andersen holds the record for most NFL games played with 382. His 2,544 points scored also sits Andersen in second place for all-time point scorer in NFL history behind only Adam Vinatieri.
Andersen played 25 seasons in the NFL and was voted to the All-Decade Team of both the 1980s and 1990s. The 'Great Dane' was selected to seven Pro Bowls and was inducted into the Pro Football Hall of Fame in 2017.
---
---