Best Strikers in Premier League History Revealed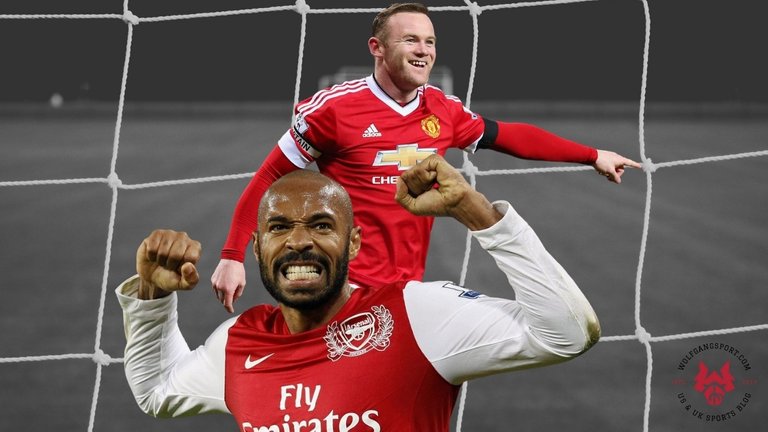 Since the Premier League's inception in 1992 we've seen strikers from goal-poachers, to the remarkably technical, and the ferociously powerful.
Let's take a look as we rank the top 10 best strikers in Premier League history.
10. Jamie Vardy*
Leicester City signed Jamie Vardy from Fleetwood Town for a non-League record transfer fee of £1 million in 2012. In September 2021, Vardy would score his 121st Premier League goal, leapfrogging Steven Gerrard in the process to 18th highest Premier Leage goalscorer of all-time.
Vardy is one of the all-time best striker, spearheading the attack that earned Leicester's miraculous 2015-16 Premier League title. He scored 24 goals, scored in a record eleven consecutive Premier League matches and was voted player of the season.
Related: Who Will Win 2022 World Cup? Favourites, Dark Horses, Contenders
9. Jermaine Defoe
Ranked 9th all-time highest Premier League goalscorer, Jermaine Defoe scored 162 goals in 496 appearances. A dangerously lethal striker in his day, his longevity and passion for the game earned him fans worldwide.
Defoe played for five Premier League clubs and despite interest from Manchester United, Arsenal and Chelsea, a move to a contender never materialized.
8. Michael Owen
Known for his technical ability and powerfully accurate shot, Michael Owen scored 150 goals in 326 appearances and sits 10th on the all-time Premier League goalscorers list.
Owen had spells at Newcastle, Manchester United and Stoke but is remembered most as one of Liverpool's greatest ever players, finishing with 118 goals in 216 appearances at the club.
7. Andy Cole
Andy Cole won five league titles, the Champions League, and was part of the 1999 Treble winning side during his six years at Manchester United.
Although an erratic finisher at times, Andy Cole is the third highest goalscorer in Premier League history with 187 goals from 414 appearances, thanks to his quick feet and elite technique. Cole also ranks 13th of all-time for Premier League assists with 73.
Related: Top 15 Underrated Premier League Players of All-Time
6. Robbie Fowler
Robbie Fowler is one of the best goal-poaching strikers in Premier League history. The Liverpool legend would of undoubtably ranked higher if not for his constant injuries throughout his career.
Fowler sits 8th highest Premier League goalscorer of all-time with 163 goals from 379 appearances, 120 of those goals scored during his time at Liverpool.
5. Alan Shearer
Alan Shearer is the all-time Premier League's greatest goalscorer with 260 goals from 441 games. A classic striker prototype, Shearer was renowned for his strength and powerful shot.
Shearer is regarded as the best Newcastle player of all-time scoring 148 goals from 303 appearances for The Magpies. Shearer also scored 34 goals and 15 assists in the 1994-95 season to guide the Blackburn Rovers to their first and only Premier League title.
Related: 5 Former Premier League Clubs in Decline
4. Didier Drogba
Didier Drogba is one of Chelsea's best ever strikers, scoring 104 goals in 254 appearances. A £24 million transfer from Marseille in 2004 coincided with Chelsea winning their first league title in 50 years. He would win four Premier League titles and a Champions League with Chelsea.
Drogba doesn't crack the Top 25 greatest Premier Leagur goalscorers of all-time however, Drogba's powerful and accurate playing style is credited with Premier League teams shifting from 4-4-2 formations to 4-3-2-1 setups.
3. Sergio Aguero
AGUEROOOOO! Who can ever forget his injury time winner which led Manchester City to their first top flight title in 44 years. Considered one of the best players in Premier League history, Aguero was a sharp and clever striker.
Sergio Ageruo is 4th all-time best goalscorer in Premier League history with an efficient 184 goals in 275 appearances.
2. Wayne Rooney
Wayne Rooney is the second highest Premier League goalscorer of all-time banging in 208 goals in 419 appearances. Rooney also ranks as the 3rd highest Premier League assists leader of all-time with 103.
Rooney combined strong technical and physical abilities with an astonishing work-rate. A powerful and accurate finisher from both inside and outside the box, Rooney is one of the best strikers in Premier League history.
Related: 6 English Football Clubs That Went Bankrupt
1. Thierry Henry
Thierry Henry sits 6th on the list of Premier League top goalscorers of all-time but is the greatest striker in Premier League history. With 175 goals in 258 appearances, Henry was a complete player as his creativity and unselfishness led to 74 career Premier League assists, the 12th most in league history.
Henry had amazing composure in front of goal, his dribbling ability was world class and he had exceptional pace, all attributes of the greatest striker in Premier League history.
Arsenal would win two Premier League titles with Henry playing upfront, including the 2003-04 'Invincibles' run. Not only is Henry the best Premier League striker of all-time, many will argue he's the greatest player in Premier League history.
Most Goals Premier League History
Alan Shearer (260)
Wayne Rooney (208)
Andy Cole (187)
Sergio Aguero (184)
Frank Lampard (177)
Thierry Henry (175)
Harry Kane (166)*
Robbie Fowler (163)
Jermain Defoe (162)
Michael Owen (150)
Les Ferdinand (149)
Teddy Sheringham (146)
Robin van Persie (144)
Jimmy Floyd Hasselbaink (127)
Robbie Keane (126)
Nicolas Anelka (125)
Jamie Vardy (124)*
Dwight Yorke (123)
Steven Gerrard (120)
Romelu Lukaku (116)
Most Consecutive Games Scored Premier League All-Time
Jamie Vardy (11)*
Ruud van Nistelrooy (10)
Ruud van Nistelrooy (8)
Daniel Sturridge (8)
*still active in Premier League
---
---