The 5 Disgustingly Worst Teams in NFL History: Part 2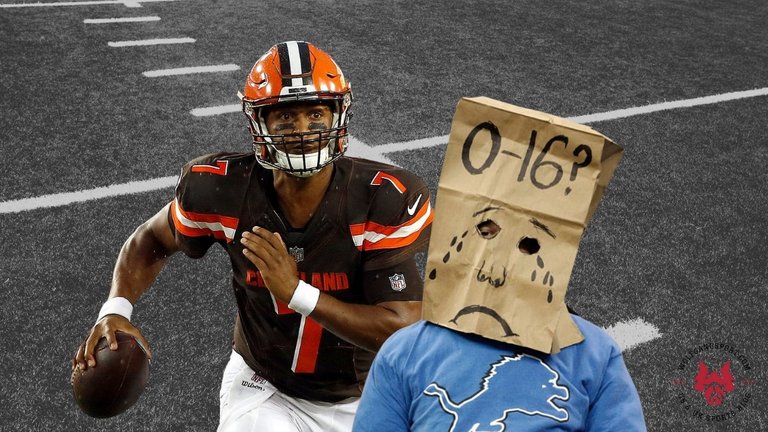 cf One god awful team on our list scored less points in an entire season than LaDanian Tomlinson did in 2006. Another had a quarterback who didn't know where the end zone finished, scrambling for a bizarre safety. Let's take a look at Part 2 of the five worst NFL teams in history. You can view Part 1 here.
3. 2017 Cleveland Browns 0-16
After winning all four pre-season games, it's hard to believe the Browns could get any worse than 2016 but they did. The Browns ended the 2017 season as one of only two teams in NFL history to finish a 16-game season winless.
The Browns had a real chance to win in the final game of the season. After a remarkable scramble by DeShone Kizer on a fourth-down, Corey Coleman dropped a routine catch just after the two-minute warning. The reception would have landed the Browns 11-yards out from a game winning drive but again, in true Browns' fashion, they blew it.
By failing to win a game, the Browns completed the worst two-year period by any team of all-time. To be fair, four of their losses were by a field goal and two games went into overtime. The Browns also only lost by 11-points on average a week.
The Browns made use of their failure, using the first pick of the 2018 draft to select Heisman Trophy winner Baker Mayfield. Mayfield went on to help the Browns end an 18-year playoff drought in the 2020 season. Cleveland finished with an 11-5 record and went on to beat the Steelers in the Wild Card Round, a first playoff win since 1994 for the Browns.
2. 2009 St. Louis Rams (1-15)
The 2009 Rams were atrocious. Yes, conceding 436 points was bad, but the offense played like a mob of dehorned sheep. LaDanian Tomlinson scored more points in 2006 than the Rams did in 2009. So too did Greg Zuerlein in 2017. St. Louis managed only 175 points, an average of 10.9 points per game and the sixth fewest in NFL history during the 16-game schedule era
Quarterbacks Marc Bulger, Kyle Boller, and Keith Null combined for only 11 touchdown passes for the season. Bulger had a 5-6 TD-INT record, Boller had three touchdowns and six interceptions and Null had three touchdowns and nine picks.
A Week 8 win against the Detroit Lions - who themselves were coming off the worst NFL season in history - snapped a seventeen game losing streak that carried over from the previous season.
The Rams hadn't had a winning season since 2003. They wouldn't ever have a winning season again, their 2009 season serving as a halfway point before relocating to Los Angeles for the start of the 2016 season after 21 seasons in the NFL.
1. 2008 Detroit Lions (0-16)
The 2008 Detroit Lions went undefeated during preseason and 7-9 the year before so it wasn't expected that they'd end up the worst team in NFL history. The Lions finished the season last in defense. They conceding 517 points - 32.3 on average - the second-most in NFL history just behind the Baltimore Colts of 1981.
This team was simply atrocious. They couldn't force a game into overtime. The entire defensive back group only forced a single interception all season. The great 'Megatron' Johnson was the only receiver with multiple touchdowns. Only about a third of the 2008 Detroit Lions would remain in the NFL beyond 2009.
Five quarterbacks were used during the season with none of them finishing with a passer rating above 73.0, nor with a positive TD/INT ratio. Jon Kitna was 36 years old and was benched after four games due to injury. Coming off 114 sacks in his previous two seasons will do that to you. Drew Stanton and Dan Orlovsky were ineffective and Daunte Culpepper arrived in November, unable to make any sort of an impact.
A Week 6 play by Dan Orlovsky perfect summed up the Lions' season. Orlovsky infamously scrambled out of the end zone, unaware that he had ran out for a safety which was ultimately the difference the game. In Week 12, Lion's Head Coach Rod Marinelli then said to a reporter "I'm not 0-10! You're 0-10".
The Lions remain one of four teams, alongside the Browns, Jaguars and Texans, to have never reached a Super Bowl. They'd end up re-branding following the worst season in NFL history, updating the logo to appear more fiercer.
Fortunately for the worst team in NFL history, the 2008 Detroit Lions were rewarded with Matthew Stafford, the first pick of the 2009 NFL Draft. Stafford became the fastest quarterback in NFL history to reach 40,000 passing yards and holds virtually every Lions' passing record.
​
All the way from the Land Down Under, I created Wolfgang Sport as I enjoy writing and watching British and American sports. Started in 2017, I started the blog as a way to connect my passion for sports in the US & UK. Sign up to the newsletter today_ and I'll prove Aussies know more about your own sports than you think._
---
---