The Biggest Hooligan Clubs in English Football: Part 1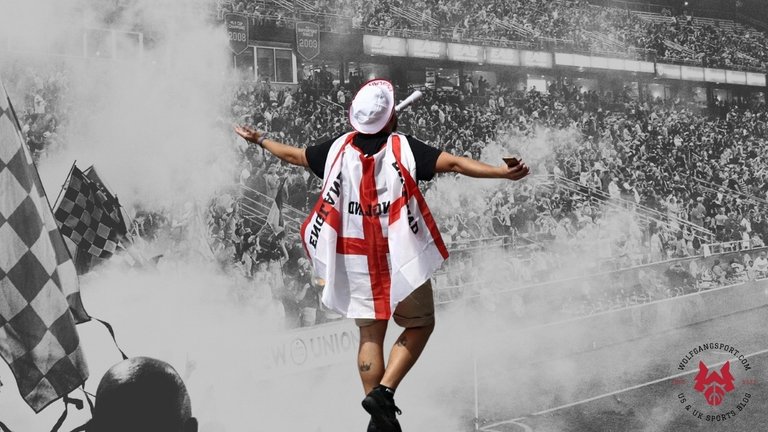 Football hooliganism was once so bad in English football, it was considered as the 'English Disease'. Clashes were a weekly occurrence with fences having to be erected to separate rival firms. Modern day crackdowns led by advancements in CCTV has sedated hooliganism from its 1970s peak but that doesn't mean it's not around. Let's take a look at the biggest hooligan clubs and their associated firms.
Millwall Bushwackers (Millwall)
Millwall's fanbase was traditionally made up of dockworkers. Known for working in physical and aggressive conditions, it should be no surprise that Millwall's hooligans are among the most notorious in England. The Millwall Bushwackers are the most notorious firms of them all and among the worst behaved football fans England.
Active since 1972 the Millwall Bushwackers' rap sheet is extensive. It includes a dummy grenade thrown onto the pitch in a 1965 match against Brentford. In 1982 club chairman Alan Thorne threatened to close the club because of FA Cup violence.
In an FA Cup away match against Luton Town in 1985, the Millwall Bushwackers were involved in one of the worst incidents of football hooliganism in English football. During the Kenilworth Road riot, the Bushwackers were involved in ripping out seats, smashing windows at pubs and newsagents throughout Luton, projectiles thrown at home supporters which included bottles, nails, cans and coins and police dogs having to help clear the pitch.
There have been sporadic disturbances recently but the Bushwackers were involved again in one of the worst disturbances in recent times in 2002, with hundreds of Millwall fans involved in incidents around the ground following a play-off loss to Birmingham City, Millwall losing in a penalty shoot-out and missing out on promotion to the Premier League. Almost 50 police officers and 24 police horses were injured.
The Bushwackers have main rivals are:
Inter City Firm (West Ham)
Soul Crew (Cardiff City)
Service Crew (Leeds United)
Chelsea Headhunters (Chelsea)
MIGs (Luton Town)
Millwall fans have developed siege mentality over the years as one of the most hated football clubs in England, Millwall Bushwackers notoriety no doubt playing a role.
It's given rise to the famous football chant "No one likes us, we don't care, being sung by Millwall fans in defiance. Most hooligan firms will see the Bushwackers as their most hated rivals but will respect their status as one of the most notorious firms in England.
Related: The 6 Most Hated Football Clubs in England
Inter City Firm
The Inter City Firm were formed in 1977 with their name coming from the InterCity trains used to travel to away games. The firm formed out of several West Ham firms including the Essex East London Firm and Mile End Boys.
Along with the Millwall Bushwackers and Chelsea Headhunters, the firm are among the most notorious in London. The Inter City Firm have a ferocious rivalry with the Bushwackers as well as rivalries with the Chelsea Headhunters and the Tottenham associated Yid Army.
The Inter City Firm is infamous for leaving calling cards on victims that read "Congratulations, you have just met the ICF", something that was adopted by other football club firms.
Green Street, a 2005 movie, is a drama film about football hooliganism centred around the Green Street Elite (GSE) firm which is based on the ICF, gaining the firm further notoriety along with West Hams intense rivalry with Millwall.
All the way from the Land Down Under, I created Wolfgang Sport as I enjoy writing and watching British and American sports. Started in 2017, I started the blog as a way to connect my passion for sports in the US & UK. Sign up to the newsletter today_ and I'll prove Aussies know more about your own sports than you think.
---
Originally posted on Wolfgang Sport x Blockchain. Hive blog powered by ENGRAVE.
---
---