The Worst and Most Hated Football Referees of All Time (Part 2)
G'day tribe. Yesterday I posted the first part of the worst and most hated referees of all time. Check it out here. Here is the final part which will leave you stunned!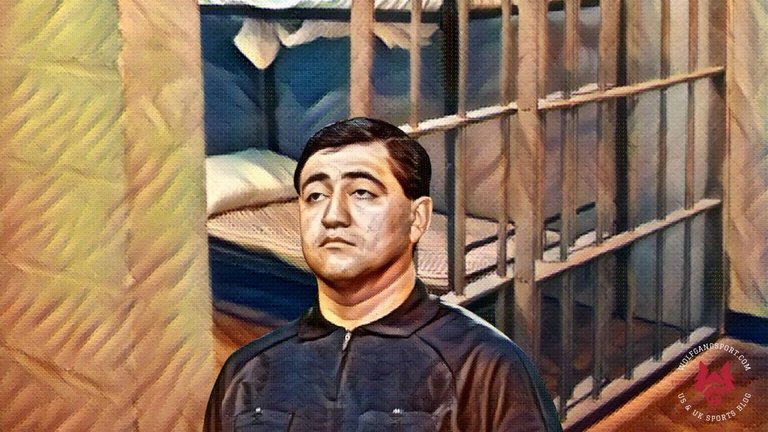 3. Gamal Al-Ghandour
After only a year refereeing professionally, Egyptian Gamal Al Ghandour had the honour of becoming the first African to referee a UEFA match after taking charge of Netherlands vs. Belgium in EURO 2000. Al-Ghandour infamously refereed the 2002 World Cup quarter-final between South Korea and Spain. In extremely dubious circumstances Spain were disallowed two perfectly fine goals by Al-Ghandour. He also overlooked South Korean Lee Woon-Jae stepping off his line when stopping Spain's penalty shots which South Korea won in a shootout.
The man who led South Korea to the 4th place finish is called Gamal al-Ghandour. pic.twitter.com/lpouwOLcpr

— Miguel THE FOUNDER Sureda (@miguelbuke) November 8, 2020
Source: Originally posted on Twitter by @classicshirts
Source: Originally posted on Twitter by @miguelbuke
It's rumoured Al-Ghandour received a car from South Korean Chung Mong-joon - who was FIFA vice-president at the time - in exchange for favouring South Korea with some of the worst refereeing decisions of all time. Al-Ghandour quit shortly after the controversy which isn't suss at all...

2. Tom Henning Ovrebo
Tom Henning Ovrebo would have topped the list of worst football referees of all time had it not been for what number one on the list got caught for. The Norweigian referee had a disgraceful performance in the 2009 Champions League semi-final between Chelsea and Barcelona.
On this day: 2009 - Tom Henning Ovrebo became the most hated referee in Chelsea's history after Michael Essien scored one of the best goals at Stamford Bridge.

RT if you think the referee was corrupt. #CFC #Chelsea pic.twitter.com/BVGKjiZVBN — Chad ⭐⭐ (@ChelseaChadder) May 6, 2020
Source: Originally posted on Twitter by @ChelseaChadder
Ovrebo turned down four clear Chelsea penalty appeals which allowed Barcelona to clinch a spot in the finals thanks to an Andres Iniesta equaliser in stoppage time which cancelled out Michael Essien's ninth-minute opener. How Ovrebo didn't get done for match fixing the game is bewildering. The performance marked one of the darkest days in European football and makes him one of the worst football referees of all time.
'I became the biggest fool in international football... we needed a police escort to get to the plane'

Referee Tom Henning Ovrebo opens up on the death threats he received after controversial Chelsea vs Barcelona semi-final 10 years agohttps://t.co/0RaYhm0Pou — MailOnline Sport (@MailSport) May 7, 2019
Source: Originally posted on Twitter by @MailSport
1. Byron Moreno
Ecuadorian referee Byron Moreno is no doubt the most corrupt and most hated referee of all time. Moreno is most known for his outrageous handling of the 2002 World Cup Round of 16 match between South Korea and Italy. During an extra time period that surprised everybody, Moreno gave Italy's Francesco Totti a second yellow card for an alleged dive.
The Italians then had a 111th minute goal disallowed for an off-side nobody else could see. Alessandro del Piero was then elbowed without punishment and Korea took full advantage as they went on to score a 117th minute winner.
In 2003 Moreno, the most corrupt referee in the world, was suspended from refereeing Ecuadorean football matches for 20 games after adding 11 minutes of stoppage time between Ecuador's Barcelona and Liga de Quito. Moreno was then found guilty of attempting to smuggle 10 pounds of heroin into America in 2011. After being caught at New York's JFK Airport he served 26 months in prison. That pretty much sums up why he is the worst and most hated football referee of all time.
19 years ago today, Italy had the unfortunate pleasure of meeting Byron Moreno, as they were eliminated in the World Cup 2002 Round of 16 by co-hosts South Korea. It's a shame Moreno only got 2.5 years for smuggling heroin in his underwear into New York in 2010. pic.twitter.com/c7SCQ3P6eT

— Francesco (@FRANCESCalciO_) June 18, 2021
Source: Originally posted on Twitter by @FRANCESCalciO_
---
THANK YOU FOR YOUR SUPPORT!
Wolfgang Sport started in 2017 as a way to connect my passion for American and British sports. Today it's evolved into a blockchain sports blog pushing the boundaries into the crypto world and embracing Web3 technologies.
---
---