Why Las Vegas MLS Team Is the Next Expansion Franchise
A Las Vegas MLS team seems the most logical choice for one of the next Major League Soccer expansion franchises. An MLS team in Vegas would join the WNBA, NFL and NHL franchises that have joined the exploding pro sports market.
Las Vegas is one of the top cities ranked to become one of the next NBA expansion teams and they've done it out of nowhere.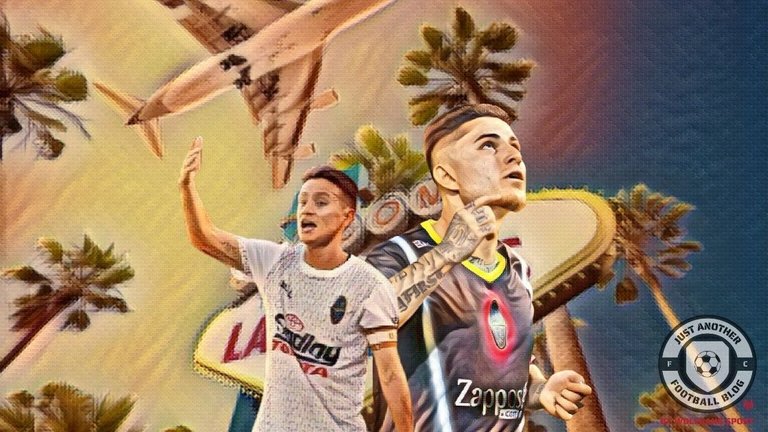 The Golden Knights became an NHL expansion team in 2017. A year later the San Antonio Stars relocated to become the Las Vegas Aces. The Oakland Raiders then relocated to Las Vegas in 2020 to bring the NFL to Vegas.
Sin City is all about overindulgence. So much so, Las Vegas has somehow landed as one of the top candidates for the next MLS expansion team. The reason's simple why they're odds-on favourite to join the MLS soon. Money.
In 2019 Sacramento Republic FC was awarded an MLS expansion franchise and were set to join in 2022. After their inaugural MLS season was pushed out a year because of COVID, main investor Ron Burkle then pulled out and the entire expansion bid collapsed.
It stunned the City of Sacramento as they were willing to help fund a $300m stadium in the city. They're now left with nothing to show for it all.
Major breaking news:

The MLS Sacramento expansion franchise is dropping out. "Earlier today, Ron Burkle informed the League that based on issues with the project related to COVID-19, he has decided to not move forward with the acquisition of an MLS expansion team in Sacramento" pic.twitter.com/8AsoZfrRub — Jonathan Tannenwald (@thegoalkeeper) February 27, 2021
Source: Originally posted on Twitter by @thegoalkeeper
Sacramento's failure has been good news for a Las Vegas MLS team as the league looks for a replacement bid. Vegas will have no issues with finding investment. The city has low investment property taxes and there's no personal income tax. Looks like I'll be looking to move there soon...
The Las Vegas MLS team expansion bid is also bankrolled by owners of the Las Vegas Golden Knights, Aston Villa and Milwaukee Bucks.
🆕🇺🇸🦁 Las Vegas closing in on getting new #MLS franchise, says Commissioner Don Garber. Confirms Aston Villa owners involved in bid. Get ready for the "Las Vegas Villains" perhaps? | #AVFC https://t.co/OPjG9WVPxS

— NBC Sports Soccer (@NBCSportsSoccer) December 7, 2021
Source: Originally posted on Twitter by @NBCSportsSoccer
Vegas already has a soccer presence with USL Championship team the Las Vegas Lights playing in the league since 2018. The club's home stadium is the almost 10,000 capacity Cashman Field.
The Lights have better attendances than the Tampa Bay Rowdies, a city that is another favourite to host the next MLS expansion team.
Vegas also hosted the 2021 CONCACAF Gold Cup Final between the United States and Mexico in front of a capacity crowd at Allegiant Stadium.
Due too its narrowness, Allegiant Stadium isn't an ideal home stadium for a Las Vegas MLS team. The bankrolled Vegas expansion bid would solve that issue by building a brand new stadium.
Las Vegas is the clear "front-runner" to become MLS's 30th team, according to commissioner Don Garber today.

Garber is in talks with billionaires Wes Edens and Nassef Sawiris, set to become the club's owners. The group aims to build a new soccer-specific stadium in Vegas 🏟 pic.twitter.com/rOVtH28mR6 — Front Office Sports (@FOS) December 7, 2021
Source: Originally posted on Twitter by @FOS
It would be ironic if Vegas would get an expansion franchise considering gambling, drugs and alcohol is causing bankrupt footballers. Any players for a Las Vegas MLS team will need to control themselves.
Against Vegas is the fact that it's only the 29th largest metro area by population in America and the 40th largest media market.
A Las Vegas MLS team would be the smallest media market in the league. As a city that is the centre of entertainment and has an ever growing pro sports market, it more than offsets that issue.
Away fans who wouldn't even consider travelling to support their teams in an away game would be enticed to travel to Vegas for the weekend. It's certainly a reason why a Las Vegas NBA expansion team is heavily favoured to become one of the next NBA franchises.
The city has more than proved itself that its capable of coping with an exploding pro sports market. The expansion bid has even filed a trademark for the name Las Vegas Villains.
It seems like it's only a matter of when and not if we'll see a Las Vegas MLS team join the league.
---
YES, ANOTHER FOOTBALL BLOG...
Football Blog FC is a spin-off of Wolfgang Sport, an American and British sports blog I created in 2017. The beautiful game isn't what I remember it to be as a kid and using satire is my way of coping with it. FBFC was created to write about football with a bit of fun reflecting the current state of football.
---
---