Why Messi and Ronaldo Rivalry is the Greatest Ever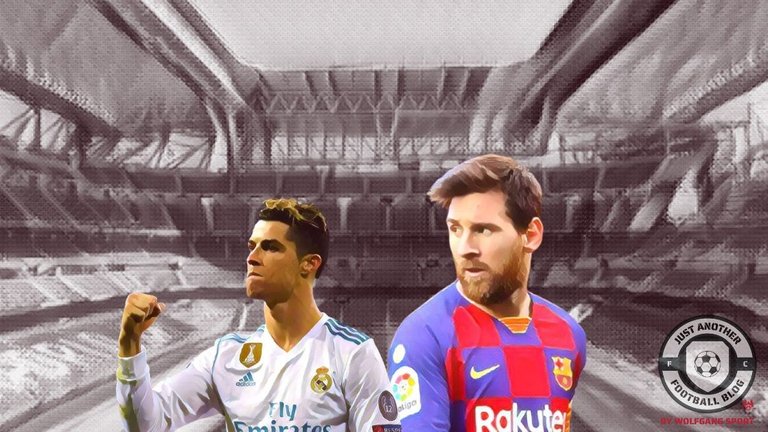 G'day fam! When it comes to the world of sports, few rivalries have captured the attention and imagination of fans quite like the one between Lionel Messi and Cristiano Ronaldo.
We're lucky to have witnessed two generational talents in the same era, and like the LeBron James vs. Michael Jordan debate, there's a case to make why either of these two are the GOAT's of football.
The Messi and Ronaldo Rivalry
Messi and Ronaldo have been locked into a fierce battle for supremacy since Ronaldo made his first team debut for Sporting Lisbon in 2002. Messi would make his debut for Barcelona in 2005.
So what is it about this particular rivalry that has made it so special?
How did it all begin?
Lionel Messi and Cristiano Ronaldo first crossed paths in 2004, when Ronaldo was a rising star at Manchester United, and Messi was a young prodigy at Barcelona. From the very beginning it was clear that these two players had something special about them.
Ronaldo was a skilful and showboating athletic marvel with a rocket of a shot. Messi was a creative genius with an out-of-this-world ability to dribble and score goals.
Both Ronaldo and Messi consistently raised the bar for what was possible on the pitch and they pushed each other to new heights as the years went on.
So let's take a look at the reasons why Messi and Ronaldo have the greatest rivalry ever.
https://twitter.com/brfootball/status/1446109788639678464?s=20&t=9KVEqDgPuuH627WvmzVgeA
Messi and Ronaldo Differences
While both Messi and Ronaldo are widely regarded as two of the greatest football players of all time, they both have very different skillsets and a different style of play.
Ronaldo is known for his pace, power, and aerial ability, and he's scored an incredible number of goals with his head as well as his feet. He's an excellent free-kick taker and has scored some truly breathtaking set-piece goals throughout his career.
On the other hand, Messi is small in stature but he more than makes up for it with his incredible ball control and dribbling skills. He's a master at creating space for himself and his teammates, has an incredible understanding of the game, is clinical at finishing.
https://twitter.com/DragoSoriano/status/1624895033244614656?s=20&t=9KVEqDgPuuH627WvmzVgeA
Despite their differences in strengths, both Ronaldo and Messi have consistently put up staggering numbers throughout their careers.
In 2022 during his second spell at Manchester United, Ronaldo scored his 800th career goal. Messi scored his 796th career goal in 2023 in PSG's 2-1 win over Toulouse.
At the time of his goal against Toulouse, Messi had also made 350 assists from 1008 appearances. Ronaldo had 234 assists from 1,148 games.
Trophies
Both Messi and Ronaldo have won numerous individual and team accolades, and they have consistently been at the top of the scoring charts in whatever league they've played in.
Ronaldo's won the English Premier League three times, the Spanish La Liga and Italian Serie A twice each, the UEFA Champions League five times, and has also won numerous domestic competitions.
Messi has won La Liga 10 times, Copa del Rey 7 times and the UEFA Champions League on four occasions.
One of the biggest defining factors in the Messi and Ronaldo debate and who is better is the amount of Ballon d'Or titles each of them has won. Messi has won the award 7 times, two more times than Ronaldo has won it.
On the international stage, Ronaldo won Euro 2016 with Portugal. In 2022 Messi went a long way to settling the debate in many people's eyes, winning the World Cup to add to Argentina's Copa America title they had won a year earlier.
https://twitter.com/Desmund_Oris/status/1623391718136594433?s=20&t=9KVEqDgPuuH627WvmzVgeA
Messi vs Ronaldo Head to Head
Messi and Ronaldo have battled it out with some of the most memorable games in the modern era. Since meeting each other for the first time in the 2008 Champions League semifinal, the pair have played each other 36 times head-to-head.
Some of the most memorable games head-to-head between Messi and Ronaldo was Barcelona's 5-0 "La Mainta" win in 2010, and Messi's 92nd-minute winner in 2017, with Messi famously took his shirt off and holding it to the Real Madrid crowd in a 3-2 win.
https://twitter.com/PrincesTinashe/status/1624492219892654085?s=20&t=SjS9M3ciFwVTj31H1D_S8Q
The most important battle between Messi and Ronaldo however, was the 2009 Champions League Final. Messi and Barcelona went on to win the game 2-0, completing their first ever league, cup and European treble. Messi even scored a header in that game.
El Clásico, the biggest football rivalry in the world, laid the platform for the Messi and Ronaldo rivalry with match-ups between the two always a high stakes game. Messi wins against Ronaldo head-to-head, with 16 wins in competitive matches, compared to 11 wins for Ronaldo. The pair have drawn nine games against each other and Messi has the edge with one more goal in their match-ups.
Global Influence
Both players can generate so much attention and excitement, and teams are willing to pay for it. Messi's contract he signed with PSG in 2021 earns him £35m a year. Ronaldo's contract with Saudi club Al-Nassr is worth a staggering £172m a season.
Anything Messi or Ronaldo does will trend and go viral, and both have lucrative endorsement deals with the biggest companies on the planet.
Ronaldo has a 10-year deal with Nike worth more than £14 million a season, plus bonuses. He also has his own hotel chain called Pestana CR7, with hotels in Portugal, Spain, Morocco and New York. He even launched a gym called CR7 Fitness based in Madrid.
Messi has a lifetime deal with Adidas which earns him £18 million every year and he has a huge list of endorsement deals worth at least £45 million.
When Ronaldo moved to Juventus in 2018, the club sold over £50 million in jerseys in the first 24 hours. When Messi arrived at PSG it generated 830,000 jersey sales in the first 24 hours, generating over £80 million in revenue.
In conclusion, both players are hugely influential and the pair have captured the attention and imagination of fans all around the world. It's a rivalry that has transcended the sport of soccer and is likely going to be an eternal debate.
https://twitter.com/CulerYRonaldo/status/1622202171226718208?s=20&t=9KVEqDgPuuH627WvmzVgeA
Who's the better player in the Messi and Ronaldo rivalry? You be the judge. One thing is for sure. The rivalry will be remembered, celebrated, and debated for generations to come.
https://twitter.com/madridblaugrana/status/1623811994741616641?s=20&t=9KVEqDgPuuH627WvmzVgeA
---
YES, ANOTHER FOOTBALL BLOG...
Football Blog FC (FBFC) is a spin-off of Wolfgang Sport - an American and British sports blog I created in 2017 where sports talk is the game. Well, football is the game here at FBFC, a place where we don't use the word soccer, a place where we put aside politics and focus purely on football.
---
---