Why We All Love Allen Iverson, The Answer
Presented by Wolfgang Sport, THE5THQTR stocks one of the most unique collections of vintage NBA and NFL jerseys and jackets. No BS. No counterfeits. THE5THQTR blog is an extension that continues the Wolfgang Sport passion for sports in the US & UK.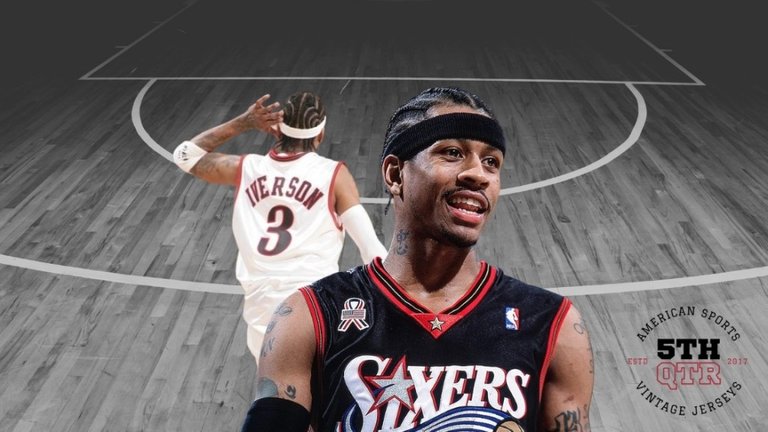 In March of 1997, Allen Iverson left us with an iconic crossover against the greatest player of all-time, Michael Jordan. It was Iverson's 2Pac theme song to his career, the underdog from the projects of Virginia.
Iverson was selected with the first pick of the 1996 NBA Draft by the Philadelphia 76ers, becoming the shortest first pick in NBA history at 6'0. Iverson drew the nickname 'The Answer' possibly because he was the answer to Philadelphia's problems. A family friend actually sued Iverson over the use of the nickname, claiming they gave Iverson the nickname in 1994.
Related: Best NBA Draft of All Time: 1996 NBA Draft
However 'The Answer' came about, he was a cultural phenomenon who left an impression that changed the NBA forever. Iverson was always himself, and he wasn't scared to be. A pioneering trendsetter, Iverson was responsible for popularising hip hop culture in the NBA with the cornrows, the tats, elbow sleeves, headbands, the baggy shorts and all the bling.
Iverson was the reason NBA commissioner at the time David Stern introduced a dress code in 2005. His self expressiveness empowered not just other players to be themselves, but an entire generation of fans. And he did it with a defiance and a swagger that resonated with fans and especially younger audiences.
He wasn't perfect. Many argue he shot too much, or that he never won an NBA championship and he wasn't able to make his team better. His work ethic has also been questioned throughout his career. The reality is, he never had the help he needed around him. He never had his own Scottie Pippen to help compete for an NBA championship.
Even with a very average 76ers team in 2000-01, Iverson became 2001 NBA MVP and single handedly won the Eastern Conference with Philadelphia before falling short in the NBA Finals to the Lakers 4-1. Iverson did however earn the 76ers a Game 1 win with a 48-point performance, the only playoff loss for the Lakers who ended up 15-1 in the post-season on their way to the NBA Championship.
Iverson, an 11-time All-Star, four-time NBA scoring champion, three-time steals champion, averaged almost 27 points and over 6 assists a game, and shot at a remarkable consistent 42% from the field across 914 games. He was able to do it all this despite being considered undersized by NBA standards measuring 6'0" and weighting 165 pounds. Pound for pound Allen, Iverson is the best player in NBA history.
His killer crossover signature move, his streetball swagger style of play and the cultural impact he had on the NBA alone is deserving of Hall of Fame induction.
After being inducted into the Hall of Fame Class of 2016 alongside Shaquille O'Neal and Yao Ming, Iverson was presented with his Hall of Fame jacket by Julius Erving at a 76ers home game in December 2016. Iverson delivered a stirring half-time speech to the crowd which showed us all why he's one of the most respected players of all-time. Iverson always playing with his heart on his sleeve and he let everybody know in his speech.
"I could never, ever, ever sit out a game if something wasn't broke or I just simply couldn't play...This is a new era, a new generation. I never thought anything like that would happen in our sports... it would have been a dog fight if a coach tried to keep me out of a game and I wasn't hurt. I can get my rest after the game."
Iverson was making reference to players, mostly superstars, being rested during the season. Even more so, when you compare Iverson's attitude to that of Ben Simmons and his trade debacle with Iverson's beloved 76ers, you can argue that he's onto something about the current generation of stars. It's the sort of comment which makes you see why many see Iverson as a superhero, respected not only by fans but by his fellow peers.
He was all heart. No matter what, Iverson always remained himself. In true Iverson fashion and in another legendary moment, Iverson mentioned the word 'practice' 22 times in the space of a couple minutes when questioned about his commitment to team practice habits following an early NBA playoff exit.
The 'practice rant' is why everybody loves Iverson. That's why he's influential - because he's always been himself, authentic and endearing. He was able to influence a generation of athletes - Kawhi Leonard, Jamal Crawford, Lou Williams and Stephen Curry to name a few. Iverson was able to do it all despite all the challenges he faced. A Virginia native and from the projects, he persevered and used any obstacle as motivation to succeed. Iverson was truly a trailblazer, with many NBA stars using that same sort of motivation to make it into the NBA.
​
Presented by Wolfgang Sport, THE5THQTR stocks one of the most unique collections of vintage NBA and NFL jerseys and jackets. No BS. No counterfeits. THE5THQTR blog is an extension that continues the Wolfgang Sport passion for sports in the US & UK.
---
---