"Juvemaca" se impone sobre "Lola FS" y camina hacia las semifinales del campeonato Futsal Villacurano - esp/eng - Original Content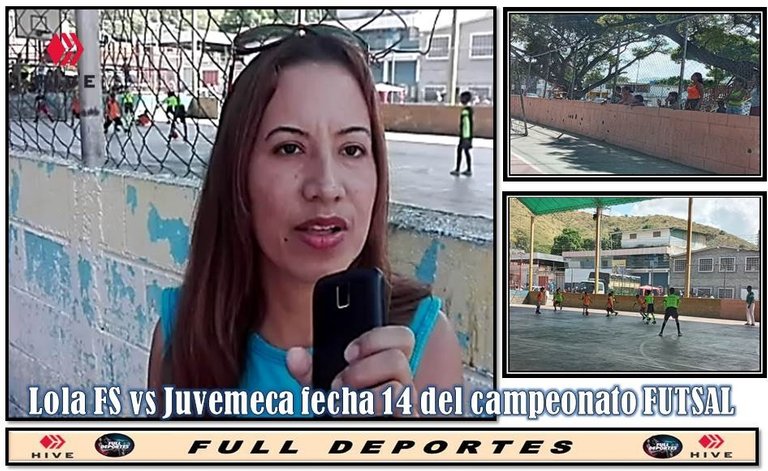 Hola querida comunidad hispanohablante de la colmena y muy en especial a la comunidad deportiva de #hive @fulldeportes, en la mañana de ayer sábado 13 de noviembre se reanudó la Copa "Nuestra Señora de las Mercedes" por el campeonato de FUTSAL villacurano que se celebra de viernes a domingo en las instalaciones deportivas de la cancha del sector La Coromoto; un populoso barrio de la ciudad de Villa de Cura.
El campeonato se había suspendido en semanas pasadas por problemas de salud del coordinador y promotor del evento Prof. Carlos Fuente diagnosticado con la covid-19 ( no confirmado ) lo que obligó a un receso de los partidos mientras el profe guardaba reposo médico.
Hello dear Spanish-speaking community of the hive and very especially to the sports community of #hive @fulldeportes, yesterday morning Saturday November 13 resumed the Cup "Nuestra Señora de las Mercedes" for the championship of FUTSAL villacurano which is held from Friday to Sunday in the sports facilities of the court of the sector La Coromoto; a populous neighborhood of the city of Villa de Cura.
The championship had been suspended in past weeks due to health problems of the coordinator and promoter of the event Prof. Carlos Fuente diagnosed with covid-19 (not confirmed) which forced a recess of the games while the prof kept medical rest.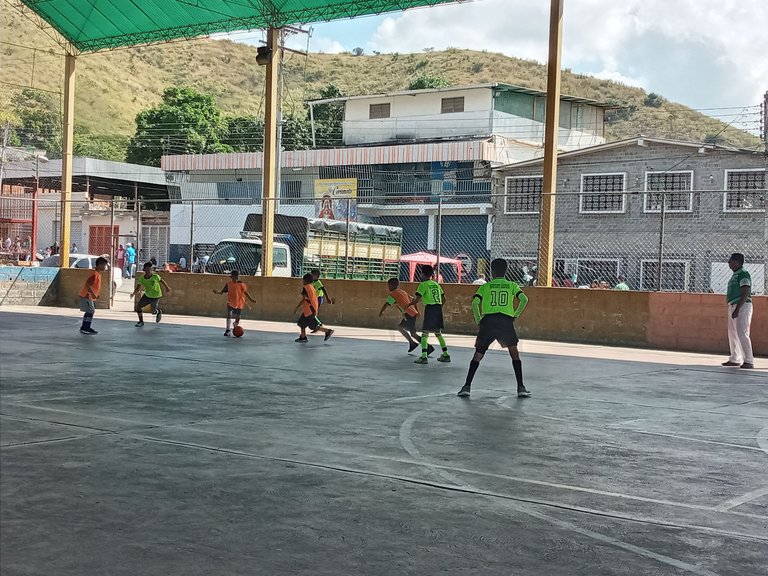 En esta oportunidad por la categoría infantil vieron acción en horas de la mañana los equipo de de Lola Fs y el equipo juventudes de Mata de Café "Juvemaca"; Lola Fs de pantaloncillo negro y chaleco naranja y Juvemaca de pantaloncillo negro y camiseta verde. Ambos equipos están aún peleando por ascender en la tabla y alcanzar un puesto en la clasificación a la siguiente ronda que serían las semifinales próximas a celebrarse luego de los procesos electorales en Venezuela la venidera semana cuando se suspendan todo tipo de actividades culturales y deportivas en todo el municipio.

Juvemaca es un equipo con más experiencia recordemos que vienen de quedar campeones en la disciplina de micro-fútbol lo que les da un palmares y una cierta ventaja sobre un rival como Lola fs que esta recién participando de este tipo de torneos.
In this opportunity for the children's category, the Lola Fs team and the youth team of Mata de Café "Juvemaca" saw action in the morning hours; Lola Fs in black shorts and orange vest and Juvemaca in black shorts and green t-shirt. Both teams are still fighting to move up in the table and reach a place in the classification to the next round which would be the semifinals to be held after the electoral processes in Venezuela next week when all kinds of cultural and sports activities are suspended throughout the municipality.
Juvemaca is a team with more experience let's remember that they come from being champions in the discipline of micro-soccer which gives them a palmares and a certain advantage over a rival like Lola fs that is just participating in this type of tournaments.
Resumen del Partido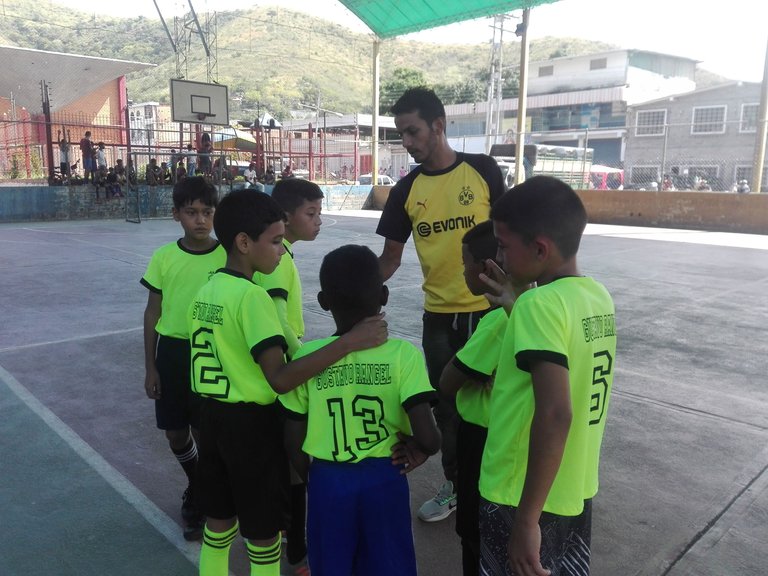 El partido comenzó a la hora programada 10:00 am de la mañana de este sábado 13 de noviembre y rápidamente en cancha se vio la superioridad técnica, el buen toque del balón y la precisión en el pase de los muchachos de las juventudes de Mata de Café quienes golearon por score de 5 goles por 0 a su similar de Lola Fs que como mencioné anteriormente es un equipo que recientemente está integrándose a este tipo de torneos.
Como ya es habitual en este campeonato la asistencia de público es muy baja, sólo los padres y representantes de los pequeños más algunos amigos decidieron apoyar con su presencia el juego y así darles un espaldarazo a los chicos diciéndoles con su presencia que cuentan con ellos, cosa que a mi juicio es sumamente importante para los pequeños atletas.
Con esta Victoria los chicos de Juvemaca avanzan hacia la opción de meterse entre los cuatro mejores de su categoría y asegurarse un puesto en las semifinales. Gracias por leer a la maestra Yusmi. Todas las fotografías son de mi autoría y me asistió el usuario @gaborockstar en las mismas.
The game started at the scheduled time of 10:00 am this Saturday morning, November 13 and quickly on the field was seen the technical superiority, the good touch of the ball and the precision in passing of the boys of the youth of Mata de Café who scored 5 goals to 0 to their similar of Lola Fs that as I mentioned earlier is a team that is recently joining this type of tournament.
As usual in this championship the attendance of the public is very low, only the parents and representatives of the kids plus some friends decided to support the game with their presence and thus give them a boost to the kids telling them with their presence that they count on them, which in my opinion is extremely important for the little athletes.
With this victory the Juvemaca boys advance towards the option of getting into the top four in their category and secure a place in the semifinals. Thanks for reading teacher Yusmi. All photos are my own and I was assisted by the user @gaborockstar.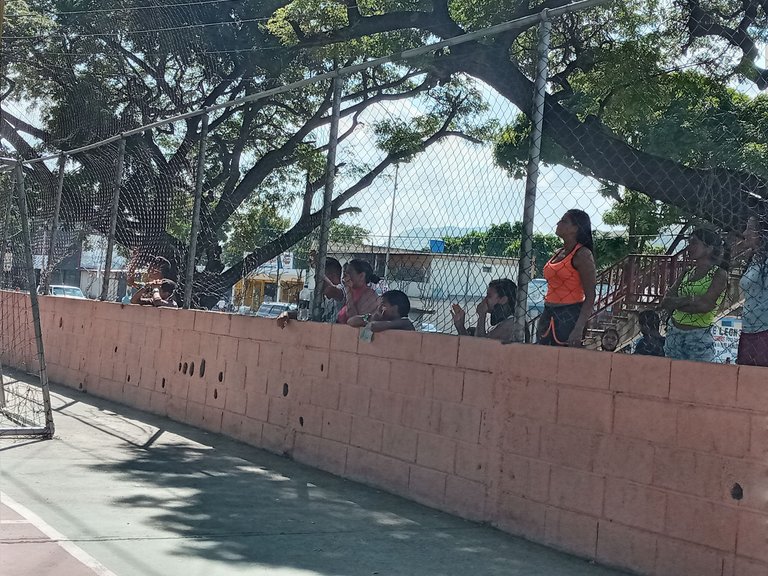 .- Otras Noticias Deportivas
El día de ayer sábado también posterior a este partido se celebró el desfile inaugural del campeonato de béisbol juvenil de Zamora con la participación de 9 escuelas de béisbol que hacen vida en todo el municipio, más información entrando en el link que te dejo a continuación:
Other Sports News
Yesterday Saturday also after this game was held the inaugural parade of the Zamora youth baseball championship with the participation of 9 baseball schools that make life throughout the municipality, more information by clicking on the link below: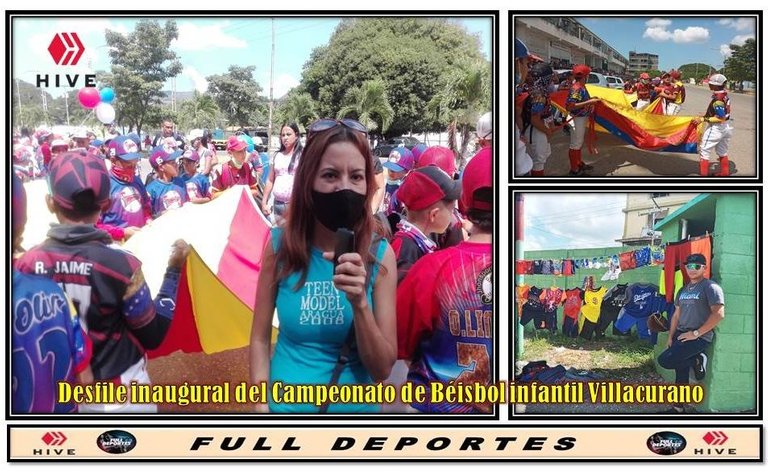 ¿ Te gustan los deportes y quieres saber más de la comunidad Fulldeportes ?... Únete ahora a la comunidad en el siguiente enlace:

Banner propiedad de la comunidad Fulldeportes
---
---