Marocco in semifinale!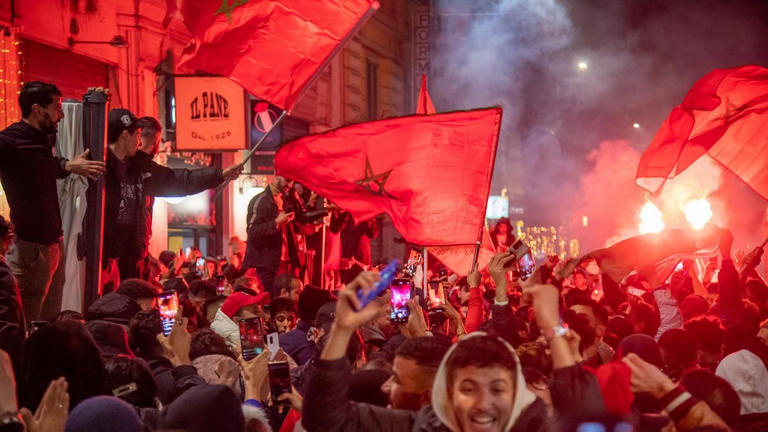 Ciao a tutti amici , oggi è un giorno storico per tutto il mondo e soprattutto per il continente che ha sempre avuto un importanza fondamentale nella storia dell'uomo che però è sempre stato represso , oggi finalmente come ha detto Shakira in un suo post su twitter:
This time for Africa!
Ebbene si finalmente dopo decine e decine di edizioni di mondiali un Africana riesce a superare i quarti di finale scrivendo la storia nel ramo del mondiale che sulla carta li doveva vedere sfavoriti battendo nazioni che storicamente ancora oggi occupano il loro territorio , come la Spagna che tutto davano per geni passando per secondi per affrontare il Marocco , la squadra che doveva essere una delle principesse di questo mondiale , la squadra che ti regala il passaggio e invece no.
Queste sono le vittime:
Canada
Belgio
Spagna
Portogallo
Hanno battuto i campioni d'America del nord , il Canada , hanno asfaltato giocando un calcio strepitoso il Belgio che qualche mese fa era primo nel Ranking fifa , hanno battuto colore che per secoli li hanno sfruttati e nel quale controllano ancora parte di suolo africano , gli spagnoli che giocano uno dei calci più belli del mondo , hanno battuto la squadra formata da quasi tutti campione d'Europa , il Portogallo di CR7 soffrendo ma senza mai rischiare troppo e soprattutto con una difesa che fa paura , fino ad 1 gol preso , uno solo e nemmeno segnato dagli avversari perché fanno tutto loro , anche l'Autogol si sono fatti , ora incontrano una nazione che per secoli come la spagna ha avuto insediamenti nel loro territorio , ora è il momento di prendersi una vendetta che per secoli non è stata potuta prendere , il Marocco il semifinale incontrerà La Francia , campione del mondo in carica , ora è il momento di scrivere la storia che in passato ha sempre sorriso alle Europee , perché il calcio non è mai stato e mai lo sarà uno sport , il calcio è Politica amore odio VITA , il calcio è l'unico sport che influenza il mondo anche a livello politico economico e sociale in tutto il mondo.
Ma questa impresa ha un nome:
Walid Regragui
Lui è l'uomo chiamato a ricompattare un gruppo distrutto richiamando le stelle di questo Marocco , che stanno facendo la differenza , campioni veri!
Ora si vola in finale perché non è più sogno , ora ci sono tutte le carte per giocarsela!
---
---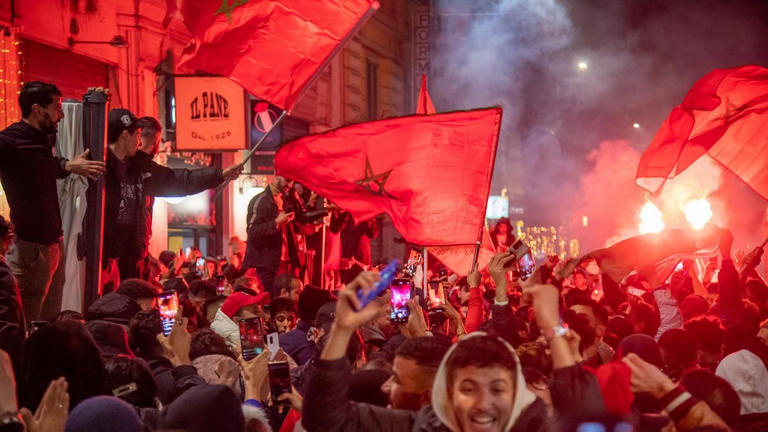 Hello all friends , today is a historic day for the whole world and especially for the continent that has always had a fundamental importance in the history of mankind that however has always been repressed , today finally as Shakira said in her twitter post:
This time for Africa!
Well yes finally after dozens and dozens of editions of the World Cup an African manages to get through the quarterfinals writing history in the branch of the World Cup that on paper should have seen them underdogs beating nations that historically still occupy their territory , such as Spain that everything gave for geniuses passing for second to face Morocco , the team that was supposed to be one of the princesses of this World Cup , the team that gives you the passage and instead no.
These are the victims:
Canada
Belgium
Spain
Portugal
They beat the champions of North America , Canada , they asphalted playing a resounding soccer Belgium who a few months ago was first in the fifa Ranking , they beat color who for centuries have exploited them and in which they still control part of African soil , the Spaniards who play one of the most beautiful football in the world , they beat the team formed by almost all champions of Europe , CR7's Portugal suffering but never risking too much and especially with a defense that is scary , until 1 goal taken , only one and not even scored by the opponents because they do everything them , even the Autogol they made themselves , now they meet a nation that for centuries like spain had settlements in their territory , now is the time to take a revenge that for centuries could not take , Morocco the semifinal will meet France , reigning world champion , now is the time to write history that in the past has always smiled on the Europeans , because soccer has never been and never will be a sport , soccer is Politics love hate LIFE , soccer is the only sport that also influences the world politically economically and socially around the world .
But this enterprise has a name:
Walid Regragui
He is the man called to recompose a shattered group by recalling the stars of this Morocco , who are making the difference , real champions!
Now we fly to the final because it is no longer a dream , now there are all the cards to play for it!
---
---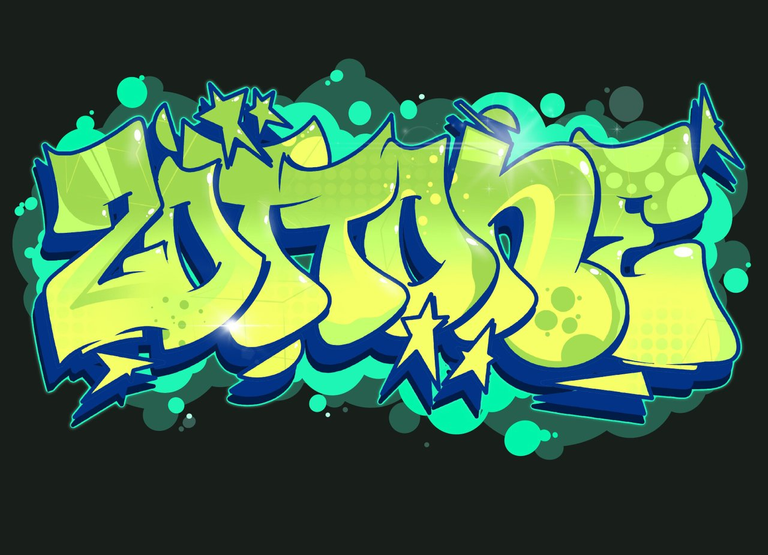 Follow me on
TWITTER ---> https://twitter.com/zottone444
TORUM ---> https://www.torum.com/u/zottone444
HYPPER ---> https://hyprr.com/profile/zottone444
NOISECASH ---> https://noise.cash/u/Zottone444
READCASH ---> https://read.cash/@Zottone444
BLURT ---> https://blurt.world/@zottone444
JOIN ON TELEGRAM ITALIAN GROUP ---> https://t.me/hiveitaly
FOLLOW HIVE ITALIA ON ---> Twitter -- Instagram -- Fecebook
photo by me / @thgaming
---
If you want to buy/sell Dcity cards with the PGM token from the NFTM.art shop click here
---
My private socials
Instagram---> ale_zotta_
Twitch ---> zottone
---
Links that may be useful to you for the PGM token
Buy it here
If you don't know how to buy the PGM token click here
If you want to know what projects we collaborate with, click here and here
If you want to become a sponsor of the project click here
joins the PGM discord server
FOLLOWE PGM ON TWITTER
Buy games by paying with hive-HDB-Pizza Token here @thebeardflex
To buy my microphone click here
To join my fortnite community click here
---
---