Today's @actifit is combined with my Fantasy League team selections an some words on just how shocking Manchester United are at present.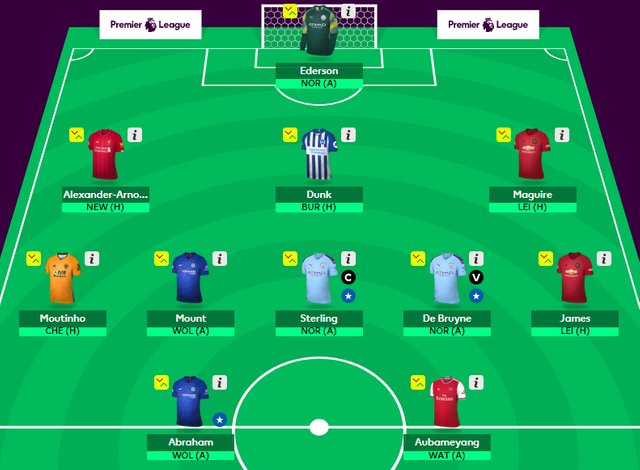 ---
The above is my revamped starting 11, fresh from the international break. In a slightly rash move, I made three subs this week, costing me 8 points. Abraham and James come into the starting 11 whilst one of the new players only made the bench. I needed to make 3 though to balance the books and escape using the Wildcard - it's too early to press the red button.
The 3 fielded defenders are all at home this week which bodes well, but the heart of the midfield and both strikers are away - I'm hopeful that wont stop the goals coming in, especially for Sterling and De Bruyne who have looked excellent so far this year.
My bench this week has a couple of picks who've done well recently but who may not score well this weekend.

Pukki has been banging the goals in but is up against the champions this weekend and I have a feeling he wont get many chances on goal. Lundstram just lost out to Dunk, although it could be that both of them keep a clean sheet and it's Harry Maguire who should be keeping the bench warm this week!
Which brings me on nicely to how weak Man United look as a team this year. 'Team', yeah right. In Pogba and Martial their are clearly some talented individuals but the Reds of the past had both top quality players and a strong team spirit. I don't think Ole is the man, sadly, unless he gets rid of those players not willing to work against every team.
I don't think Man United will win anything this year, and have a feeling they'll go without another win on Saturday.
---
Anyway, Football doesn't make or break my weekend any more, I'll just sit back and let all unfold - after I've done some exercise and earn my @actifit tokens of course :)
Cheers


7562

Walking,Moving Around Office