After benching Pukki last weekend thinking he wouldn't get a sniff against City, I have learned to keep your players in form in the team!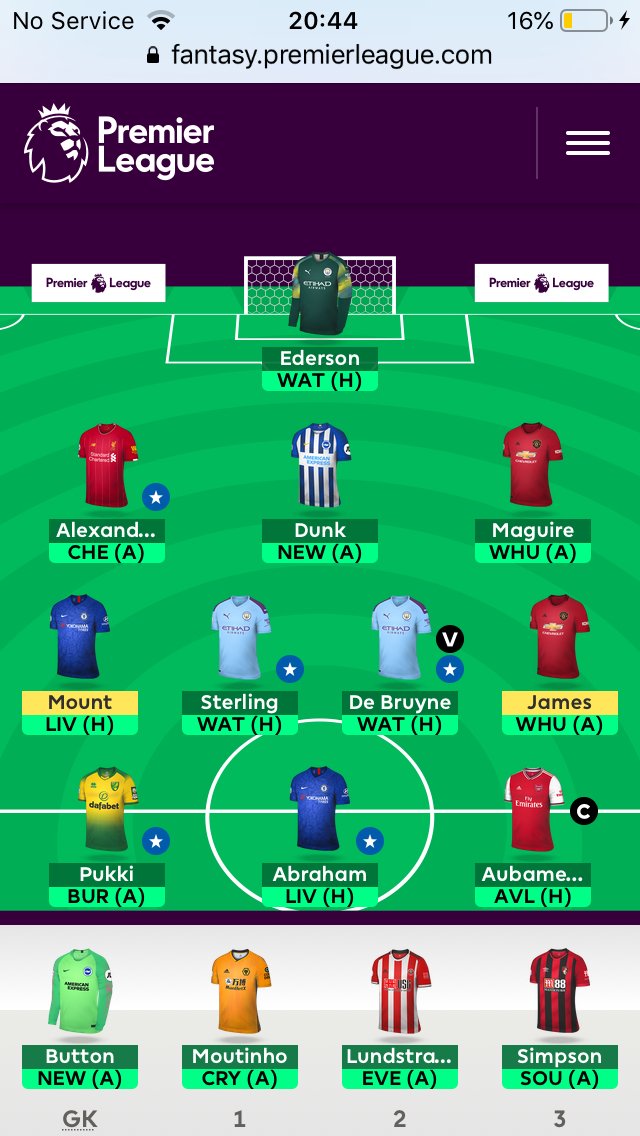 It was a great result for Norwich, and for Liverpool as they are now 5 points clear at the top of the Prem and clear favourites to win their first title in 344254 years. Fair play to the bin-dippers though, every dog has it's day n all :P
This weeks team remains unchanged, at least as far as transfers go. Pukki is back in and joins Abraham and Aubameyang who together scored 6 last weekend, and an own goal to boot.
I'm torn between captaining Sterling (again), KDB, and Aubameyang, and at present I'm siding with the in-form Arsenal striker has the Arse at home to a poor looking Aston Villa. It will be just my luck to see the excellent Sterling have a stormer at home to Watford. In fact, why I'm siding with the Arsenal man I do not know, that could well change before the weekend.
How am I doing in the leagues I'm a member of?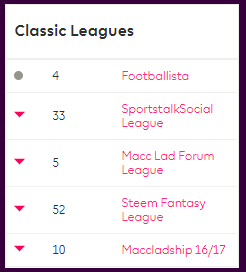 Pretty damn average to be fair - no change from previous seasons then really. Perhaps sticking with an unlikely captain choice could be exactly what I need to make a move up those tables.
My team Man United visit the Hammers on Sunday and after scraping a win last weekend, I can see a bore draw. City should hammer Watford, but as we saw recently, football is a funny old game. Chelsea v Liverpool is the interesting one, and (my) hopes will be with Tammy Abraham to stick one on the Scousers, for the betterment of my Fantasy League team of course.
Cheers
Asher


7649

Walking,Moving Around Office