We are thrilled to provide you with another update to actifit app, this time for the android version.
As we have been busy with so many items on our list; an update to actifit android version was overdue, particularly in relevance to updating the wording of actifit app, technologies, and of course some new features!
We have sent out the app for approval, and it got approved in a giffy despite the current long waiting queues, thanks Android team!!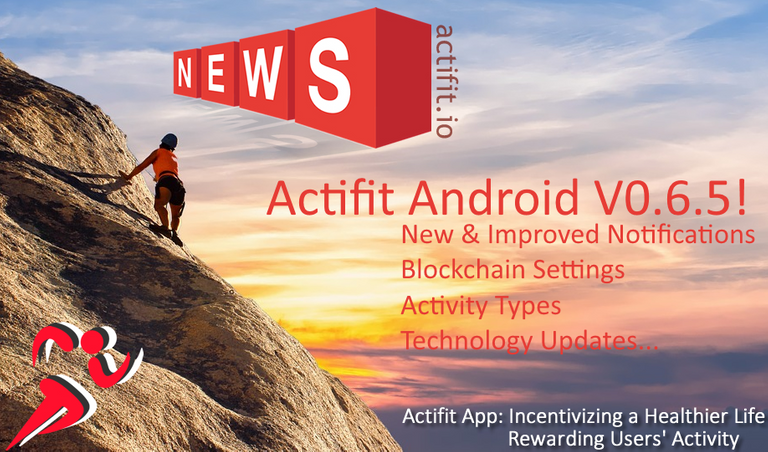 ---
New & Improved Notifications!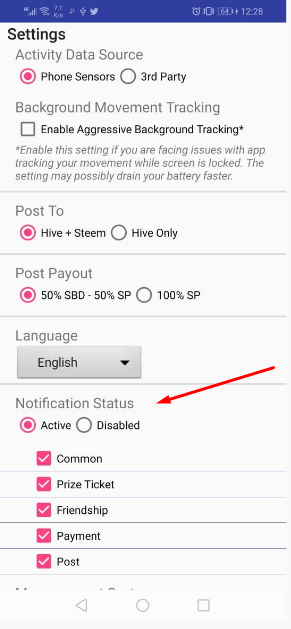 As part of a more engaged user experience, and while we support notifications on actifit.io, we found it recently to be very helpful to our users to receive phone notifications.
Actifit app used to receive and process non-user specific notifications, such as announcement. With this upgrade, all notifications that have been recently introduced on actifit.io are now available. Those include post creation, friend posts, upvotes by actifit, tips, contest tickets, friendship requests and so many more...
To make this happen we have implemented a new notification engine, that allows receiving notifications within the app.
Also and more importantly, to avoid spamming our users, we have made these settings configurable, so as you can decide which types of notifications are essential to you, and which ones you wish to avoid.
By default, all types are enabled. Yet to receive notifications, you need to post at least once so that the notifications engine will verify you.
Also as part of the improved notifications, as you click received notifications, you will be properly redirected to the relevant URL sent as part of the notification to find further details about the action.
---
Removing Steem References + Blockchain App Control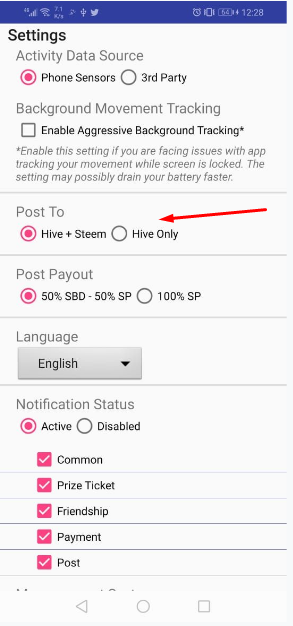 This one is quite overdue, and similarly to our latest update to the actifit iOS version, we proceeded with removing references to Steem as a blockchain in terms of the actions conducted on the app.
For our users who are still posting to both Hive & Steem, as references in the settings under actifit.io, we have added this under settings so that you can control your posting preferences right from the app.
Keep in mind that Hive is the core blockchain for actifit. Steem is an optional add on blockchain for users who would still prefer to post to both options.
---
New Activity Types
Based on popular demand and per some of our users' requests, we have added several new activity types.
If your activity suggestion did not make it through, please make sure to share it with our team on discord under the #suggestions room
---
Technology Upgrade & Bug Fixes
We have performed a multitude of technology upgrades and updates, including but not limited to upgrading to androidX package, upgrading our SDK support, upgrading the crashlytics SDK support, upgrading scribejava (integration package) to latest version, as well as implementing several bug fixes and layout adjustments throughout the app.
---
Upcoming App Work
In addition to our other underlying work for actifit, we have tons of new functionality under work to keep improving the app, including new devices integrations, market & gadget in-app support, social experience improvement, and much more.
If you find a bug, or would like to suggest a new feature, you can contact us on discord
---

Have you joined actifit gadget prize Round #11?
4+ HIVE to WIN, D-3 days to go!
Head over to Actifit Market NOW to WIN!
---
Support our witness on Hive, vote for us or set us as proxy on actifit profile, via peakd, or hive blog.
@actifit team