My Actifit Report Card: November 6 2019 - Thermocouple woes
Bblog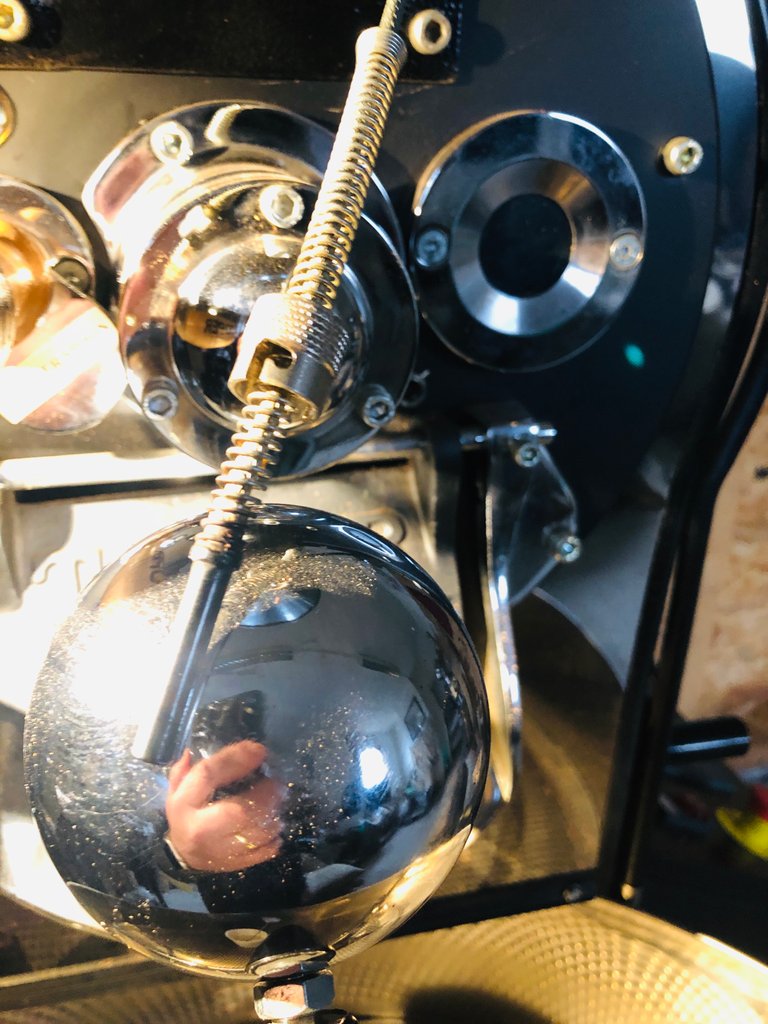 I know it's been a while since I did an @actifit report card, but I have had many days sat in front of the computer answering enquiries, ordering stock or on the telephone troubleshooting - giving me 7 to 9k step days - anything over 5k is fine to post but I just feel like over 10k step count is a real achievement.
So what's with the picture, well you might want to sit down with your favourite hot or cold beverage because this is a bit of a tale. That is the thermocouple (it reads the temperature in my coffee roaster drum) - obviously in this photo it is outside the drum - and this story is why....
Last Friday a customer who had ordered a large 20kg batch coffee roaster from me got in contact because after setting it up they had started roasting and the roast profiles were totally abnormal leaving him with batch after batch of coffee that could not be used.
A little background - when you roast coffee to get repeatable results you profile the coffee - you have a drop in temperature when you load the raw green coffee into the roaster - for example I get my roaster to 215 degrees celcius and then drop in. The cold coffee beans reduce the drum temperature- and when this stops is called the turn around phase. Normally the drum will cool to around 100 degrees celcius before the heat being put in by the roaster burner starts actually heating it up. Once turn around has been reached how much heat from the burner you apply dictates how quickly your coffee will roast- too much heat and it will roast too quickly giving poor flavour - too little and it will take too long giving baked flavours - getting the time from turn around until the coffee is roasted to the darkness you desire is critical to taste. Profiling helps judge this and the Rate of Rise or how quickly the coffee heats up from turn around is the measure.
My customers turn around was 150 degrees celcius - way too high - and then the rate of rise was flat with the coffee being over done at no more then 170 degrees. Compared to my own turn around at 100 degrees and drop temperature of 195 degrees it was wildly different and wrong.
This has lead to days of my time trying to get advice from the manufacturer, trying to make sense of what was going wrong myself and of course placating my frustrated customer who was wasting batch out of batch of coffee he was roasting that turned out undrinkable. It's frustrating for me - as an agent for the manufacturer I make a small margin on the equipment sale, but like many of my customers for roasters this one had visited my premises and seen me roast on my roaster - I sold them on the ability it had and my own ability to support the product after sale.
The manufacturer wants to replace the thermocouple, I agree with customer it could be faulty and send him one next day delivery - but it's hard to fit and I don't have time to do it myself. At the same time I need to work out every possible outcome - thermocouple's last for many years and are reliable - something is happening we are missing.
I decide to start at basics - and ask him to
Remove the temperature probe from the roaster coupling and dunk it into a known temperature of hot water. This would prove the thermocouple is reading temperature correct. He does this and says it reads within 4 degrees celcius the same as a laser thermometer.
To test the same theory I removed my thermocouple to test it - and got the exact same results - so replacing the whole thermocouple seems pointless. But I sent him this photo - the retaining nut for the thermocouple can be wound up the wire to push the probe end further into the drum. This is where a light bulb lit - when I first started with my roaster three years ago my own profiles were well off. After struggling for weeks I tried pushing the thermocouple deeper into the drum - and suddenly it all made sense.
So I sent my customer this picture, and asked if the retaining nut was as far from the probe as mine. He said no, it was pretty much touching the probe body. In that case the drum wall thickness , and the fitting the nut clamps to would make the thermocouple tip measure the drum wall temperature not the coffee beans.
To prove my theory without my customer wasting any more coffee I wound my thermocouple back so the retaining nut was touching the thermocouple body - that roast exactly mimicked my customers failed roasts - very high turn around and flat rate of rise.
Problem finally solved, but way too much time wasted by myself and my customer. And the manufacturer still has only suggested replacing the thermocouple- as their distributor in the UK I learned through using their product how to support it the best - but sometimes it requires my experience to solve problems their fifty years of manufacturing should easily answer.



10712

Daily Activity,Moving Around Office,Walking
| | | | | | |
| --- | --- | --- | --- | --- | --- |
| | | | | | |
| 32 cm | | cm | | 34 cm | |
---
---