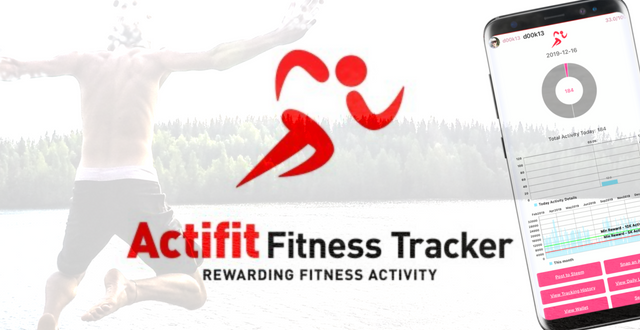 Seeing as @Actifit has updated their dApp on iOS(looking good @mcfarhat & Team) I thought that I should do a quick review of the changes I noticed along with my #Actifit post. This also gives me the opportunity to test out that long awaited new feature 😍 posting yesterdays steps!!!
So many updates have happened since I really looked closely at what is being developed for Actifit 😅 I realized recently we can purchase gadgets and add friends on actifit.io... those didn't catch my attention but this one does as it solves my forever problem of missing the posting time while at work!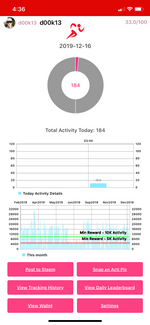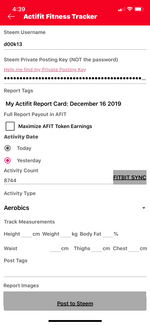 As you can see(above left) the Main Screen of @Actifit has changed significantly now displaying a graph and pie chart representation of steps taken along with bars showing minimum reward levels. Color of the buttons have also changed slightly from red to a pink.
Then(above right) on the actual "Post to Steem" page we see the new "Activity Date" section and buttons for "Today" and "Yesterday" allowing posting yesterdays steps... glad to see that for this test it is showing the same figures as my health data for yesterdays activities, step one of my test correctly showing yesterdays steps successful!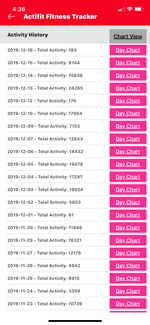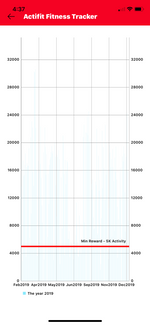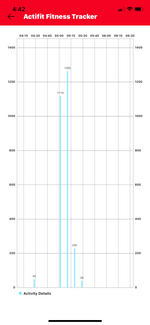 On the "
View Tracking History
" screen I want to mention a few suggestions for the Team to consider....
personally I think the pink doesn't go well with the red and white color scheme and suggest using the red instead
the middle image shows the full chart but the light blue color is hard to identify the daily bars, I suggest a darker blue
the right image shows the daily chart is too large for the screen and must be scrolled to view days events, I suggest squishing the horizontal spacing to fit on screen.
Overall everything there functions as it should with my only concern being aesthetics 👌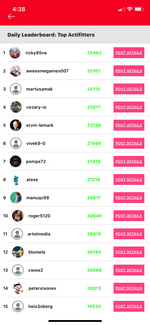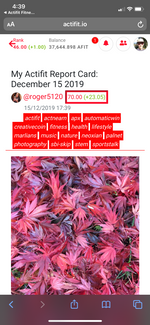 Now looking at the "View Daily Leaderboard" screen and clicking on "Post Details" brings us to the actifit.io webpage where we are now able to do all the viewing and engagement of others works that we would like 👍 I like that as often I find other STEEM portals to be a bit clunky whereas the Actifit front end is perfect for what little we Actifiters need... that bring me to my suggestion for this area...
use the internal browser for the actifit.io vs sending to an external taking them outside the app to do their engagements... might be an internal version of the same browser but it will not cause multiple windows to be left open in the external as well as adding to the illusion of an all inclusive dApp.
There yea go that is my quicky review and suggestions at a glance, nothing negative to report! You and I will both know after this post goes live whether or not step two of my test is successful depending on if vote support is still available for posting yesterdays steps as well as if it posts correctly and gives no errors.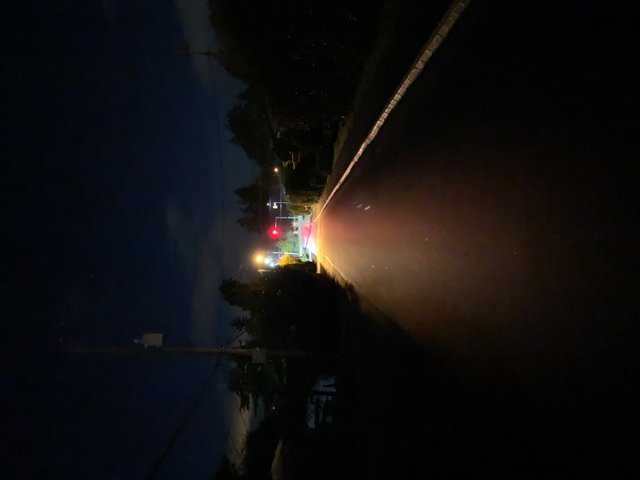 Now for my activities 😅
Started my day fairly early with walking Jerry... man was it cold
Took a nap then went for another walk with Jerry
Did the usual posting/engagements and cleaning routine
Went for a last walk with Mel and Jerry before laying down around 5pm
Not a whole lot of moving but I did get a fair amount of cleaning done which I often put my phone down while doing it... could maybe be cutting 2500 steps off by putting it down but I would rather not risk throwing my phone in the soapy water and testing the waterproofing of the iPhone XR 😁
PS if you want to join the fun please follow my referral link below(click the actifit banner)








8744

Daily Activity,House Chores,Walking