I had my yearly physical today, and I must admit I wasn't too happy about my weight. I'm well within a healthy weight range for my height (152 LBS or 69KG). However, my racing weight was always around 138LBS or 62.5 KG. I need to start watching my diet along with increasing my running load.
I know it'll take time but in my head, I want to rush the process. But if I do that I know I won't be able to sustain the diet or I will get injured due to increasing my physical workload too quickly. I'm going to stick the process and keep slowly working at it.
Tonight I had an easy four miles and it was fun. Running by all of the kids who were trick or treating was a blast. SO many cool costumes and it was nice to see kids being kids. Too often while I work at my school I see students acting like little adults. It's crazy how fast kids seem to grow up or want to grow up now.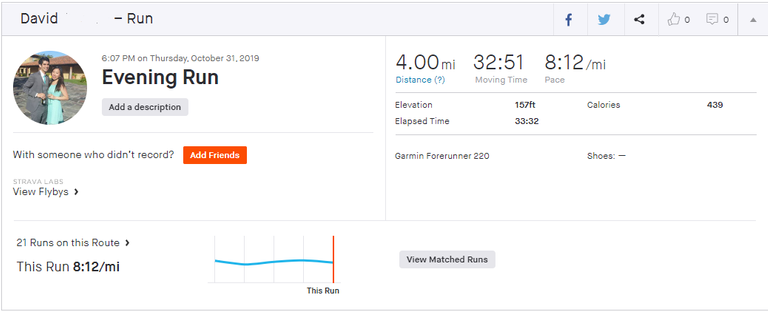 I was really consistent during the run today, which makes me think that I was actually running an easy pace. This is what I need to keep up in the long run. I have a bad habit of pushing my runs to hard and killing myself everyday.
| Mile | Split | Overall Time | Overall Pace |
| --- | --- | --- | --- |
| 1 | 8:14 | 8:14 | 8:14 |
| 2 | 8:14 | 16:28 | 8:14 |
| 3 | 8:14 | 24:42 | 8:14 |
| 4 | 8:09 | 32:51 | 8:12 |


7490

| | | | | | |
| --- | --- | --- | --- | --- | --- |
| | | | | | |
| cm | | cm | | cm | |