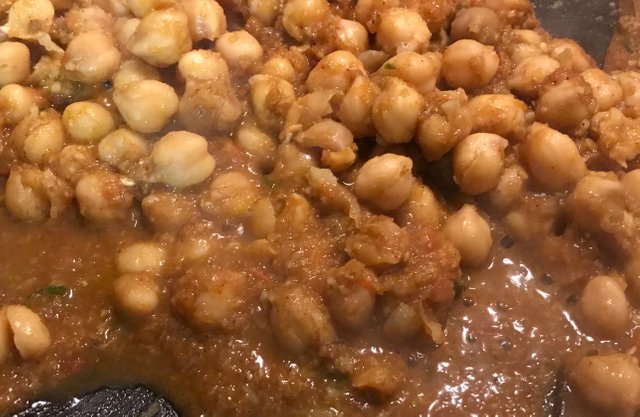 Chana Masala is a spicy garbanzo bean dish that I made with dried garbanzo beans. I started off with one cup of dried beans that I soaked in water for several hours.
I boiled the soaked beans in salted water for about 2-3 hours, drained them and then set them aside.
https://www.allrecipes.com/recipe/236564/chana-masala-savory-indian-chick-peas/
I used the recipe above and served them with some brown rice. I didn't get as many steps in yesterday as I would have liked because I spent several hours sitting at a table with my uncle and cousin playing dominoes.
My uncle is over 99 years old and his memory and hearing are not as sharp as they used to be. In spite of that however, he can still beat most people in a game of dominoes and talk plenty of smack while doing it. 😊
It is amazing to me how his brain has selective amnesia at times. He still remembers me, enjoys my visits and knows how to count dominoes.
The rest of my day was spent doing regular household activities. In addition to doing my pottery today, I am also researching making some fingerless mittens with double pointed needles. I usually knit with regular straight needles or circular needles using the magic loop process.
Since the weather is getting much colder, mittens or gloves seems like a project that I can handle.
https://www.ravelry.com/patterns/library/maize-3
I am going to make these mittens. The pattern is free and it also references a tutorial to assist the process.
Enjoy your day.




4118

Daily Activity,House Chores,Walking
| | | | | | |
| --- | --- | --- | --- | --- | --- |
| | | | | | |
| in | | in | | in | |