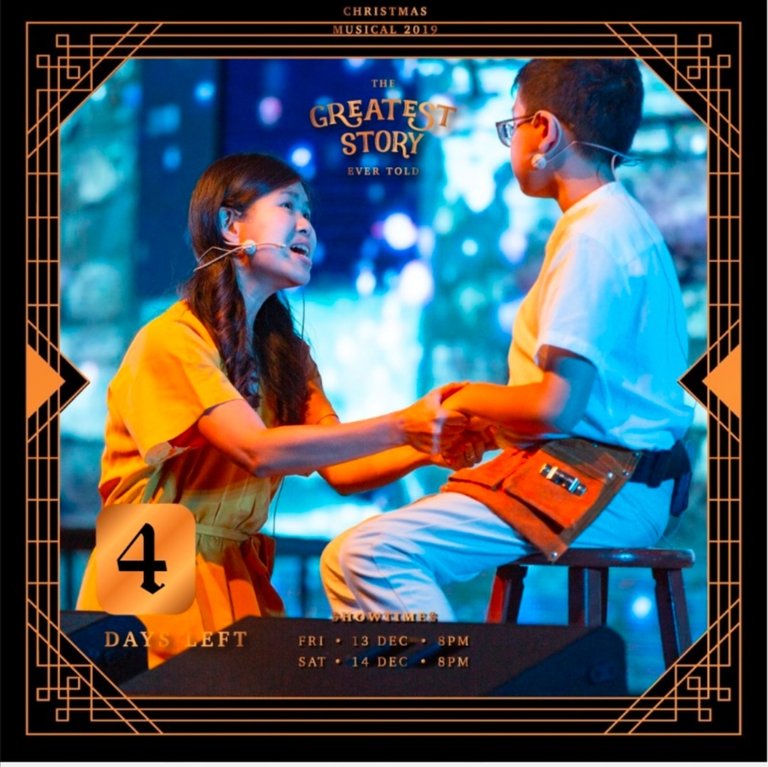 Courtesy from our media production team for whipping up this template for us to put the number, from yesterday's full dress rehearsal
Projection, PROJECTION !
Is this the loudest you can go?
That was the last 48 hours final weekend drill before one more full dress rehearsal tomorrow from our vocal coaches yesterday.
We can't say we have been sloppy but yes when this is the first time you are asked to sing, dance and act.... You just tend to get confused juggling all 3 together.
Just like playing drums; this time your hand, leg, voice, stature all had to coordinate at the same time.
It has nothing to do with the limelight I can tell you. The spotlights were literally too hurting for my eyes to keep it opened long. 😂
I totally do not get those who love the limelight. Maybe they go for the cheers not technically for the light itself.
Most people would have wondered with everything I am juggling why the heck I took on this challenge.
To be honest it really has nothing to do with self acknowledgement.... This is MUCH HARDER than I thought, though fun in some ways.
I promised my pastor I would help, after a few times she asked me; and even with challenges juggling around my time with attention needed at home, I intent to see it to the end.
Once start, finish it.
And I am sure of this, that he who began a good work in you will bring it to completion at the day of Jesus Christ
Philippians 1:6
In the end it is He Who is glorified in this production: the greatest story ever told for more than 2000 years; this time, in a very different angle.
And if you are wondering how far we have come, this is our mid practice introduction video.
This is it, now or never.
I wished I would be able to invite all my #steemfest extended family to watch, unfortunately I don't think there's a live feed 😂
(and it will be too far away anyways)
Finally with the nasal wash I am able to have a clearer throat, and I hope the see salt solution will keep me strong till the end (this Saturday)


7262