Hiking: January 11 2020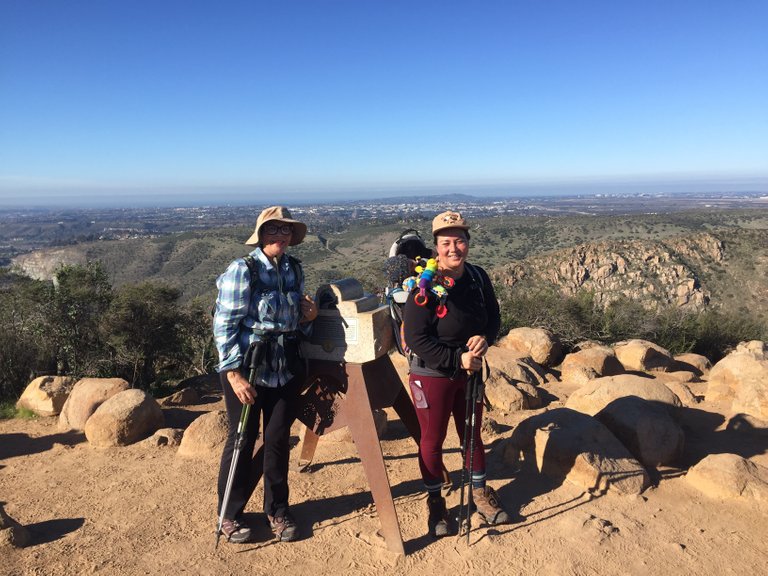 While my daughter was on maternity break, we had decided that we wanted to hike the 5 Peak challenge in Mission Trails Park in San Diego. My daughter and I finished all 5 before she started work again, but the dudess missed one of them.
It had been a while since I had hiked Kyaay Paay (spelling it wrong 🙄) and I remembered it as a very steep and somewhat dangerous hike - at least if you are carrying a baby.
We were pleasantly surprised that the trail is greatly improved and what used to be a very steep and slippery part has turned into steps. Still steep but so much safer now.
Today, we hiked it again so that the dudess can also get her 5 Peak certificate.
Later, Miss BB and I went for a little walk. Now, time to make some Jelly.

Join us for the daily 5 - Minute Freewrite. Check my profile for a new prompt every day.
I am adding the CC tag to all prompt posts and to most of my other posts as well. You can earn Comment Coins simply by leaving a good comment. No spam please!!!

All images are my own unless otherwise cited.
Graphics made on Canva.


Animation By @zord189

#SoCalSteemit is building and supporting the Steemit community of Southern California. If you are from SoCal and are into creating quality content here on Steemit, we'd love for you to follow us @SoCalSteemit and join our group on Discord!

Join @Actifit, become healthier by being active and earn as you walk. My referral link
Join us at the Freewrite House for fun and games!!! Weekly drawing for SBI memberships and so much more!!

And get your Freewrite House Swag here



11813

---
---