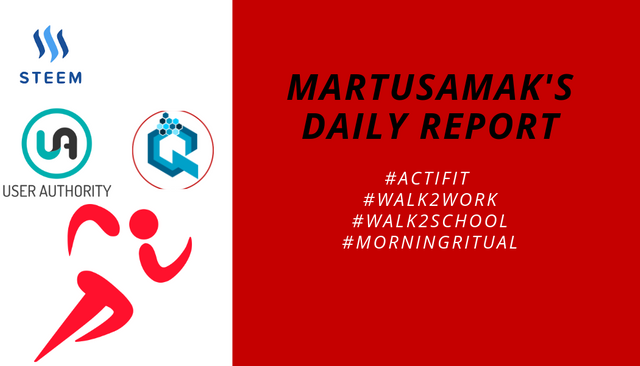 Today's entry for my #actifit daily report goes as follows:



Daily Routines
- Morning:
I woke up at 10:30
Acomplished my morning ritual (drink water, exercise for 10 min, have a great breakfast)
Took a quick bath;
Did my #walk2work.
- Afternoon:
I Started my workshift at 12:00;
I had lunch at 15:00.;
- Evening:
Did my second
#walk2work
of the day (I work two shifts);
Started working at 19:00;
Having dinner at 01:00;
Finishing my workday around 2:00.
Daily Goals
(Partialy acomplished)
Wake up at 9:00 (failed; woke up at 10:30)
Drink water;
Have a great breakfast;
Exercise for 10 min.; (Failed; didn't have the time, late for work)
Post my morning ritual activity! (failed)
Take a photo of my #walk2work or #walk2school path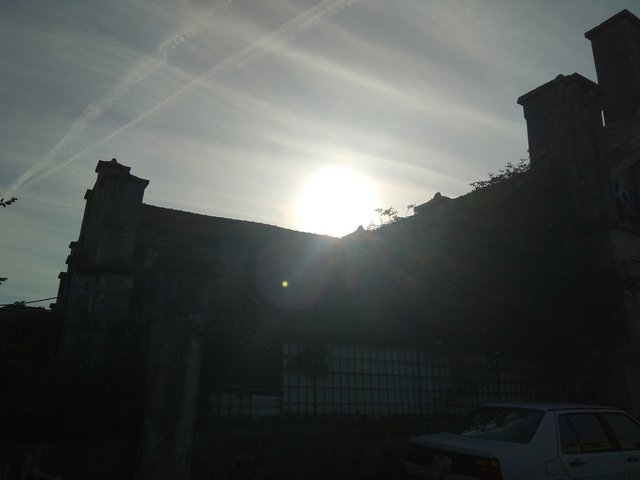 (I edit my photos with #SteemCamera . Feel free to check it out!)
Daily leaderboard position:
I haven't got a position since I am posting yesterday's activity.
Resuming the Day:
For 5hose who follow, you might have noticed that I am failing to wake up at 9:00. I usually get out of bed at 10:30. I tried but just feel I don't have enough rest if I wake up sooner. I am falling asleep around 3:30 due to my job schedule. So I end up sleeping around 7 hour daily. Less would feel too much for my mind and body to take. I have some really intense work shifts, that is where I do most of my walking, and I must feel focused and fully rested.
Although failing one of main daily tasks, I end up adjusting my routines to my mind and body feedback.
My posting routine failed on the #MorningRitual side. I hope my new work schedule on September helps to get things fully rolling again!
Question:
How do you feel about a daily competition around habits and productivity?
A special thanks to:
@actifit
@steemitportugal and the portuguese community
@steempt
@ptgram-power
@brazine
@amico
@michaelb
@definethedollar
@spectrumecons
@steembasicincome
@steem-ua
@steem-plus
@steemraiser
@upvotebank
@qurator
@banjo
@cleverbot
@automation
@djimirji
And many others that support me…
<br><img src="https://cdn.steemitimages.com/DQmXv9QWiAYiLCSr3sKxVzUJVrgin3ZZWM2CExEo3fd5GUS/sep3.png"><br><table>   <tr>        <img src="https://cdn.steemitimages.com/DQmRgAoqi4vUVymaro8hXdRraNX6LHkXhMRBZxEo5vVWXDN/ACTIVITYCOUNT.png"> </tr>   <tr>        <div class="text-center"><b>34254</b></div> </tr></table><table>    <tr>        <img src="https://cdn.steemitimages.com/DQmZ6ZT8VaEpaDzB16qZzK8omffbWUpEpe4BkJkMXmN3xrF/ACTIVITYTYPE.png">  </tr>   <tr>        <div class="text-center"><pre><b>Daily Activity, Walking</b></div></pre></div>  </tr></table><div class="text-center"><img src="https://cdn.steemitimages.com/DQmNp6YwAm2qwquALZw8PdcovDorwaBSFuxQ38TrYziGT6b/A-20.png"><a href="https://bit.ly/actifit-app"><img src="https://cdn.steemitimages.com/DQmQqfpSmcQtfrHAtzfBtVccXwUL9vKNgZJ2j93m8WNjizw/l5.png"></a><a href="https://bit.ly/actifit-ios"><img src="https://cdn.steemitimages.com/DQmbWy8KzKT1UvCvznUTaFPw6wBUcyLtBT5XL9wdbB7Hfmn/l6.png"></a></div>