My Actifit Report Card: November 15 2019 Think Big

Think Big
Today was a telecommute day for me and I spend a fair bit of time sitting on my computer from early this morning, I think from 5 till about 8 I got more done this morning than I get done on a normal day at the office, then I was busy doing a few things around the house ion between checking work emails, then my wife saw a recipe for Chicken Pot Pie, with simple ingredients, that she wanted to try and after seeing so many great recipes on here I decided we should think big and go for it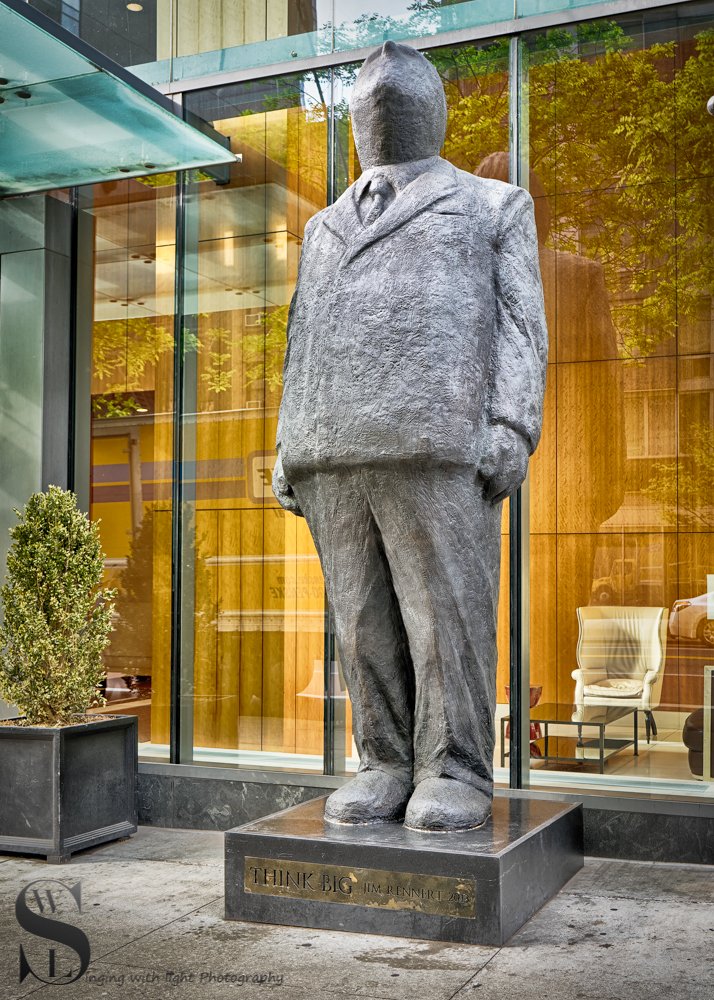 Sony A7iii 33mm F5 1/60 Sec ISO 400
Click here to view larger



And since I didn't take any photos today I looked through my Folders and found this Statue With Think Big on it for this post, I know this shot doesn't really give a sense of scale but it sure was big and you can maybe get an idea by seeing the covering over an entrance to a building beside it. The sculptor who made it for sure was thinking big
OKay so we realised we needed some ingredients, mainly the chicken and some low-fat milk we had the rest, and we also needed a pie dish, so we headed out to pick one up, first we went to Kohls as my Wife needed new slippers and they have the ones she likes, which they did, but ..
is it just me if you go to a big store looking for something two things happen,, they have moved it from where it used to be and you search back and forth all over before finding it, its never the first thing you see.
While there we checked for a pie dish there with no success, so we went to another shop by the mall, and luckily they had one and some other bits we needed but again took ages to find them, but then off to the supermarket to pick up the ingredients we needed., It was about 3:30 PM by the time we got home but we decided to go for it, made the filling easy enough even making our own chicken broth first as all the ones in store have ingredients my wife can't have, then made the filling, all was going good, we were thinking we have this, well I was being Mr Positive that I am.
Onto the Crust again pretty simple ingredients and easy to do, and off we went, mixed it up rolled it out, but I misjudged the size of the pie dish when I dropped it on it wasn't big enough to cover the pie, just barely but not enough, and then we realized we did not have any eggs to make an egg wash, so had to do a quick run to the supermarket to pick some up, got stuck in traffic by some road works, but made it there got the eggs and home we went for attempt two of the pie crust, and did better the second time and got it in the oven.
And the final result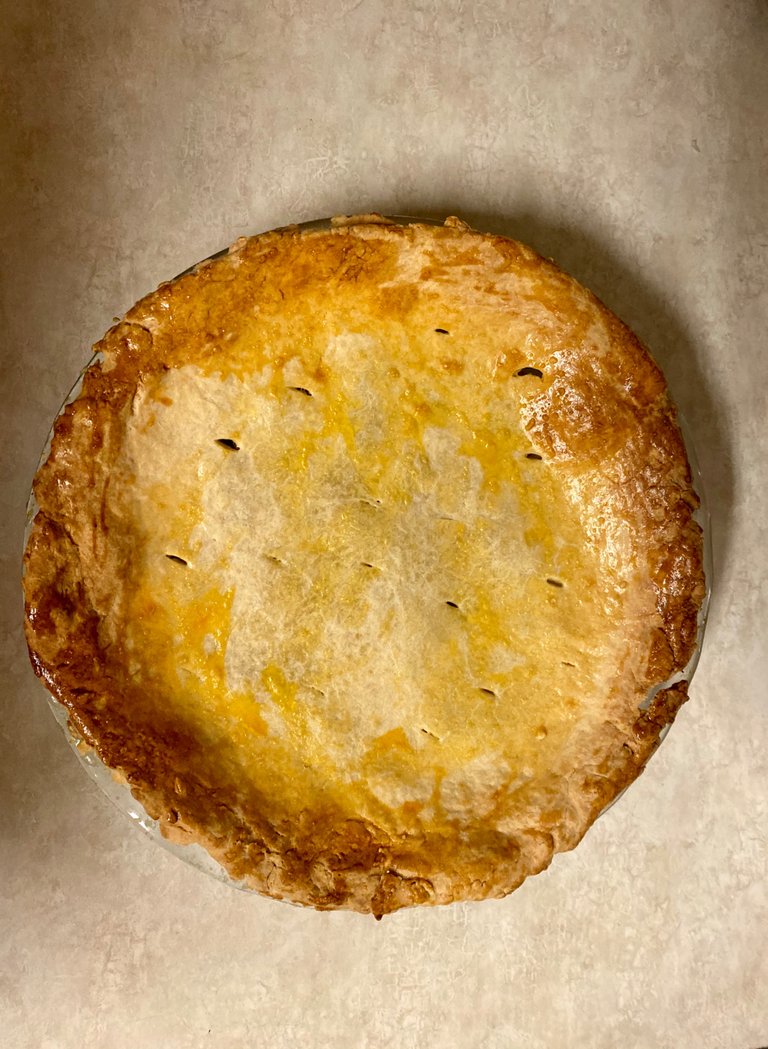 It looked not to bad, Sorry just a quick snap with my phone, but we were both pretty hungry by this time and had to get it on our plates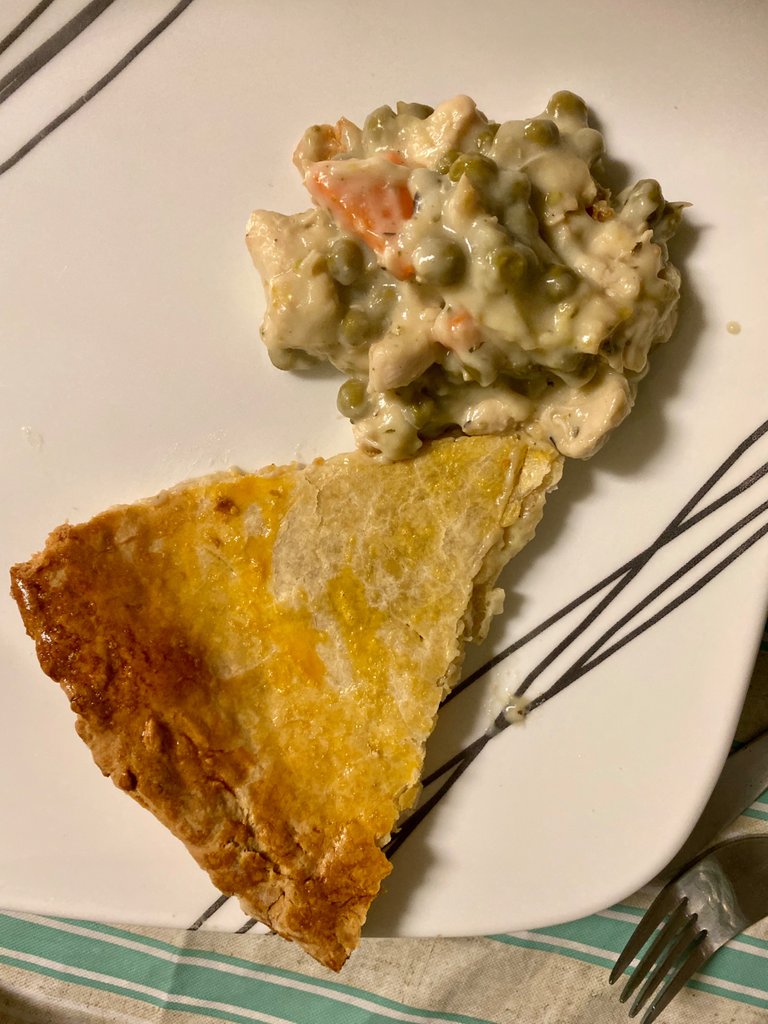 And if you are wondering how it tasted, not to bad, if we try it again we will try some other changes and double check we have all the ingredients we need, and start earlier in the day, but it was edible, and filled the gap :)
So that's my day have hardly been on here but will catch up this evening
And that's all folks
---
unless stated otherwise all photos used in my posts are taken and owned by myself, if you wish to use any of my images please contact me.
---

---

steemusa is a Community for and supporting those from of in the United States, and now is in the process of rebuilding stronger than ever join us on Discord







!steemitworldmap 40.752412 lat -73.976960 long Midtown East NYC d3scr




6243

---
---